Is this the best mì sủi cảo in Saigon? I don't know, but it's pretty goddamn delicious.
The journey from District 1 to Mi Keo Kungfu Khai Ky, home of the delectable mì sủi cảo in question, is an interesting one. For someone who lives in the south of Saigon and works in the heart of the city's central business district, I'm too spoiled by the array of food options in the vicinity of both to venture out of my comfort zone. Therefore, the trip to District 11 through the hodgepodge of trading and crafting activities that is District 5 and 6 was an eye-opening experience.
Technically, Khai Ky's location is precisely on the border of District 11 and 5 in the middle of Ha Ton Quyen Street, a thoroughfare that one of my coworkers affectionately dubbed "sủi cảo street" because of the sheer number of vendors on this short, sleepy street that serve the Chinese dish.
We arrived at the restaurant around 4pm on a rare sunny afternoon amid Saigon's weepy rainy season. Phew. Khai Ky started as a small shop on a street corner, but business picked up quickly enough that over time, they managed to rent out the tube house next door and turn it into an airy dining room.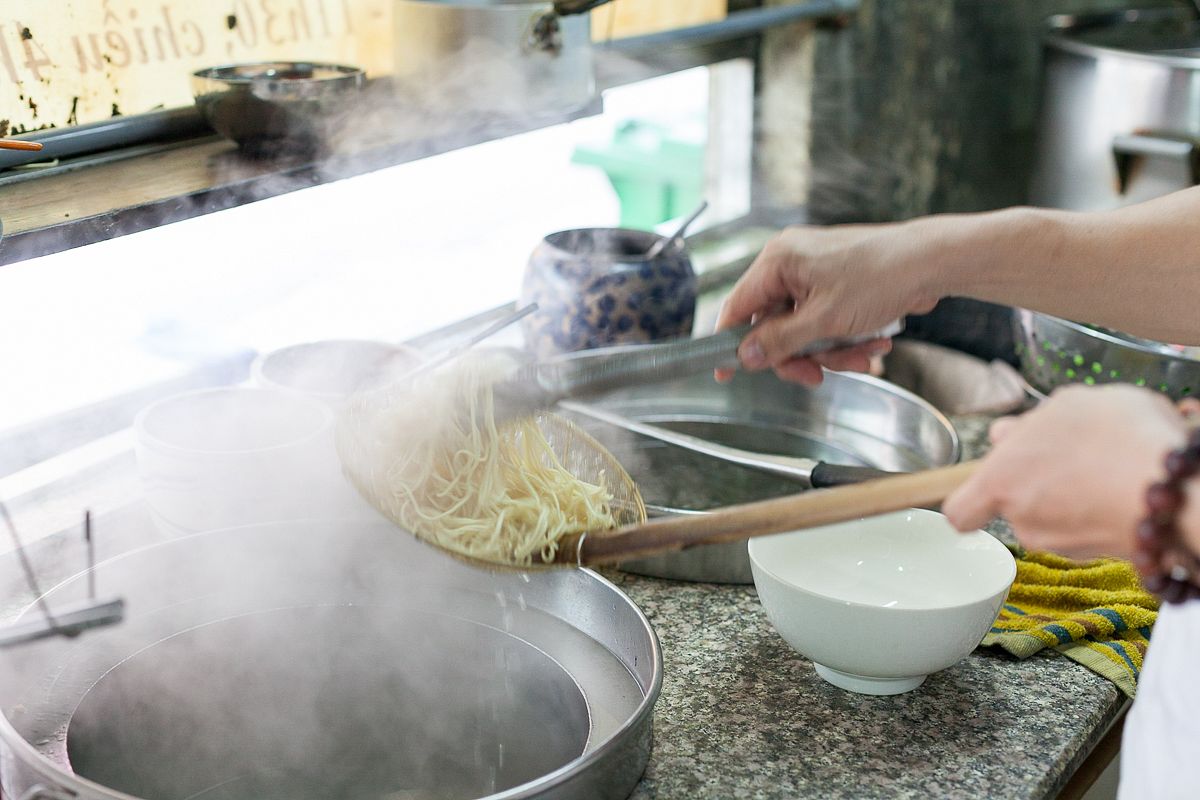 The recommendation for this elusive noodle spot came from the aforementioned coworker, who's something of a sủi cảo aficionado, so we implicitly trust that Khai Ky's food will kick ass. And besides, I was promised handmade noodles, or mì kéo, so there was no way I could miss this.
The stall lived up to this reputation, as the first thing that customers encounter upon setting foot inside the location is a metallic noodle-making station. It was mesmerizing to watch the chef work his magic on the blob of dough, nimbly kneading, shaping and pulling on the ingredients until they became silky strands of noodles.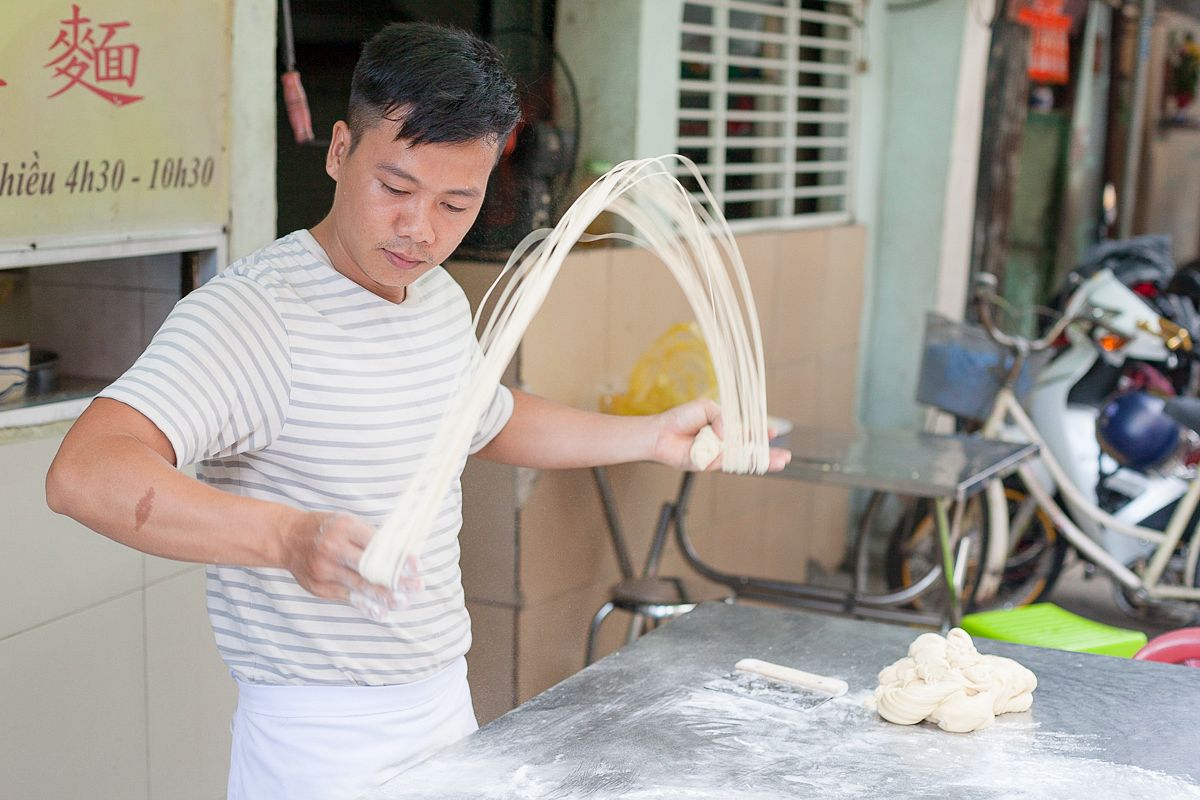 The bowl of noodle soup came out in less than five minutes while I was still settling down at my table, so speed is definitely one of Khai Ky's strengths. The house specialty – mì sủi cảo, at VND40,000 per portion – looked beautiful. On a bed of handmade noodles lies some xá xíu, a few morsels of sủi cảo and a generous helping of cải ngọt, or sweet mustard greens.
The noodles were perhaps one of the best I've tasted in a long time: al dente, light and completely free of the floury aftertaste that at times plagues other noodle joints. Khai Ky's sủi cảo, however, was the star of the show, as it should be.
Each dumpling is perfectly shaped and retains its form after being submerged in the savory broth for a while. The filling included mince pork and half a shrimp, which doesn't sound like much, but was a riot to taste. As someone who's extremely sensitive about the freshness of shrimp, I could tell that Khai Ky uses fresh shrimp for their dumplings: the bits of seafood had a soft crunch and were free of the fishy whiff of stale shrimp.
I just want more of those dumplings in my life. Like right now. With soy sauce and a few drops of chili oil. They were that good.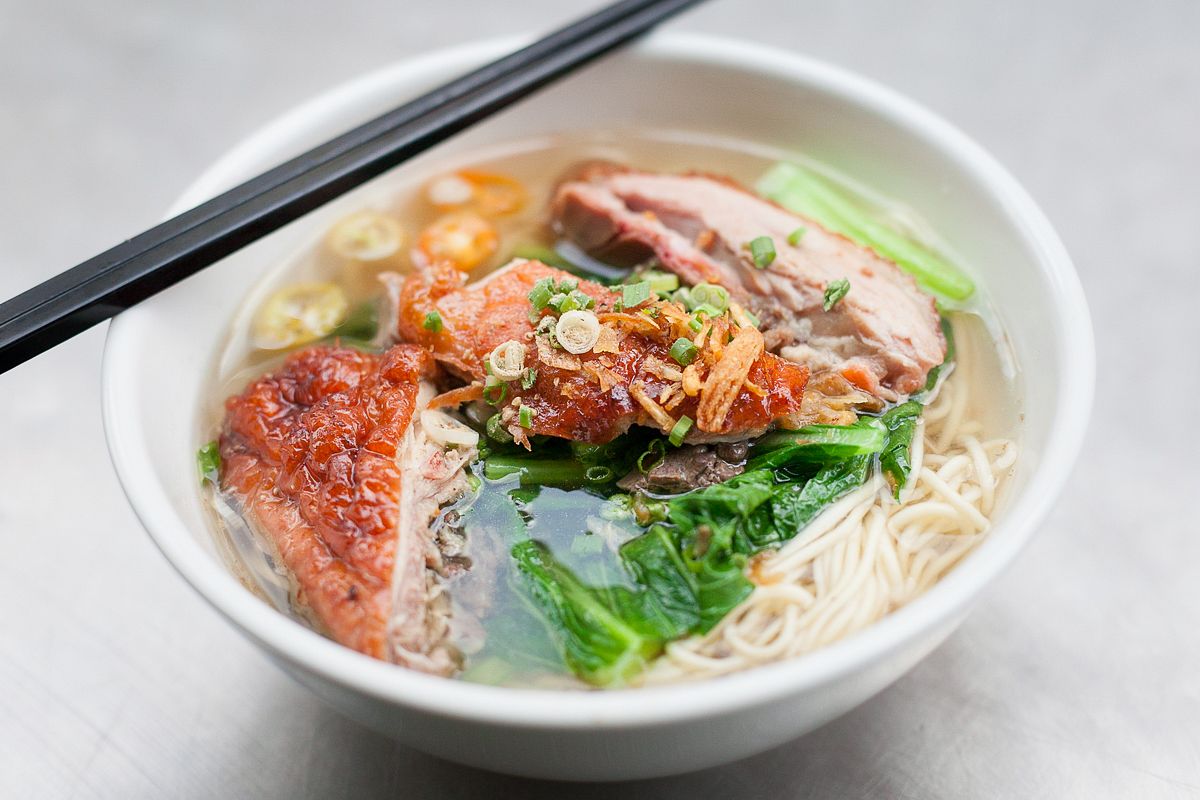 I also ordered a portion of noodles with Peking duck (VND47,000). Because Peking duck. However, the dish was only half as good as it looks on the menu as the duck was overcooked, and thus tough and gamey. However, Khai Ky's menu offers a wide array of other classic Chinese dishes – fried sủi cảo, noodles with braised beef, pork ribs and even dry options, among other delicious-looking things – but my stomach capacity was limited, which saddened me immensely.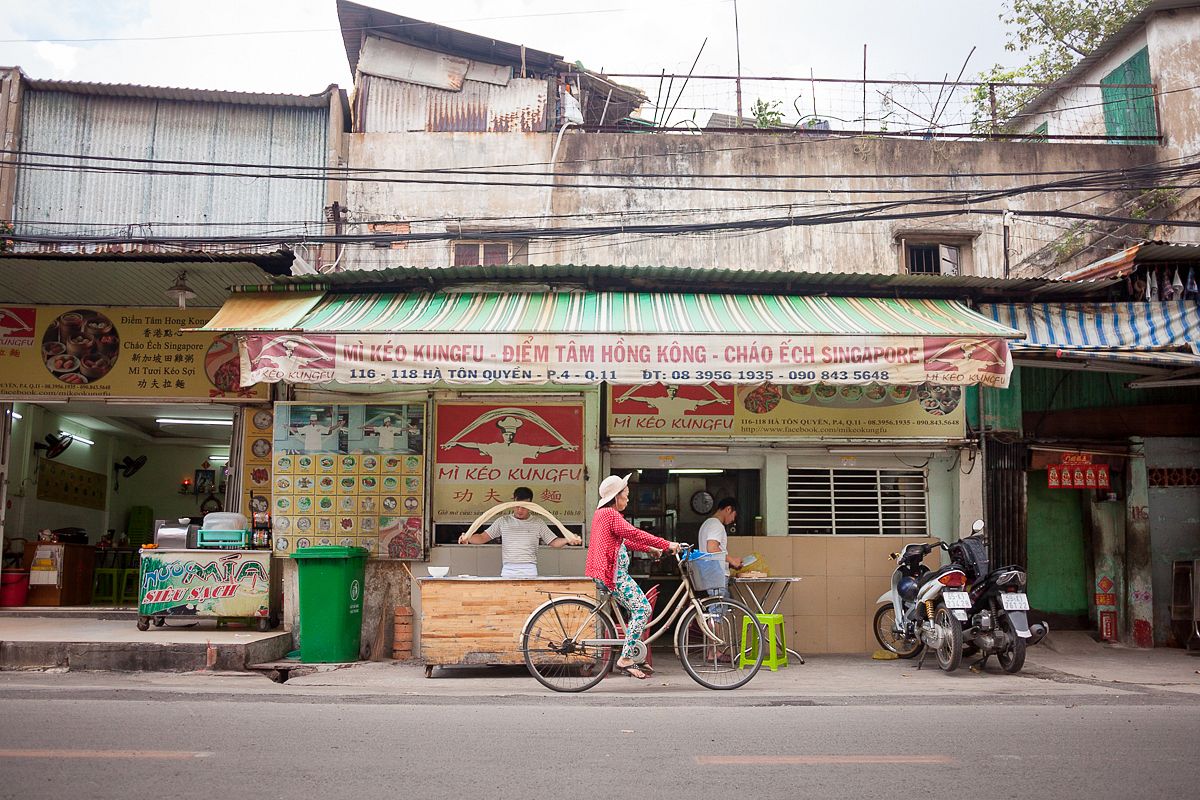 To sum up:
Taste: 5/5
Price: 5/5
Atmosphere: 4/5
Friendliness: 5/5
Location: 3/5
Khoi loves tamarind, is a raging millennial and will write for food.
Mì sủi cảo
116-118 Ha Ton Quyen, Ward 4, D11