Saigon is, in essence, a giant food court. From District 1 to Binh Chanh, the city streets are pretty much a macro version of the cooked food section at your local market, spread out over miles of uneven sidewalk and cramped alley space. And in the great food court of the south, District 11's Ha Ton Quyen is where you go for sủi cảo.
The economy of this entire street is built around wontons. At its northern end, storefronts are outfitted with industrial-sized soup carts. There is hardly a house on the block that does not offer, in some form, Chinese pork-and-shrimp dumplings. As a business model, it's probably not the best. From a diner's standpoint, it makes Ha Ton Quyen the city's premier sủi cảo spot.
Yesterday evening, I turned up on the block late in the afternoon with a coworker, preparing to consume at least two bowls of sủi cảo for the sake of research. These gluttonous dumplings had been on the to-do list for weeks, however due to time constraints, distance and that strange Saigon phenomenon in which everyone knows the location of their favorite street food by appearance but not by address, the quest for sủi cảo was perpetually on hold. Finally, desperate for a bowl of wonton soup, we got ourselves together and made the pilgrimage to District 11.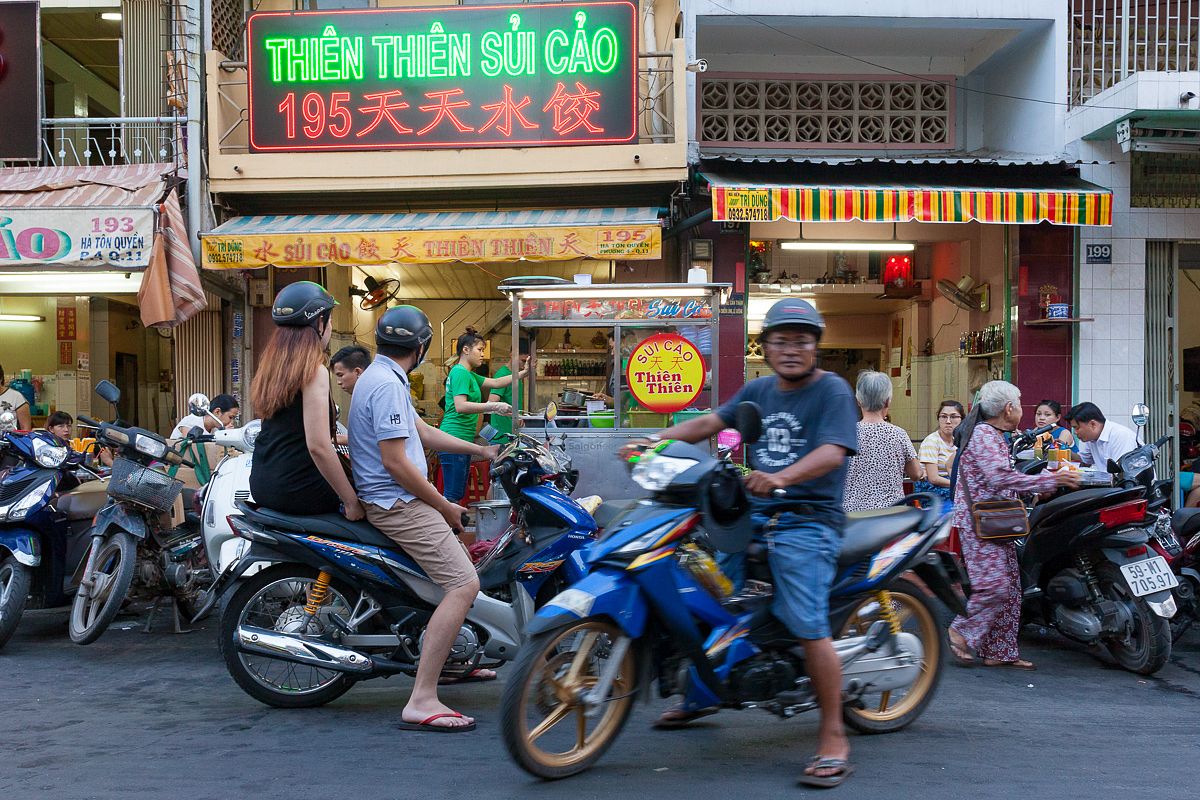 This brought us to our next dilemma. The location of Ha Ton Quyen's best wonton outlet had been a sensitive topic in the office ever since we raised the subject. My coworker insisted it was a small, unmarked street cart down an alley; I was convinced that one of the large, well-lit outlet on the main road served the best bowl. We talked about this for weeks, trading vague descriptions of our favorites – neither of us knew the address – in hopes of narrowing down their location.
Eventually, my colleague rattled off a long-winded description of his sủi cảo spot's physical surroundings and we set off in search of Ha Ton Quyen's best wontons. As a courtesy, we stopped at his preferred venue first. Tucked down a narrow alley, the modest cart was manned by no fewer than five people, a solid indication of its popularity. Plates laden with sủi cảo flew back and forth out of a mysterious corridor nearby and the soup, which appeared in seconds, was a small but substantial bowl of wontons doused in savory broth and topped with spring onions.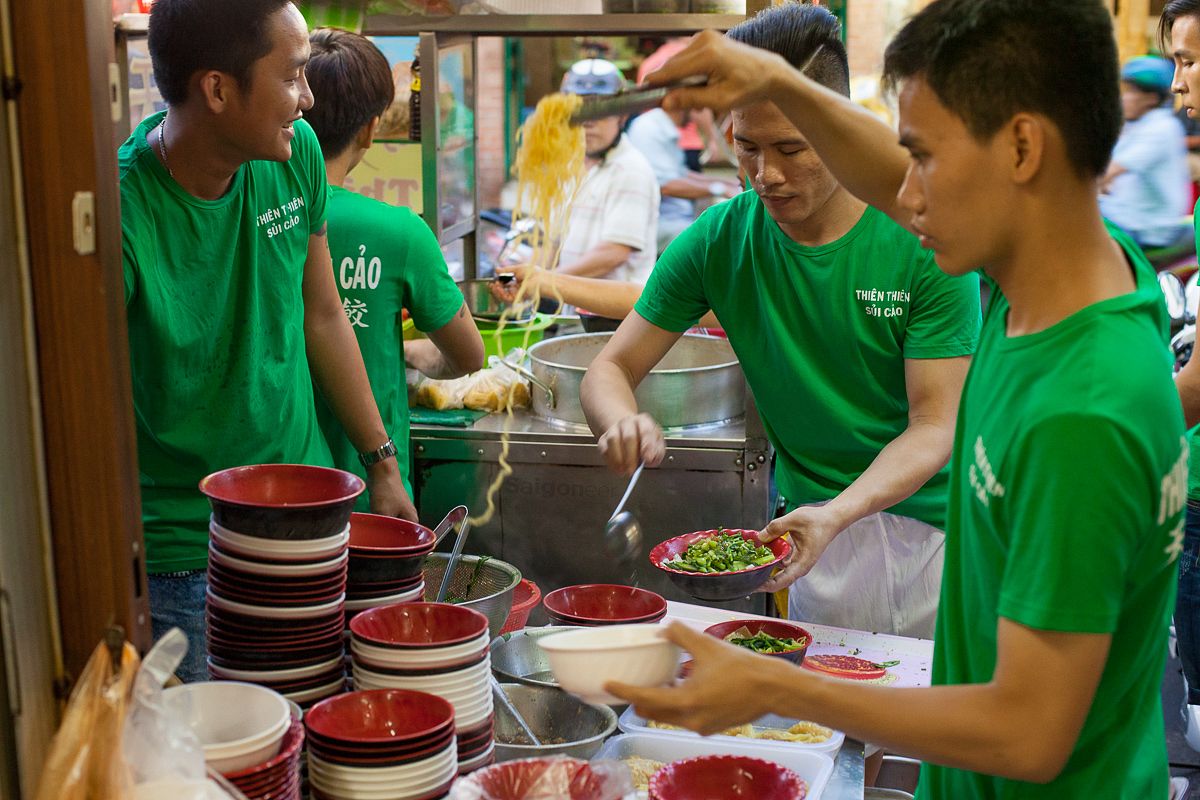 A standard sủi cảo bowl features little in the way of embellishments, but its light, clear broth and plump wontons are really all you need. Packed with a single shrimp and savory minced pork, each wonton's meaty goodness balances out the subtlety of the broth, making this dish comfort food at its finest.
Like many of Saigon's best dishes, sủi cảo's widespread appeal comes from its simplicity; diners can personalize the dish with an array of sauces, from hoisin sauce to chili and lemongrass. Those who prefer a bit more in the way of variety can fill their bowl with several other add-ons, including crab, squid and fish balls, if desired.
Satisfied with my coworker's recommendation, we paid our bill and prepared for round two of the sủi cảo experience. On our way out, the cashier passed me a business card with the name Thien Thien emblazoned across the top.
It took no more than 30 seconds to reach my own preferred wonton spot. The shirts were the same. The servers were the same. I looked up: Thien Thien. Turns out they own three locations on the block.
Now pleased to have solved the mystery of Ha Ton Quyen's best sủi cảo, we ordered a round of hồng trà, Thien Thien's deeply addictive sweet tea, and a plate of sủi cảo chiên, the fried variety. Like all foods that have been doused in cooking oil, they were delicious. Light, crispy, with none of the grease left over on the plate. Paired with a sweet chili sauce good enough to drink, our second helping of wontons were yet another indication of Ha Ton Quyen's greatness.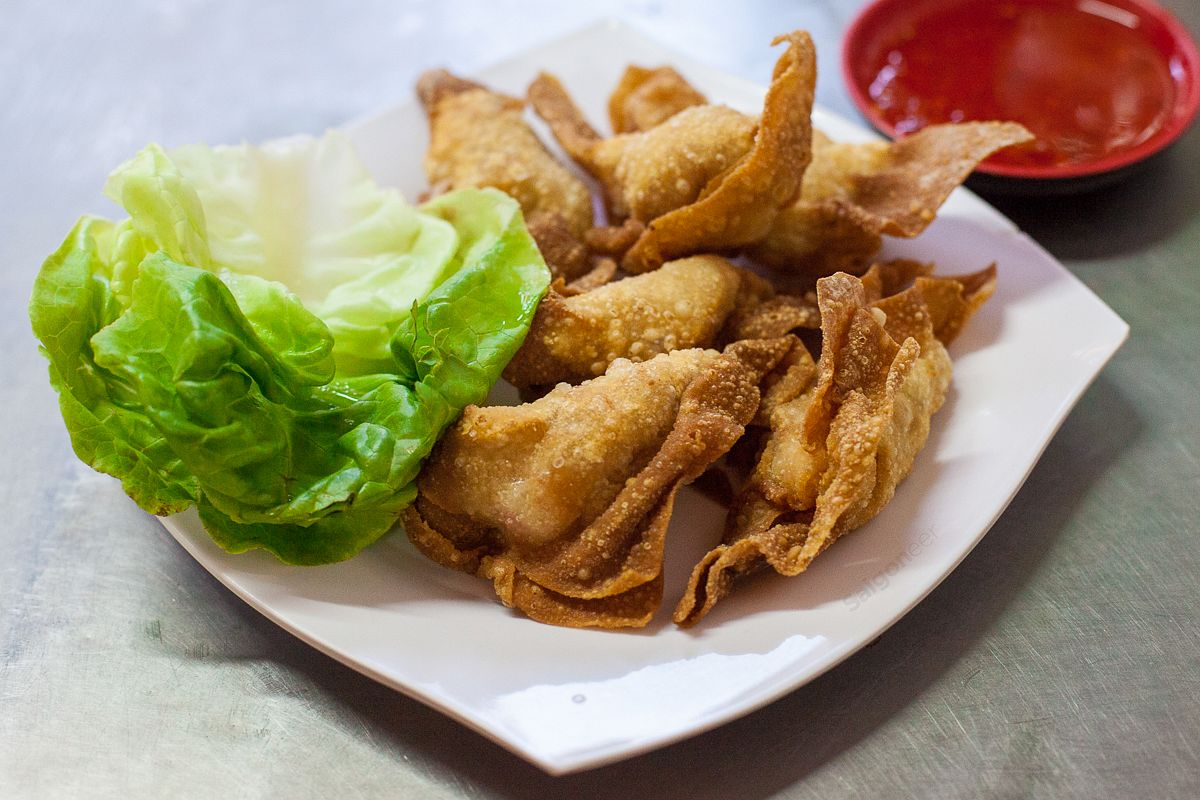 To sum up:
Taste: 5/5
Price: 3/5 – VND40,000 for a standard bowl of sủi cảo, VND45,000 for the fried version
Atmosphere: 5/5
Friendliness: 5/5
Location: 3/5 – A little far but worth an afternoon adventure: Thien Thien is open from 2pm to 12:30am everyday.
Dana is 70% caffeine, 50% fish sauce and hasn't taken a math class since 2004.
Sủi cảo
195 Ha Ton Quyen, Ward 4, D11

---
Related Articles:
---