Saigon street food tastes best when the whole experience feels like a secret. Head to some of the city's most successful street carts and there are no place names or proper business hours, no phone numbers, no signage, no menus. In almost mafia-like fashion, all you can do is show up during the designated window of time and hope to find food.
The street cart at 409 Tran Phu is one of District 5's many street food secrets. Every afternoon for roughly 30 years, the family responsible for this xôi mặn, or savory sticky rice, has set up its mobile business on the sidewalk. The fact that it's just a few minutes' walk from the local morgue earns this spot the nickname xôi nhà xác after the wide, low building which sits nearby.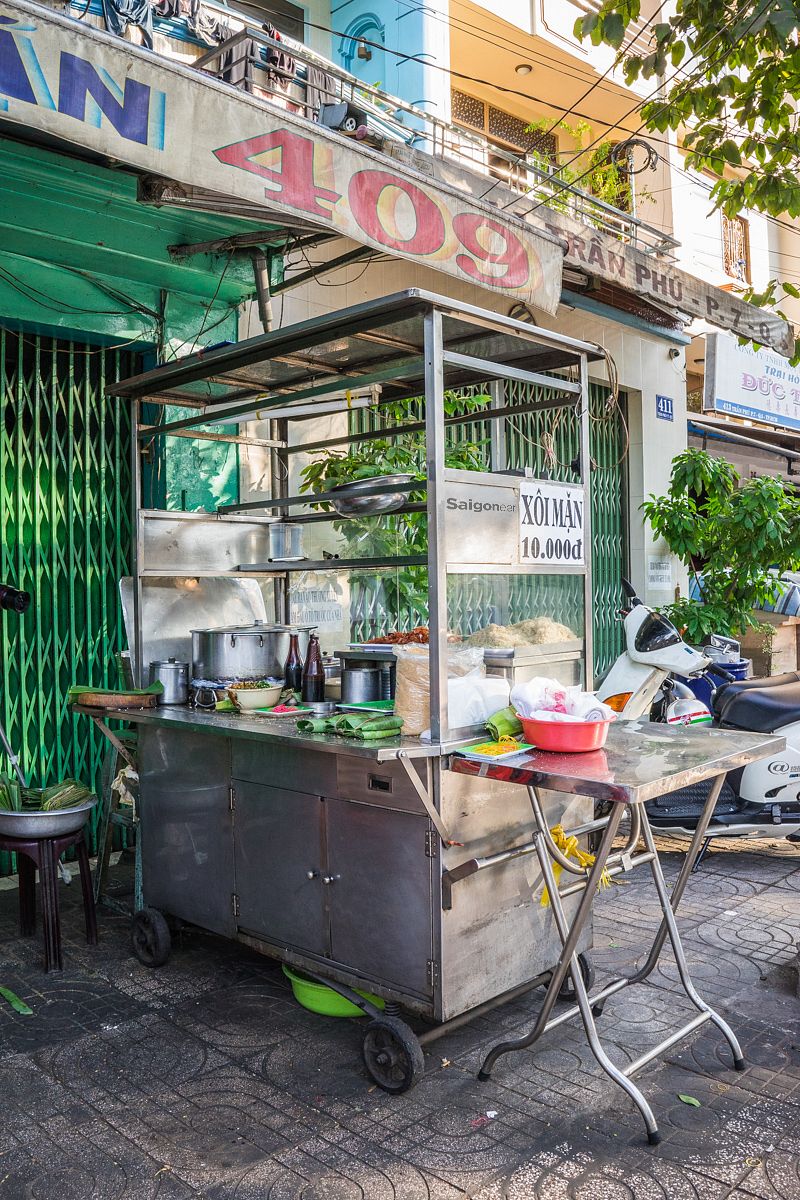 While this is perhaps a little morbid, the droves of drive-by diners who turn up here are proof positive that even a slightly creepy nickname does not detract from the reputation of this spot. Even without a proper dining area – you won't find metal tables and plastic stools here, it's grab-and-go only – xôi nhà xác is buzzing from 4pm well into the night.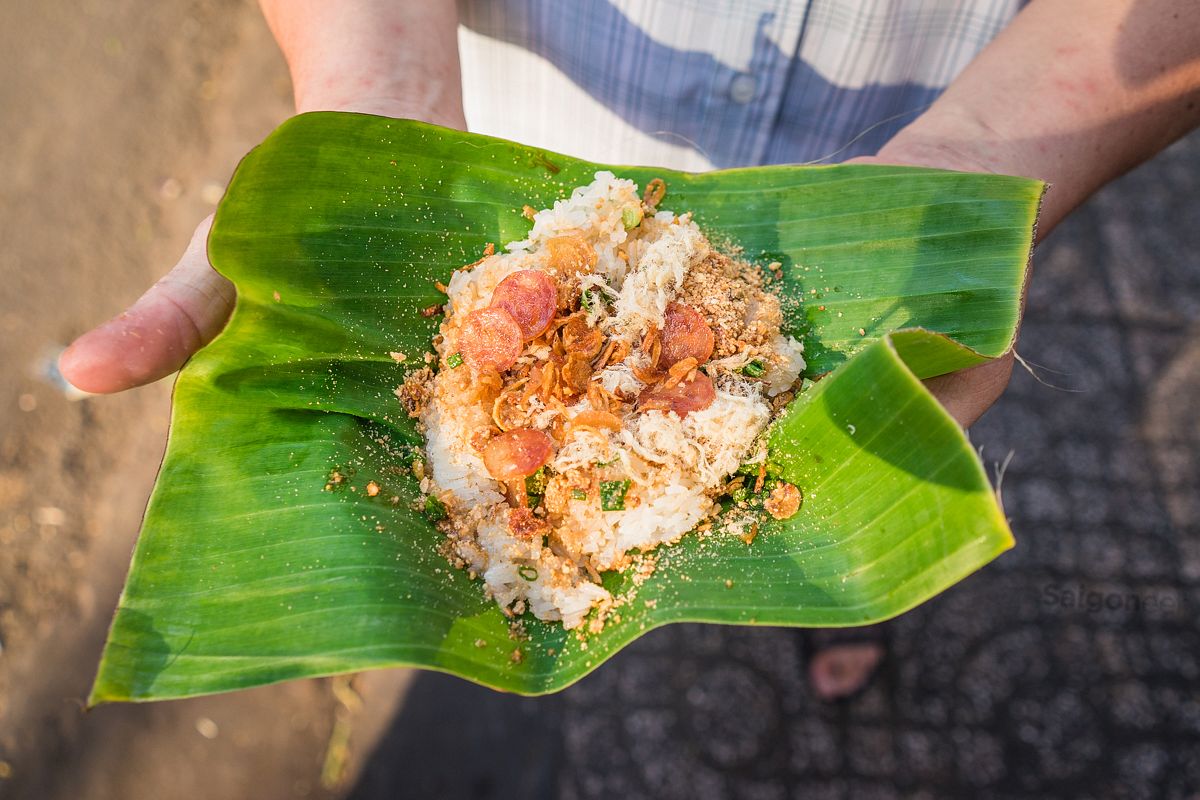 Wrapped in banana leaves and served in snack-sized portions, the cart's piping hot xôi is topped with all manner of savory delights: lạp xưởng (Chinese sausage), pork floss, fried shallots, the oily magic of mỡ hành and crushed peanuts. A single portion isn't necessarily a meal, but at VND10,000 you cannot lose. The distinct flavor of the sausage pairs well with the fried shallots' texture and the greasiness of the mỡ hành, while its main ingredient – stick-to-your-ribs xôi – gives weight to the whole dish. Crushed peanuts are a nice touch, adding another layer to the xôi's flavor. There aren't many modifications you can make to this dish given its relatively small number of ingredients, but there aren't really any modifications you'd want.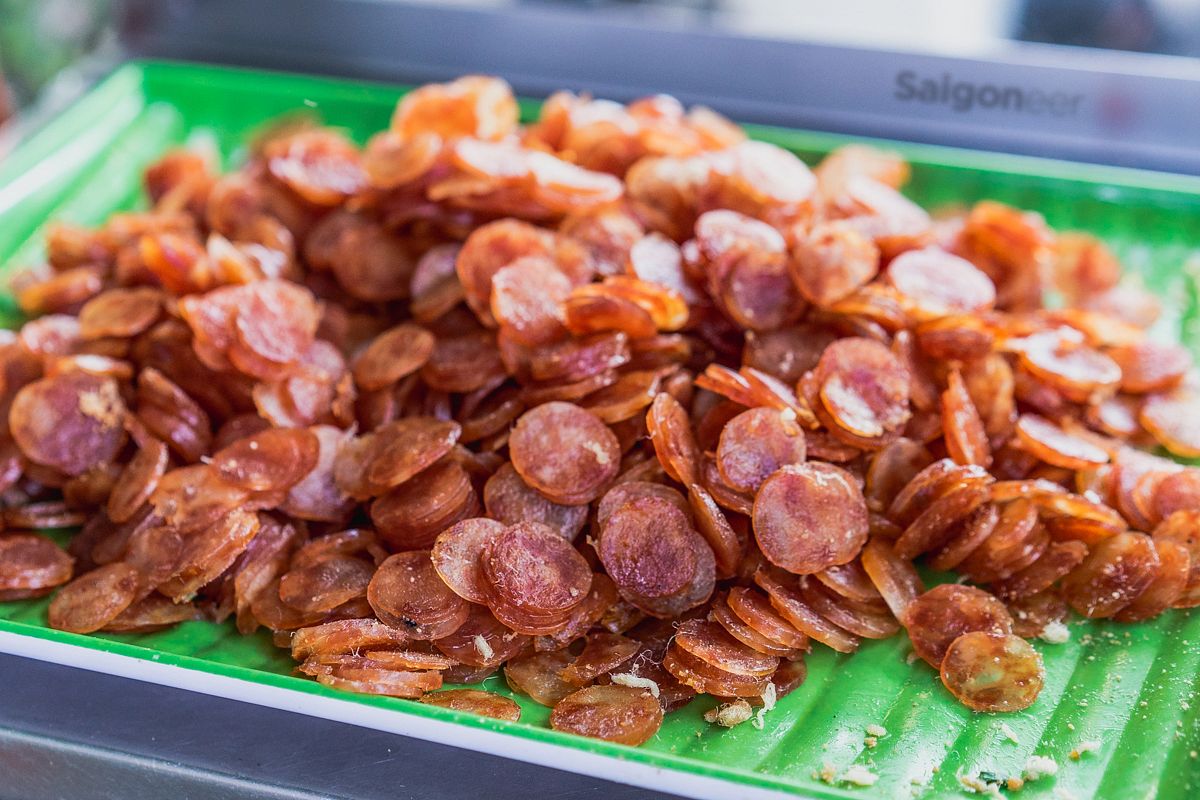 Things get rolling in the late afternoon, when motorbikes start pulling up beside the cart and xôi nhà xác's efficient multi-person operation prepares stacks of their product ahead of the evening rush. While the folks behind xôi nhà xác's excellent product stay on the street until 12:30am, most of its customers are there for no more than a few minutes. If you really want to get a feel for the area, there are a few cafes on the corner nearby where you can sit pair your xôi with a lemon tea, but otherwise xôi nhà xác's top-notch sticky rice is just like every other good street food business in Saigon: no name, no menu, no phone number. Just show up, pay the fee and indulge in a good, quick meal.
To sum up:
Taste: 4/5
Price: 4/5
Atmosphere: 3/5
Location: 4/5
Friendliness: 4/5
Dana is 70% caffeine, 50% fish sauce and hasn't taken a math class since 2004.
Xôi mặn
409 Tran Phu, Ward 7, D5

---

Related Articles:
---