Thanks to Banh Uot Banh Me, you can finally put to use those rolling skills you honed back in your university days...rolling gỏi cuốn, obviously (wink).
Whether carefully mixing and stirring ingredients into a hotpot or placing succulent slices of meat on tabletop grills, Vietnamese cuisine lends itself well to DIY restaurant dining. Rolls are certainly no exception. But while most people are familiar with receiving dried rice paper to dip into bowls of water before placing a variety of fish, meat and vegetables inside to make fresh spring rolls, more unique are the steamed rice noodle wraps consumed at Banh Uot Banh Me.
The unassuming venue rests inside a hẻm just off Phan Xich Long Street in Phu Nhuan District. Its one-page menu stands as a testament to the philosophy of doing one thing and doing it well: the restaurant only serves bánh ướt noodles, which loosely translates to "wet bread" in English. Typically restaurants serve these paper-thin steamed rice noodles naked alongside pork sausage and shallots, or filled with a mixture of pork and mushrooms as part of a messy dish known as bánh cuốn. At Banh Uot Ban Me, they are served a little differently - as neat rolls you construct at your table.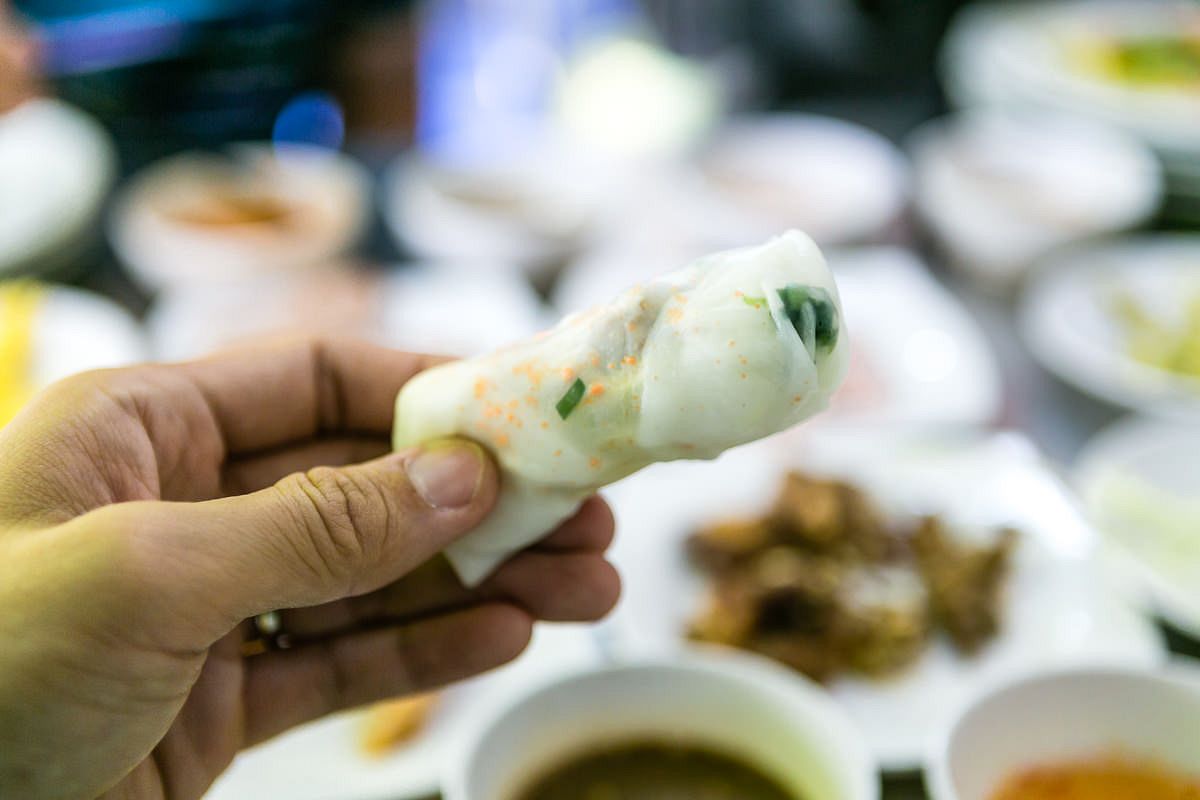 To start, you choose from four types of pork: thịt nướng (marinated grilled pork), nem nướng (marinated grilled ground pork), chả cốm (pork sausage with green rice) and nemchua lụi (fermented grilled pork). A small smattering of garnishes including pickled greens, sliced cucumber, mango and mint leaves are also available. Definitely get one each of the vegetables, and if you are with at least one or two other people, or especially hungry, I suggest selecting all the types of pork and deciding which you like best for the next round.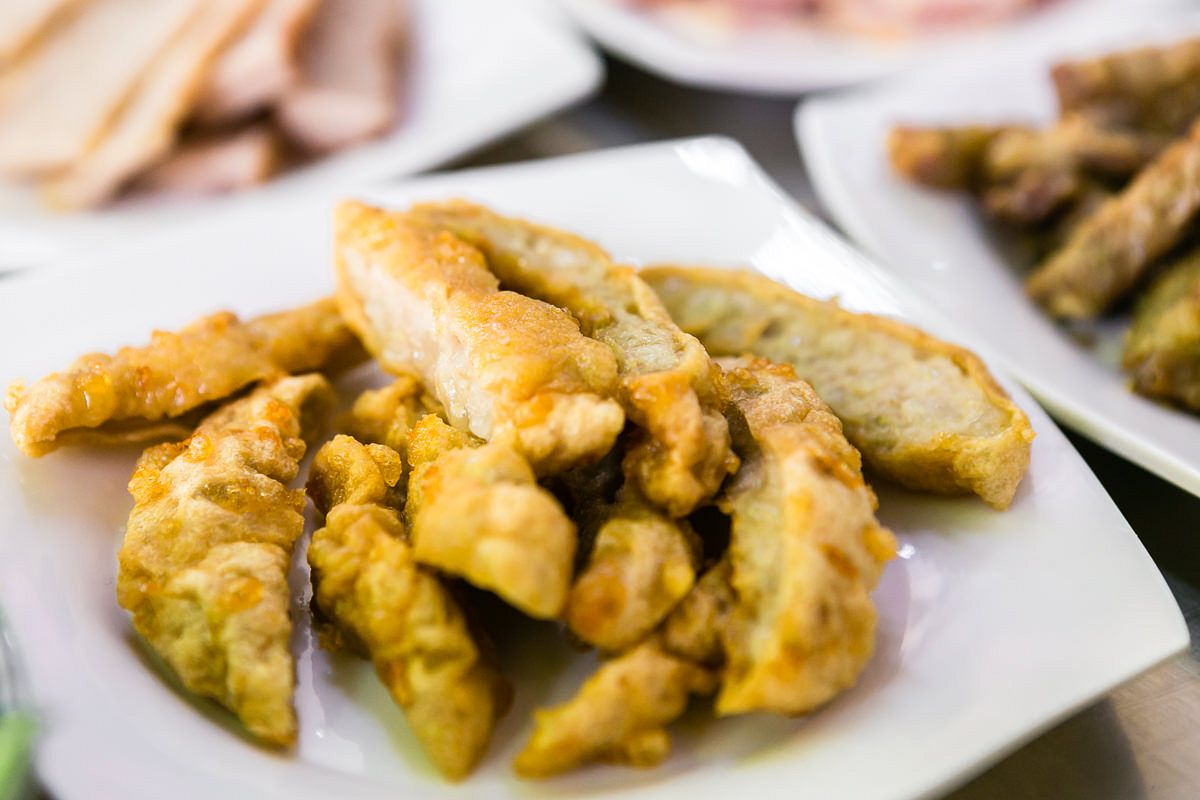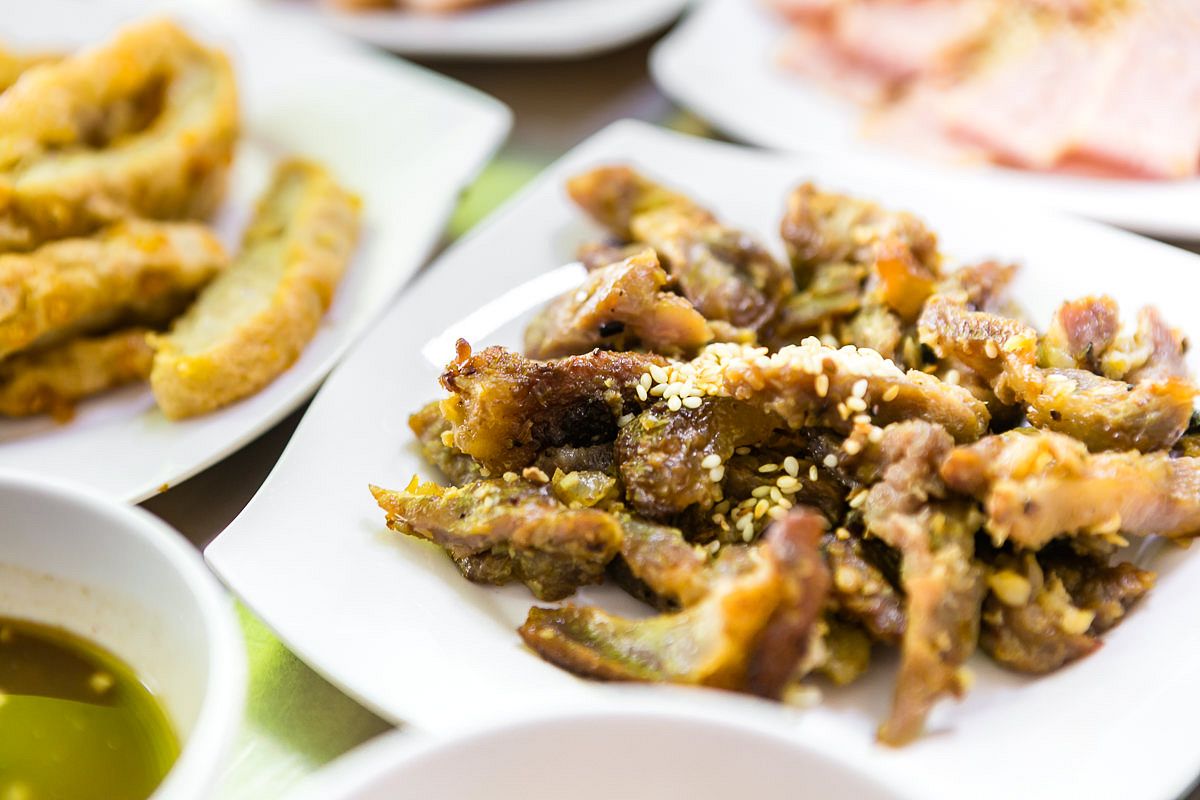 After carefully placing the colorful fillings and sauces on the table, a waiter will bring a stack of plates, each with a single steamed rice noodle spread flat with a dash of green onion and powdered shrimp. Using your chopsticks, place a modest amount of each ingredient inside the center of the noodles, and using your fingers, do your best Snoop Dogg impersonation: roll one up! If you need further guidance, a flat screen television in the back of the restaurant plays an instructional video on loop.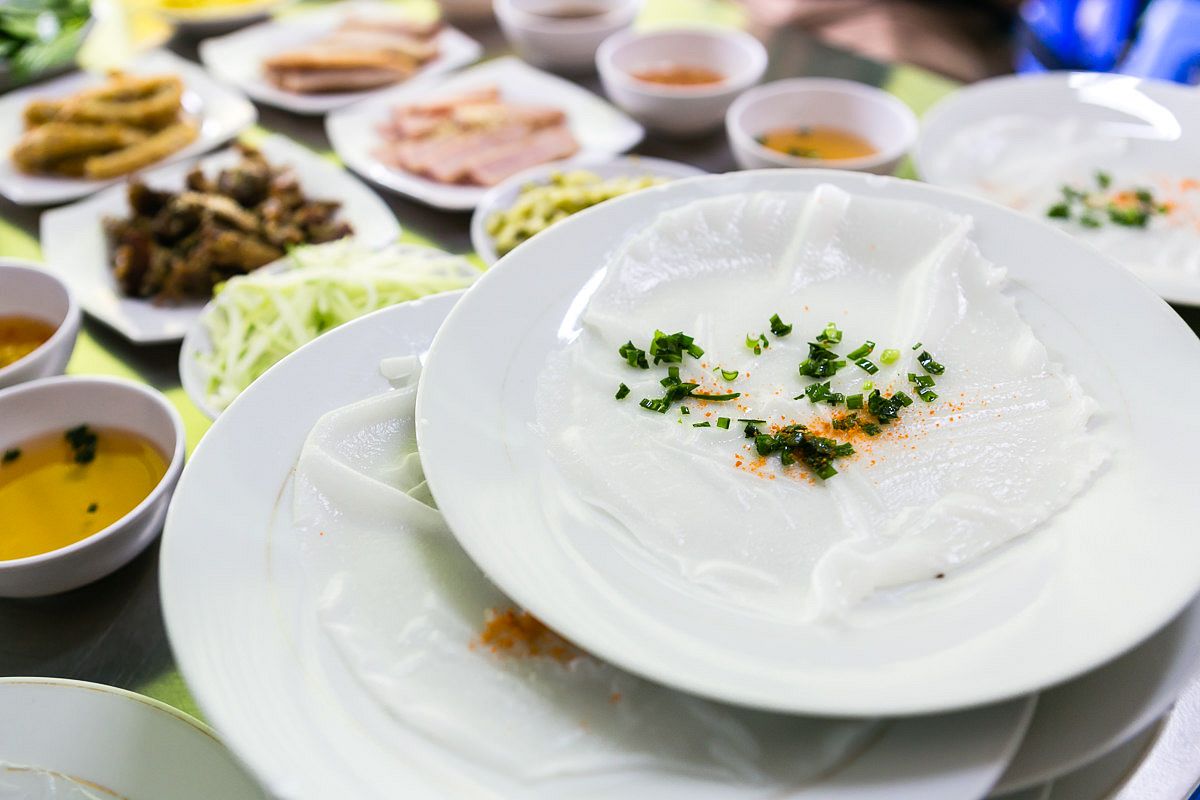 Regardless of how pretty your rolls looks (some of mine split at the seams, revealing a mess of materials not unlike the wires tangled above many a Saigon street), each mouthful will be a complex, fresh delight. While the meats are rich and flavorful, and the vegetables add some pleasant crunch and consistency, the real star of each bite is the semi-ripe mango. The tropical sweetness compliments the salt and grease perfectly.
In addition to swapping between types of pork, the different sauces allow you to further experiment with a variety of flavor profiles. There is the standard fish sauce mixed with vinegar and sugar (nước mắm) and its even more sugared sibling, nước mắm kèo, along with the controversial fermented fish paste with fish sauce (nắm nêm) and an in-house original - a somewhat mild pink sauce made entirely from pork ingredients.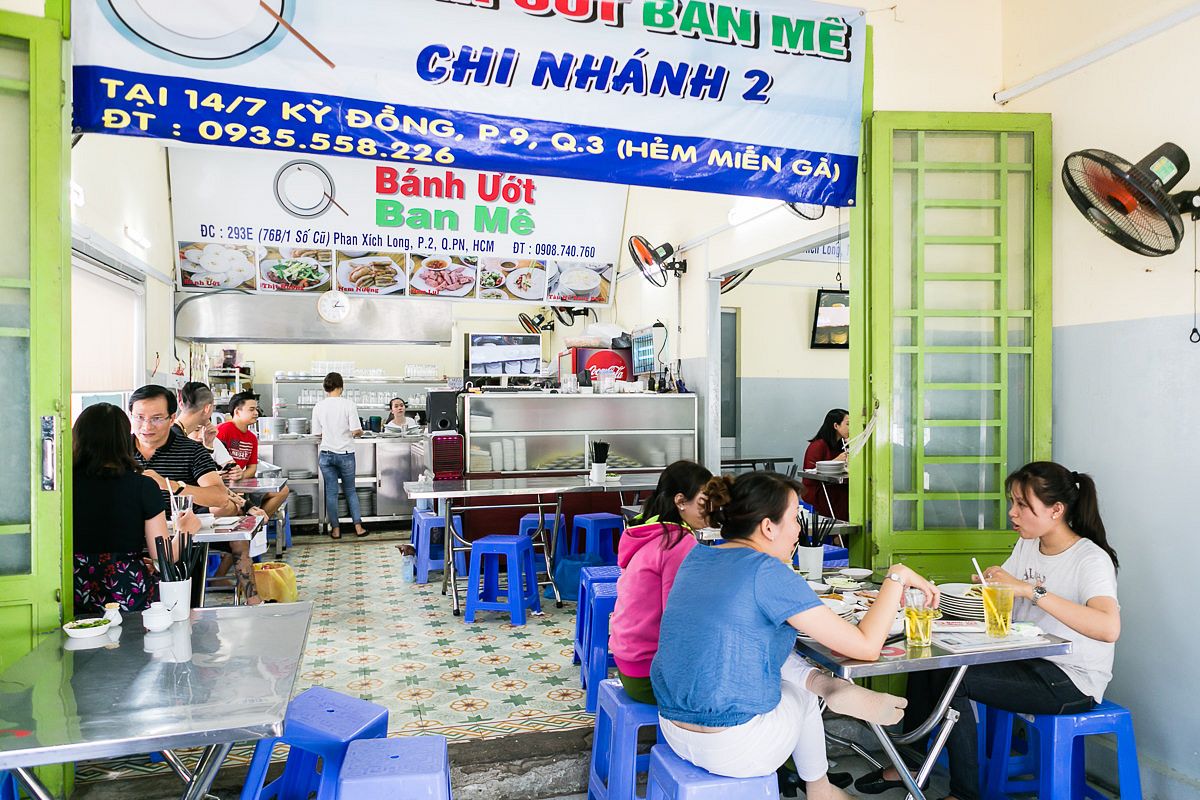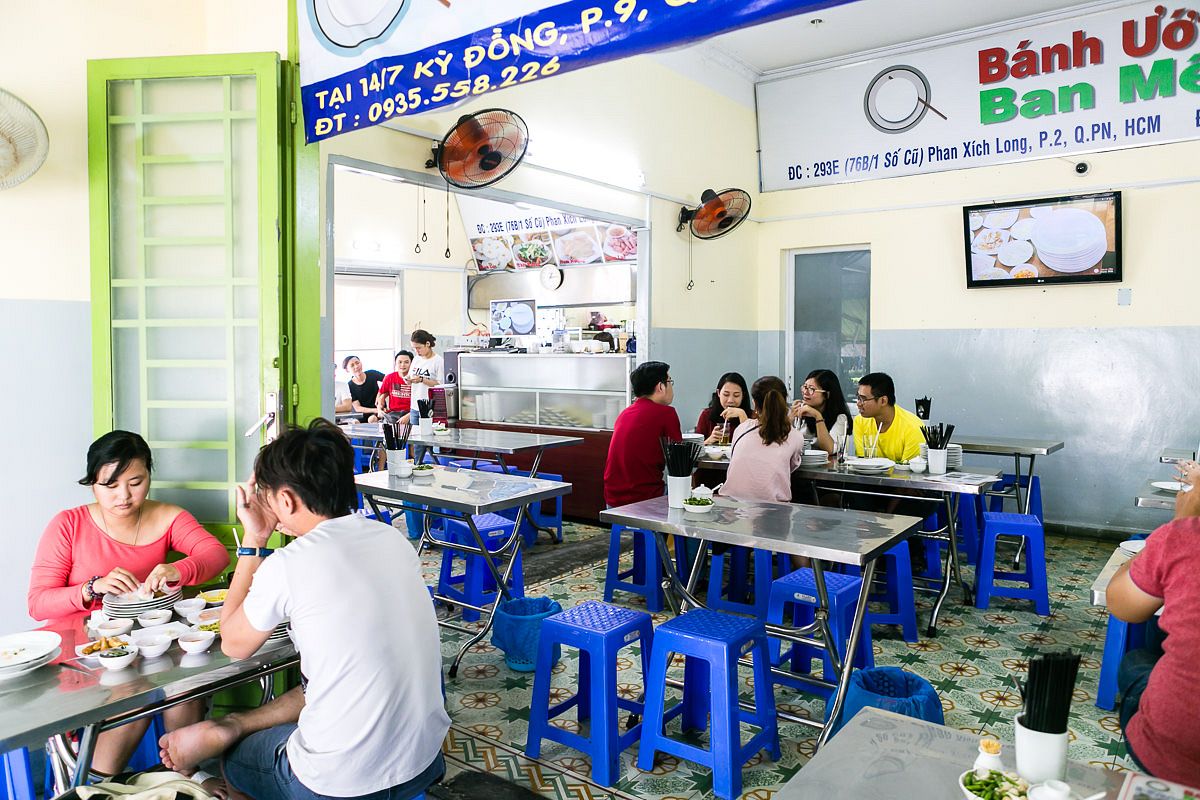 The atmosphere at Banh Uot Banh Me is nothing special, but the fact that it's packed at peak lunch and dinner hours argues for the utilitarian ambiance. The restaurant is actually so successful that a second branch has opened District 3. In line with the no-nonsense vibe, the prices are quite humble as well, with a large meal setting you back less than VND100,000.
It's always satisfying at the end of a meal to be completely full while looking across a table heaped with empty dishes. This feeling is enhanced at Banh Uot Banh Me since the fact that the noodles are served on separate plates means you'll have an impressive stack as tangible proof of your efforts. Regardless of how you worked up the munchies, this Hẻm Gem will satisfy your cravings for a familiar noodle offered in an unconventional way.
Cynics may say that constructing your own meal simply allows lazy chefs to take a shift off while you pay for the privilege to do their job, but I contend the process not only allows for customization of one's meal, but also encourages groups of people to share a slow, relaxing lunch or dinner hour. This isn't fast food, but it should be celebrated for the way it allows one to savor each bite and engage in badinage with buddies.
Banh Uot Ban Me opens for both lunch and dinner.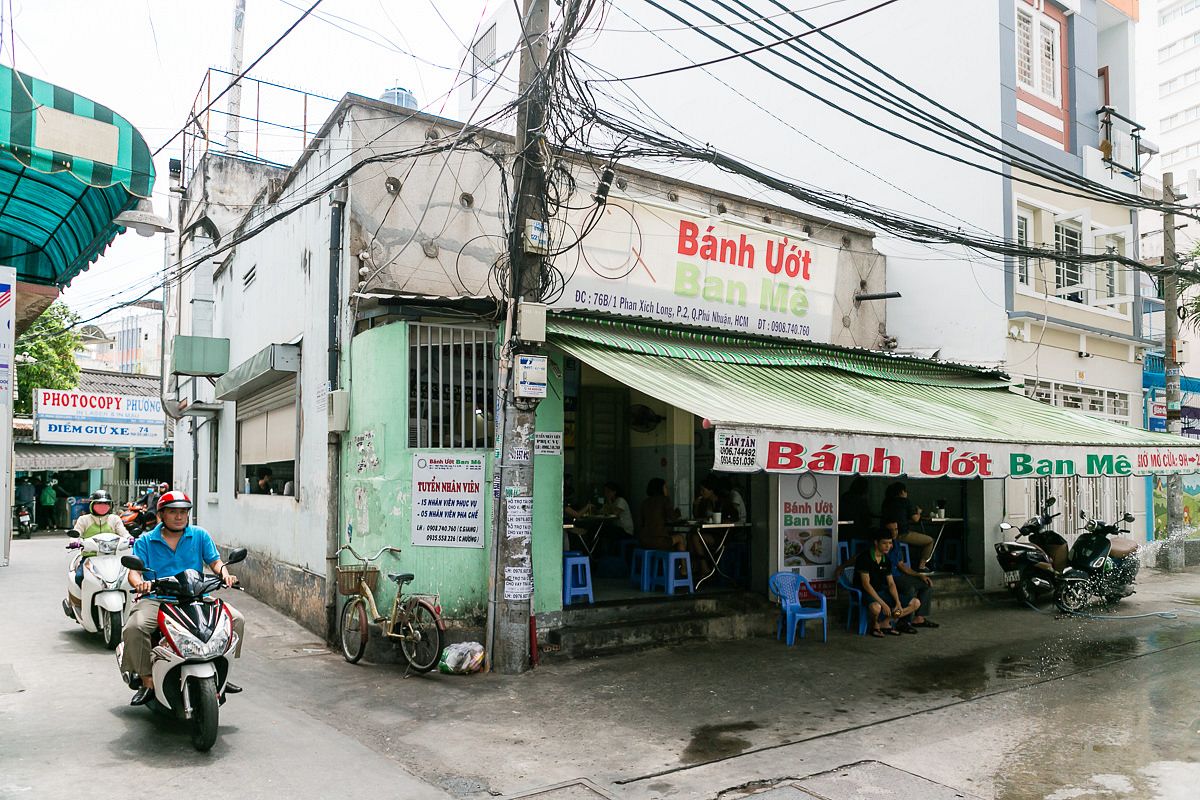 To sum up:
Taste: 5/5
Price: 4/5
Atmosphere: 2.8/5
Friendliness: 3/5
Location: 3/5
Paul started exploring Saigon's food scene when he was informed human beings cannot obtain their complete nutritional needs through beer and durian alone.
Bánh ướt cuốn
293E Phan Xich Long, Ward 2, Phu Nhuan District

---

Related Articles:
---