Is there any cooking utensil that's as magical as the bánh căn mold?
I am an unabashed bánh enthusiast. There's just something about these tiny, simple, rustic morsels of cooked batter that lures one in and keeps a person wanting more. In Vietnam, the word bánh is an all-encompassing term for all food that's grain-based, which could literally mean anything from giant red velvet bánh kem to traditionally sticky rice bánh chưng to bite-sized bánh khọt. Of course, the tiny bánh I'm referring to here are the kinds that come out of a set of tiny clay molds, like Vung Tau's bánh khọt, Phan Rang's bánh căn or the simple, but not simplistic bánh căn Đà Lạt.
The most traditional way of making bánh căn involves a charcoal fire and a clay "stove top," outfitted with a series of slots to place the clay molds directly atop the blaze. Originating in central Vietnam, bánh căn shares some similarities with its southern sibling bánh khọt: they're both small and made up of rice flour batter. However, bánh căn is grilled – giving it a clean and dry texture – while bánh khọt is fried in oil or lard, which can be greasy if a cook goes overboard.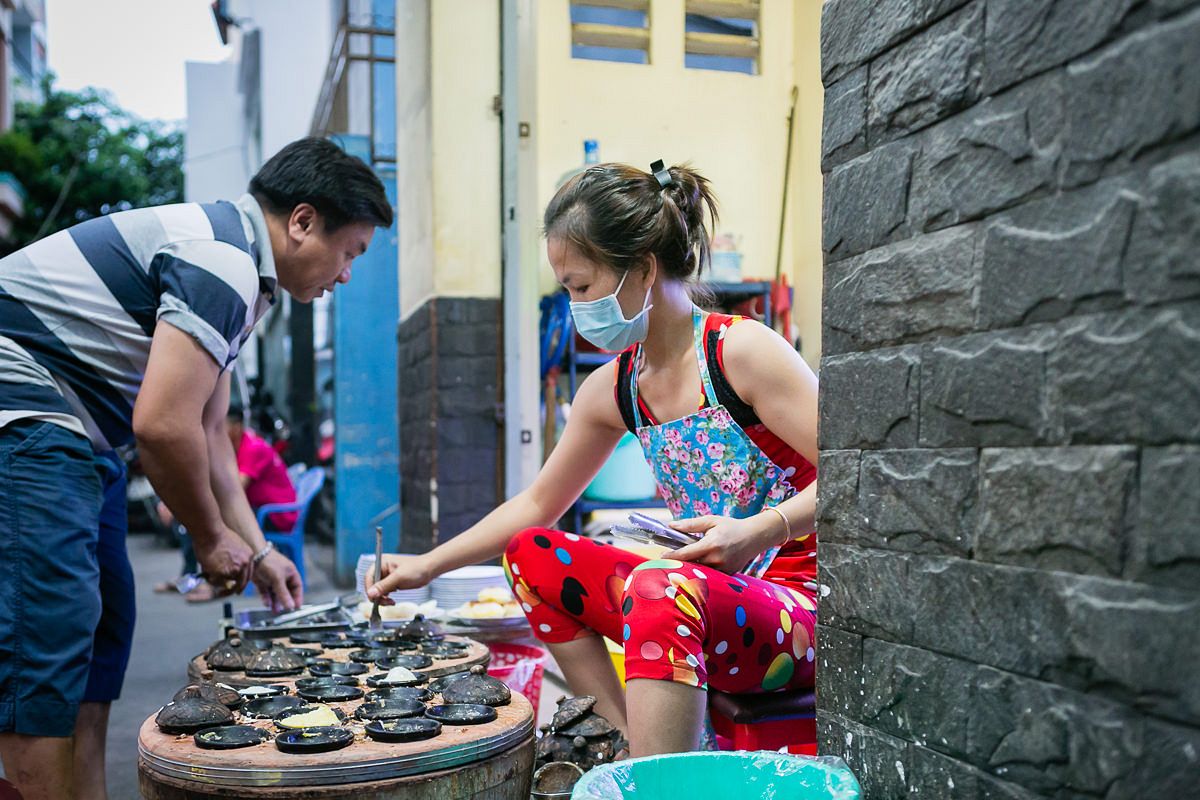 How Vietnam cooks bánh căn also varies depending on the region. In localities along the central coast like Phan Rang and Nha Trang where seafood is abundant, eateries garnish their tiny pancakes with a shrimp and bits of squid or octopus, not too far off from Japanese takoyaki balls. In Da Lat, in a sleepy resort town nestled on the Langbian Plateau 1,500 meters above sea level, bánh căn takes the purest form with just a small ladle of batter and a quail egg.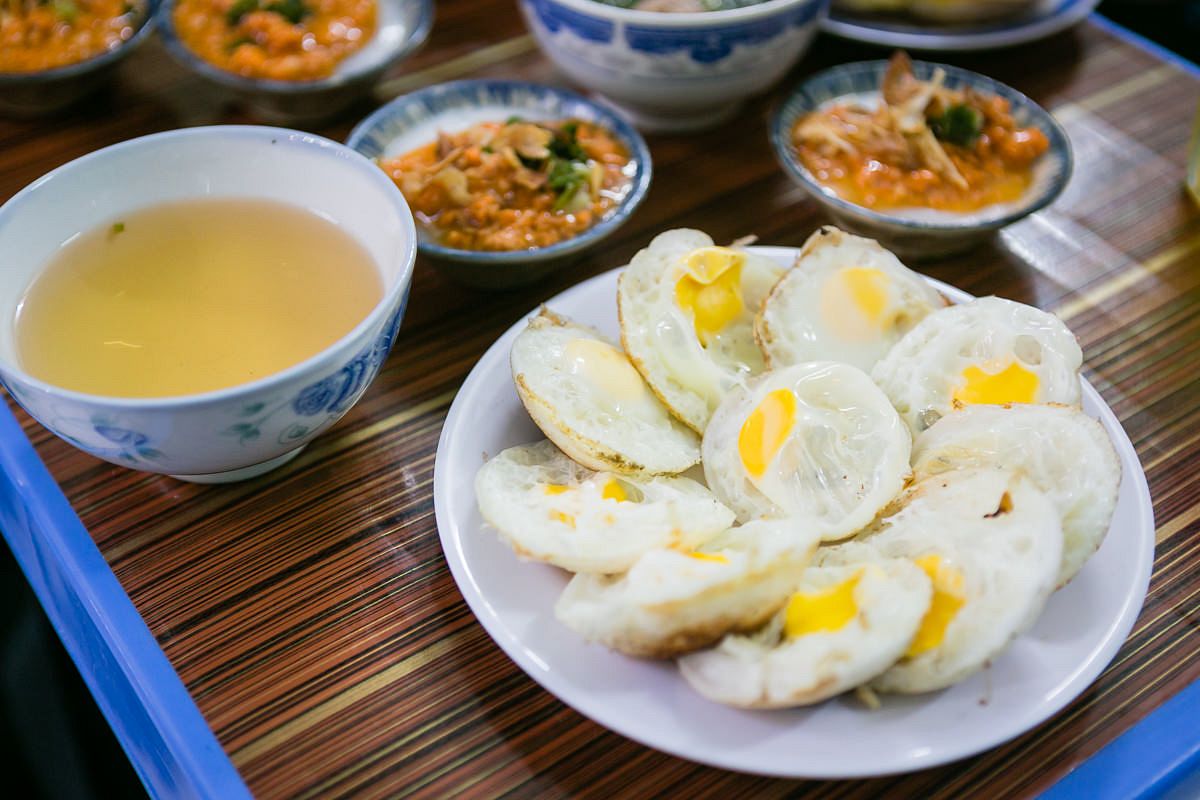 Having been thoroughly charmed by Da Lat's version of bánh căn in my travels, I've been on the prowl for a restaurant in Saigon selling these tasty morsels for a long time. The thing is, it isn't rare to find bánh căn in the city, but more often than not they're of the Nha Trang or Phan Rang variety, which – while decent – don't hold a candle to bánh căn Đà Lạt. Therefore, when a video popped up on my Instagram feed showing the staff at District 10's Quan Co Quynh nimbly churning out plates of bánh căn, I knew that I would have to make a pilgrimage there as soon as possible.
It didn't take much convincing to rope my colleagues into joining me on a trip to find this bánh căn oasis. We departed from our District 1 office at 4pm and got there at 5pm. Much like a band of fugitives trying to traverse the grueling desert trying to find water, by the time we arrived, the traffic in District 10 had already reduced us to a ragtag group of cantankerous, hangry, disheveled messes.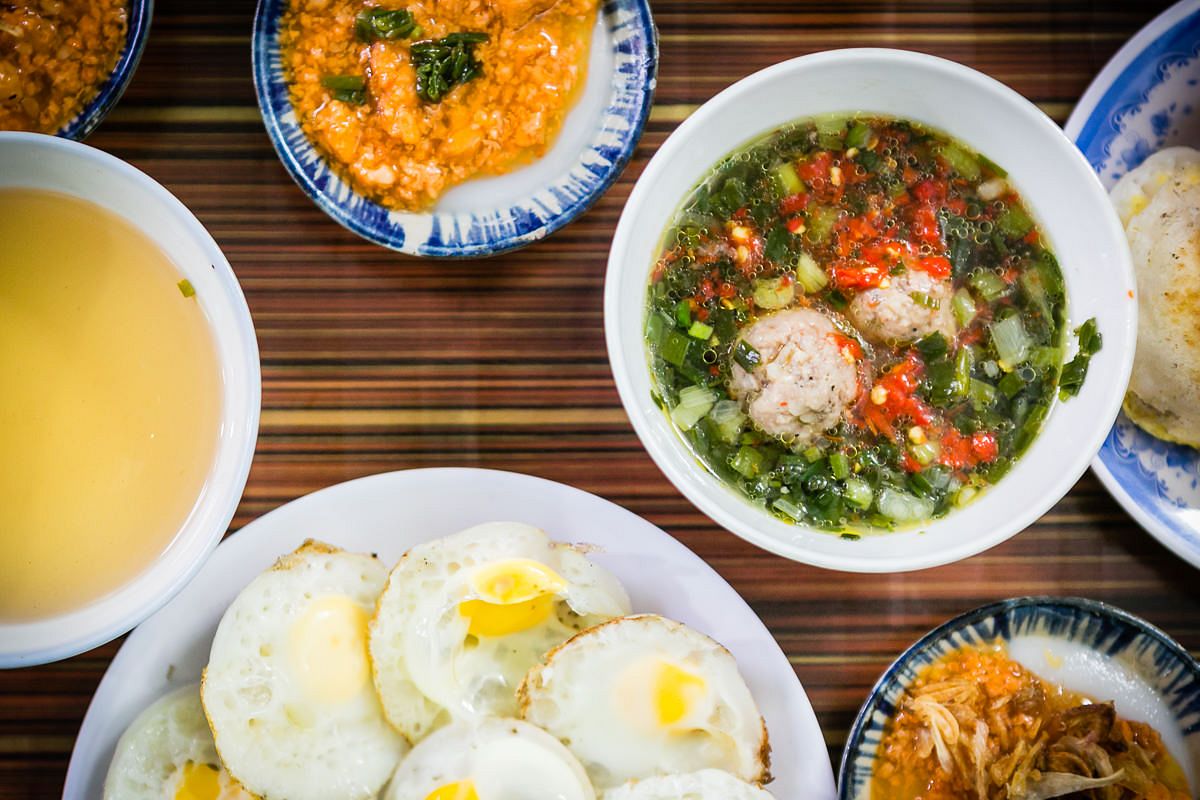 I started to perk up as soon as I spotted the outdoor grill and the clay molds in action; and once the waiter brought out plates of warm, freshly grilled bánh căn, the traffic didn't seem to matter anymore. Each plate (VND30,000) has ten bánh căn served in a pair with savory scallion nước mắm. The tiny pancakes are exactly as I remember: firm and opaque with a lightly charred bottom and the richness of quail eggs. We also tried out Quan Co Quynh's versions with chicken egg and duck egg (VND25,000 per plate), which were also decent, but couldn't compare to their quail egg counterpart.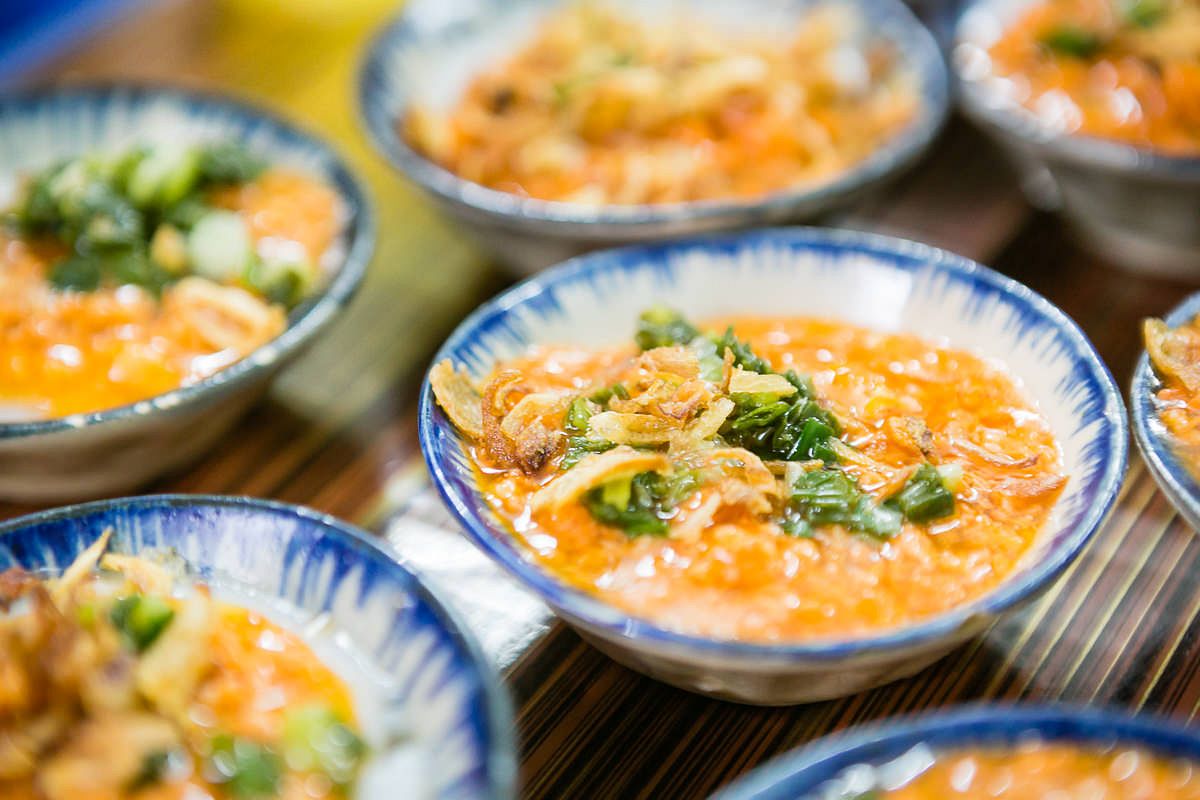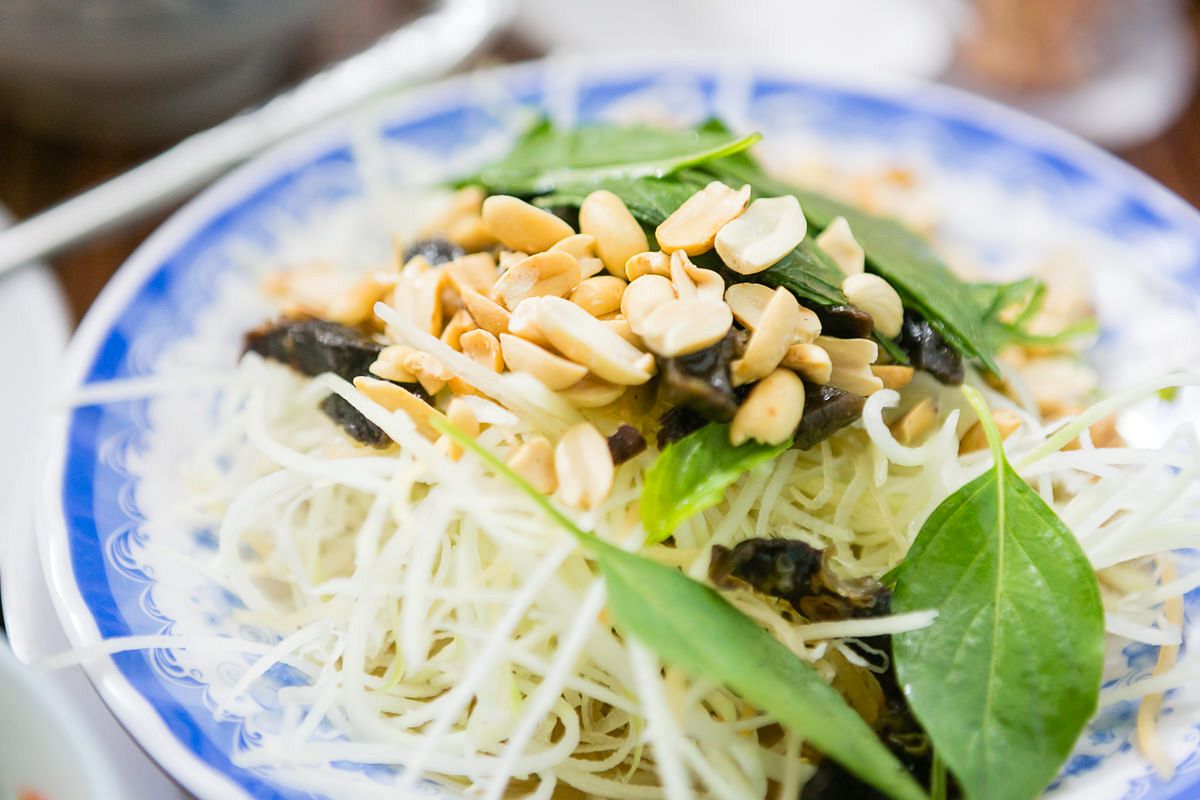 What completed the dish for me was the small bowl of scallion nước mắm, a lesson in harmony with balanced sweet and savory flavor. With the addition of a few meatballs (VND5,000) – xíu mại Đà lạt – every bite of bánh căn was pleasant.
Apart from bánh căn, Quan Co Quynh also serves a variety of other delicacies, which are all Da Lat renditions of well-known dishes: mì quảng Đà Lạt, bánh ướt Đà Lạt, bánh bèo Đà Lạt, etc.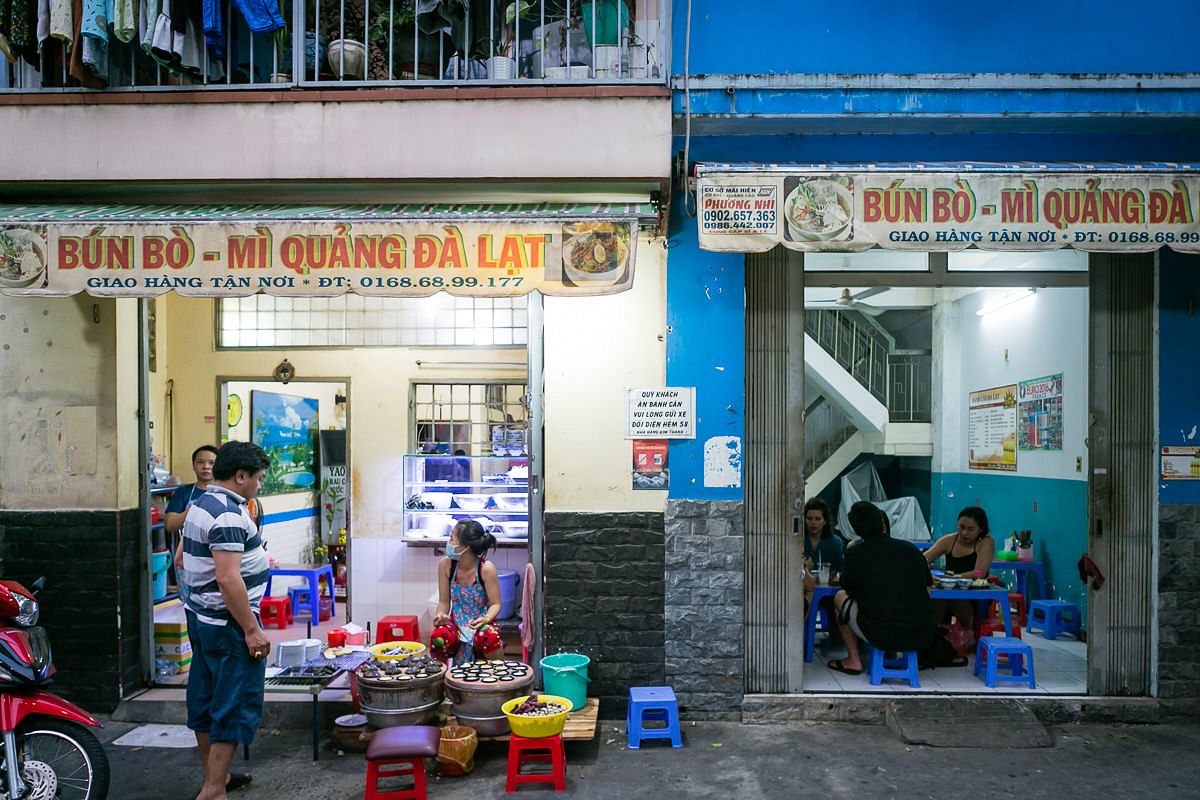 Quan Co Quynh – Banh Can Da Lat is open from 4pm to 9pm.
To sum up:
Taste: 5/5
Price: 5/5
Atmosphere: 3/5
Friendliness: 3/5
Location: 2/5 – parking is a pain as patrons have to go across the street to a private lot.
Khoi loves tamarind, is a raging millennial and will write for food.
Bánh căn Đà Lạt
58/8 Dong Nai, Ward 15, D10

---