In the public discourse surrounding beef and its culinary application, more often than not there's barely any space for tripe.
From Asia to Europe, food establishments often engage in a competition to best elevate the red meat to its highest level, both in tastiness and price. Japan has Wagyu and Kobe beefs, renowned for their unparalleled tenderness. Elsewhere in France, pan-seared filet mignon is a tried-and-true delicacy, while a Danish chef even created a complex method to age ribeye steak in butter.
Alas, mentions of offal, or beef internal organs, rarely inspire the bright eyes, clapping hands and wagging tails that beef steaks receive from food lovers. A study conducted last year in the UK came to the conclusion that tripe is the most hated food in the kingdom, followed by giblets — poultry organs — and eel. Once popular across social classes, tripe is now frowned upon by much of the developed world due to its high cholesterol, and is hence relegated to ingredients of pet food.
No one has ever carried out such research in Asia or Vietnam, but judging by the popularity of phá lấu among locals, if someone ever tries, they're bound to be pleasantly surprised. Phá lấu bò, a coconut-y, spicy, rich dish made from beef tripe, is among Vietnam's most beloved street snacks; its chewy texture and five spice-infused broth never fail to make my mouth water. That's why I was intrigued by the sight of Laikee Noodle House's Hong Kong beef tripe noodles, which promises to marry the best of both worlds: noodle soup and well-braised tripe.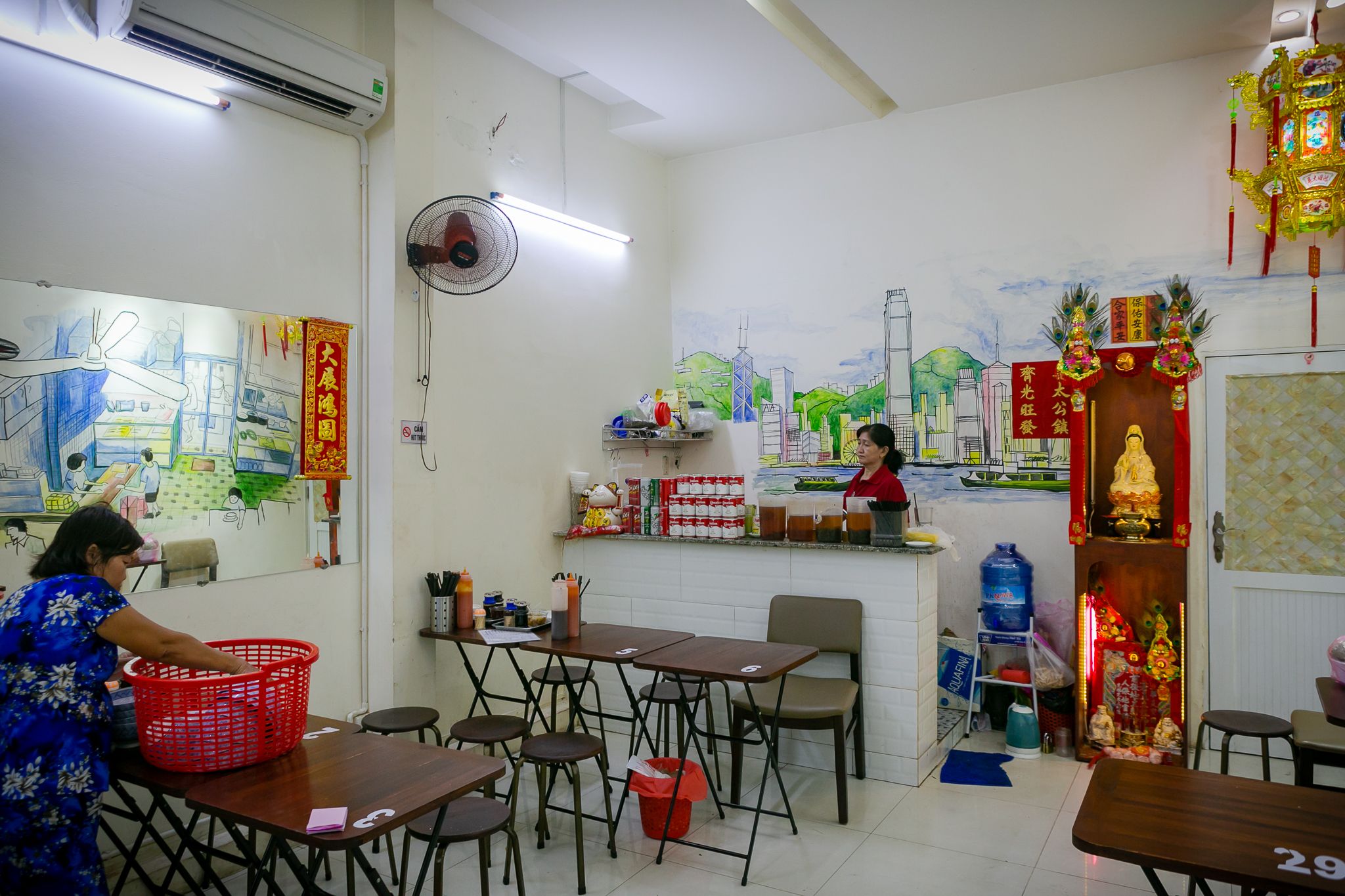 Stepping into Laikee's dining area feels a bit like falling down a rabbit hole into an alternative reality. It's not quite Hong Kong, Vietnamese nor Chinese, but a combination of all the above. On the wall are murals depicting scenes from the Chinese coastal hub: residential behemoths, street carts and an unexpected cameo from Chú Thoòng (Old Master Q), a character from a Hong Kong comic series by Wong Chak that was all the rage in Vietnam in the 1990s. At a corner, a kitchen lady is folding wontons with measured movements. Vietnamese and Cantonese phrases are thrown around among staff members in casual banter. Crisp laughter, jokes, teasing — though I don't understand much of the conversation, I can tell that they either have good rapport or are related by blood in some way.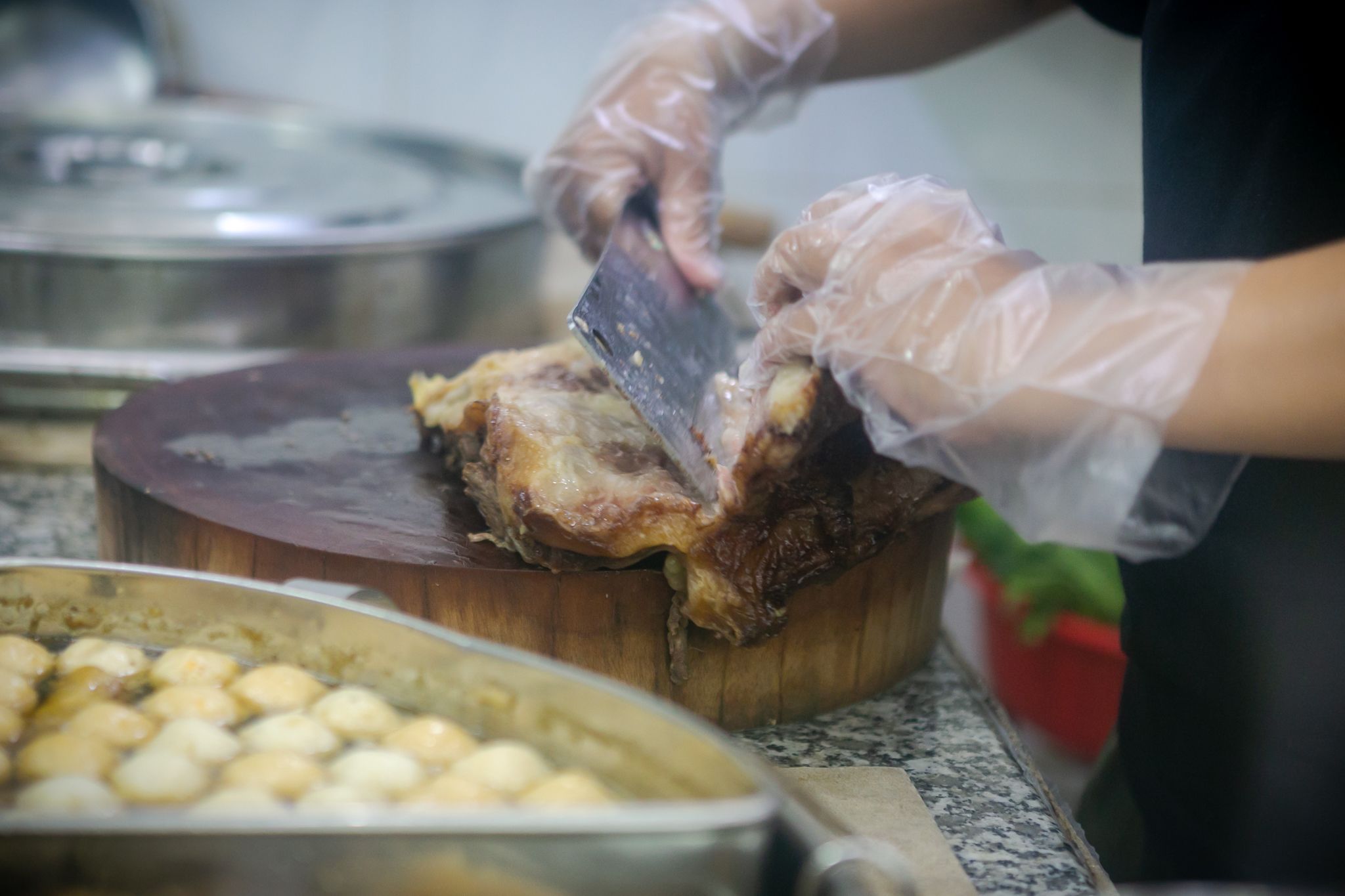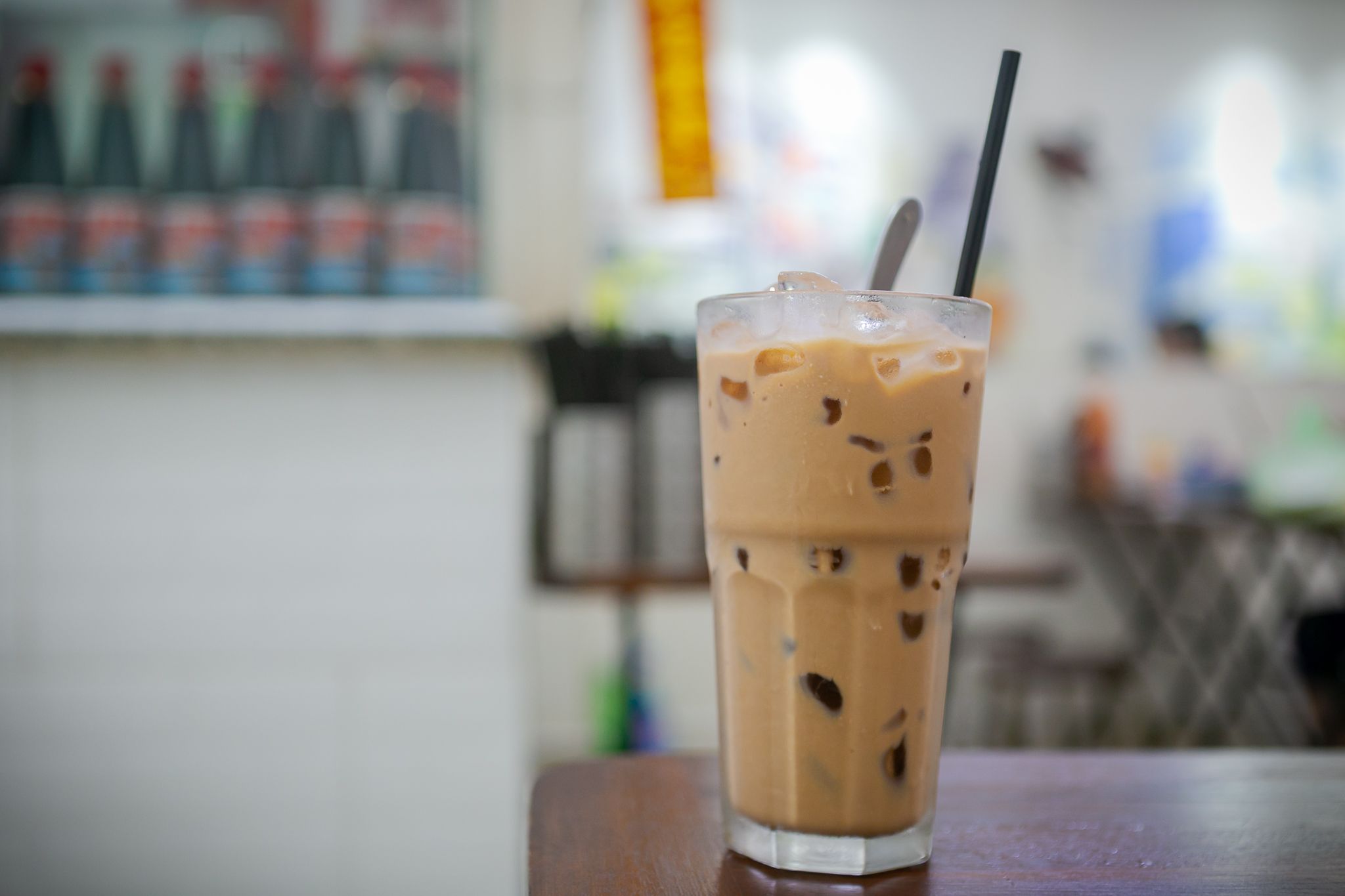 The cooking area is separated from table sets by a thick glass wall with a cut-out section for passing orders inside and finished dishes outside. At 5pm, the restaurant is empty enough that our food is cooked right away upon ordering, and we can see it being prepared right in front of our noses: a quick blanch of yellow noodles, then a ladle of spice-infused broth, and finally, pieces of tripe on top.
A bowl of Hong Kong beef tripe noodles at Laikee costs VND40,000 and a glass of Hong Kong milk tea will set you back VND25,000. Ravenous guests should go for the full thập cẩm noodle bowl. At VND50,000, it has everything the eatery has to offer, including noodles, tripe and chunks of braised brisket. Apart from the main protein, other components of the bowl are very similar to mì vịt tiềm, or braised duck noodles, especially the broth. Have a slurp and one will find whiffs of five-spice powder and the deeply umami taste of beef stock. The use of yellow wheat noodles, bok choy and wood ear mushrooms also brings to mind duck noodles, while the assortment of similar spices indicates that the dish must be a distant cousin of Hong Kong's famed beef entrails.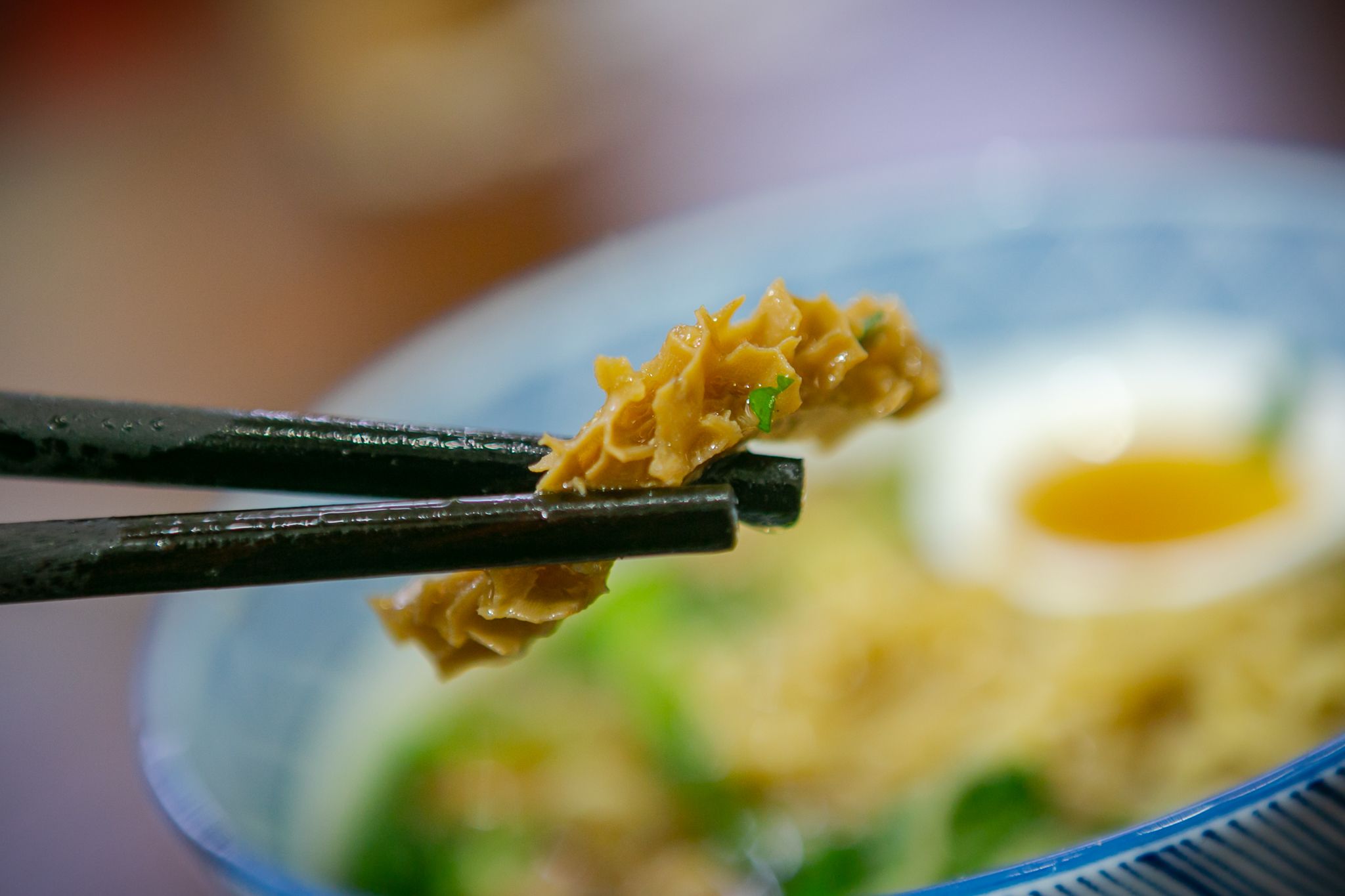 We come to Laikee seeking tripe and we're given the pieces of cattle innards that are braised to desirable tenderness while soaking in the spice mix. As we take our first bite, the owner — a middle-age Cantonese lady — saunters over our table, gesturing to the jar of spicy xá bấu. Xá bầu, or choi poh in Cantonese, is preserved radish commonly used as garnish in Teochew cuisine for added crunchiness. Hoisin sauce, chili sauce and chili oil are also there for those who are into more intense hotness. In Vietnam, tripe dishes usually include all four chambers of a cow's stomach, along with its liver and intestines.
While all four are generally chewy, they bear slight differences. The first chamber, rumen, is lined with tiny papillae resembling the surface of a cotton towel, which is also its Vietnamese name: khăn lông. The second chamber, reticulum, is called "honeycomb," or tổ ong in Vietnamese. The third chamber, which has partitions resembling leaves, is unsurprisingly named "book leaves" in Vietnamese, or lá sách. Last but not least, the last chamber is the cow's actual stomach.
A good bowl of tripe in Saigon means clean, odorless pieces of phá lấu that are cooked just right: not too soft and not too tough. And Laikee's offering has achieved a sterling level of chewiness and flavor that leaves you yearning for future visits.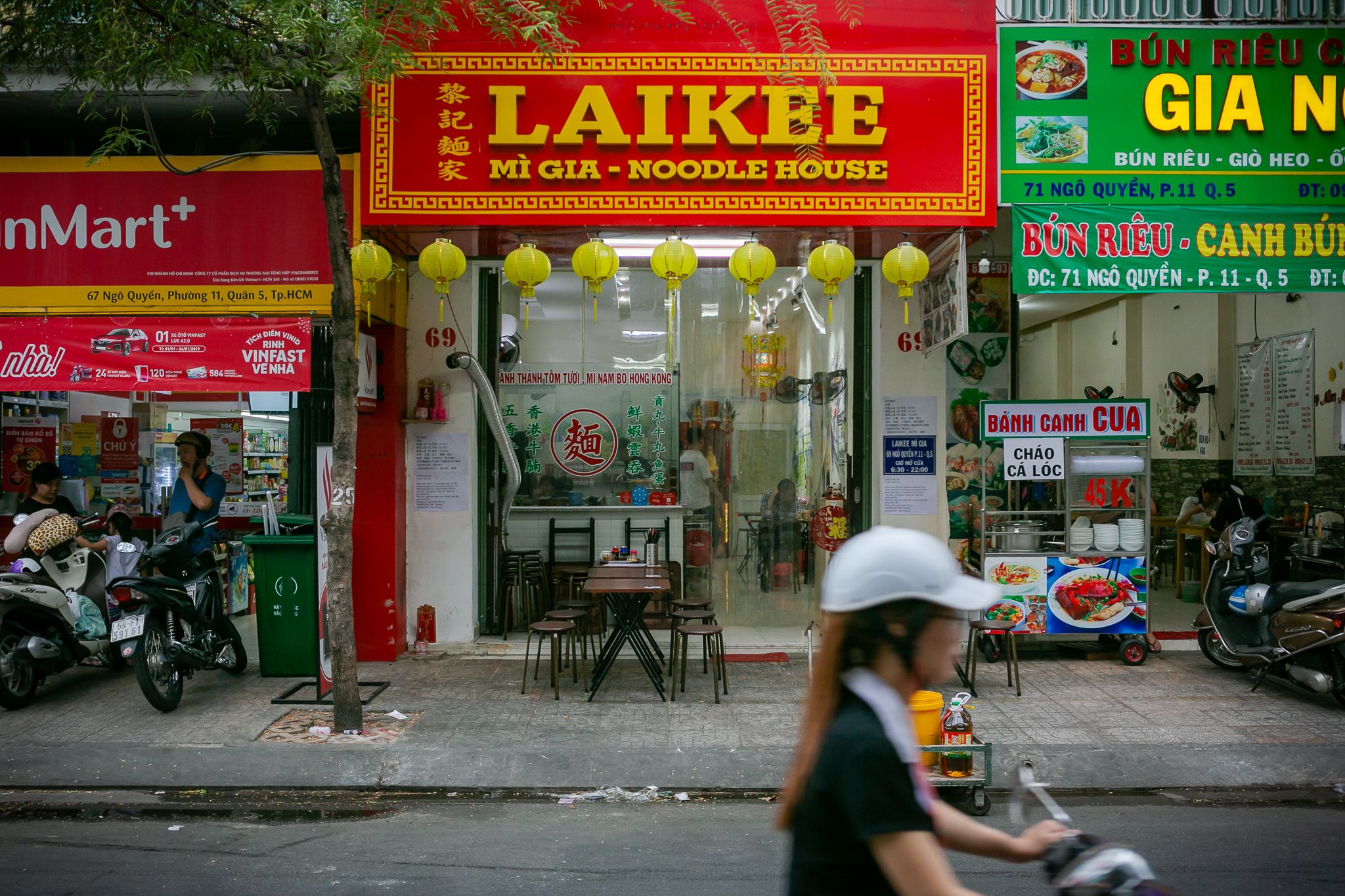 Laikee Mi Gia is open from 6:30am to 10pm.
To sum up:
Taste: 5/5
Price: 4/5
Atmosphere: 4/5
Friendliness: 4/5
Location: 4/5
Khoi loves tamarind, is a raging millennial and will write for food.
Beef tripe noodles
69 Ngo Quyen, Ward 11, D5

---

Related Article:
---