Right in the middle of frenetic hospital crowds, imposing pharmacies and peak-hour traffic, Hue Ky Mi Gia stands out, its indoor dining area seemingly unaffected by the commotion that's going on just a few footsteps away.
As lazy District 1 dwellers, it's rare that Saigoneer strays far from our nest in the central business district, but once a field trip is planned, it's always worth it. During a recent visit to explore the treasure trove that is Nhat Tao, a market dedicated to second-hand electronic devices, we also dropped by a few highly recommended eateries in the vicinity to sample the local offerings of Chinese food, starting with the range of noodles at Hue Ky Mi Gia on Thuan Kieu Street.
Hue Ky's location is unique. It's neither part of any well-known noodle enclaves, such as "sủi cảo street" Ha Ton Quyen, nor is it based in popular Hoa neighborhoods like those surrounding Cho Lon. Just opposite from the shopfront is the side gate of Cho Ray Hospital, one of Saigon's oldest medical facilities, dating back to French colonial rule. The streets surrounding the hospital, including Thuan Kieu, have over time evolved into a mini economy supporting patients and their caretakers. Cheap hotels, pharmacies, Chinese medicine apothecaries and medical supply stores have sprouted up along the streets, creating a special atmosphere of solemn busyness.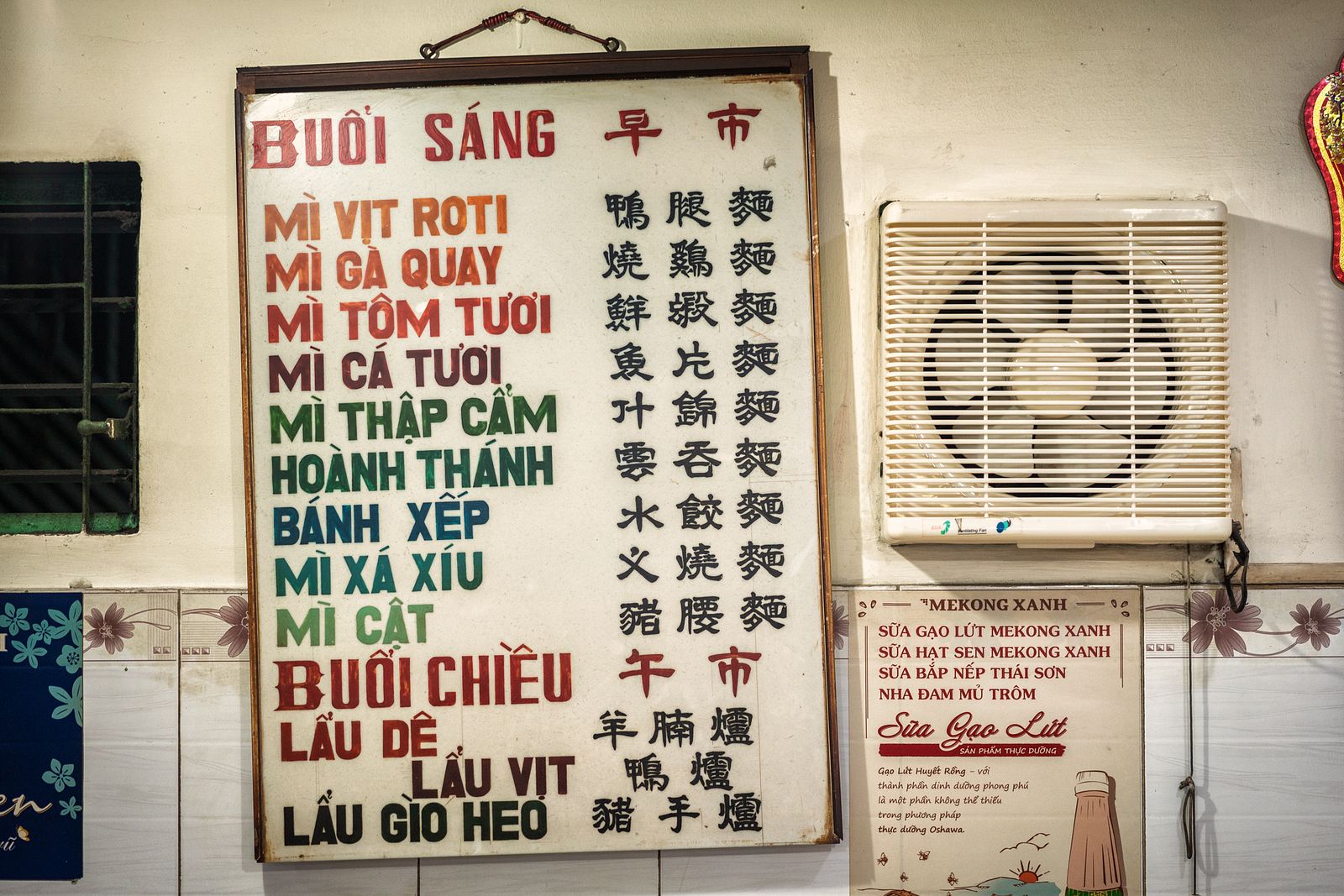 Stepping inside Hue Ky offers an instant reprieve from the crowd and noisy traffic. The noodle shop's interior is spacious, with decades-old picture frames and loud Chines-style decorations. Its high ceiling is great for ventilation, though the air is still thick with a fragrant aroma of umami broth. On the back wall, a vintage menu in muted shades of red and blue lists out the dishes in Vietnamese and Chinese characters.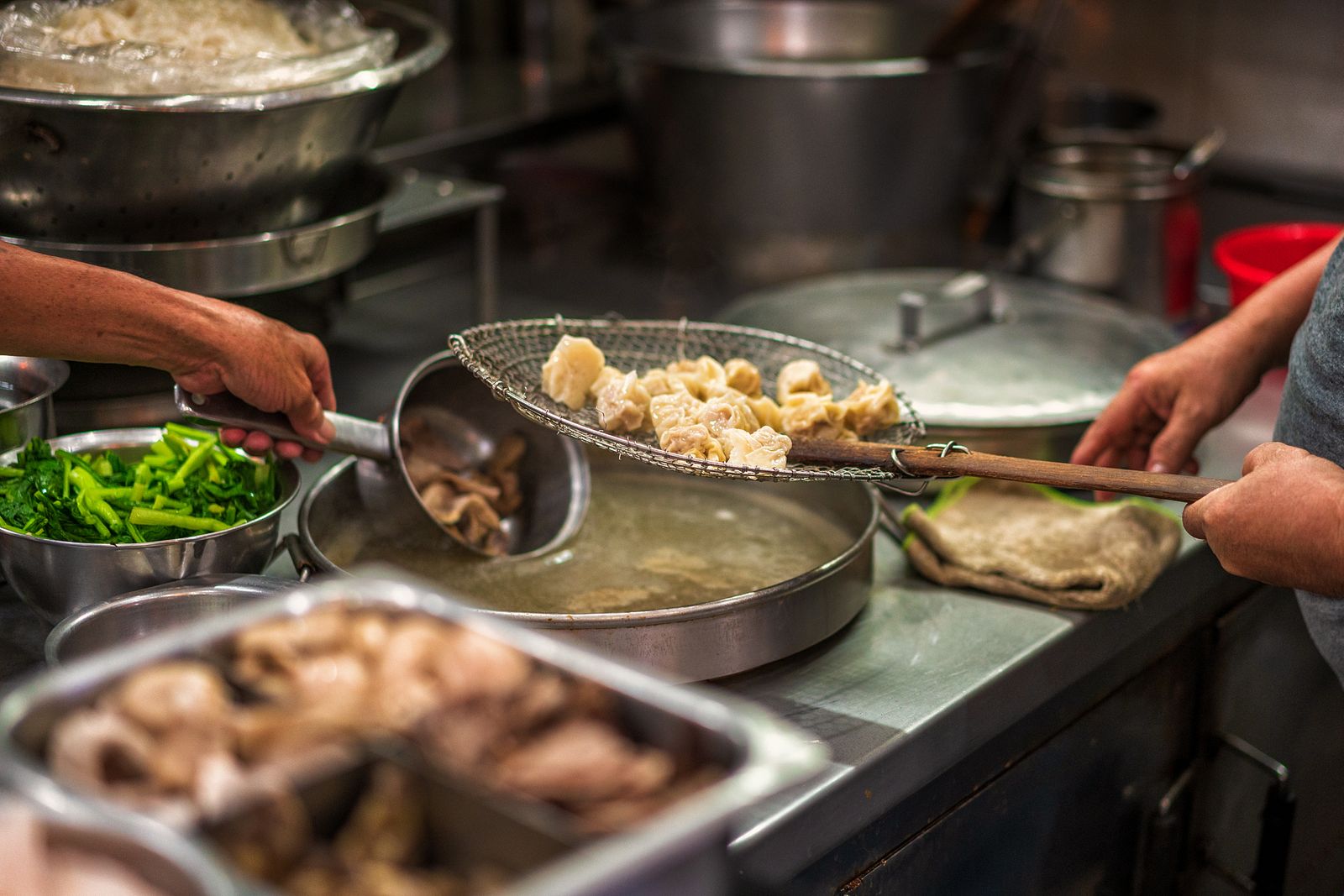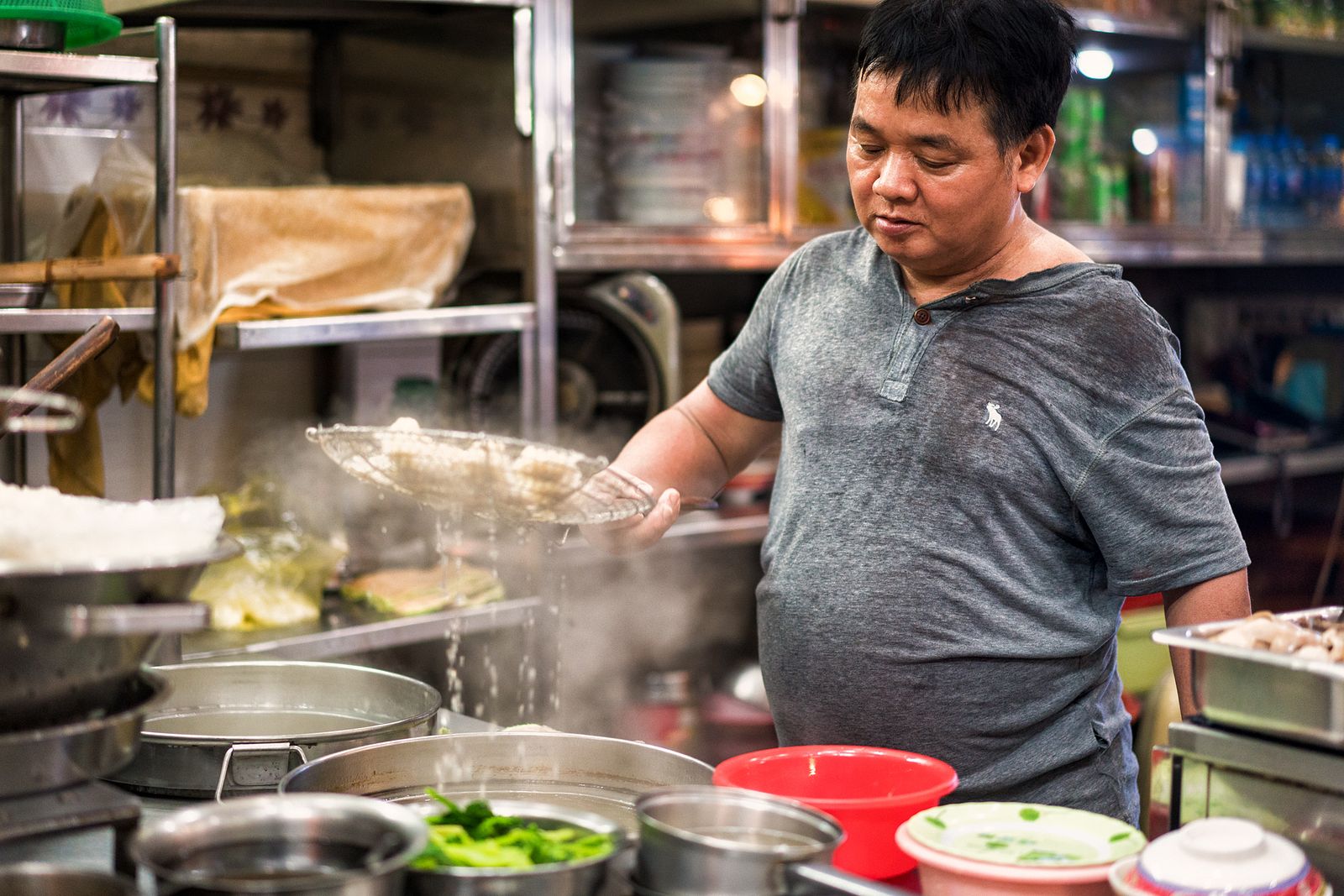 We decide on three portions of noodles with duck, chicken and thập cẩm (assorted toppings) at VND100,000 each. Each set of roast chicken or duck noodles includes a plate of golden thigh meat and a bowl of handmade noodles and broth. These morsels of tender, crispy poultry will be among the best one will ever taste in the city. The duck is lightly seasoned and still juicy inside, while the broth is subtly spiced with a soft whiff of cinnamon. The thập cẩm noodles have a lighter, less spice-heavy soup and features a range of toppings including pig intestines, thin slices of pork and elegantly butterflied shrimp.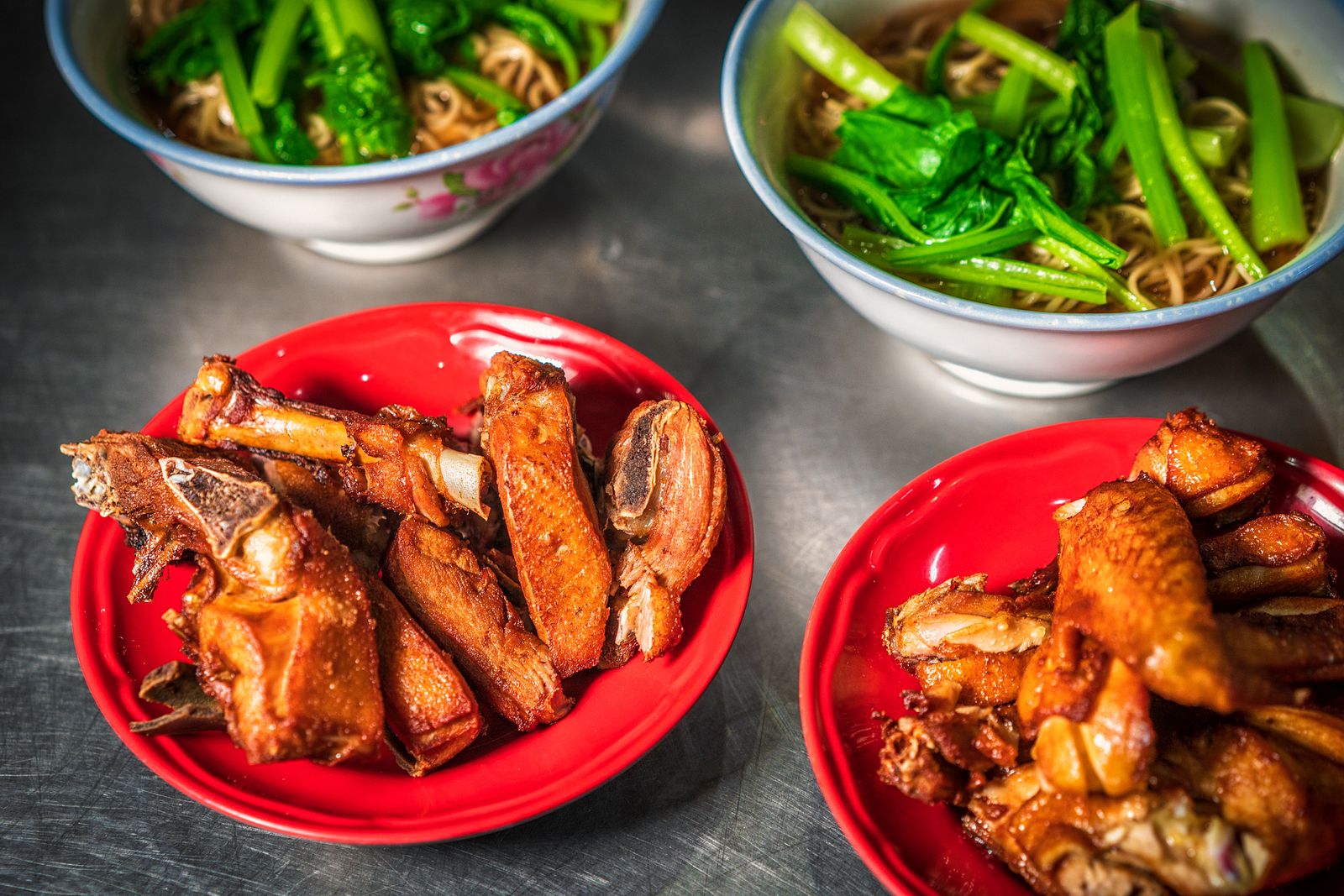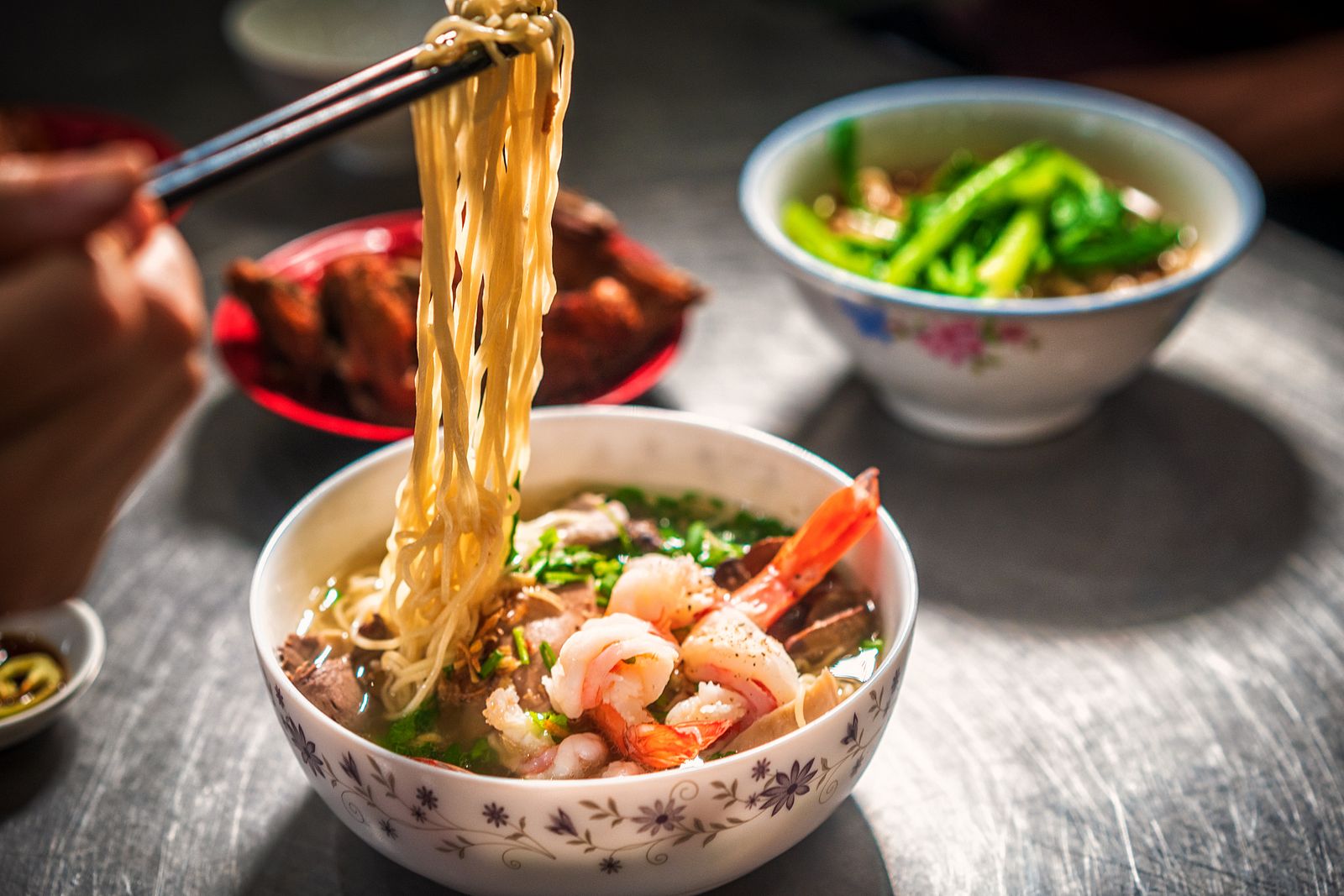 While the expensive price tag is not unheard of for a duck dish in the city, it's on the steep side, especially considering the bowl of noodles only has broth, mustard greens and noodles. I'm personally not impressed with the noodles at Hue Ky because I've had better at a cheaper price, and it's likely that you will be able to find perfectly affordable and cooked alternatives in your community as well. All told, Hue Ky Mi Gia might be worth a visit if one happens to be in the area, like after a draining checkup at Cho Ray, but otherwise, the delicious duck alone is not worth the hassle.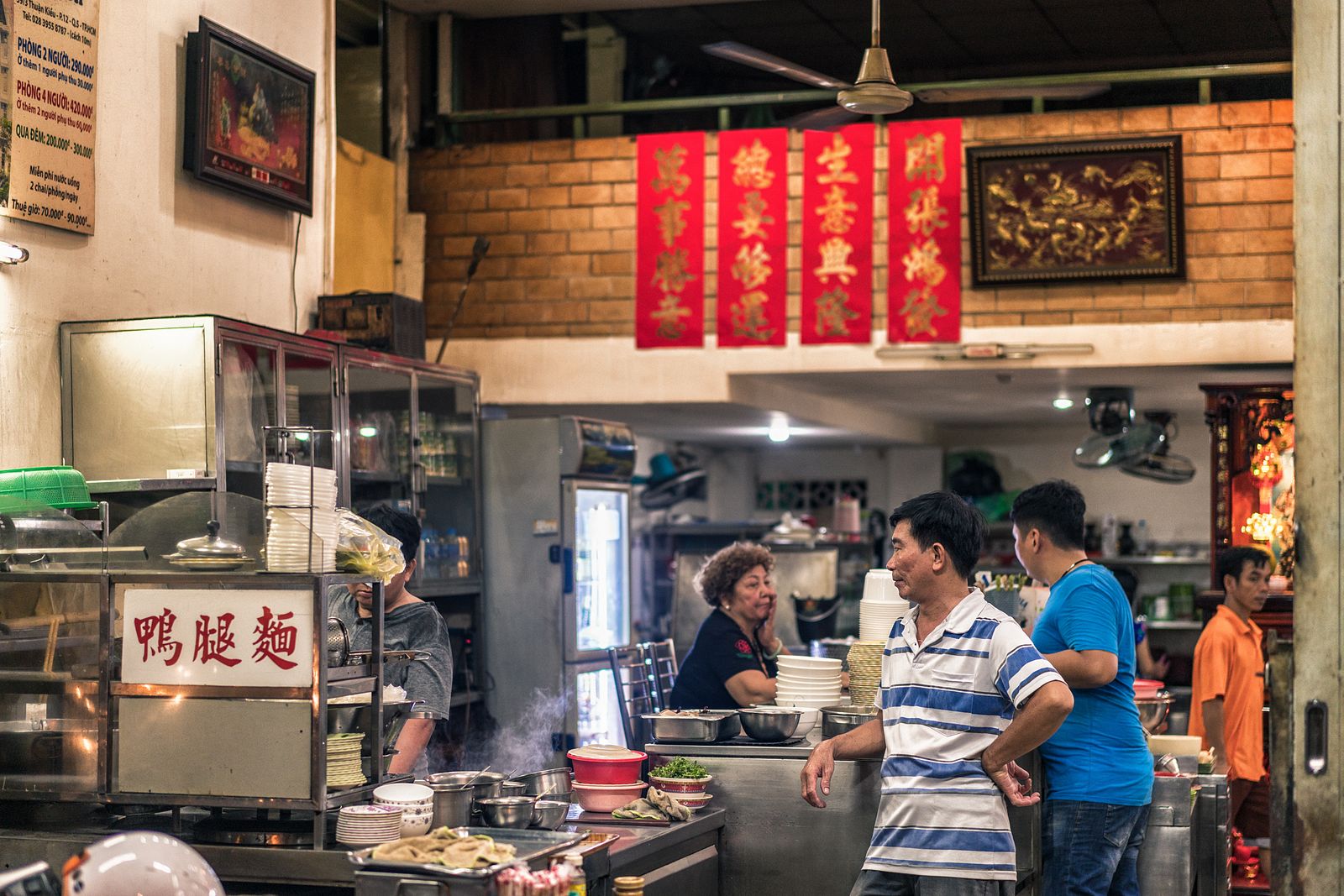 Hue Ky Mi Gia is open for lunch and dinner.
To sum up:
Taste: 5/5 for the roast duck and chicken, 2.5/5 for the noodles
Price: 3/5
Atmosphere: 5/5
Friendliness: 4/5
Location: 4/5
Khoi loves tamarind, is a raging millennial and will write for food.
A variety of noodles
59C Thuan Kieu, Ward 12, D5