The first role I ever took in my home kitchen was to prepare sweet fish sauce with chili and garlic to pour over rice and noodles. As simple as this may sound, I still can't master the art after years of frustrated whisking.
There are some reasons that make assembling Vietnam's delectable sweet fish sauce a harder feat than flavoring meat or other animal proteins. Most meat-based dish flavors rely on the juice and fat that meat releases, which is packed with savory goodness, with the added flavor sources acting as complementary elements to amp up the umami-ness without needing to do the heavy lifting of setting the foundation for the flavor of the dish. Meat is also more absorbent than rice and noodles, making it easier for the flavors to enter. The iconic sweet fish sauce also has more flavor profiles and tastes going on (acidity, sweetness, saltiness, savory, heat) which can lower the probability of success.
I thought about these things a lot when I noticed Loan, the owner of Krua Thai, speaking so proudly about how she prepares all the saucy components for the dishes in the eatery. Opened about four months ago, Krua Thai specializes in som tam, a type of Thai salad made with green papaya (and sometimes green mango) pounded in a big mortar with bird's eye chili, fish sauce, tamarind, lime juice and wedges, and peanuts. There are many types of som tam, made with either cooked or raw protein, or vegetables.
A som tam dish might have a similar flavor profile to a Vietnamese salad, although its sourness is more prominent. This feature could be due to the different sources of acidity used in the salad. The main source of acid for a Vietnamese fish sauce is either vinegar or lemon juice, both of which provide a pretty sharp sourness, with a touch of bitterness. The acidity is then balanced out using sugar, adding a nice contrast to the fish sauce. I notice that in som tam, on the other hand, there are several layers of acidity: the sharpness from lime juice, a sweeter, mellower type of acid from the tamarind, and a slight hint of fruitiness from palm sugar, which also offers more nuanced flavors due to its raw nature compared to the more processed and refined white granulated sugar.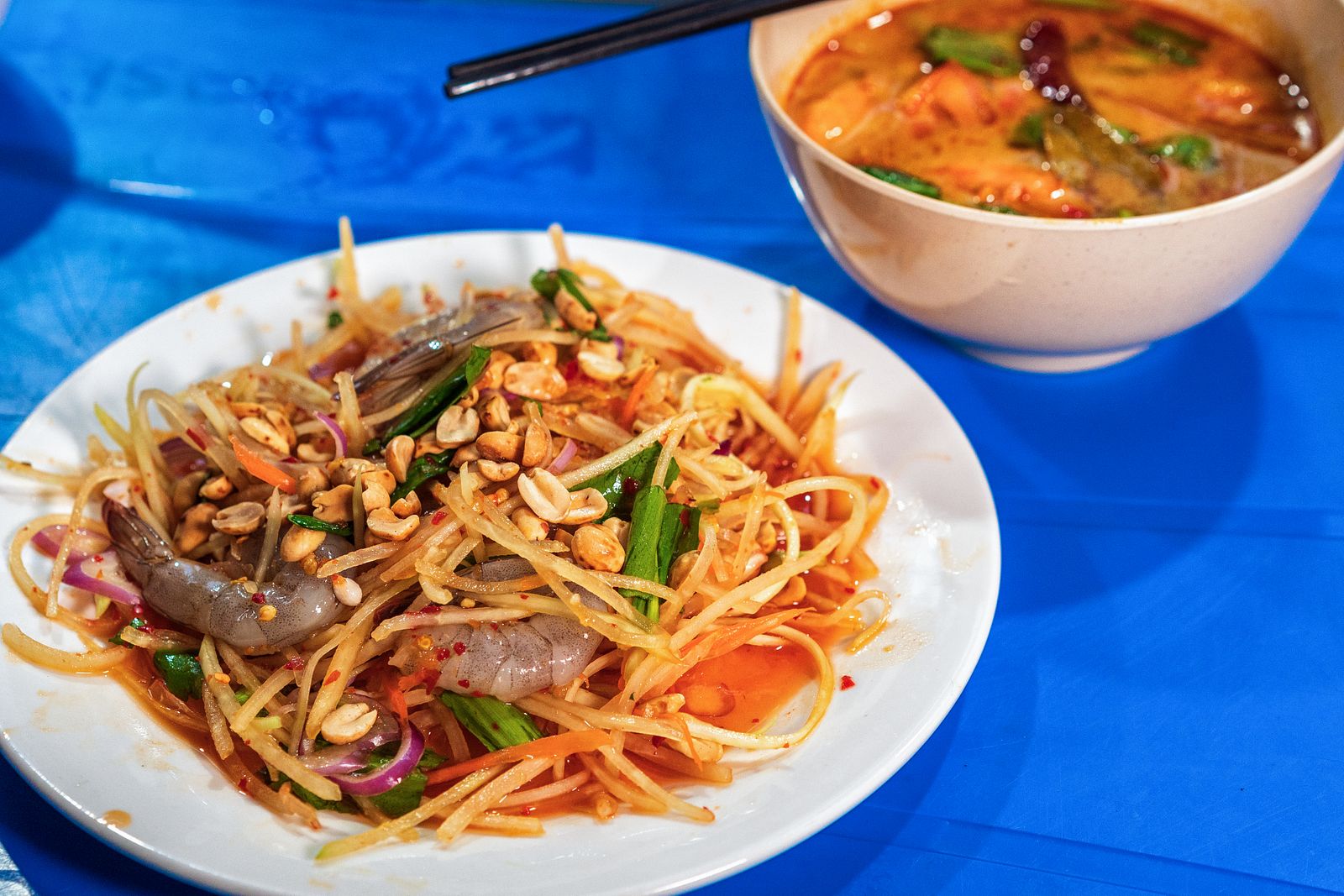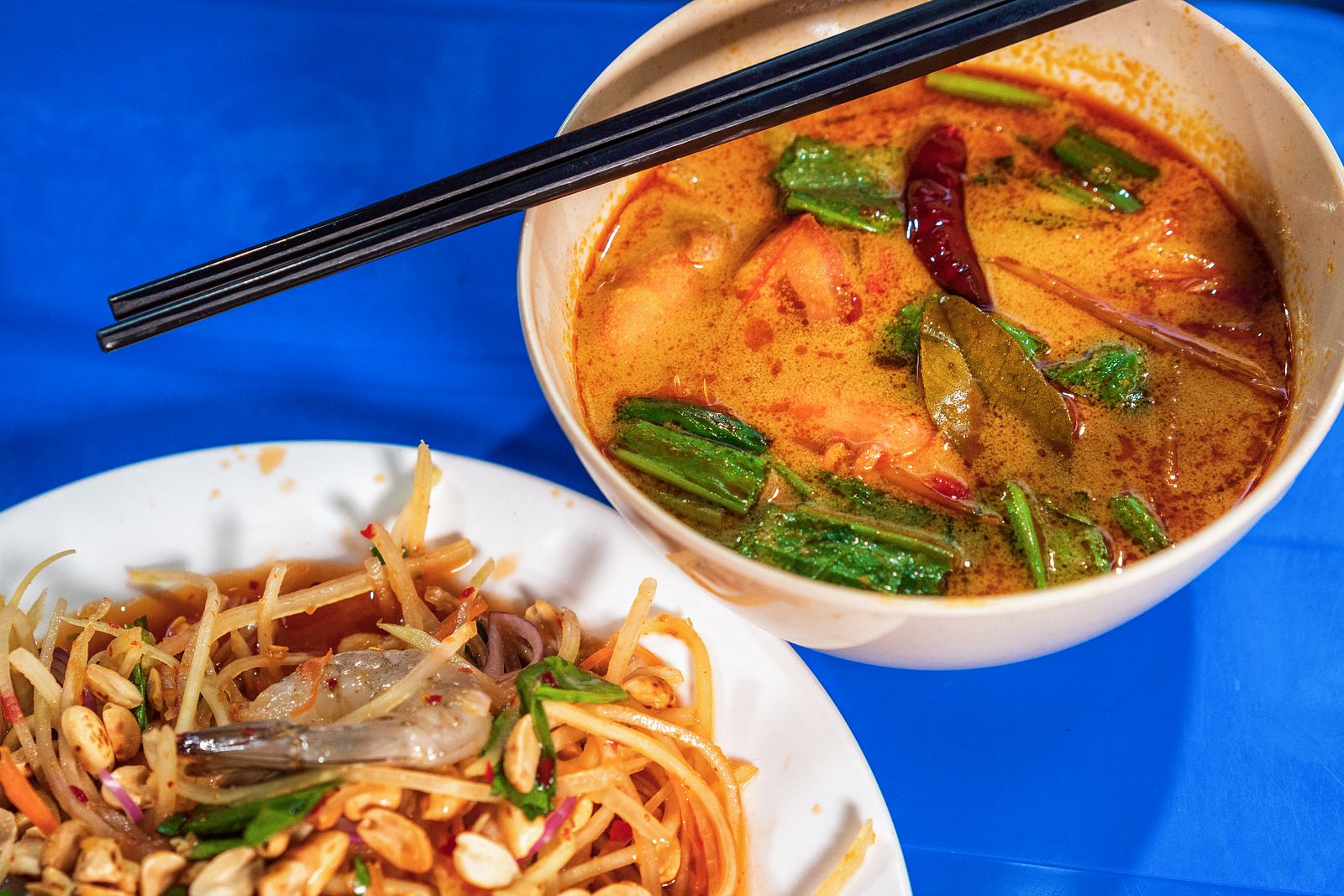 Krua Thai's menu offers different types of som tam, however, with only three people at the table, we opted for only the version topped with raw shrimp, accompanied by orders of khao lam (sticky rice cooked in bamboo sticks), moo ping (a grilled pork skewer), tom yum goong, and mango with sticky rice topped with coconut milk. Another highlight of the evening was khao khluk kapi which, according to one of the cooks, Rose, is a popular Thai dish made of fried rice mixed with Thai shrimp paste called kapi and topped with caramelized pork belly, cucumbers, shallots, grated mangoes, fried egg, green bean and lạp xưởng. The dish is delicious in ways that are are both familiar and novel to my palate.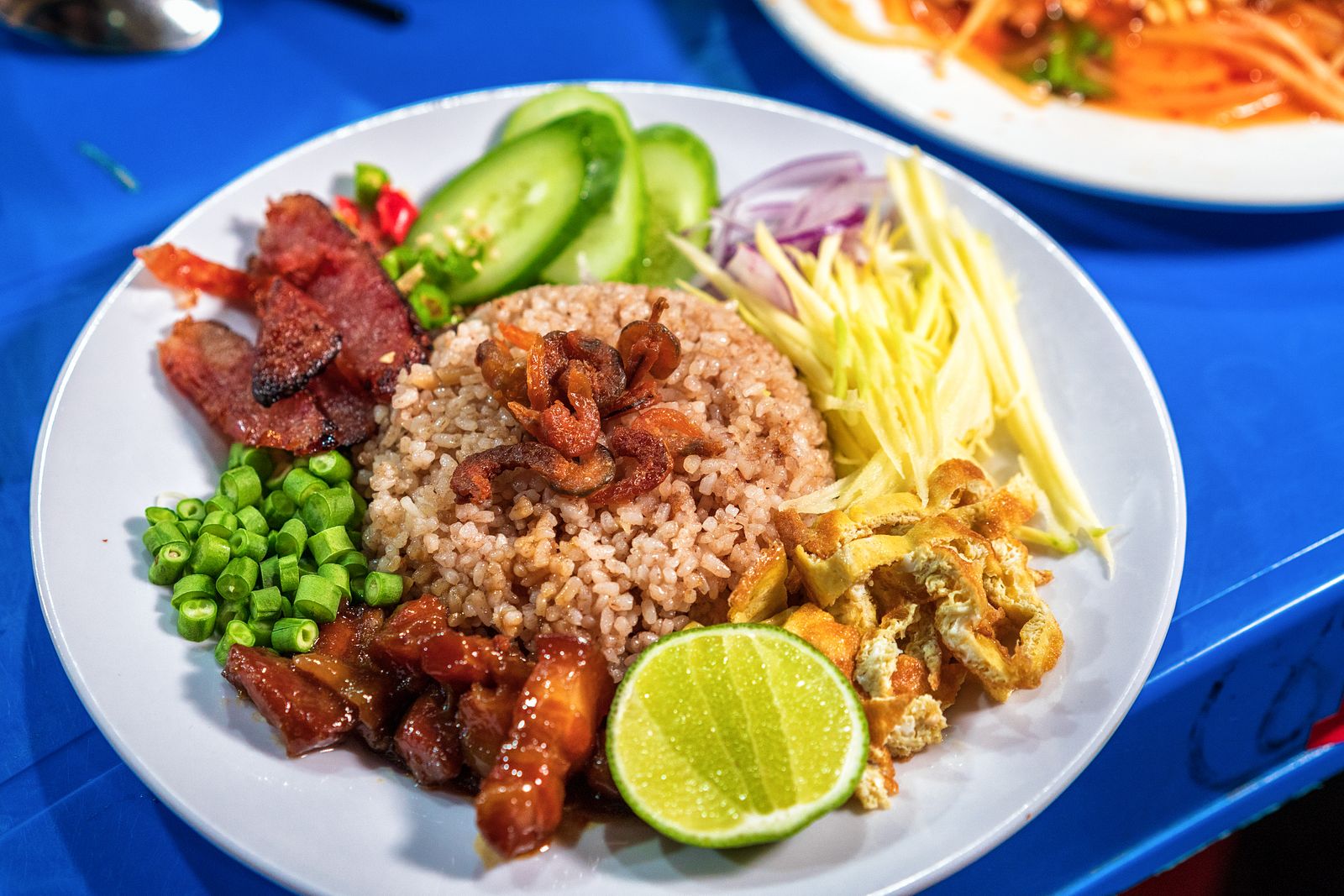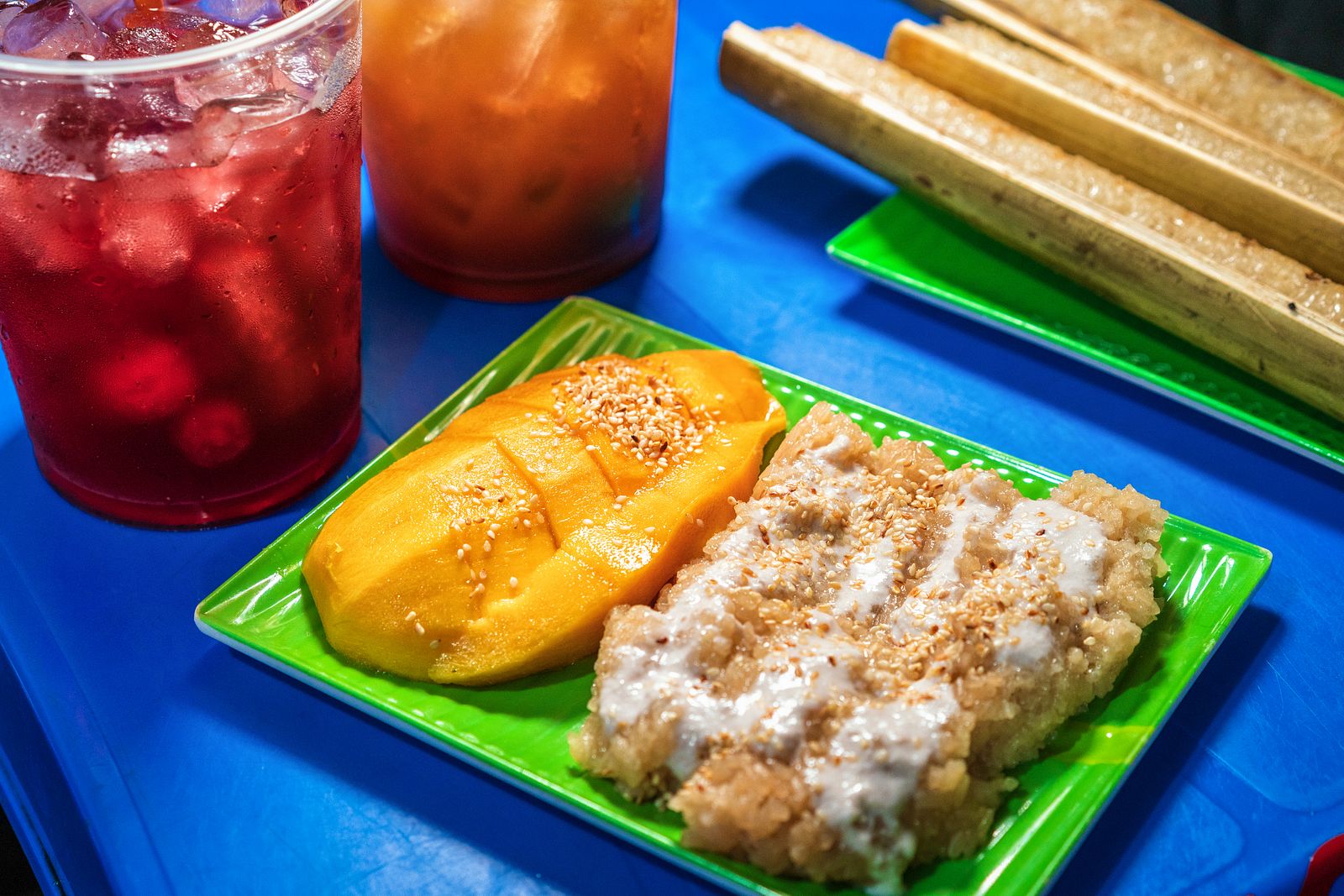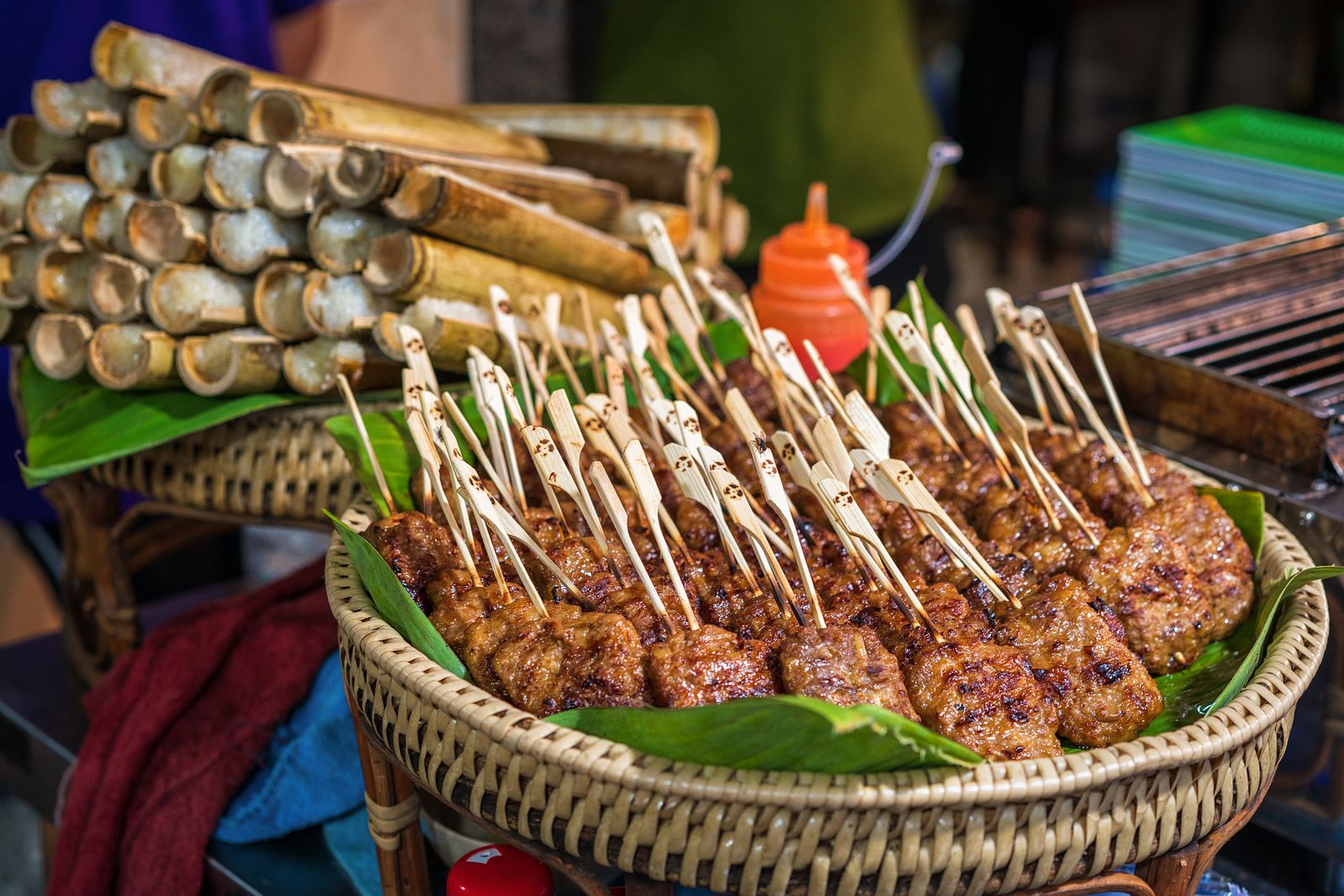 As for the som tam with raw shrimp, the dressings successfully cut through different textures from the crispy papaya, the firm, fresh raw shrimp and the crunchy peanuts. The sauce brings everything together without letting one ingredient overshadow another.
The eatery also comes with its own heartwarming backstory. Born in Tien Giang Province, Loan moved to Saigon with her parents. Prior to opening Krua Thai, she has been running food kiosks in food expos and fairs in the city for a living. A familiar venue for Loan is the Thai food fairs often hosted at Nguyen Du Stadium, where she found a place for her expertise in Mekong Delta cuisine.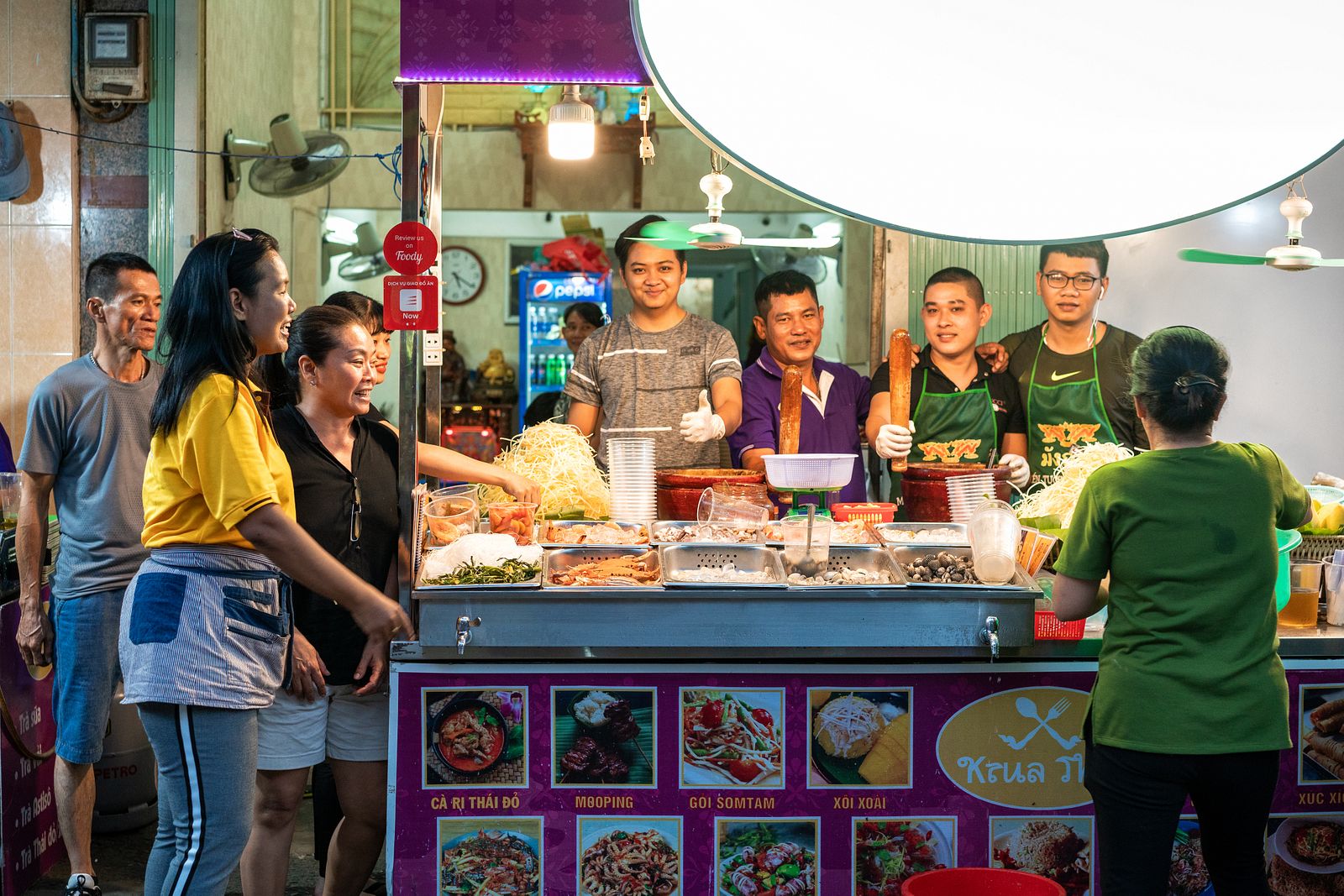 Loan tells Saigoneer that it was at these food fairs where she met the Thai cooks whose stall was placed next to her. Loan said that the people who run these kiosks, at least the ones she met, are often poor workers whose business isn't going well, so she offered them a rent-free place to stay at her house.
"We've been living together for six years," she says. Living with these cooks was Loan's gateway to cooking Thai dishes — they show her how to do it, as she's also the main cook in the house. Despite only recently opening, the humble Binh Thanh District restaurant is packed with customers, and a second location recently opened on 35 Thanh Thai Street in District 10. Loan credits this success to her good-deeds-always-come-back philosophy.
"I helped them and they ended up helping me," she says, adding how she got to piggyback on several trips to Thailand because of this relationship. When asked if the cooking exchange goes both ways, Loan quickly says no, and explains that it's harder for them to adapt to some Vietnamese dishes. However, after a few seconds, she interjects, as if to correct her previous statement:
"Actually there is some stuff I usually make that they really like," before proceeding to list a series of home-cooked staples, leaving me with a craving for cá lóc muối sả nghệ chiên (fried snakehead fish with salt, lemongrass and turmeric) towards the end of our conversation.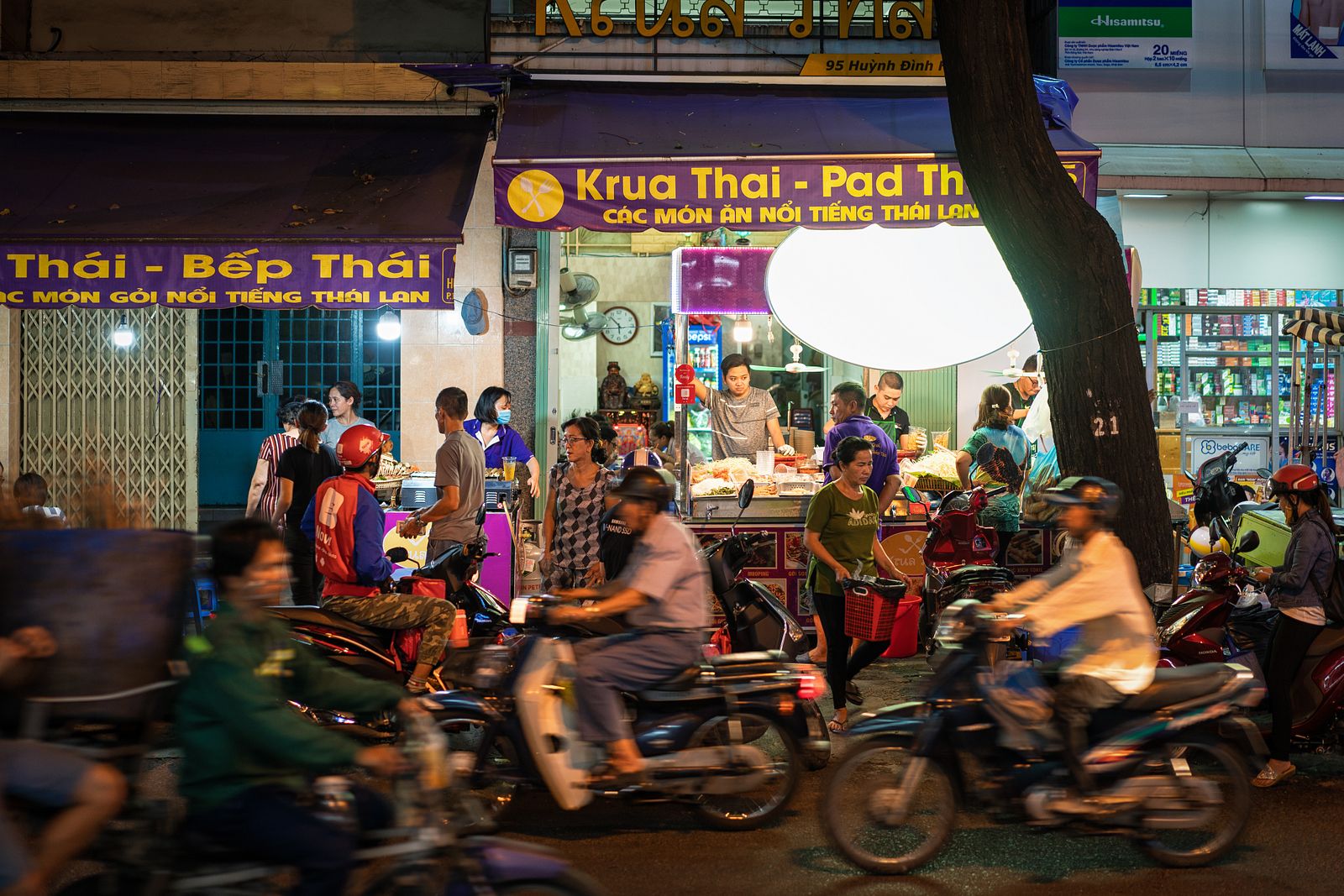 To sum up:
Taste: 4.5/5
Price: 5/5 — typically from VND40,000 to VND70,000 with the exception of seafood salad (VND130,000), blue crab salad (VND100,000) and sticky rice with durian (VND120,000).
Atmosphere: 4/5
Friendliness: 6/5
Location: 4/5
Thi believes that happiness starts with sautéing garlic in hot oil.
Krua Thai
95 Huynh Dinh Hai, Ward 14, Binh Thanh District