A few years ago, my family's Christmas Eve tradition of making gỏi cuốn was swapped out for a special competition, one that would decisively end a longstanding rivalry: who, out of the aunts and uncles, could make the best bún riêu?
For reasons still unknown, the entirety of my mom's side worshiped at the altar of the tomatoey, crabby soup. We were scattered from Sacramento to Pomona to New York City. But in every Dao household, the adults made bún riếu, and the children loved it. Bún riêu was one of the few dishes that united us all.
The 2014 bún rieu battle, then, was as much a cut-throat determination of skill as it was an homage to our favorite dish — an excuse to eat four versions of bún riêu in one sitting. The kitchen transformed into a crowded bún riêu laboratory. We blindly sampled, then discussed the virtues of each: which broth had the deepest flavor, perfectly harmonizing the crab and tomato? Was No. 3 too tomatoey? No. 1 too light? Which crab-egg mixture was the meatiest?
After a blind vote, my aunt's rendition emerged victorious. I still think my mom's should have won.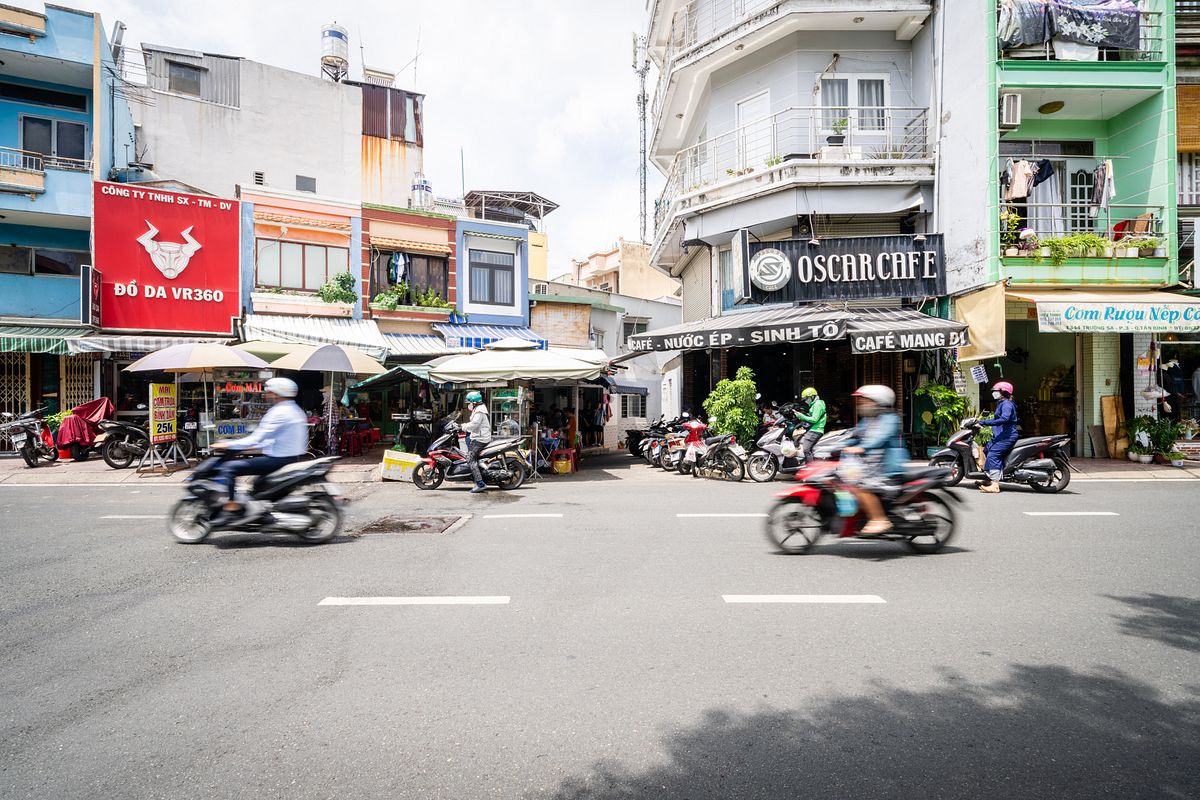 This summer, armed with my credentials as a veritable bún riêu critic, I ventured to as many of Saigon's bún riêu eateries as I could. I was looking for a bowl that, per my set of personal criteria, rivaled those that I'd grown up eating. I found that many joints serve the crab-egg riêu cua in the form of a single patty; otherwise, the mixture is likely found in barely existent wisps, taking a backseat to the broth. However, the school of thought that I subscribe to dictates that the crab-egg mixture is soft and abundant — not so soft that it lacks structural integrity, but soft enough for pieces of it to disperse throughout the bowl. For me, this has always been the best part of the dish.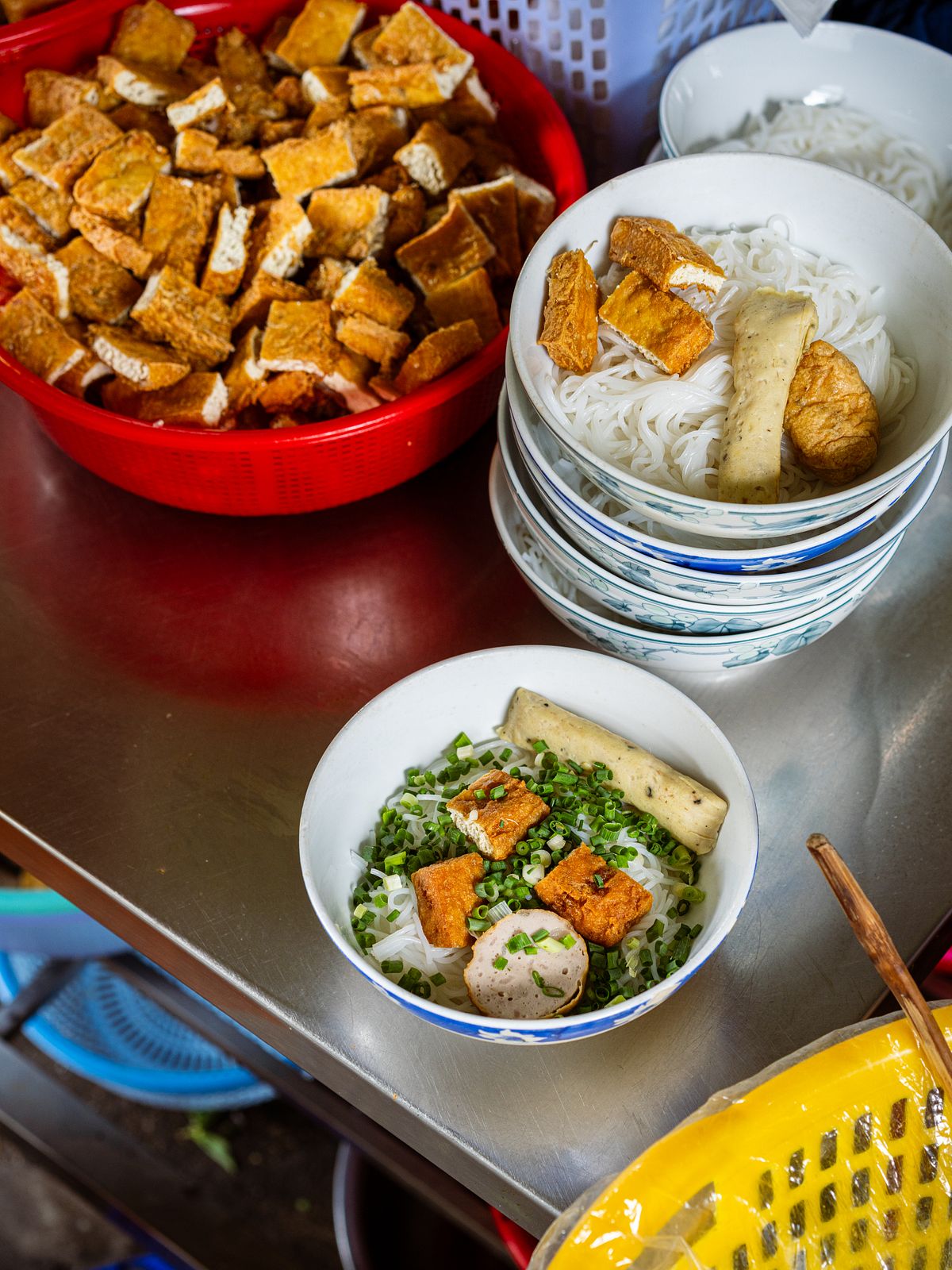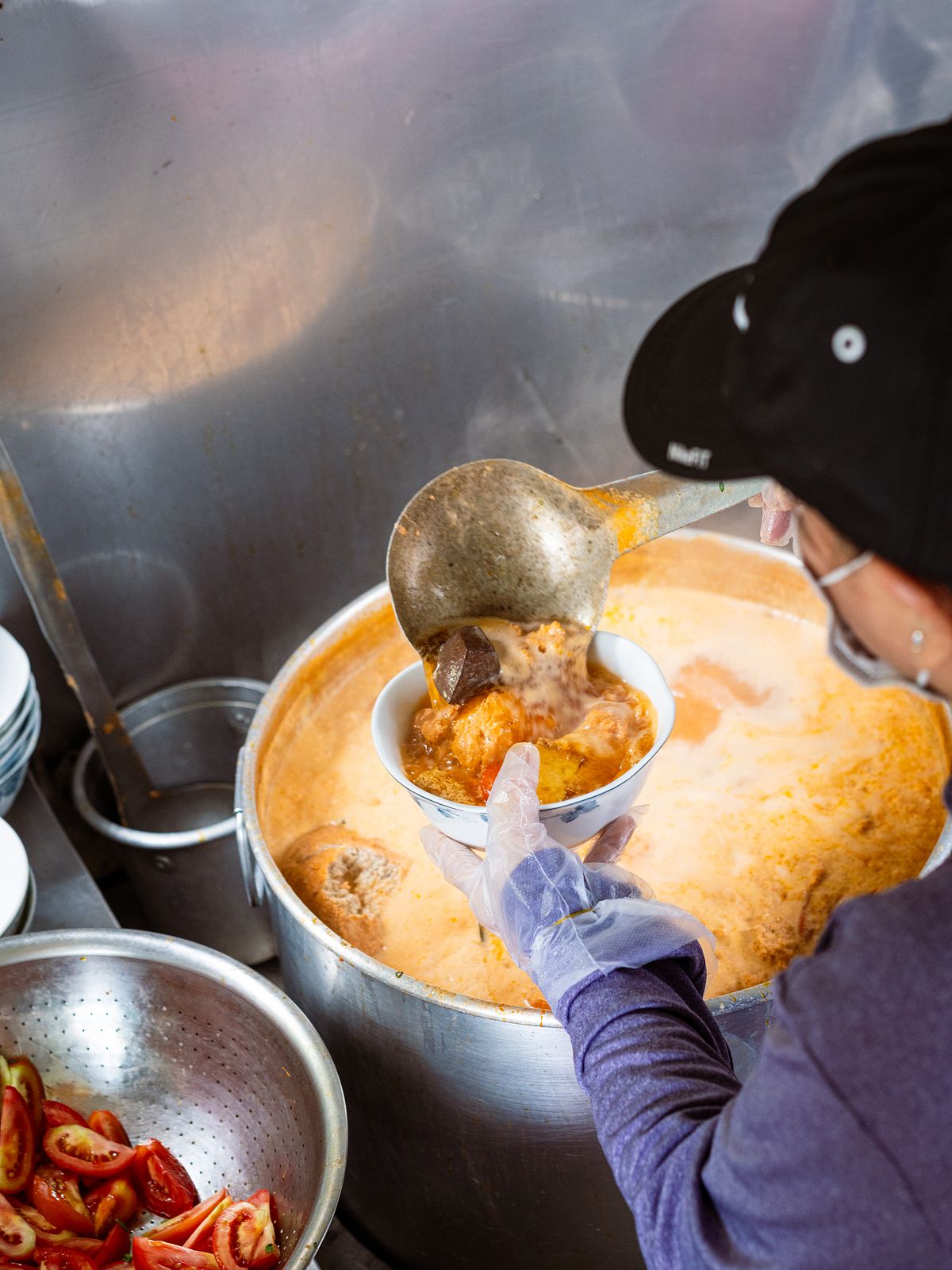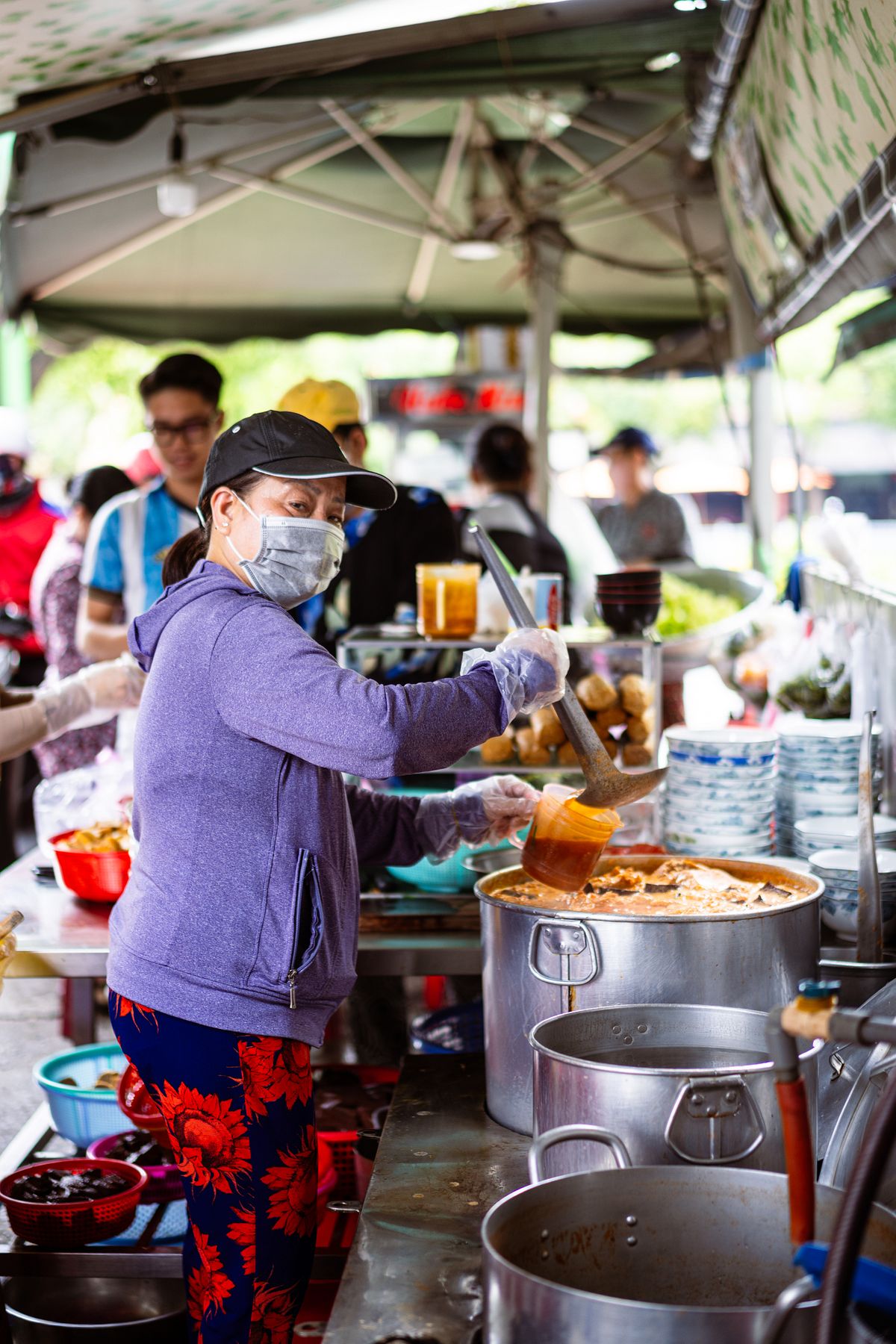 The bún riêu at Bún Riêu Cô Yến not only aligns with my vision, but exceeds and expands it. Across from the canal in Tân Bình, one can find an outdoor theater of food prep: a bubbling vat of broth filled with crab-egg mixture, colanders of bún, bowls of tomatoes and greens, people bustling around to assemble dishes from it all. A man sat on a ledge of the eatery cutting fried tofu, which surrounded him in several heaping bowls. This family-run business has been here for 15 years.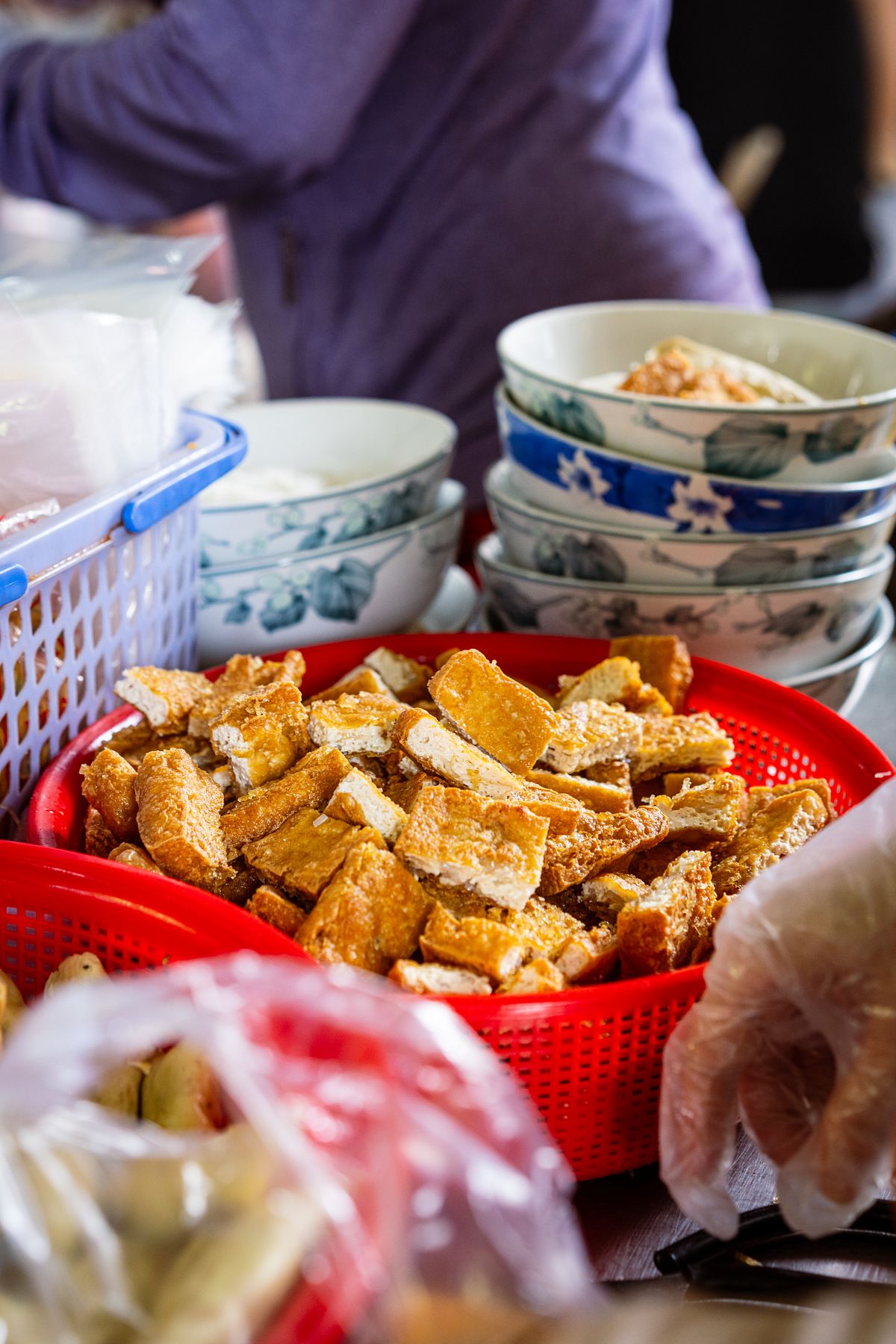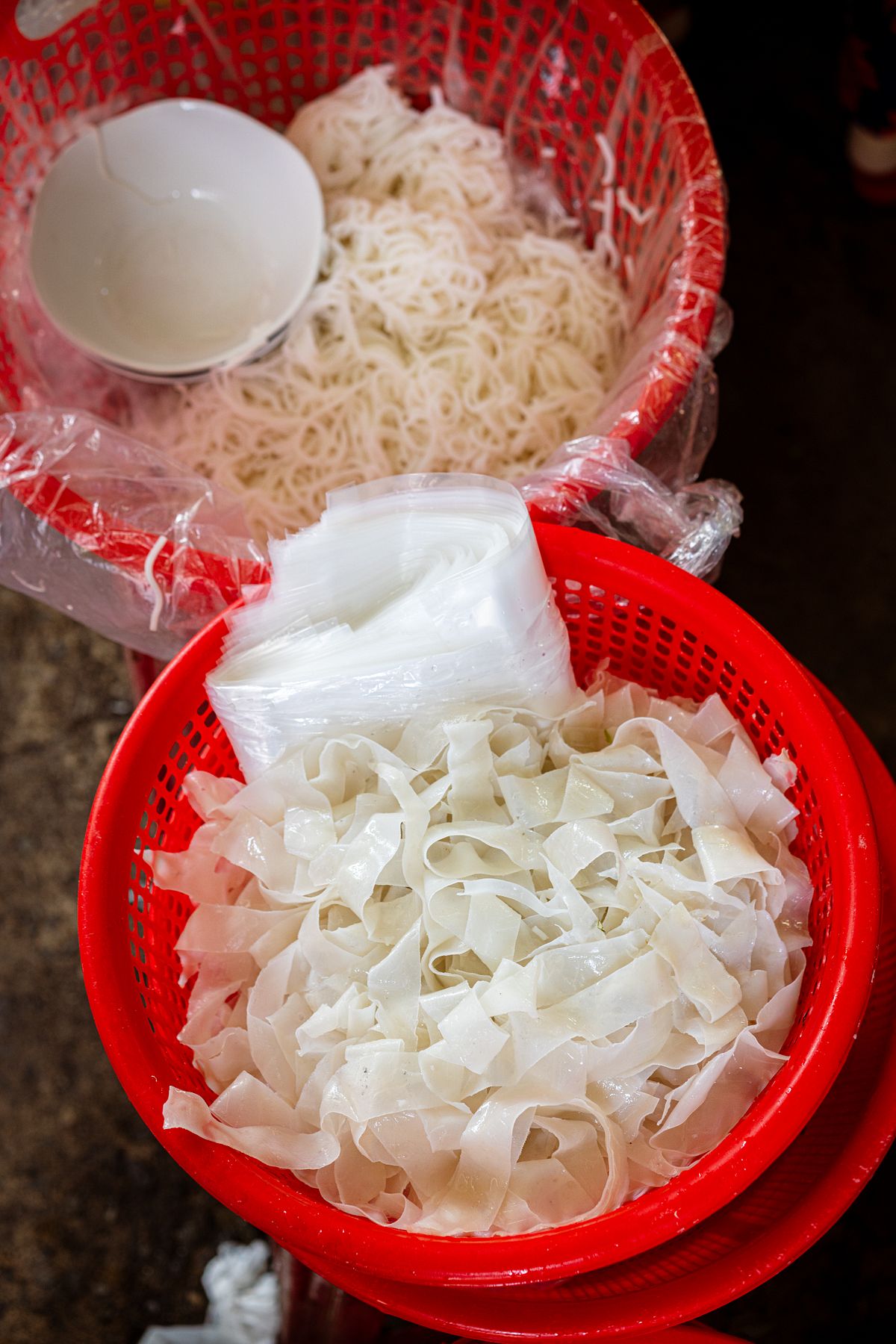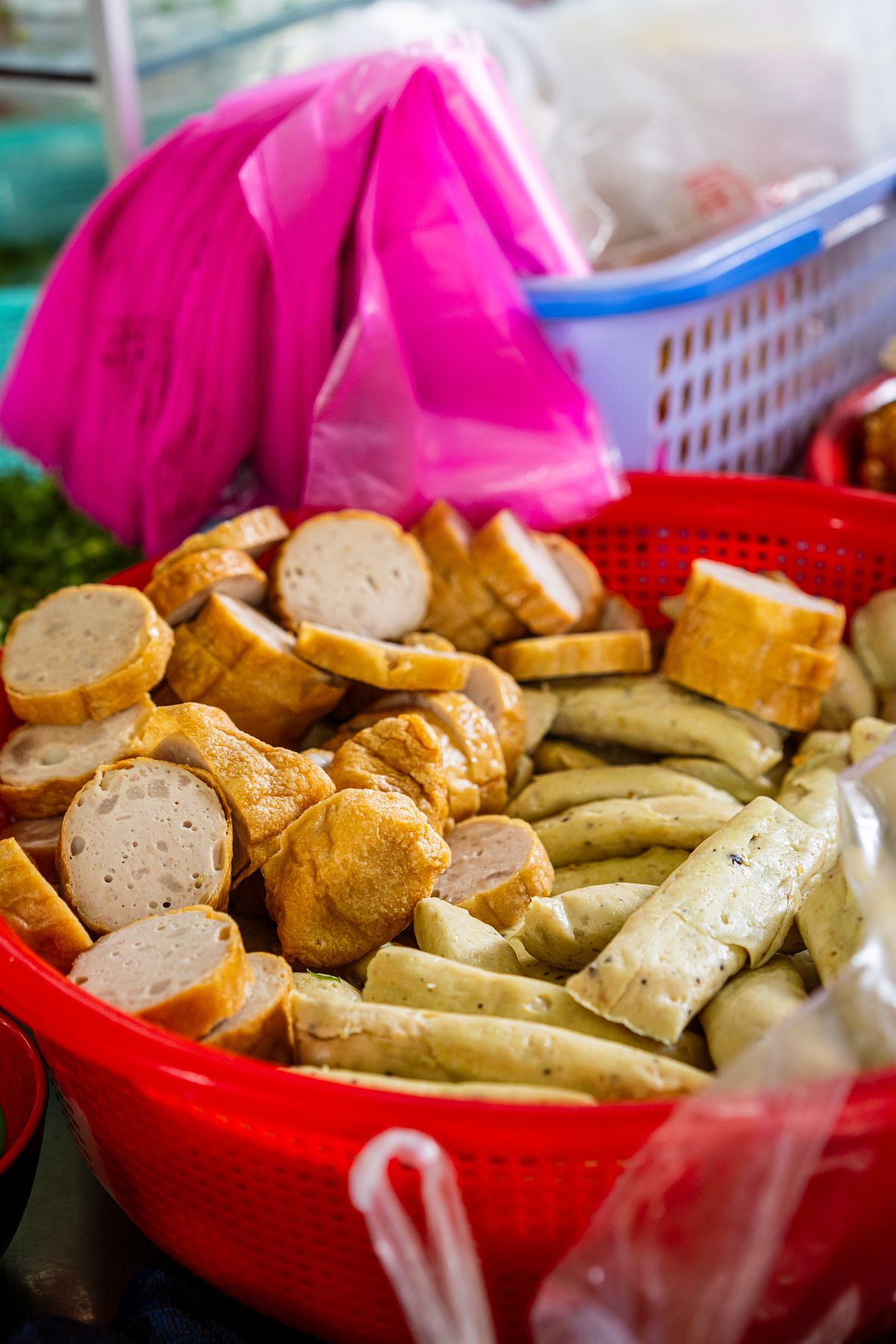 The menu contains a few other options, like bánh đa, but I've gotten the titular crab paste vermicelli soup every time. When the bowl arrives, I add some rau sống, ớt, and mắm tôm, before mixing everything together. Along with the crab-egg mixture and tomatoes, it's also topped with a pork blood cube, green onions, sausage, and fried tofu.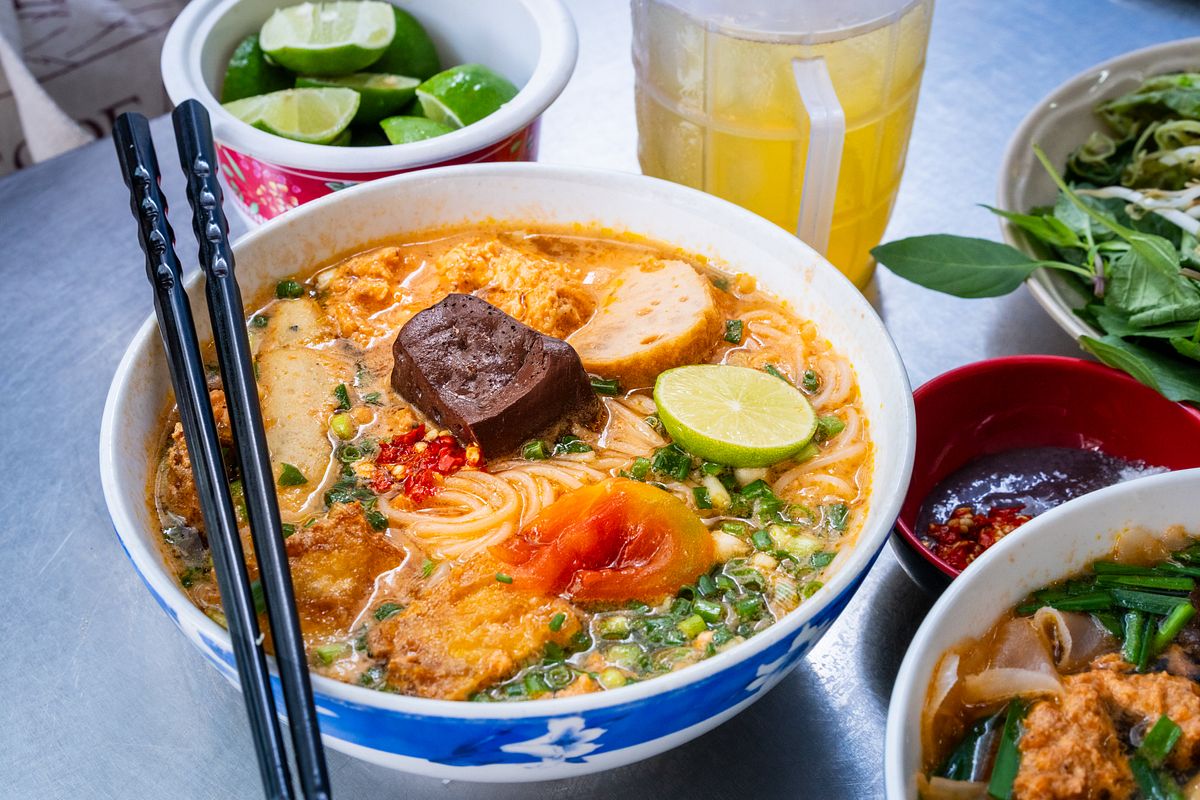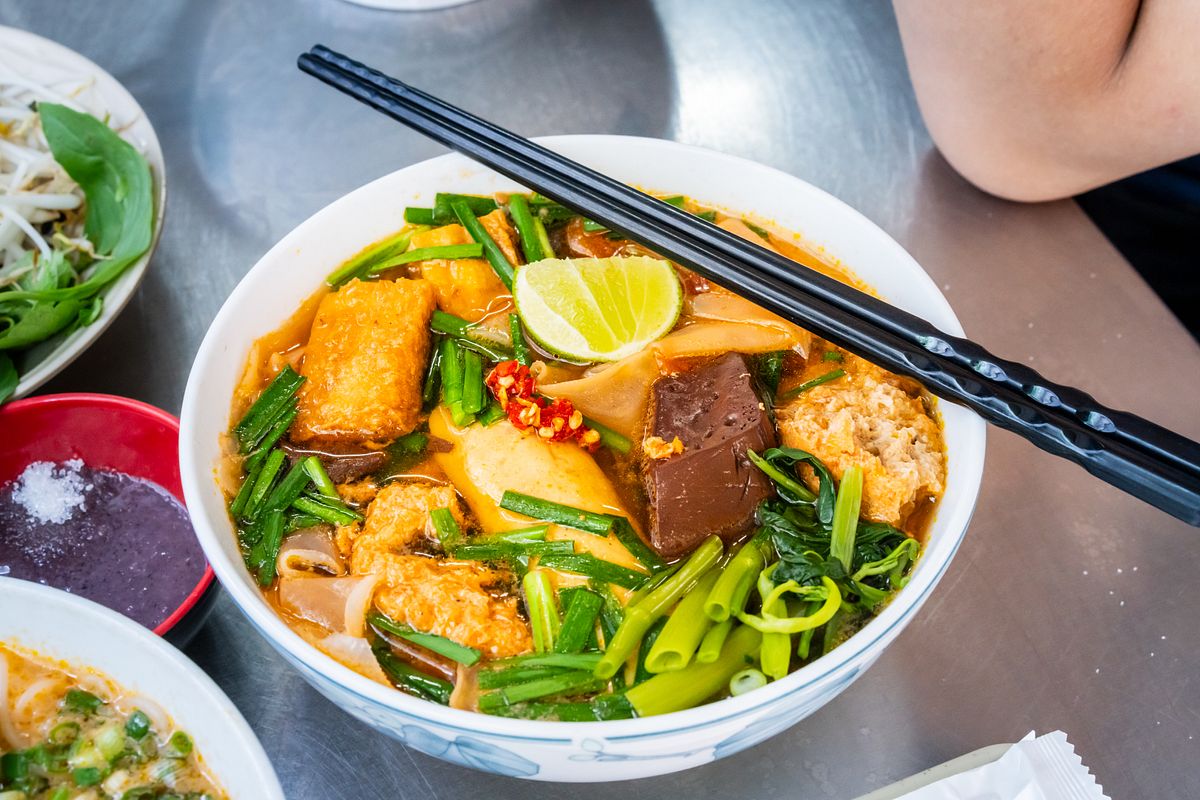 Upon crafting my first bite, I noticed the pale orange hue of the bún — a unique feature that hints at the richness of the broth. The flavor of tomato, and especially of crab, is so deep that I'd believe the broth functions as a dye for the noodles. It's salty, wonderfully pungent and tastes like it's been stewing for days.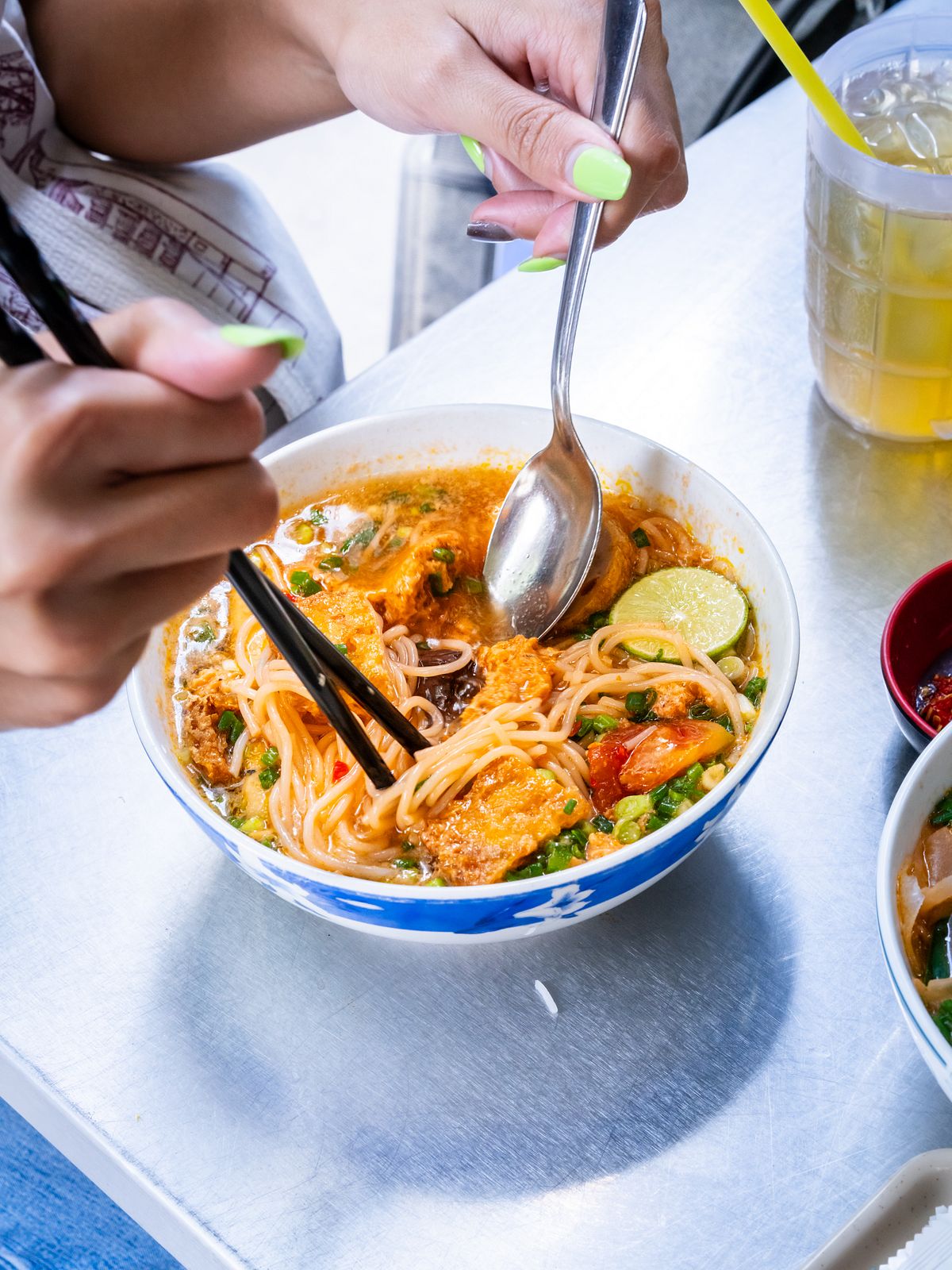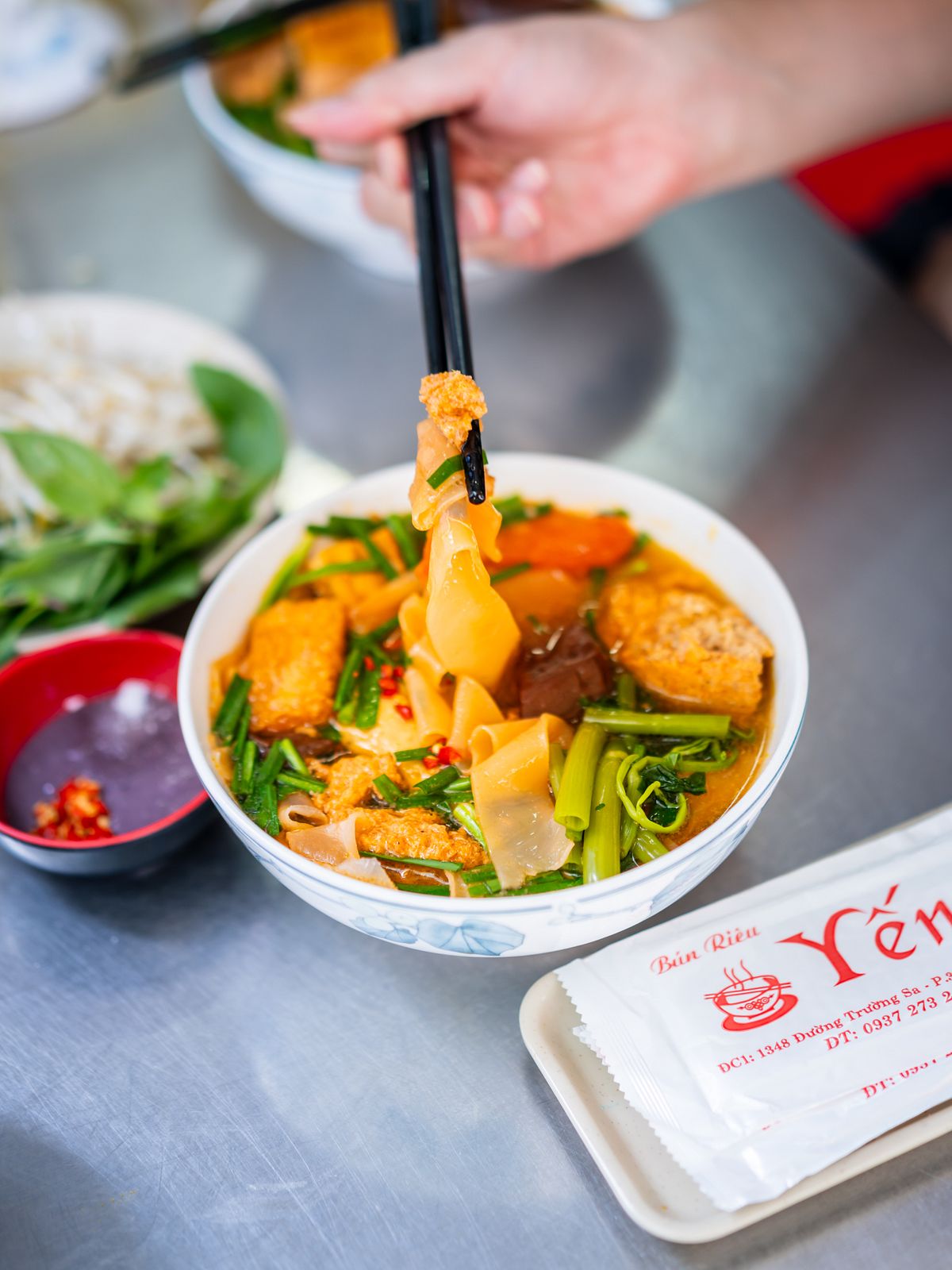 But while the crab-egg mixture is similarly well-done, I was surprised that another element of the dish had managed to nudge its way into the spotlight: the fried tofu, an ingredient that's never entered my family's recipes. Crisp on the outside and silky on the inside, it's the ideal textural counterpart to bún riêu's prevailing softness. I've rarely, if ever, had tofu that can maintain its crispiness so well within a broth; it would even be a delicious snack on its own. When I visited the place later with the Saigoneer crew, we were so obsessed with the tofu that we ordered an additional portion.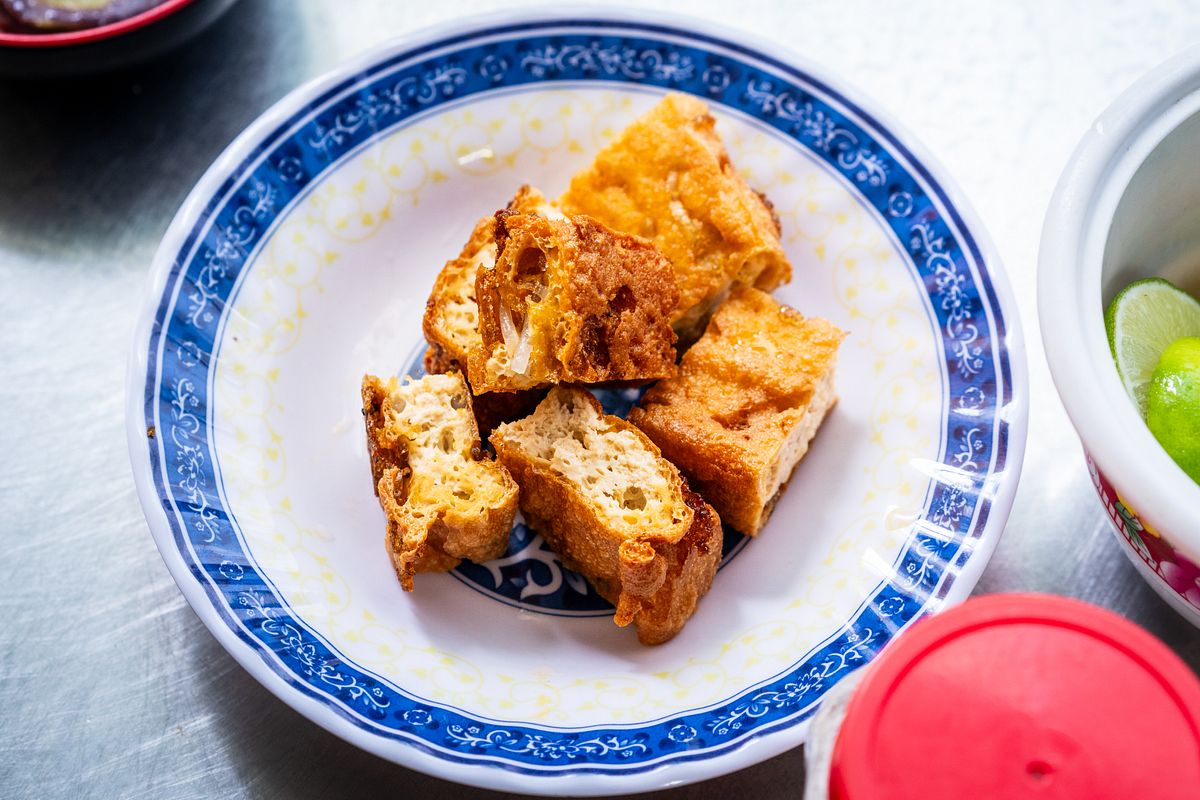 I still love bún riêu for its islands of crab-egg mixture floating in broth — but a joy of eating, and of loving eating, is discovering new possibilities within old favorites. Cô Yến introduced me to a twist on bún riêu that stays true to my favorite parts of the dish.
Bún Riêu Cô Yến is open from 5:40am to 6pm.
Bún Riêu Cô Yến
1346 Trường Sa, Ward 3, Tân Bình District, HCMC