For those who don't know, Co Giang is a rugged street located in the middle of District 1's well-groomed downtown neighborhood. Despite its extremely central location, the short, narrow road manages to preserve Saigon's essence in its bustling outdoor market, which sells fresh produce, meat and some killer roadside eats. Here, you can find street food in its truest form, served on the sidewalk, complete with plastic stools and dingy metal tables and a chaotic atmosphere. Let the stereotypes run wild.
One glance at the super-skinny storefront of Bun Thit Nuong Chi Tuyen is all it takes; my gluttony is triggered! Judging by its exterior alone, this place must have some decent chow: its crowded entryway is packed with diners, the stained and dented kitchen cart bears the tell-tale signs of overuse and a public chả giò frying station sits out in the open on the other side. It's so local that all I can see is potential in the jam-packed one-room restaurant.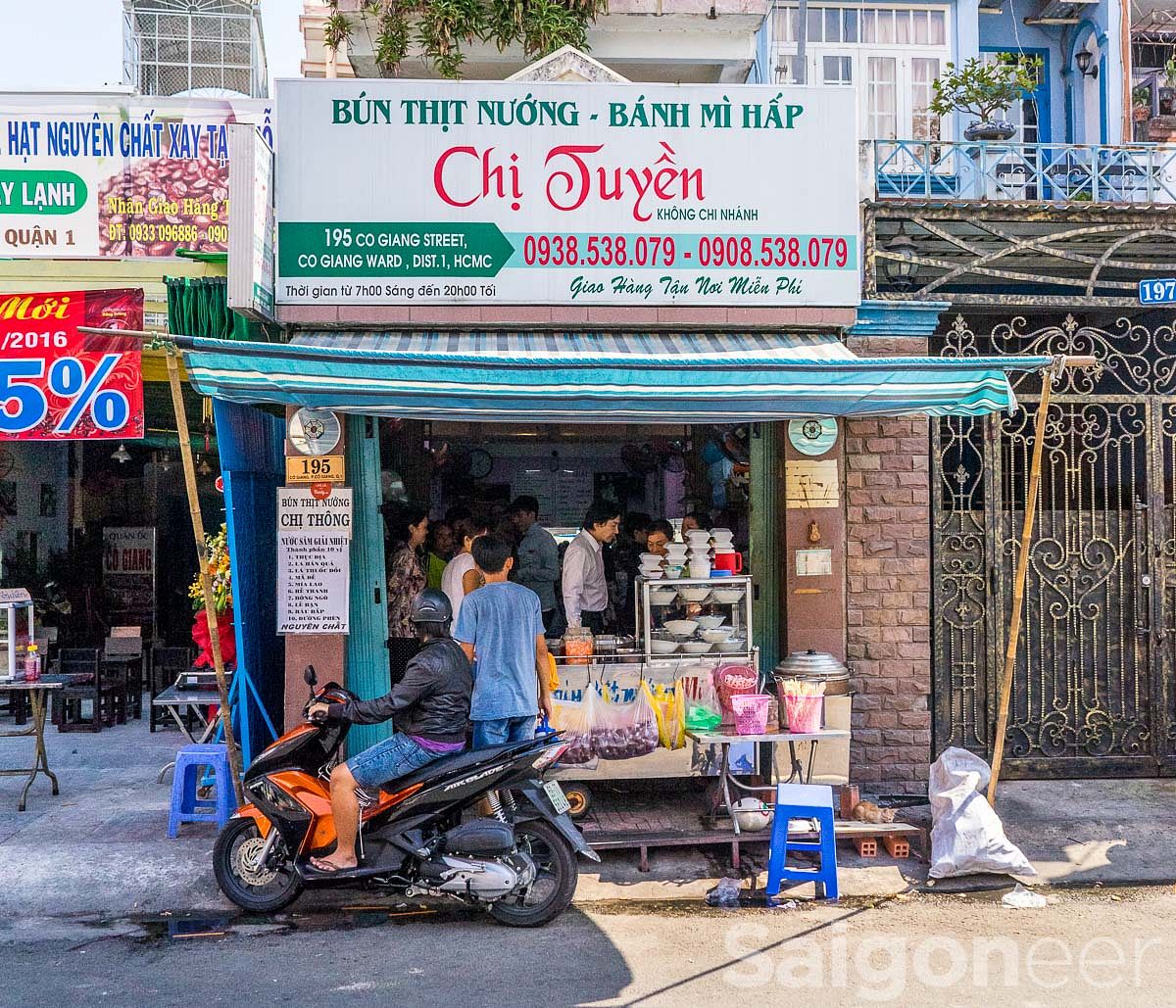 Chi Tuyen's has little diversity on the menu which, in the street food world, is a good thing. You know that saying: "jack of all trades, master of none"? It applies here; if a person can do 50 different jobs, chances are they'll exceed at zero of them.
Bún and bánh hỏi are the shop's main rice noodle bases, and each comes with your choice of barbecued pork, stir-fried pork, fried spring rolls or all of the above. Top that off with pickled carrots and daikon, crushed peanuts, scallions in oil, lettuce, spearmint, perilla, bean sprouts and a helping of fish sauce on the side.
The fried spring rolls take little time to convince me if there is going to be another visit. The moment my teeth touch their crunchy exterior, the moment the roll and I become one, it's all I can do to keep from crying. These are the kind of glorious fried morsels that make life in Vietnam worth living. From start to finish, they're perfect.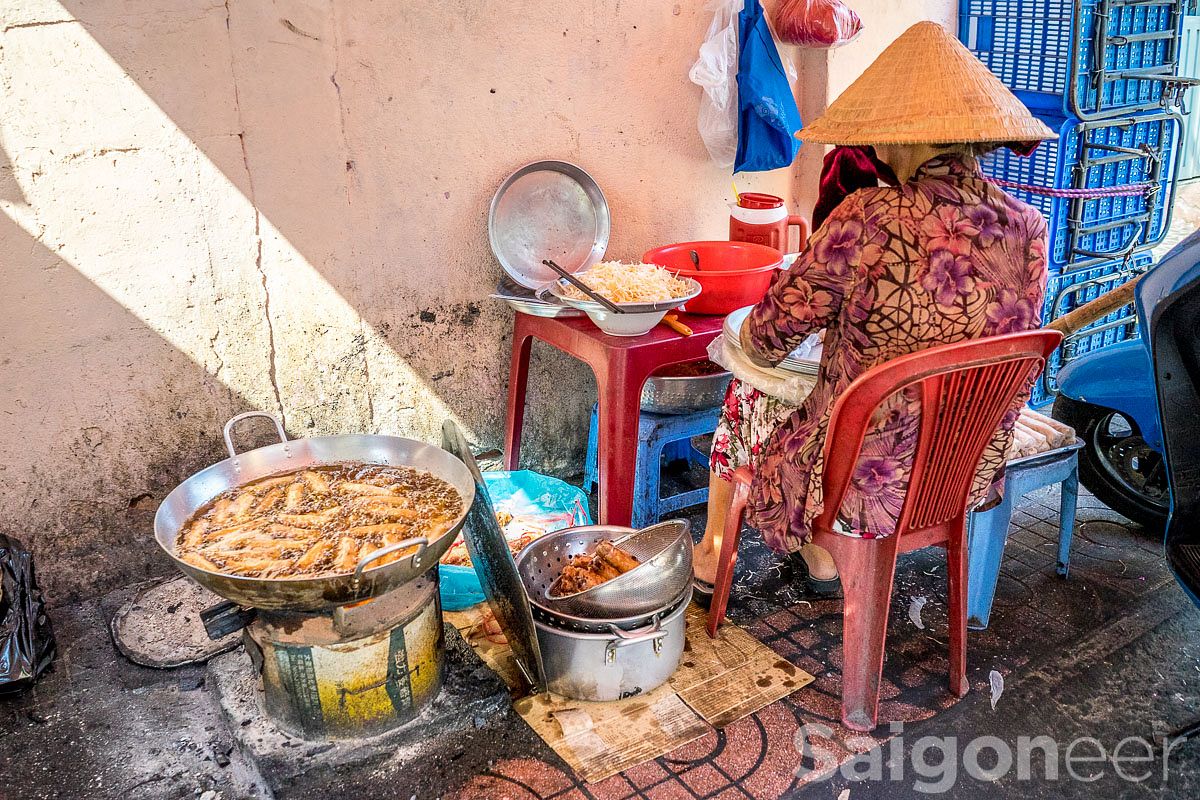 Their fish sauce isn't the best – the one we reviewed on Vo Van Tan was better – but we'll let that slide in favor of the chả giò. After fried spring rolls that good, not even a mediocre fish sauce could rain on my parade.

I didn't have chance to chat with the vendors – I was too caught up in the euphoria of chả giò – but it was, perhaps, for the best, as we visited during peak hours. Through a bit of light Googling, however, I've learned that the place has been on Co Giang for a decade, originally opening as Bun Thit Nuong Co Thong, and their menu hasn't changed since. Who knows what happened to Co Thong herself, but it's good to know her bún thịt nướng has survived through the ages.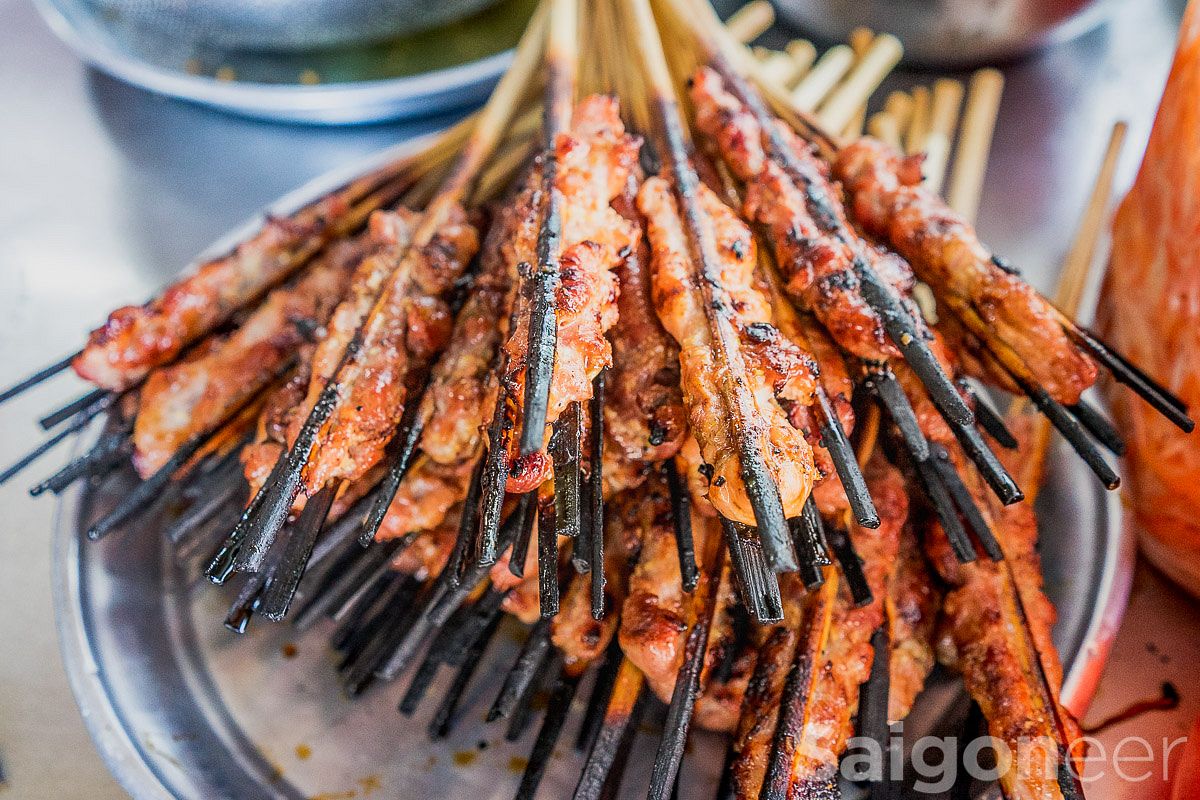 To sum up
Taste : 4/5 – The fish sauce needs more sugar but otherwise delicious.
Atmosphere : 4/5
Price : 4/5 – VND40,000 for a bowl; not bad for District 1
Friendliness : 4/5
Location : 5/5 – Gorgeous. I want to give it a 6 just for the public chả giò station. Oh, that heavenly smell...
Núm is a street food addict who has been eating his way through Saigon for 25 years.
Bún thịt nướng
195 Co Giang, Co Giang Ward, D1

---
Related Articles:
---