They say the best things in life are worth waiting for. In the case of the elusive xôi chiên, they're right.
Packed with a crispy fried deliciousness seldom featured in other Vietnamese dishes, xôi chiên – fried sticky rice – somehow exists outside the general tenets of local cuisine. While starches like rice, bánh mì and sometimes french fries make appearances as accompaniments for larger meals, the level of deep-fried goodness in these bite-sized morsels is unmatched. Xôi chiên is a sweet, golden-brown disc whose warm cake-like interior is covered by a crispy shell.
Ga Nuong Phi Long – the only place I have ever seen this served in Saigon – is a bit of a surprise. The building is old, its kitchen tucked away in a small side room, and the majority of the interior doubles as a convenience store. During my last visit, there looked to be some living space way in the back, beyond the small dining area inside. If you weren't looking for this place or didn't know about it beforehand, you'd likely bypass the spot without thinking twice. Its glass-front street cart and grill are the only clues that the place even serves food.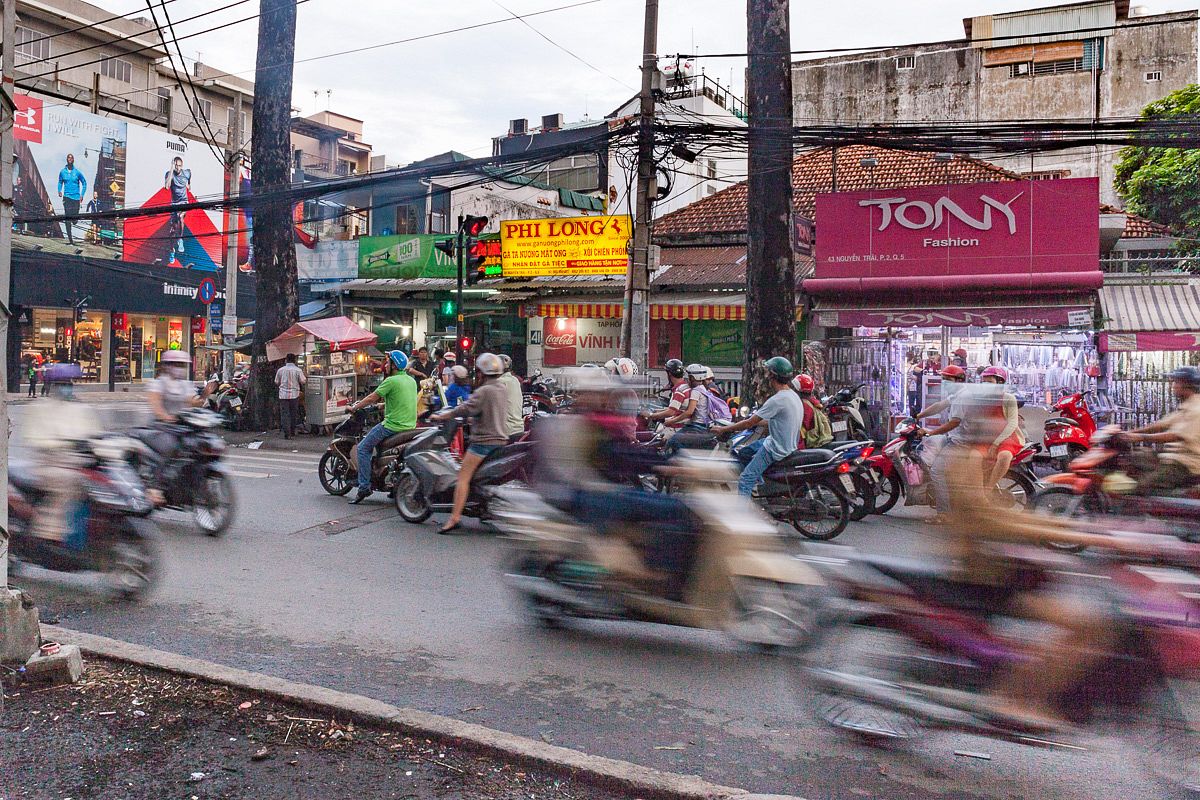 Less likely still is the chance that you'd see the shop's piping hot xôi chiên on display out front because the second they come out of the boiling hot oil, they are promptly tossed in a brown bag and whisked away to some expectant customer. That's how popular these things are: they go in seconds.
The xôi chiên starts out as a sort of a sushi roll consisting of only white sticky rice. The sushi roll is cut into small, quarter-inch-thick pieces which are arranged neatly in a large, black wok full of boiling oil and fried. The result is a sweet, light brown, airy circle of rice that makes for a perfect snack. Or, if you can get enough, at least a nice addition to the barbecue chicken leg also on offer.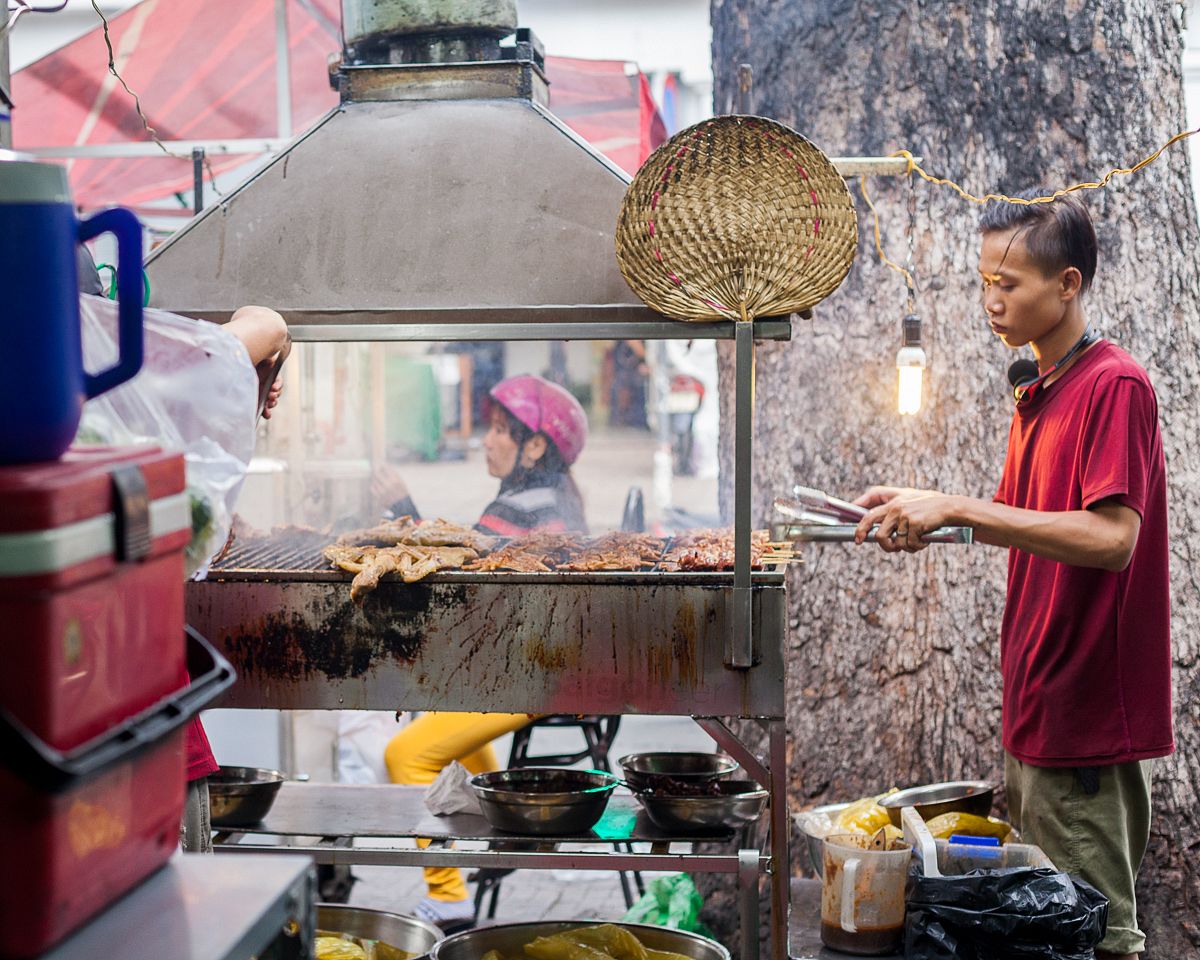 We order a lot of the xôi. Plates of it. Just like the display case out front, the second an order arrives, we devour it. We also order chicken legs, which come out immediately, along with some trà đá. We eat at a reasonable pace, but our chicken legs are long gone by the time the fried rice patties come out. So we wait. And wait. And wait. Eventually, in a fit of hunger, we take to badgering the waitstaff – politely, of course – about our xôi chiên order.
After much pestering, they finally bring out half of our requested portion. These last maybe three minutes. Another half-hour, more harassing, more waiting, more small talk and then the final four arrive. These we devour with a bit less haste but the plate is still clean within minutes.
The xôi chiên spot is worth a visit but mostly as a snack. Other food options here are decent but not quite as earth-shattering as the fried sticky rice and are limited to various parts of the chicken: legs, butts and wings. The cart opens at 3pm and stays busy all the way until closing time at 10pm. Come here expecting to wait for what you want but know from the beginning that you will leave happy, though by no means stuffed. Perhaps this is by design; they want you coming back for more.
To sum up:
Taste : 5/5
Price : 4/5 - VND25,000/plate of xôi chiên
Atmosphere : 1/5
Friendliness : 2/5
Location : 3/5
Kyle likes eating, walking down random hẻms and drinking enough cà phê đáto kill an elephant.
Xôi Chiên Phi Long
41 Nguyễn Trãi, Ward 2, D5

---

Related Articles:
---