You can really stretch a dollar in this country. That's two cà phê sữa đá or two bánh mì, a couple liters of bia hơi, a xe ôm ride, a well-bargained souvenir, enough snacks to constitute a meal or a steaming hot bowl of phở.
Overlooking an old apartment block in Binh Thanh District, the aptly named Pho Mot Do stays true to its name: a generous serving of your standard phở bò tái comes in at a cool VND22,000. While phở joints in this city – and across Vietnam – are only slightly less common than motorbikes, the soup at Pho Mot Do revives my faith in the national dish.
Not that it's ever been bad, of course. A good bowl of phở sits high on the hierarchy of Vietnamese comfort foods, its nourishing power two-fold when you're under the weather. There are few dishes not simply in Vietnam but around the world with the same universal appeal as Vietnam's signature noodle soup. But amid a sea of other options, of stronger flavors and bolder tastes, even an average bowl of the stuff can come off as one-note and bland.
The good people at Pho Mot Do, however, take their namesake dish very seriously. On a weekday morning, I arrive with my colleague at the otherwise nondescript shop to find two massive vats out front. My first thought is that a full-grown human could nap comfortably in one of these metal tubs; they're huge. In one, a steaming, bubbling broth swirls around cuts of beef on tenterhooks; in the other sits a pile of bones. Between the two of them, there is probably a full cow.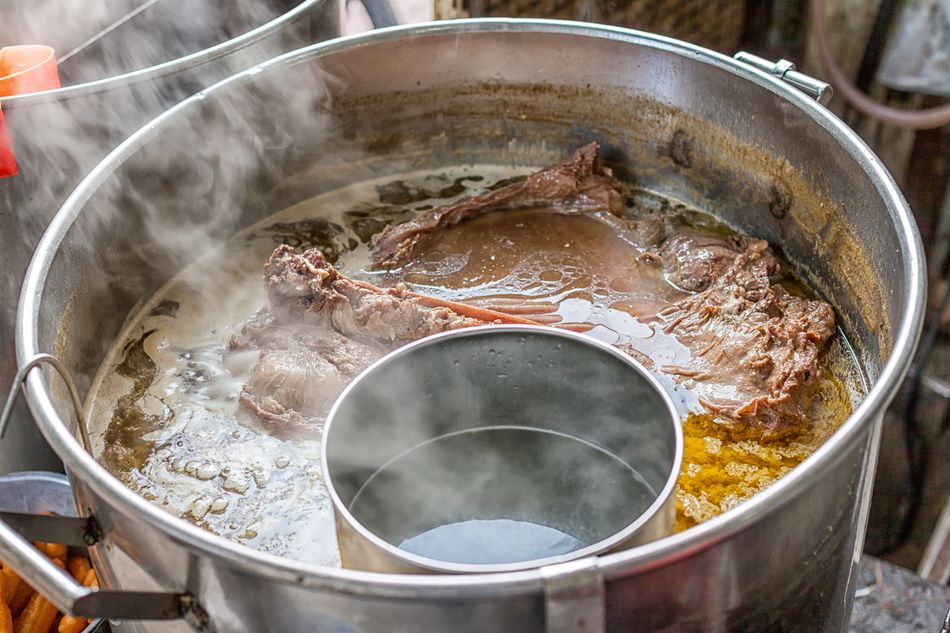 Beyond the vats, a man stands at attention, carefully slicing various cuts of beef and calling out orders to the two shy young men in uniform. Every now and again, a pajama-clad woman appears to handle the money. It's as standard a street food operation as any in this town, but this spot just so happens to make a mean bowl of phở.
My colleague is already seated before his order when I reach the table. This is his morning haunt, an open-front shop with a nice view of the apartment block across the street. Tucked away along Pham Viet Chanh, a small but busy road in Binh Thanh, Pho Mot Do's neighborhood has managed to avoid gentrification despite its proximity to District 1. Instead, a group of shirtless middle-aged men hold court from a low couch on the sidewalk as morning commuters rush by on motorbikes. Local vendors, each responsible for a single item – coffee, soup, rice, bread – trot back and forth across the street, delivering their goods to early morning diners. And from our perch at the front of Pho Mot Do, we have a full view of the bustling corner opposite the shop.
Settling in for a bit of people watching, I place my order with the chef. He's a smiley guy, giving us a nod as he continues to pick apart different cuts of meat. Someone else dunks the noodles in boiling water, finds a bowl and arranges the fixings. Less than a minute later, breakfast is in front of me. While Pho Mot Do serves all manner of phở – beef, chicken and đặc biệt, a dish featuring several different cuts of beef – I am partial to the phở bò tái, in which a cook serves your soup piping hot and tops it with raw beef. When it's scalding hot, the soup's temperature manages to cook the meat just right; when it's not hot enough, the texture of the beef feels questionable to me. Thankfully, the chef here understands this, and when my bowl arrives it's so hot I have to break for five minutes before digging in.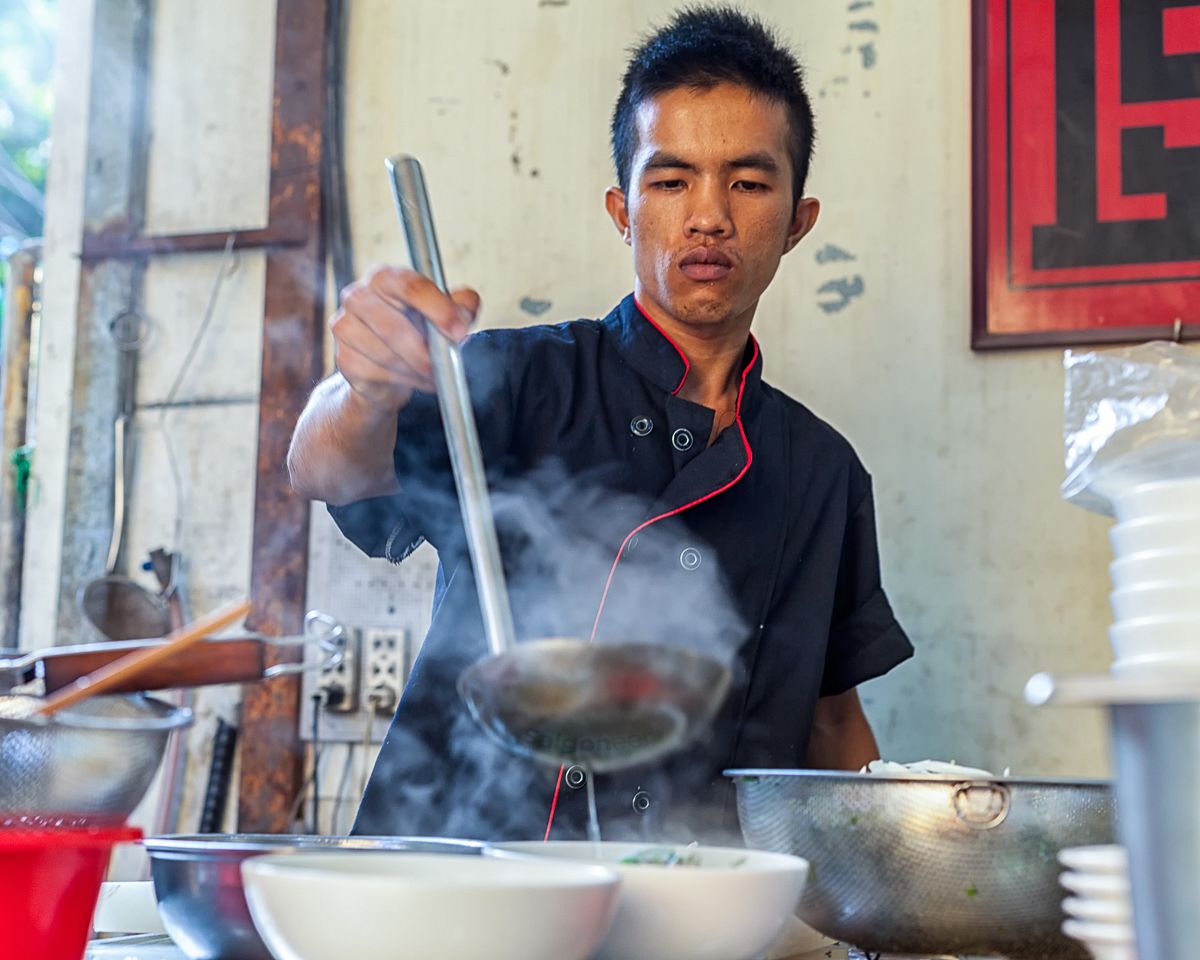 Once I do, however, it's everything you want phở to be: noodles neither too hard nor soft, beef cooked to perfection and both swimming in a light, clear broth, to which you are free to add your own accoutrements from the herbs plate or the array of condiments on each table.
As we finish up our meal, the chef explains in broken English his multi-generational connection to phở.
"Me, my father, my son," he tells us. Though this particular shop has only been open a few years, his family has been preparing the national dish for decades. This perseverance seems to be paying off: according to the chef himself, Pho Mot Do runs through two full vats of phở a day. Pretty impressive when you remember that you can probably put a full cow in these things.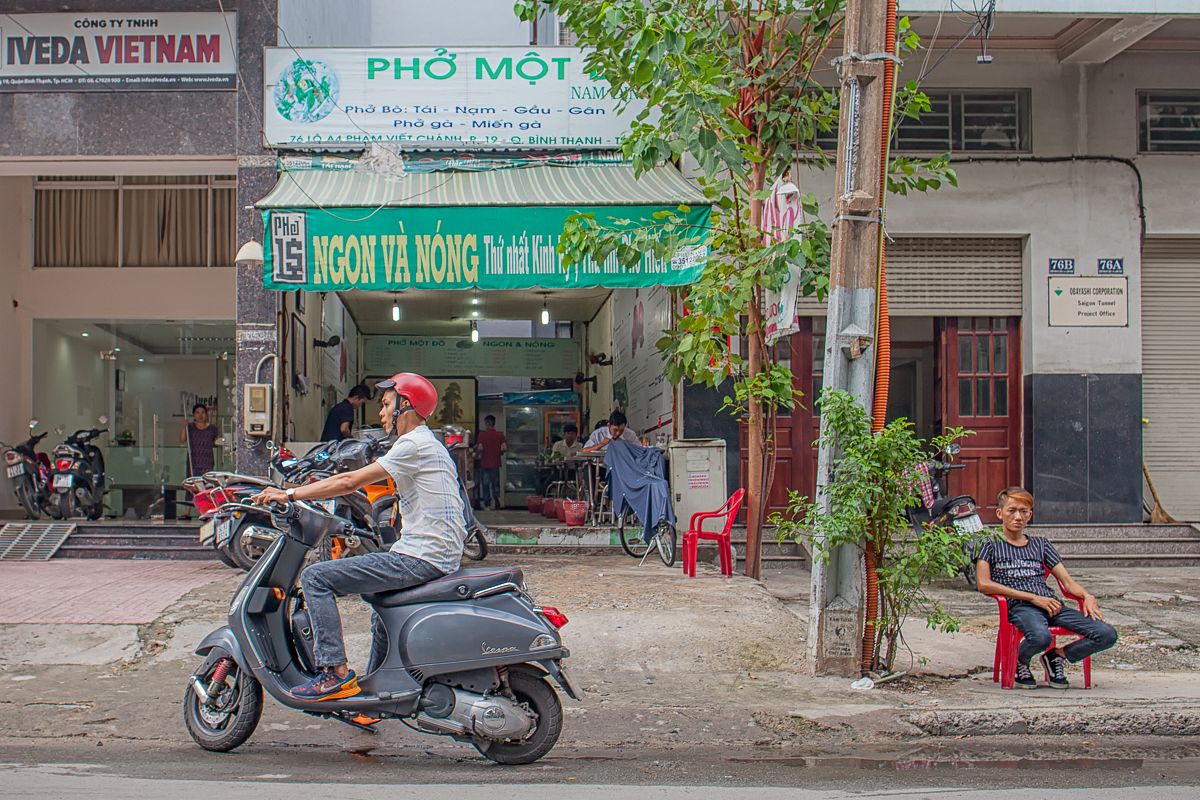 To sum up:
Taste : 4/5
Price : 5/5
Atmosphere : 4/5
Friendliness : 4/5
Location : 5/5
Dana is 70% caffeine, 50% fish sauce and hasn't taken a math class since 2004.
Phở Mot Do
76F Pham Viet Chanh, Ward 22, Binh Thanh District

---

Related Articles:
---