Vietnamese tech company, Bkav has unveiled the Bphone, a smartphone that the firm's CEO has ambitiously dubbed "the best smartphone in the world."
---
Related Articles:
- US$40m Earmarked For Saigon's Silicon Valley
- Microsoft To Move 2 Nokia Factories From China To Vietnam For Lower Labor Costs
- Vietnam's Mobile Internet Speeds 2nd Slowest In The World
---
The iPhone competitor is the first foray into the hardware space for Bkav, which is best known for its anti virus software.
Based on specs alone, the Bphone stacks up pretty well against Apple's flagship device and runs a modified version of the Android Lollipop OS: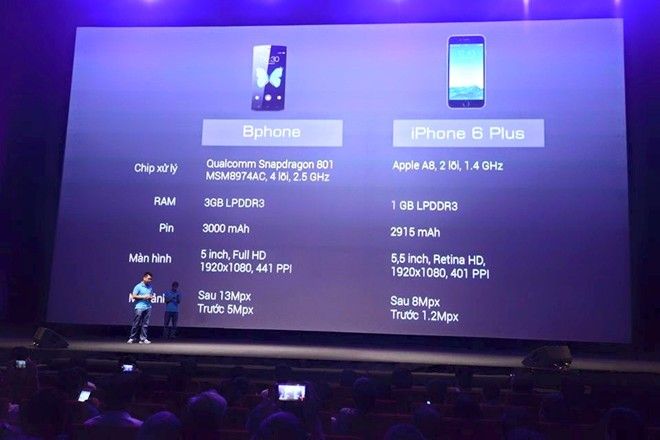 Bkav CEO, Nguyen Tu Quang, took the stage at the phone's launch event on Tuesday, oozing the same confidence often seen in Silicon Valley executives. "This is the best smartphone in the world. We did it!" he told the audience of 2,000, reports Tuoi Tre.
According to TechinAsia, the event was quite a spectacle:
It's an ambitious first phone. The event this afternoon mirrored this ambition, with top leadership at Bkav stepping on stage like at a launch event by Apple (or Xiaomi). They compared the new Bkav phone to the iPhone 6 and other top-end competitors. The event was nothing short of the biggest PR stunt a Vietnamese company has ever pulled off with a rumored VN$10 billion (US$500,000) going into it – including renting out one of the top event spaces in Hanoi, Vietnam's capital, and sending out beautifully crafted metallic invitation cards.
The Bphone is available at three different price points. A 16GB Bphone sells at VND9.99 million, while the 64GB and 24k gold plated 128GB editions will set you back VND12.96 million ($595) and VND20.19 million ($927), respectively.
The phones will be available at vala.vn, starting June 2.