After stepping off the plane in Phu Quoc, one's lungs fill with fresh air. Bird songs and lush hills stretching across the horizon cast a soothing calm across the tropical island. This sense of serenity is a unifying theme for a weekend at the boutique Salinda Resort - a perfect escape from the bustling city.
Seen through the windows of Salinda's shuttle, the Gulf of Thailand shimmers in the early light. After a short ride, guests are greeted in the resort's lobby by smiling staff and delicious, freshly-made fruit teas - a sign of the lavish pleasures and personalized attention to come.
Flowers and manicured plants canopy the stone walkways leading to the deluxe rooms, suites and secluded villas. Enormous windows bathe the luxurious plush beds, couch and hardwood floors in warm light. Complimentary hand baked pastries, an espresso machine, bottles of water, a fully stocked mini bar, woven sandals and soft robes await every guest in the sleek, modern rooms.
ABC News described Phu Quoc's beaches among "the cleanest and most beautiful beaches of the world" and after putting their luggage away, guests should stroll down to admire one's calm, turquoise surf. The immaculate sand slopes into the warm water of the shallows that extend meters into the nearly waveless ocean. And Salinda's private lounging area lets people savor it all in peace.
After visiting the ocean, the large, salt filtrated pool, nestled beneath arching palm trees is the best place to spend an afternoon. Even when all the hotel's 106 rooms and 14 villas are occupied, the large pool area maintains a vibe of solitude. With phones shut off and concerns of deadlines, emails and meetings vanished from their minds, guests can recline on shaded chairs and drift towards pleasant daydreams before spending time sinking into the books or engaging in the conversations they've been longing for. And after working up an appetite swimming, a locally-sourced salad or wood-fired pizza from the pool bar paired with a craft beer is an ideal afternoon snack.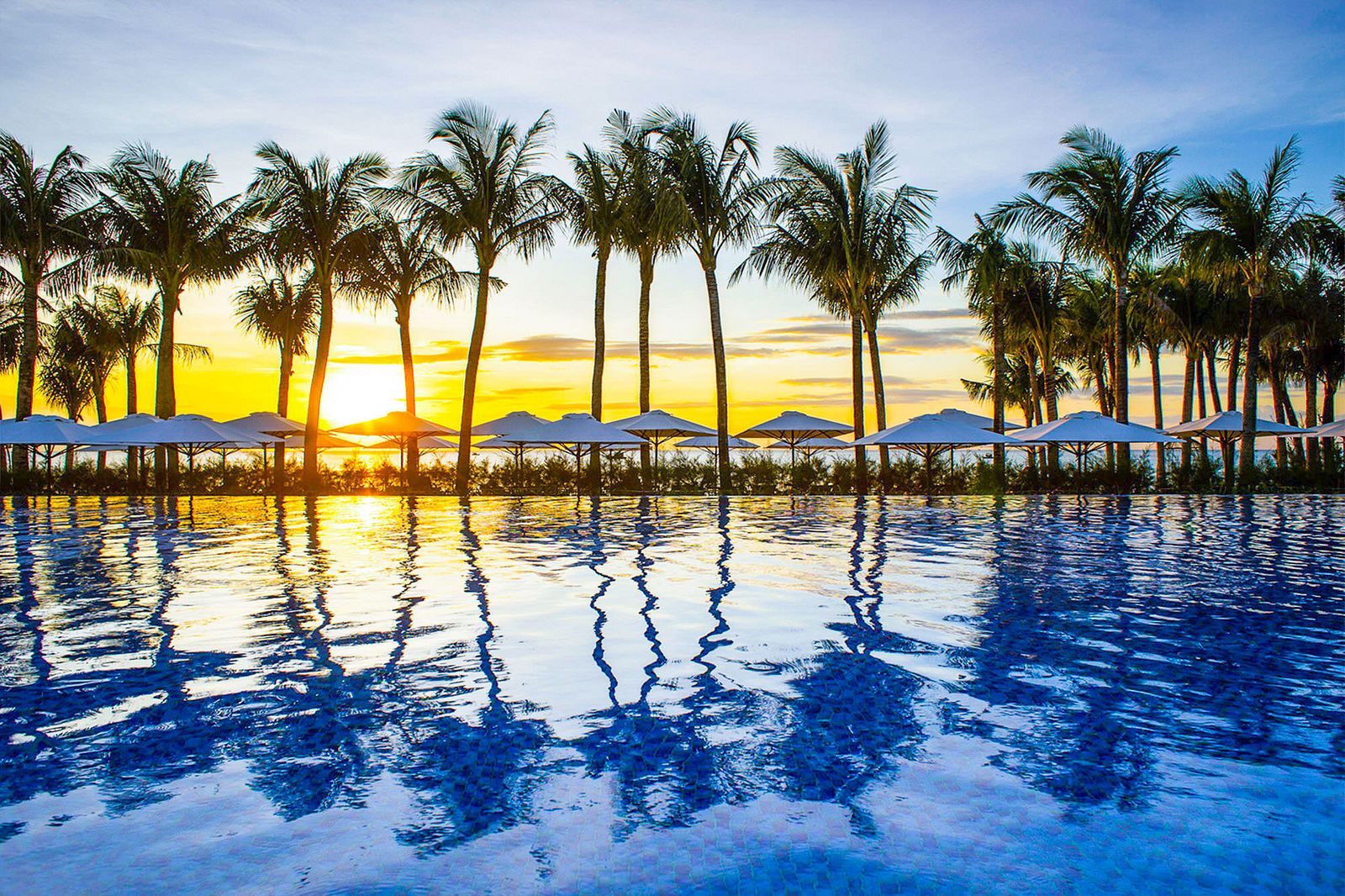 While sitting beside the pool, expertly trained massage therapists offer guests mini-massages, pinpointing the particular stresses that can be addressed with uniquely tailored treatments at the island's only Thai spa. Blooming orchids, pleasant lemongrass, jasmine and ginger scents and gentle Reiki music fill the soothing wood and bronze-accented rooms. There are several different treatments to choose from including signature pearl massage, thai massage, deep tissue, hot stone, herbal compress and Indian champissage as well as a steam room, two couple rooms and opportunity for manicures and pedicures. The most satisfying part of treating oneself to a massage in the spa managed by Guru Spa Thailand is the personal care the Thai therapists offer. Their expert hands recognize the exact areas in need of attention and carefully evaporate them of tension. As one guest claimed, your experience will be so powerful you'll want to get a tattoo of your therapist's name.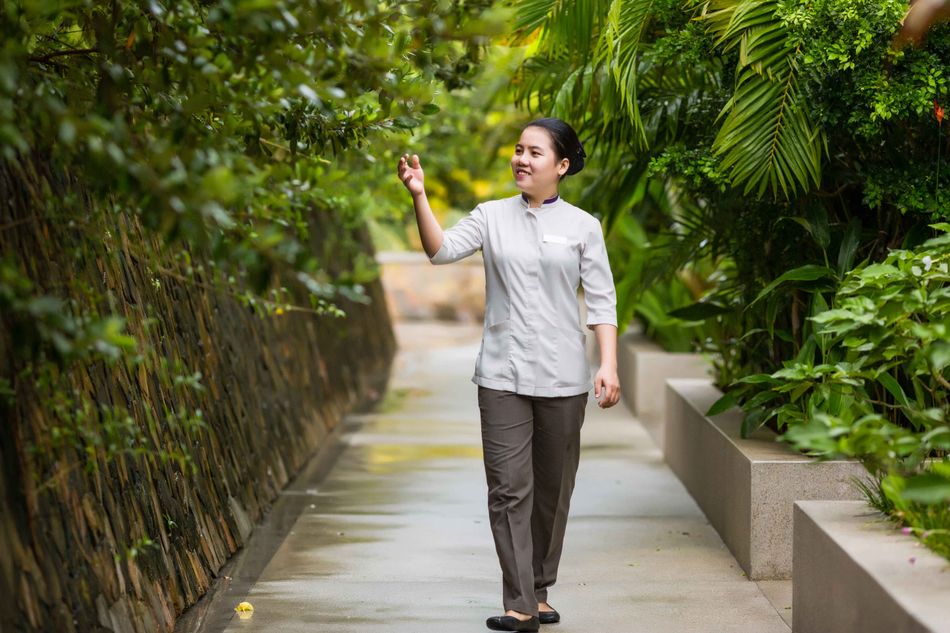 As dusk approaches, guests may return to their rooms' private balconies to watch the setting sun cast dazzling oranges and reds across rhythmic waves before the sky fills with bright stars. It's a romantic moment one can never experience in the calmer corners of Saigon. Once darkness has set, guests can then have dinner in one of three restaurants. Chefs from Vietnam, India and Italy all prepare their native cuisines using local ingredients. Or for a special treat, private meals can be served in the Mango Garden's pavilion.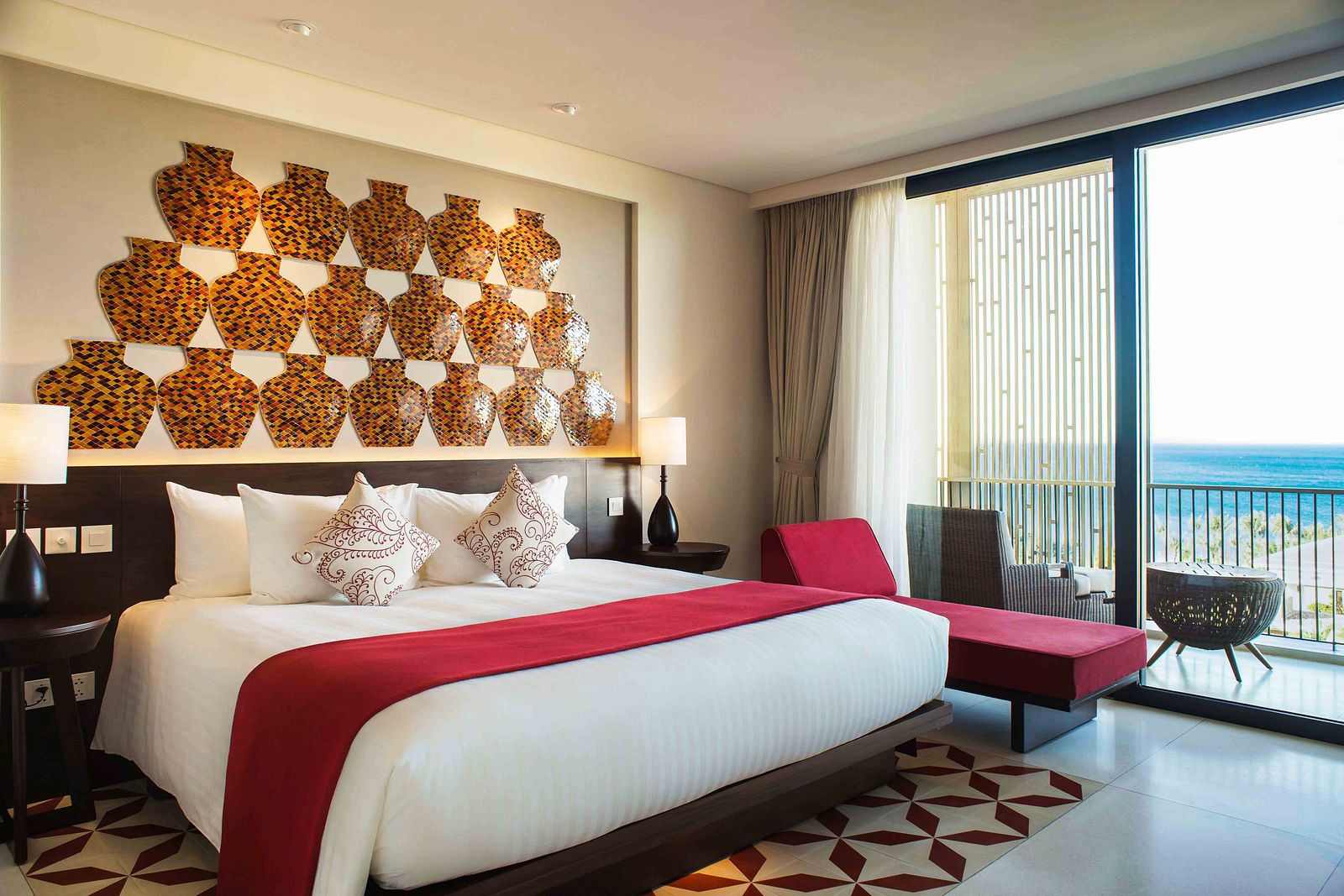 Every night a Filipino band performs in Salinda's lobby while guests sip on cocktails ordered from the expansive bar. The resort also contains Phu Quoc's largest cigar room where visitors can enjoy a glass of Scotch or bottle of wine selected from the expertly curated wine cellar while surrounded by rich oak and leather.
Instead of the clamor of traffic or the reckless cry of a rooster, guests awake to the soft trills of songbirds. The unmistakable aroma of fresh flowers fills the air as they stroll barefoot through the dew-jeweled grass towards breakfast. Live piano music accompanies the world-class, international buffet served in the spacious indoor/outdoor dining room.
One of Salinda's defining features is the friendly atmosphere created by the genuinely caring staff. Salinda boasts a 2.5:1 ratio of employees to guest rooms and it shows. A staff member, for example, picking sim berries the hotel restaurant will use to marinate pork ribs, may pause to give directions to the outdoor pool table or offer the hours for the fitness room stocked with state-of-the art equipment. The resort also has a business center fully supplied with computers, magazines and a library, so if a work emergency erupts, guests can quickly and efficiently attend to it and return to relaxation. A children's game and art room and private karaoke lounges are also available. If one feels adventurous, complimentary bicycles are available, with staff ready to give recommendations for areas to explore. Guests can peddle to the large national park to be surrounded by untouched nature or simply explore the sleepy, authentic Vietnamese town, stopping for a coffee or tea at a quant streetside restaurant.
Visitors will want to take home a tangible reminder of their peaceful stay at Salinda. The hotel shop has a carefully selected array of sustainable items unavailable in other typical souvenir shops. Phu Quoc pearls, silk dresses, hand woven sandals, artisanal toys and paintings by local artists, all locally sourced, make great souvenirs for loved ones.
Guests arrive at Salinda Resort Phu Quoc in need of escape from the hectic commotion, pollution and stress of the city and leave fully relaxed, refreshed and at peace. The boutique resort's focus on details and personal attention ensures its a unique stay they'll be eager to enjoy again.
Salinda Resort Phu Quoc Island's website
Salinda Resort Phu Quoc Island's Facebook Page
Salinda Resort Phu Quoc Island's Instagram
(0)8 3929 3097
Salinda Resort Phu Quoc Island | Cua Lap Hamlet, Duong To Commune, Phu Quoc Island, Kien Giang Province, Vietnam