Evolving economic conditions and global connectivity means Vietnamese culture is undergoing rapid changes in everything from cuisine to entertainment, and celebrations are certainly no exception.
Introducing Wedding Anniversaries to Saigon
While Vietnamese weddings have long involved elaborate customs and traditions such as specific clothing, the exchange of ritualistic gifts and rules governing the receiving of the bride at her home, few Vietnamese have paid attention to wedding anniversaries; some don't even bother to remember the date.
The concept of a wedding anniversary has roots in Western culture that date back to the middle-ages but only recently arrived in Vietnam alongside other foreign trends. The Park Hyatt Saigon was the first hotel in the city to provide inclusive anniversary services that allow couples a chance to celebrate, reflect and create lasting memories. As a part of their Moments of Life event packages, the intimate and flexible options are helping set the bar for wedding anniversaries in the city.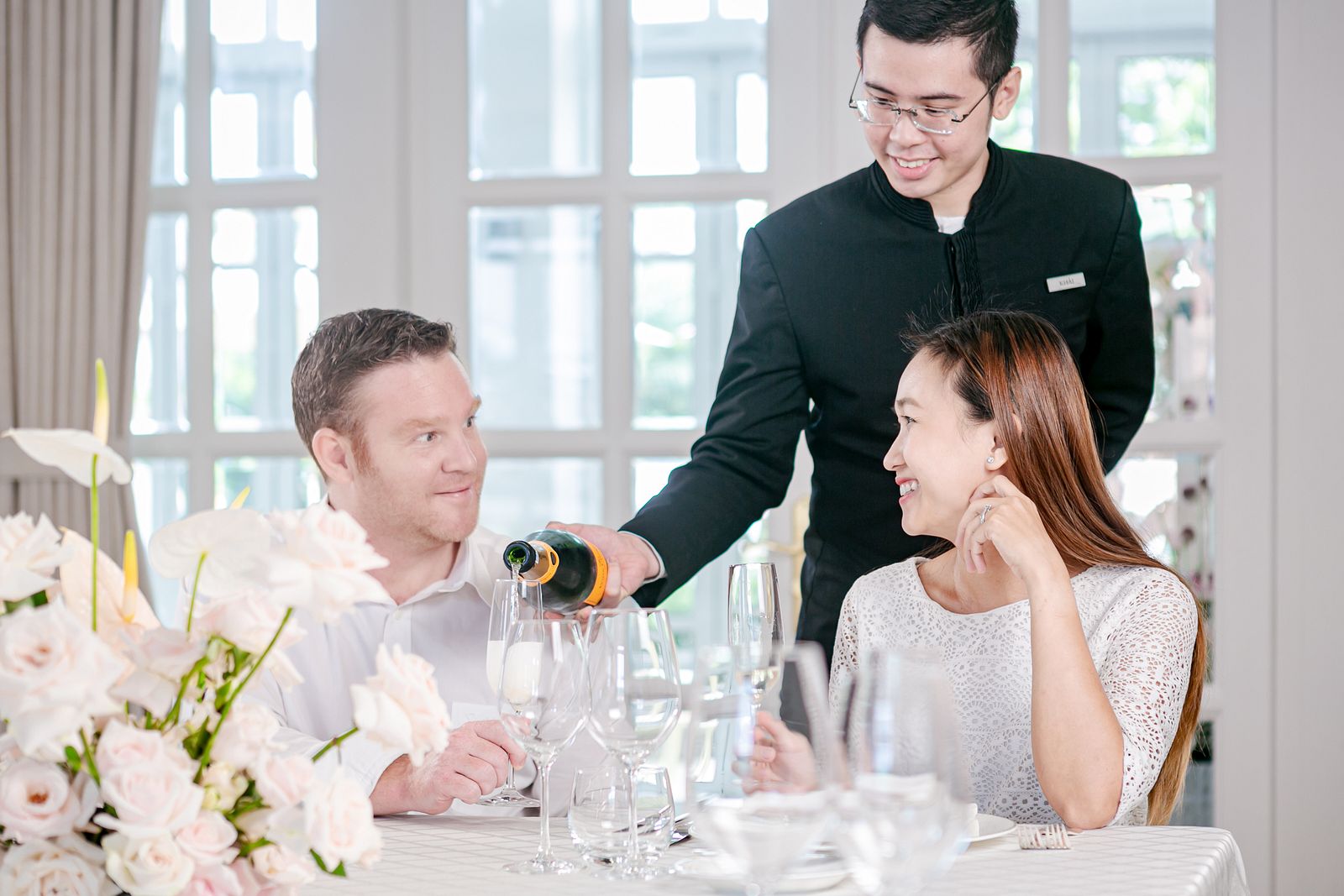 Many people don't have the means to celebrate their weddings as they wanted or even if they did, the day was so busy and stressful they couldn't fully enjoy it, explains Luong Quoc Phong, Park Hyatt Saigon's Director of Events. He tells Saigoneer that after years or decades of marriage, couples are now interested in having the celebration they always wished they could have had, surrounded by beautiful decorations and a close group of friends, not concerned with minutiae or last-minute management; this is where Park Hyatt Saigon excels.
Diverse and Customizable Themes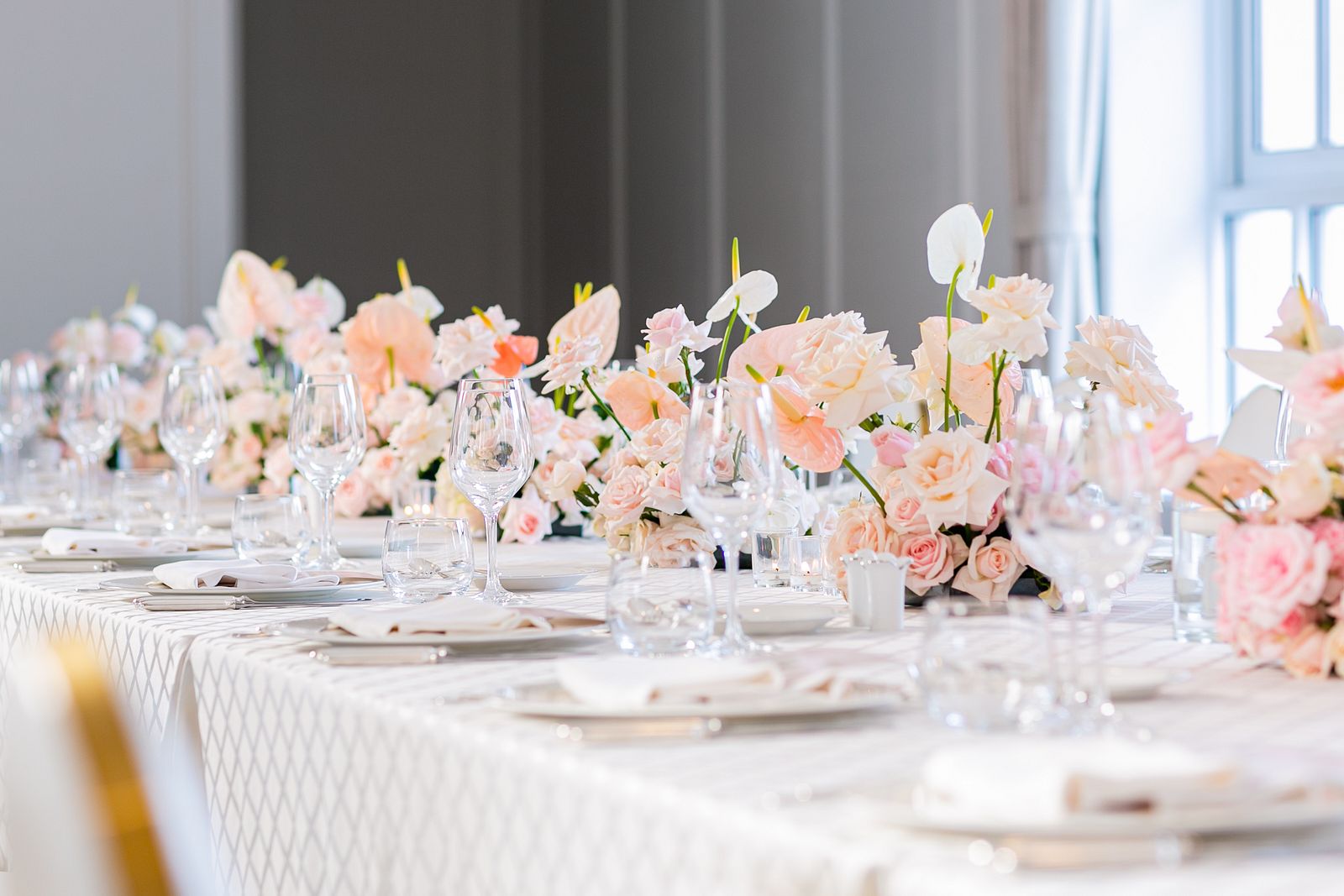 Walking between verdant ferns on the path behind the centrally-located hotel, guests forget they are in the middle of a busy metropolis. A graceful explosion of pink petals fills the large pool house windows tucked into the garden's corner. Carefully arranged on long Western tables, the flowers exemplify the traditional style in which many people choose to celebrate their wedding anniversaries, though Asian arrangements remain popular.
The striking pink flowers are accompanied by light dining ware and silverware as part of the popular classic theme, one of three standard packages guests can select. In contrast, the elegant option includes simple, single white roses and golden napkin holders while the bold arrangement relies on an assortment of dark pink flowers and a single orchid placed on gold-trimmed plates for a more extravagant beauty.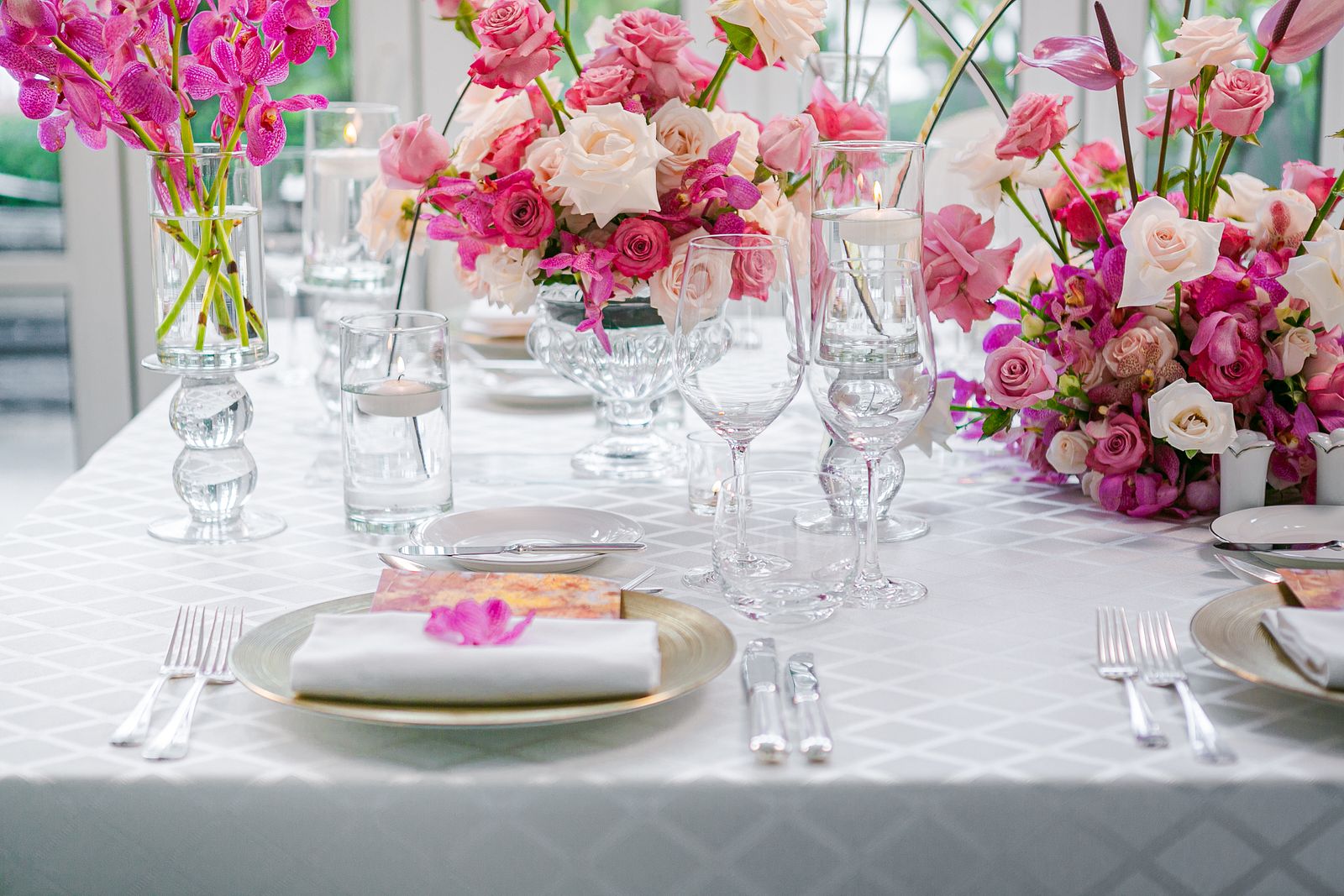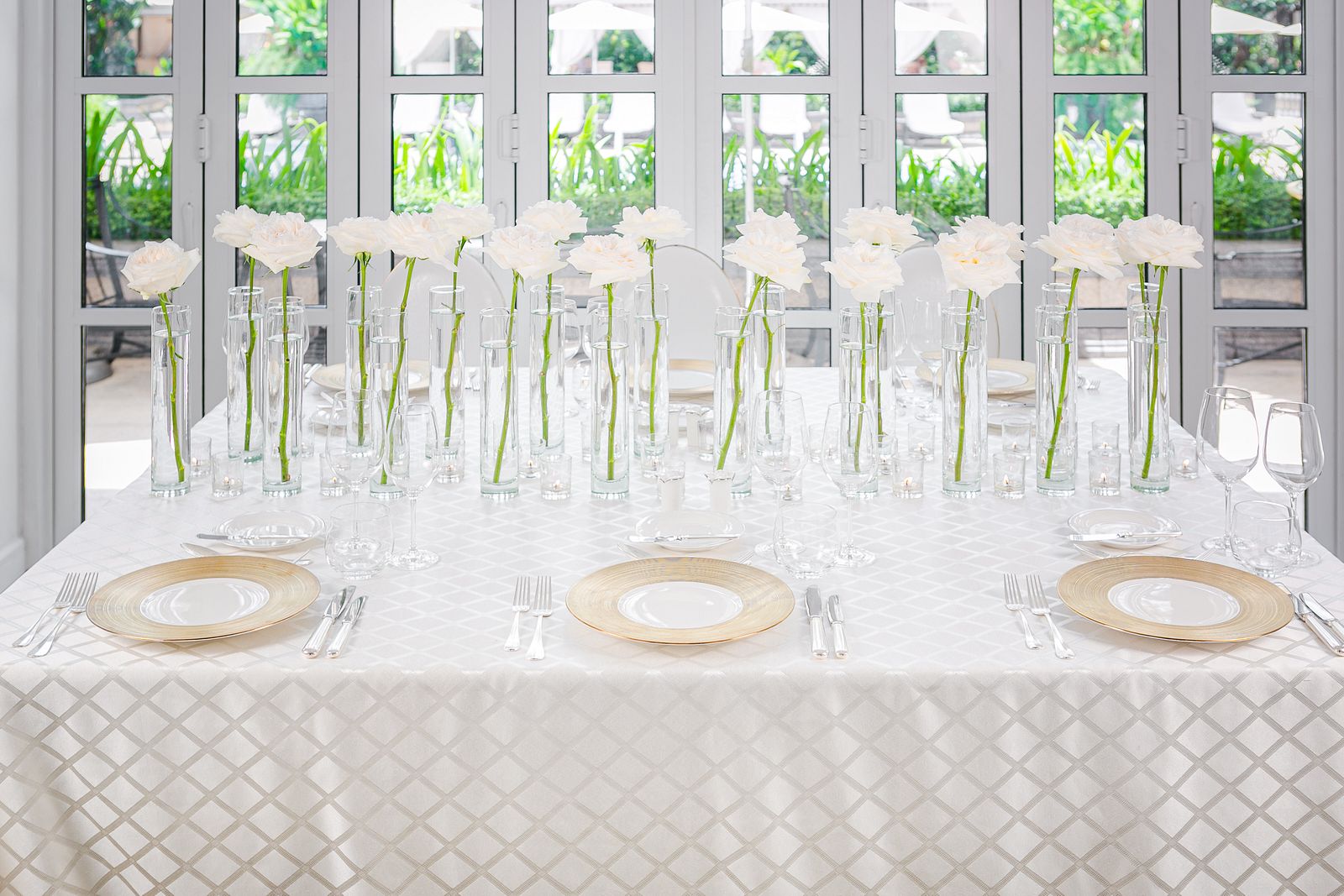 While the Park Hyatt Saigon has meticulously designed these themes, when planning for their dream anniversary, people want everything just so and therefore customization is always available. For example, couples can select different flowers and decorations via the help of an outside wedding planner or through coordinated discussions with the in-house team. Moreover, whether it's a three or four-course meal, each dish from appetizer to main to dessert has four options to choose from that span Western and Eastern flavors with upscale twists. Or couples can meet directly with the hotel's executive chef to design the menu from scratch. Similarly, the in-house sommelier can sit down to share and select wines that will perfectly match any meal.
Master of Details
When celebrating a wedding anniversary, hosts don't want to be concerned with logistics or last-minute decisions. The hotel's painstaking management of details means couples can devote their full attention to savoring the special day. Saigoneer was on hand for a set-up to see what precisely this means.
Two staff members slowly walked along the tables with bouquets of flowers in their hands examining each floral arrangement, swapping out a stem here, a bunch there, to make sure everything was in place. Meanwhile, another team member was arranging the folds in the curtains, another ensuring each piece of silverware was without a single smudge, and another tending to the exact angles of the specially imported chairs, of which there are only 65 of in the entire country.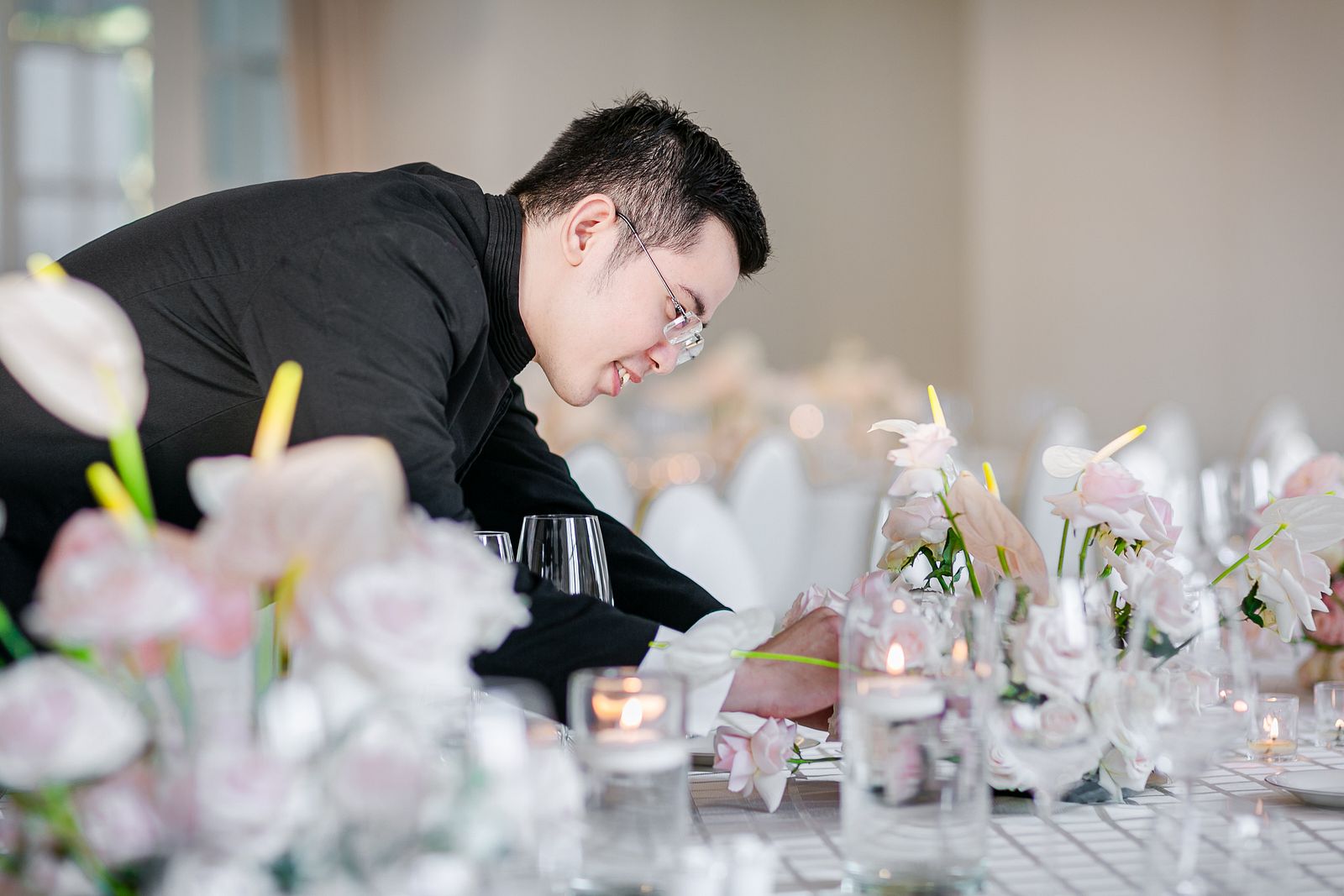 The focus on perfecting particulars hardly ends at set-up, however. Thanks to a staff to guest ratio of 1.2 to 1, every part of an anniversary event is perfectly choreographed. A full team rehearsal ensures that the servers know when to bring out which dish so as to coincide with any speech, song or video the hosts plan to feature in coordination with the high-end AV system with projector screen. Similarly, the full run-through allows the kitchen crew to know exactly how to prepare and plate each course. The servers are all thoroughly briefed on the event's dishes as well so they can explain wine pairings and important ingredient information as it might relate to allergies.
The wedding anniversary celebrations are part of Park Hyatt Saigon's larger response to modern Vietnam's embrace of Western traditions as part of their Moments of Life offers. The collection allows people to celebrate important events and markers such as bachelor and bachelorette parties, birthdays, anniversaries, baby showers and a child's first birthday. Each involves the same attention to detail and personalized attention as the wedding anniversary celebrations.
A few decades ago, throwing a wedding anniversary party would have been unheard of by most Vietnamese. But soon they might represent one of the days a couple looks forward to most. Thanks to their attention to detail, eagerness to embrace any special request and the level of service and luxury one associates with their name, the Park Hyatt Saigon is at the forefront of this cultural shift, ensuring the day is an effortless, memorable experience for couples.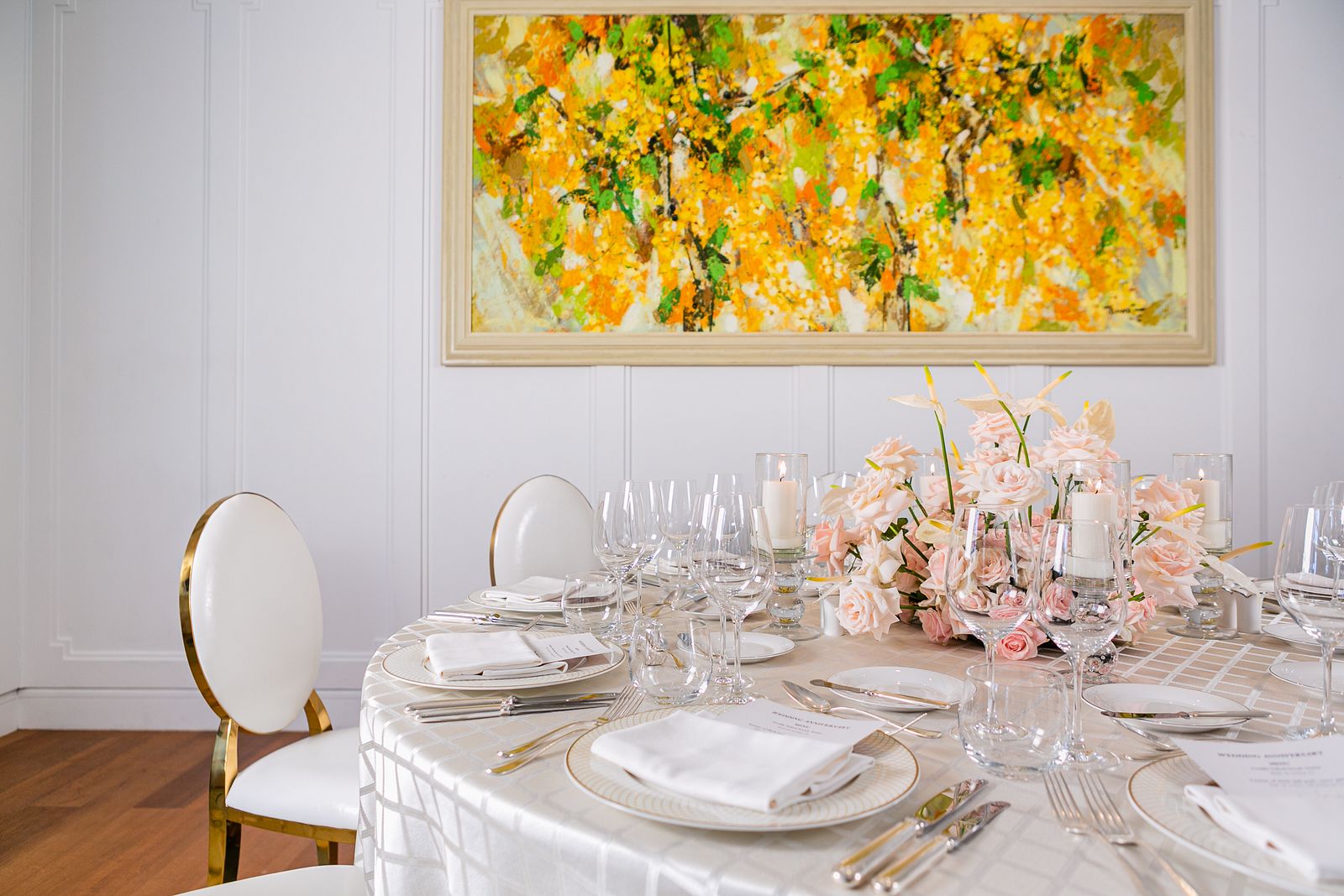 For further information, please feel free to contact the Events team at sales.saiph@hyatt.com or +84 28 3824 1234.
+84 28 3824 1234
Park Hyatt | 2 Lam Son Square, D.1, Ho Chi Minh City