"I couldn't breathe," Jade Tran says, her face flushing as she reflects on the moment in 2012 when she fell ill 4,000 meters above sea level in the Himalayas while on a pilgrimage to a Tibetan monastery.
An intense pounding in her head menaced her throughout her journey, forcing her to confront her own mortality. "I thought, maybe this is the last time I will visit this place," she said. She considered her return to good health as a gift, good karma she would have to repay.
A few months after returning to her normal life and work as a marketing director, the karma came due while attending a company conference in Hanoi. During a buffet dinner her colleagues insisted she try the squid-filled spring roll. She had wanted to become vegetarian, but peer pressure made her reluctantly try it. When she took a bite, she felt pathetic and thought: "If you felt compelled to eat this, how can you combat your desires?" From this moment onwards, she committed to vegetarianism, and her desire for meat vanished.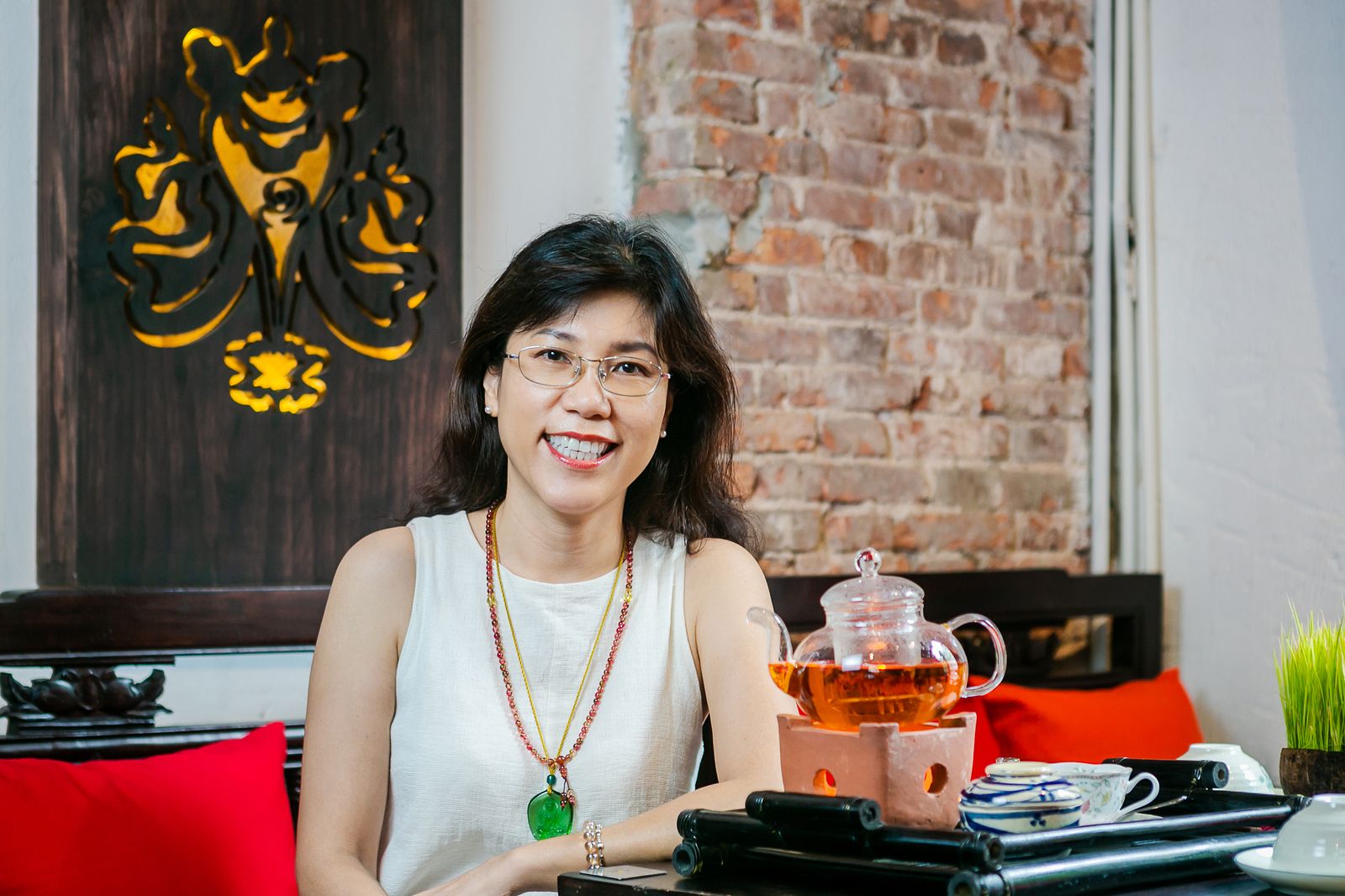 This is the inspiration behind her vegetarian restaurant: Shamballa Vegetarian Restaurant & Tea House.
In Sanskrit, the word refers to a fabled place of serenity and stasis. Some Buddhists theorize that it's where the Buddha found enlightenment. Others claim it's not a physical location, but a state of mind. But everyone agrees Shamballa represents peace, tranquility and joy, a fitting name for the tree and pond-filled restaurant located on a quiet side street off of Nguyen Thai Hoc, one of District 1's cacophonous central arteries.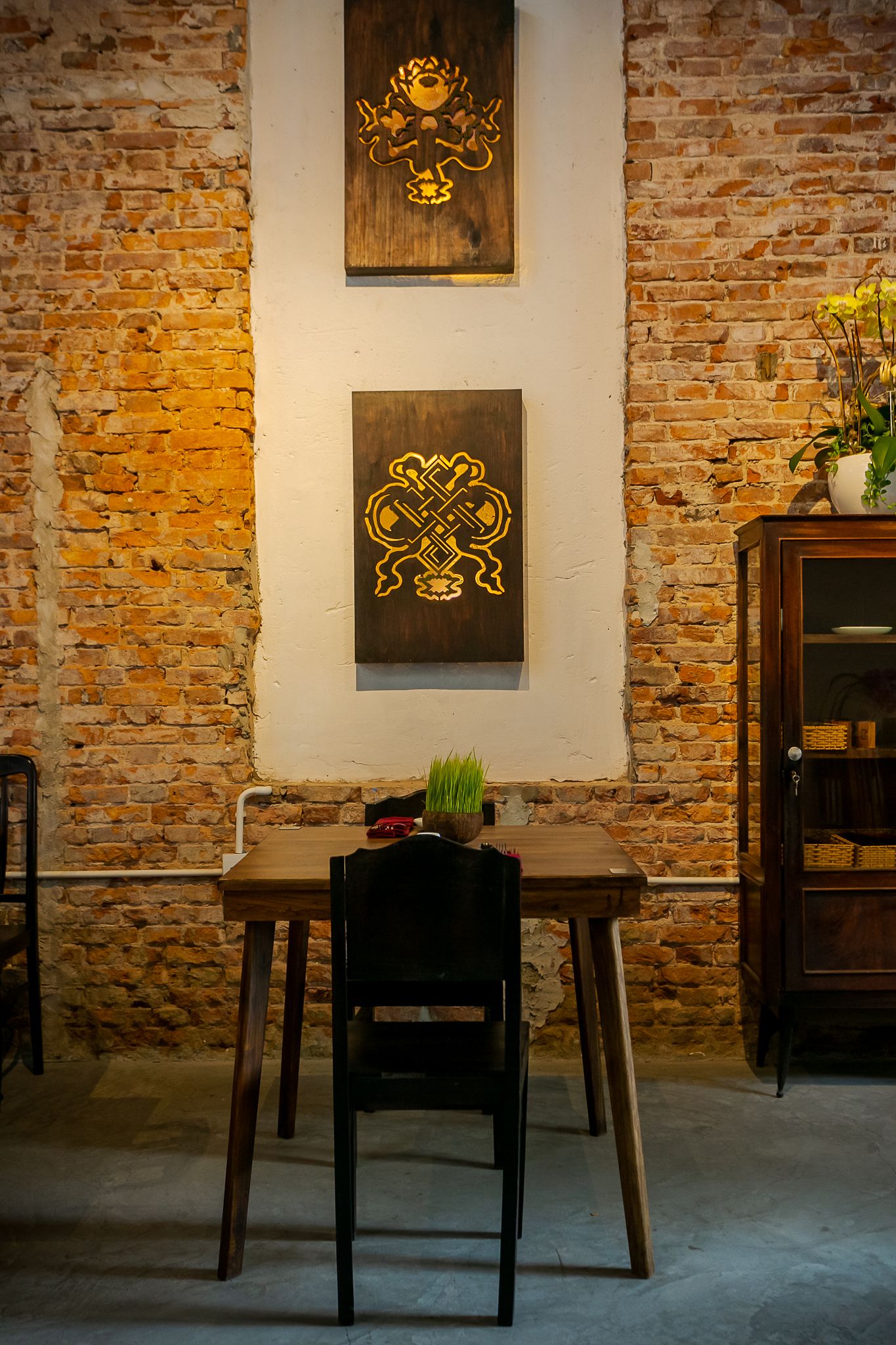 Passing through parted curtains, guests arrive at a dining room filled with décor inspired by Tibetan Buddhism. Dark wood and chalk-white walls contrast towering open bricks. The building features a partial second floor that's open to the rest of the restaurant, drawing one's eyes up to the shades of fabric that mirror the five-colors representing Buddha's wisdom found on small square flags strung throughout the Himalayas. Touches of red and crimson, such as the napkins, call to mind Tibetan prayer scarves while eight offering jewels carefully carved on wooden tablets hang throughout the room.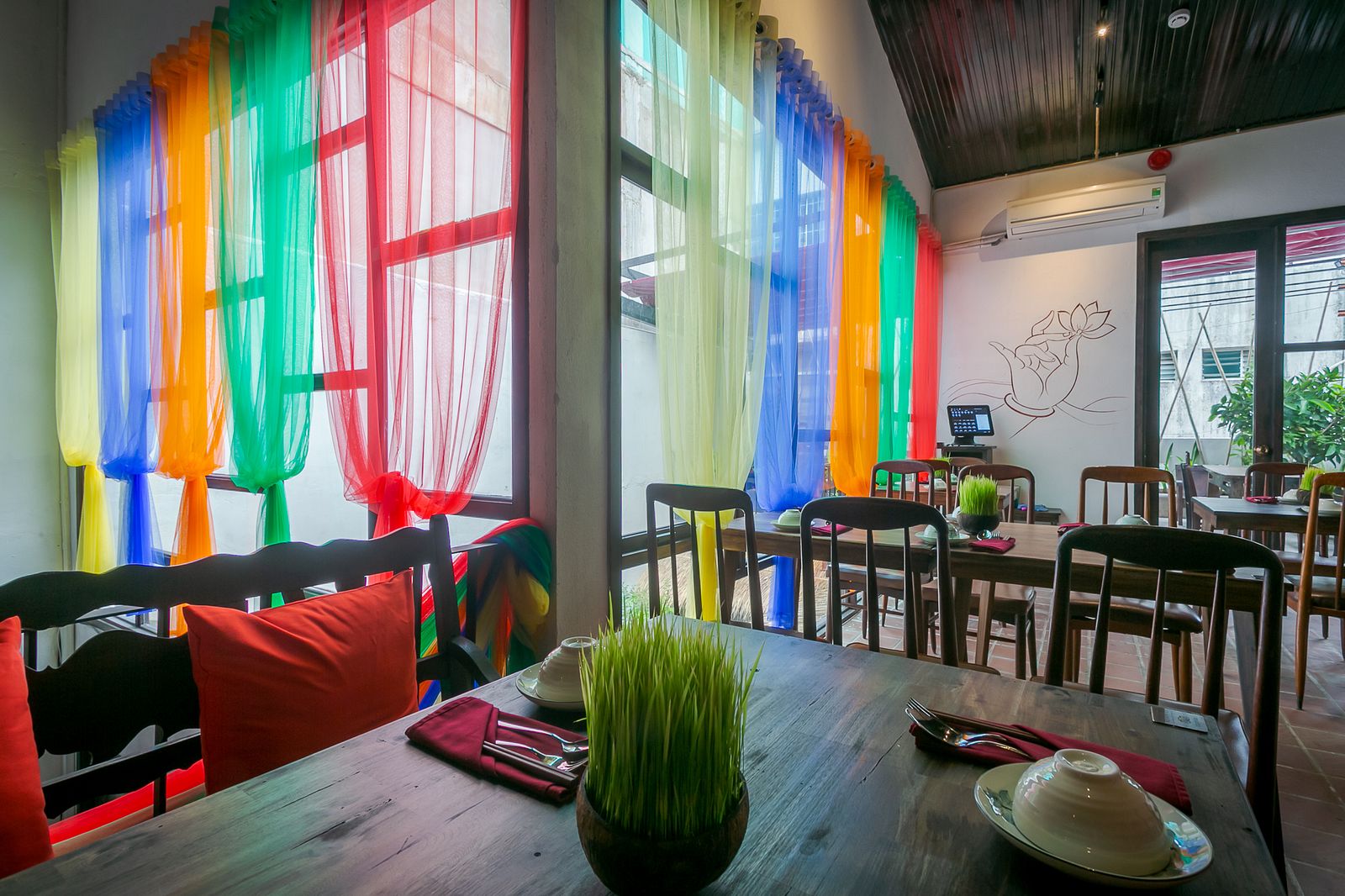 Among the religious and spiritual artifacts, a viridian stone Buddha effigy presides over guests as they dine on colorful vegetarian dishes such as the crispy, golden bánh xèo accompanied by lush, green vegetables. A visual feast precedes the first bite.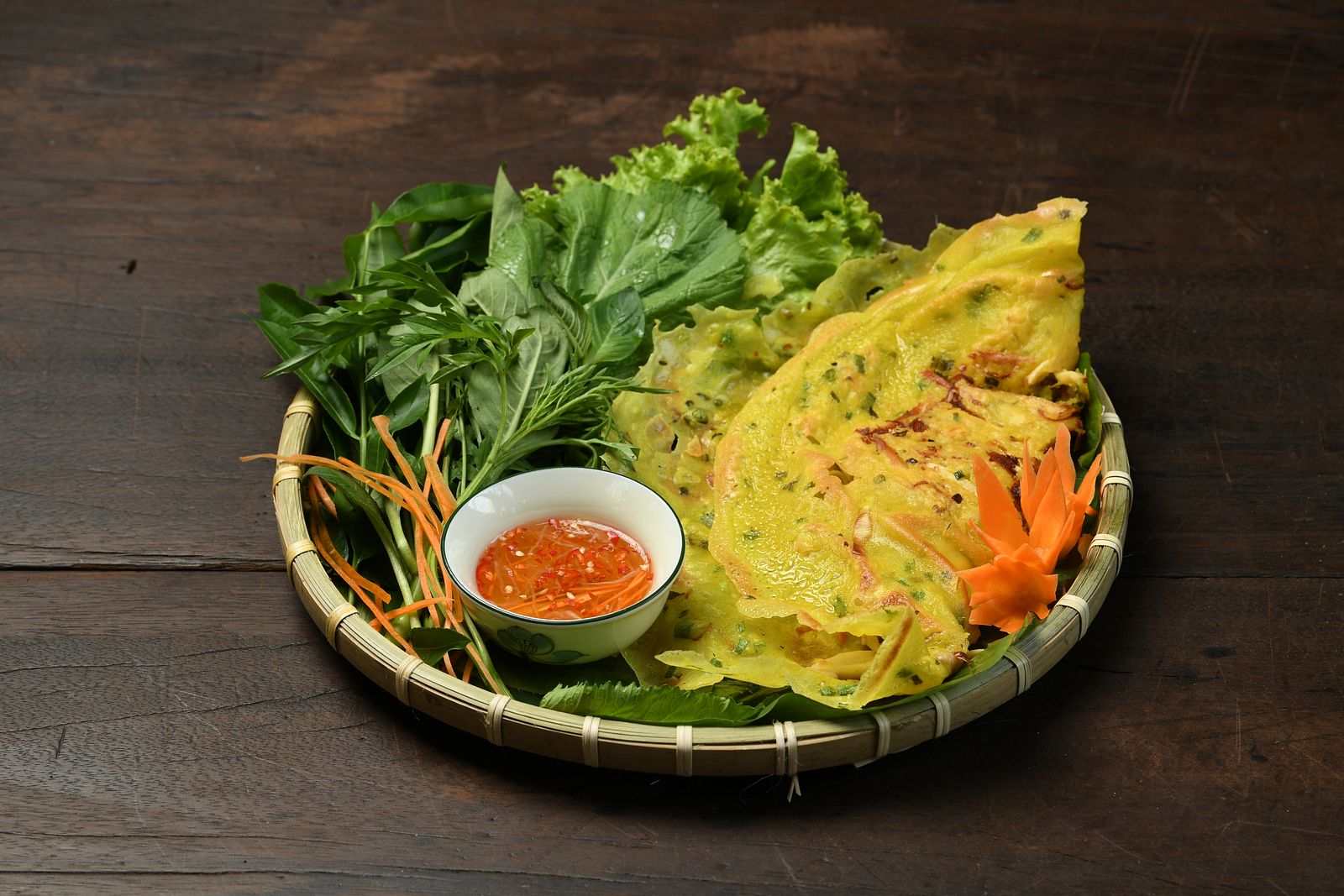 Taking inspiration from her travels and the vegetarian dishes she has enjoyed throughout the world, Jade and her chef collaborated to create a cohesive menu that's primarily Vietnamese. This, Jade said, that sets Shamballa apart from other vegetarian restaurants which routinely incorporate a variety of regional traditions, such as Thai, Indian or western recipes and spices.
Shamballa's dishes re-imagine recipes to incorporate vegetables. The nem nướng, for example, features a tofu-and-mushroom sausage that might pass for the real thing while the mì quảng recipe replaces the traditional chicken and pork with shiitake mushrooms, making for a sweet yet savory profile balanced by a tanginess from the banana sprouts.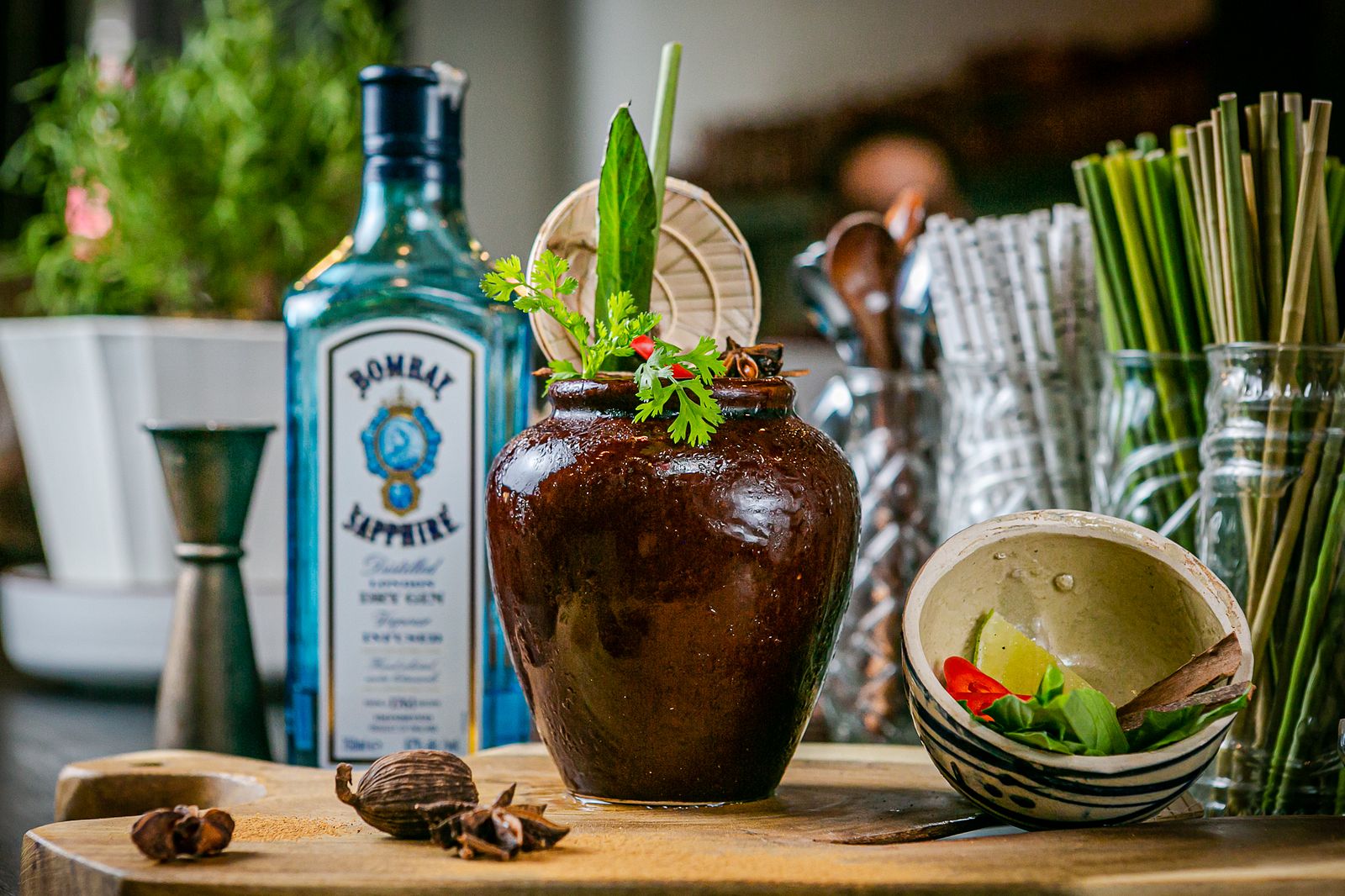 The drink menu follows the cuisine's lead, with Vietnam-specific drinks like the phở cocktail, a sharp gin drink with toasted star anise. Taste wise, it's similar to a whiskey sour, but the local herbs give it a little something extra.
"Buddhists just say be kind," Jade explains when reflecting on the menu and interior she has curated. Ultimately, she wants people to find peace here. A quiet meal at Shamballa is a great way to remind oneself to slow down and treat one's body kindly. "I want to inspire more people to enjoy a healthy life."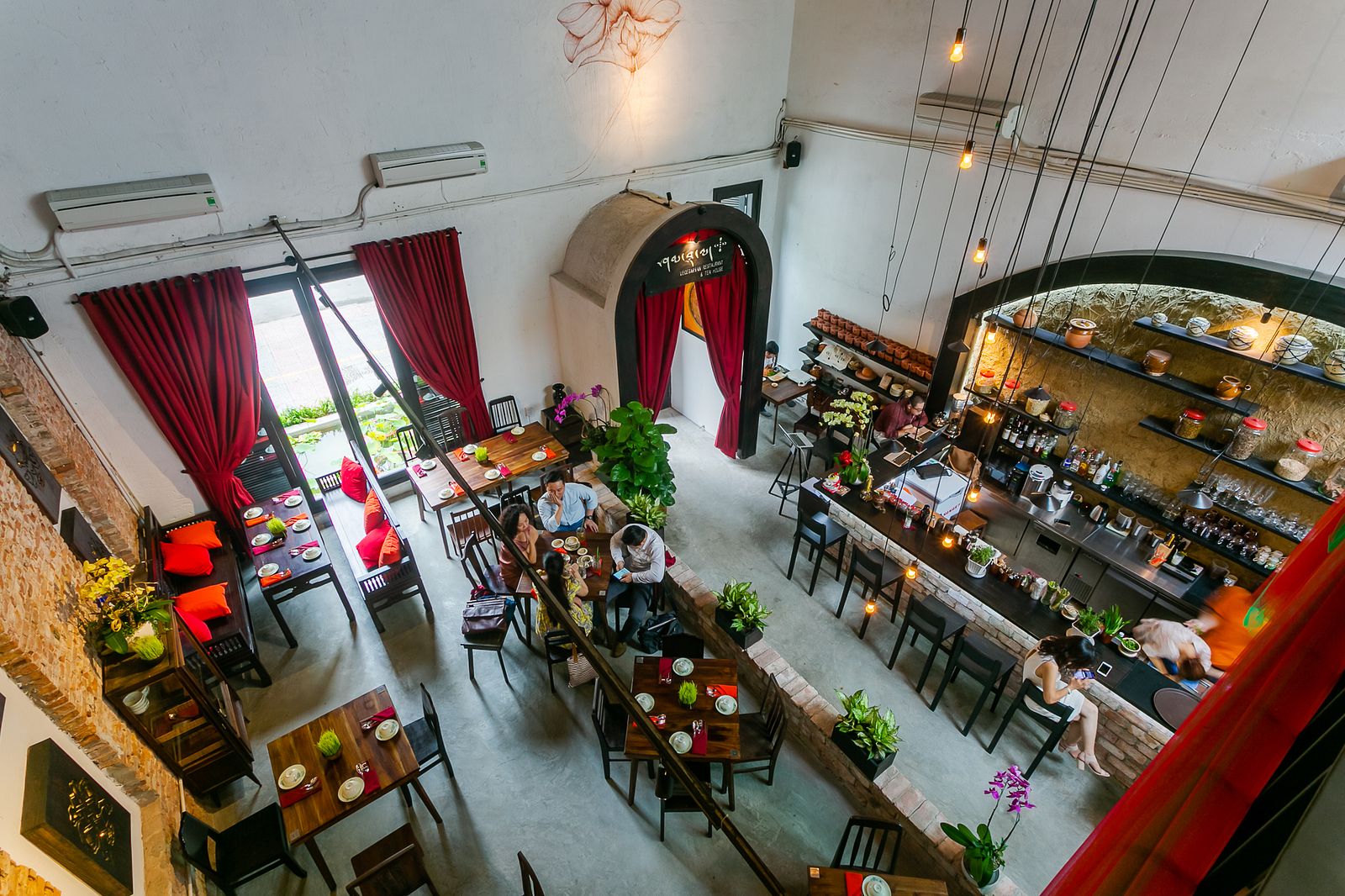 Opening hours: 10:00-22:00
091 7876 788
17-19 Trinh Van Can St., Cau Ong Lanh Ward, D1, Ho Chi Minh City