The Saigon River slithers like a magnificent serpent with scales made of sunlight.
I rarely get a chance to actually go out on it, despite it running directly through the city and frequently driving across bridges over it. The speed boat operated by MIA Saigon, therefore, provided a great opportunity to take in some fresh air and see a side of Saigon few regularly enjoy.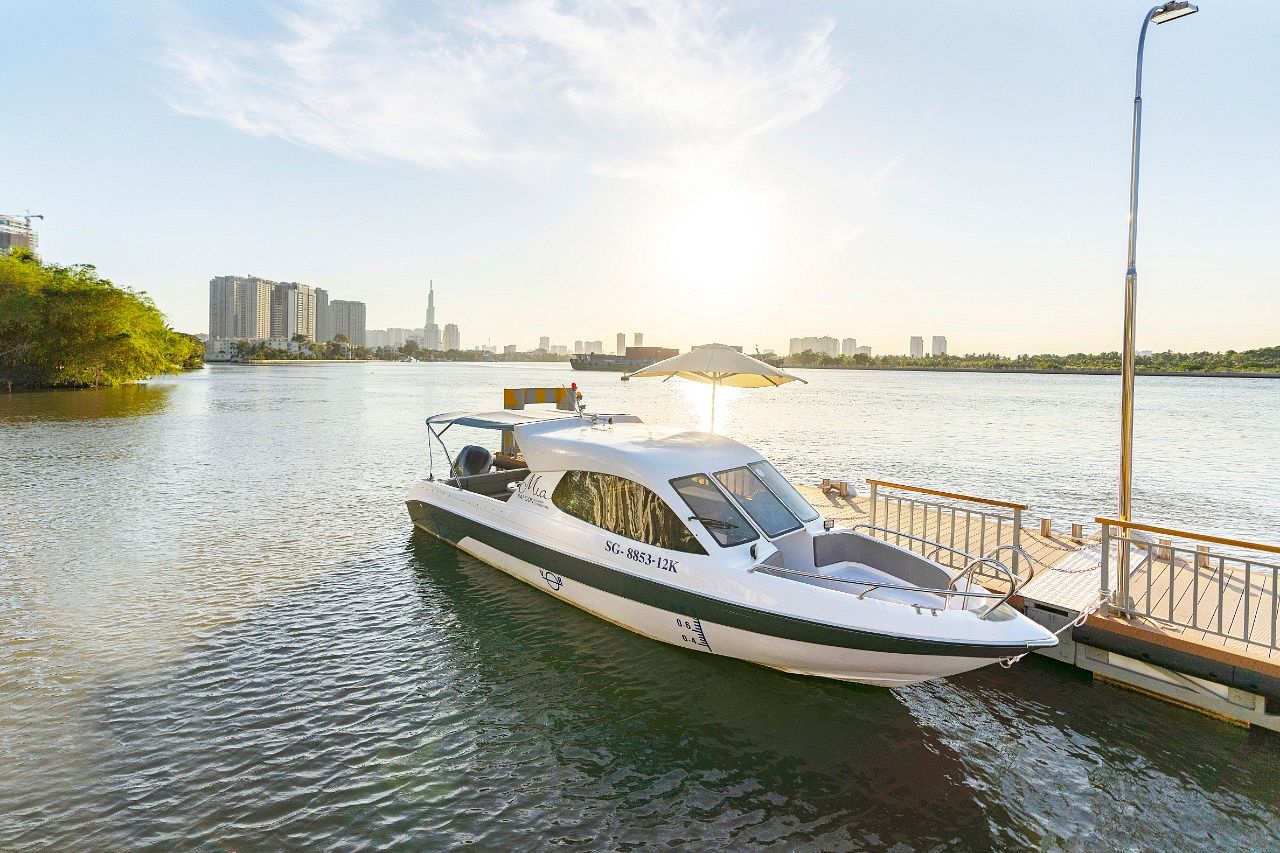 Weaving in between a few barges and floating tufts of hyacinth, the ride offered a new perspective on the city: bridges being brought to life, cable-by-cable; the towering skyline glimmering in the late afternoon light; the secluded courtyards of gaudy villas and colorful neighborhoods teetering out over the lip of the river - Saigon feels like a different place when observed from a boat. The cool breeze and sense of open air adds to the vibe, and I savored a sweet, tropical drink during the 20-minute journey that leaves from District 1's convenient Bach Dang wharf. Only a few moments into the journey, and I was wondering why more people don't take advantage of Saigon's waterways.
While it can pick up some serious speed, leaving the city's water taxi in its wake, the ride is delightfully smooth, and the plush couches make for an exceedingly comfortable ride. It gracefully glides into the dock of MIA Saigon just as the sun is beginning to glaze the surface of the water on the outskirts of District 2.
The dock leads directly to Kitchen by the River, which is an ideal place for a sunset drink when one wants to forget the hectic city in the distance. The sunset drink menu features Baron Philippe De Rothschild Brut for only VND320,000* per glass and VND1,600,000* per bottle, though I'm more drawn to one of the classic cocktails. Savoring one of the simple drinks invites ruminations on how, not too long ago, this part of Saigon would have been an isolated swamp, and it would have been nearly impossible to sip on a foreign spirit festooned with a fresh ice cube. It's hard not to feel nostalgic in such a serene place.
Sitting on the spacious deck, it's nice to be surrounded by cool air and the occasional bird song, rather than exhaust and motorbike horns. Such an atmosphere gives me no reason to want to leave, and I imagine for many people, a quick dusk drink quickly turns into a few hours gazing across the river at the verdant scramble of trees on the opposite shore. Thankfully, if that happens, a complete menu helps should one get hungry.
The unpretentious restaurant receives an added hint of sophistication when paired with small bites, including French Fine de Claire Oysters, parmesan fries, baby calamari, scallop tartare or an array of imported cheeses. Designed to be shared with colleagues or loved ones and savored slowly, they are the perfect accompaniment to an afternoon that slips into the evening as effortlessly as the sun settles beneath the horizon.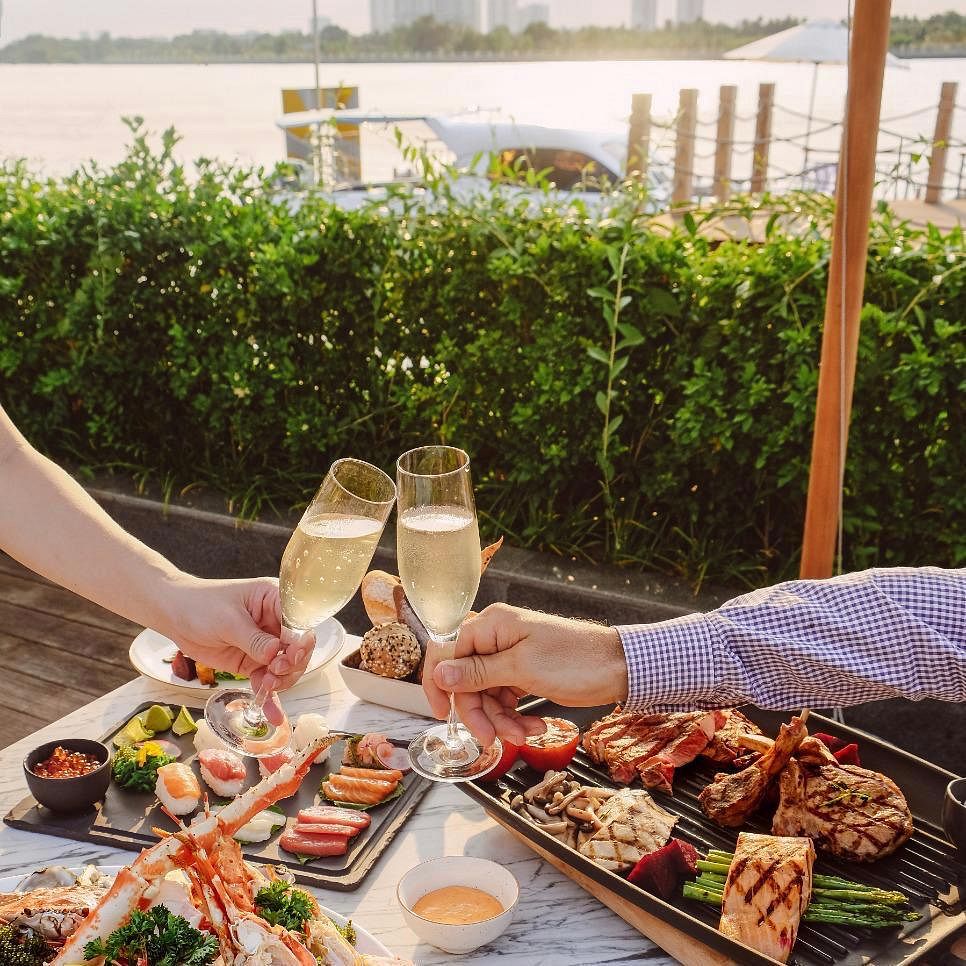 Once you've finished your meal, whether taking the boat back to District 1 or leaving via Thao Dien, it's a must to visit the MIA Saigon Hotel. Staring out at the river behind a meticulously manicured lawn with an elegant pool, the boutique hotel boasts sleek colonial-style design.
Inspired by the film Indochine and their own childhoods in Vietnam, the owners wanted to impart the property with colonial elegance and timeless charm rooted in the nation's commingling of aesthetic influences. Therefore, centuries-old pottery recovered from a sunken ship rest in the lobby alongside paintings by some of the country's foremost 20th-century artists. The lounge contains a variety of art pieces and accents. If I had any musical talent whatsoever, I would sit down at the grand piano and see if I could channel Bui Xuan, whose work hangs directly in front.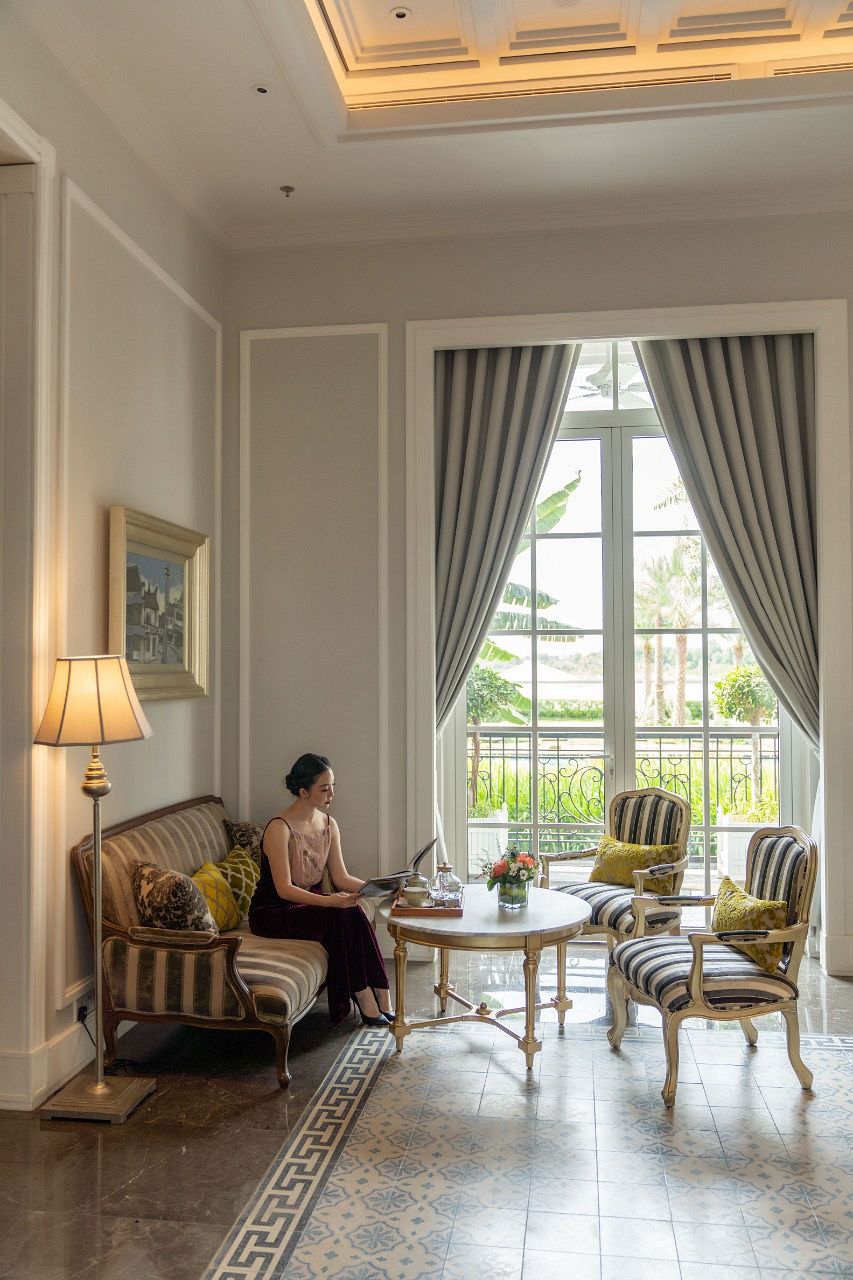 Before leaving MIA I take a quick stroll through the hotel itself to admire the unique art pieces. I know that behind each closed door is a luxurious room to stay in, but the hallways still feel more like art galleries. Each floor contains a different collection of works from Vietnam's history. While made for functional purposes, over time the stamps, propaganda posters, book covers and matchbook designs each have become pieces of art to be admired for their technical fluency and historic importance. Anyone that visits MIA for a drink should definitely check them out.
As I prepare to leave the grounds, this time via the front door of the hotel, I'm already thinking of my return. Perhaps for another sunset cocktail, or maybe the weekly Sunday brunch, which boasts a wide variety of fresh, local seafood. Or maybe I'll find myself here next for a birthday party, engagement or wedding. I might even be able to convince the entire Saigoneer team to take advantage of the business promotions that let one work in style. MIA offers a wide array of packages for boutique, luxury events that are specially tailored to guests' wishes from decor to cuisine to service.
I admit I'd fallen into a bit of a routine in the city, with my impressions of Saigon changing little in recent months. But some easy exploration reveals hidden experiences and aesthetics, and when seen from the proper perspective, the Saigon River is one such surprise. The Kitchen by the River is the perfect place to experience it.
+84 28 6287 4222

Mia Saigon |No. 2-4, Street 10, An Phu Ward, District 2, HCMC