Vietnam's coastal provinces just can't catch a break.
A bout of tropical depression recently developed into a powerful typhoon, named Doksuri, after it passed through the Philippines, reports Tuoi Tre. The storm is expected to arrive in mainland Vietnam tomorrow afternoon. Doksuri will be the 10th typhoon to hit the East Sea this storm season.
When it was first detected on Tuesday, Doksuri was pacing strong winds and squalls with the velocity of 60-75 kilometers per hour and 117 kilometer per hour, respectively. However by the time it lands in Vietnam, these figures are expected to reach 115-135 kilometers per hour and 183 kilometers per hour.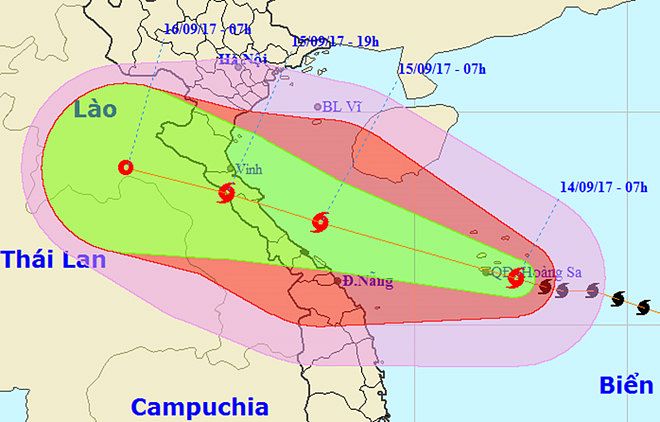 Deputy Director of the National Center for Hydro-Meteorological Forecasting Le Thanh Hai told the newspaper that this time, the situation is more complicated than your average typhoon as Doksuri could interact with an existing typhoon named Talim in the Pacific Ocean.
Nguyen Duc Cuong, director of the center, explained that Doksuri has been forming for a week in the ocean while it careens towards Vietnam. "This will be the strongest and most dangerous storm to hit Vietnam in recent years," Cuong warned.
The center has issued a red-alert warning, indicating "very high" risks. This is the first time it has used this level of warning, according to VnExpress.
Zing added that most international weather forecast agencies agree on the future trajectory of Doksuri. Specifically, four central provinces will be hit the hardest: Nghe An, Ha Tinh, Quang Binh and Quang Tri provinces as the storm has an expected diameter of 150-200 kilometers. It's also important to note that these localities are the most vulnerable in Vietnam to natural disasters like this.
It's uncertain if Saigon will be affected by the impending typhoon. However, if the bouts of rain and flooding last night and earlier this morning are any indication, it's going to be stormy for the next few days.
[Top photo via SCMP]
---

Related Articles:
---