A surge in Vietnam's ultra-rich who make their fortunes in investments and real estate are largely fueling the nation's wealth growth.
VnExpress claims the country's emergence as a manufacturing hub has led it to the top of the countries ranked by wealth growth, citing a report from market research company New World Wealth, as interpreted by Visual Capitalist. Between 2007 and 2017, wealth in Vietnam grew 210% and is expected to grow 200% more in the next ten years.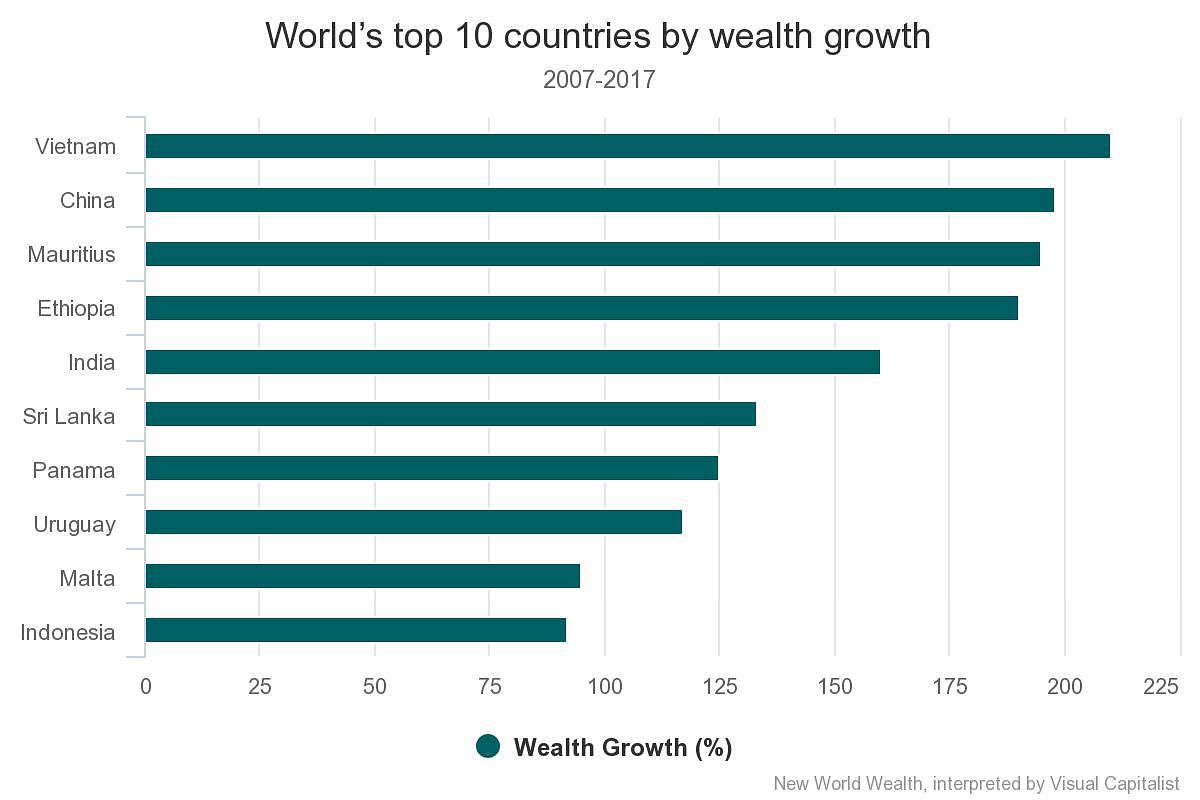 Vietnam's economy grew 6.8% in 2017, the best in a decade. The World Bank described the figure as "remarkable." A Wealth Report by the independent UK real estate consultancy Knight Frank cited low labor costs and a highly specialized workforce as factors leading the country to the top of the Southeast Asian supply chains and thus inviting in a tremendous amount of foreign direct investment.
Individuals living in Vietnam with investable assets of at least US$30 million excluding personal assets and property – such as a primary residence, collectibles, and consumer durables – have contributed significantly to the growth. There are 200 individuals with such ultra high net worth in Vietnam. The size of the group rose 320% over the last 16 years and is expected to continue rising to 540 individuals by 2026. The number of millionaires in the country is predicted to swell from 14,300 to 38,600 the same period.
According to VietnamNet, many of the now-ultra rich took advantage of the country's transition from central planning to a market economy by investing in real estate previously held by the government. They then took their earnings to expand to other sectors including manufacturing and form conglomerates.
20 years ago, Vietnam's domestic real estate sector was not able to appropriately develop property and thus most of the work was undertaken by foreign companies from countries like Taiwan and Indonesia. That has changed, however. Hanoi now builds 1.5-1.6 million square meters annually. Compared to 2 million tons in 1990, the country now produces 75 million tons of cement and uses 65 million tons. The country is home to tens of thousands of real estate developers, such as Vingroup, Sun Group, Dai Quang Minh, and Novaland, among others.
Critics contend that this boom in real estate is important for short-term growth, but is not enough to sustain long-term success. Vietnam has very few high-tech companies and its private sector, in general, has low competitiveness and low productivity. The government is responding by implementing an economic restructuring that follows a new growth model.
Some of the mega-rich, such as VietJet founder and CEO Nguyen Thi Phuong Thao and Vingroup founder Pham Nhat Vuong, studied in what was then the USSR and Eastern European countries and amassed wealth there before returning to Vietnam. Others were living in the US, UK, Canada, France, and Australia and, either directly or through relatives, set up companies in Vietnam. Additionally, some Vietnamese who had been working abroad came home and used their earnings and experiences to set up companies.
Government officials claim that large private companies like Vingroup's expansion into sectors including supermarkets, high-tech agriculture, healthcare, and education can positively impact the entire country. Vietnam's prime minister said that the companies should ensure that their projects benefit the province and the community.
[Photo via Thanh Nien]
---

Related Articles:
---