After triggering evacuations and flight cancelations in the Philippines yesterday, Typhoon Kalmaegi is on track to hit Northeastern Vietnam on Wednesday, reports Tuoi Tre.
The powerful storm, which is currently located about 660km east-northeast of Vietnam's Hoang Sa archipelago, contains winds of 133kph and gusts of up to 183kph, according to the Vietnam National Center for Hydro-Meteorological Forecasting.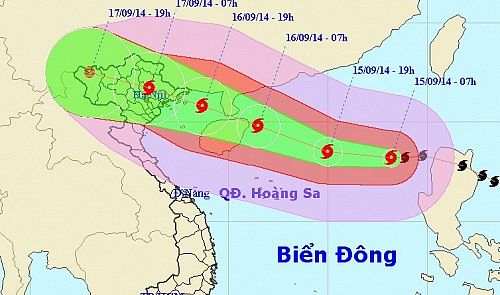 Kalmaegi will pick up strength as is moves west, with winds as strong as 134-149 kph and gusts of 201 kph before weakening to 62-74 kph and 102 kph, respectively. If it follows its current path, the storm will make landfall in Quang Ninh, on Wednesday morning, bringing with it rains up to 300mm.
Vu Anh Tuan, head of the center's short-term forecasting division, said that there's a chance the storm will change course and hit the Chinese/Vietnamese border.
[Tuoi Tre // Photo (for illustration purposes only) via NASA]