As a Đà Nẵng native, I often get asked where and what to eat and drink by friends who are in town. The tried-and-true list of places in my mind always includes Góc Nhà Tụi Mình, which I've frequented nearly constantly for the past six years.
Góc Nhà Tụi Mình, which translates to "our home nook," is right by Phan Châu Trinh, Đà Nẵng's largest high school, and my alma mater. It's always been a crucial anchor centering my formative years spent at school and in the quaint tea shop.
I found Góc Nhà Tụi Mình the natural way that kindred spirits gravitate towards one another. Here, there's a tree-filled deck awash in green hues, the fragrance of freshly brewed tea, and nostalgic tunes by Trịnh Công Sơn or Ngô Thụy Miên. Amid the invasion of bubble tea in 2017 Đà Nẵng, discovering Góc Nhà Tụi Mình was a personal achievement.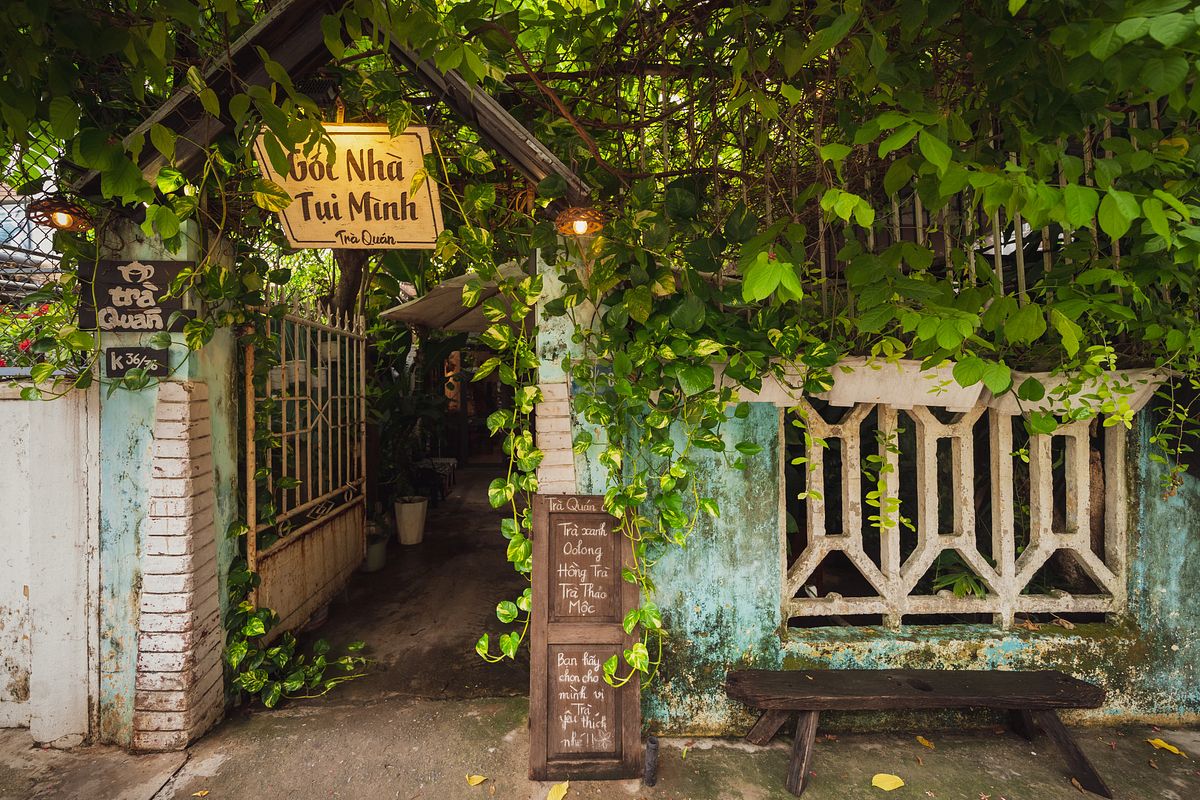 Góc Nhà shares many wistful traits with other drink hangouts in the city, but what draws people here is not interior design, its list of lovingly curated drinks and an intimate, familiar ambiance true to its name. The shop's signature selling point is over 10 types of Vietnamese tea, such as milk oolong from Bảo Lộc, Shan Show tea from Hà Giang, and peppermint tea from Sapa. Besides, the menu also offers local liqueurs like Điện Biên wild apricot wine, or housemade mulberry wine; and other mainstays like coffee and fruit teas.
Setting foot into the place, guests are greeted by a trà nương — a tea hostess with knowledge of tea and the menu — who will help them find the flavor profiles and, consequently, the types of tea that fit their palate. She will also provide a crash course on tea ceremony and how to treat different kinds of tea leaves, like how jujube goji berry tea will not cause insomnia and has mood-calming effects, or how certain types of oolong will "burn" when in contact with boiling-hot water, so one needs to be careful with temperatures.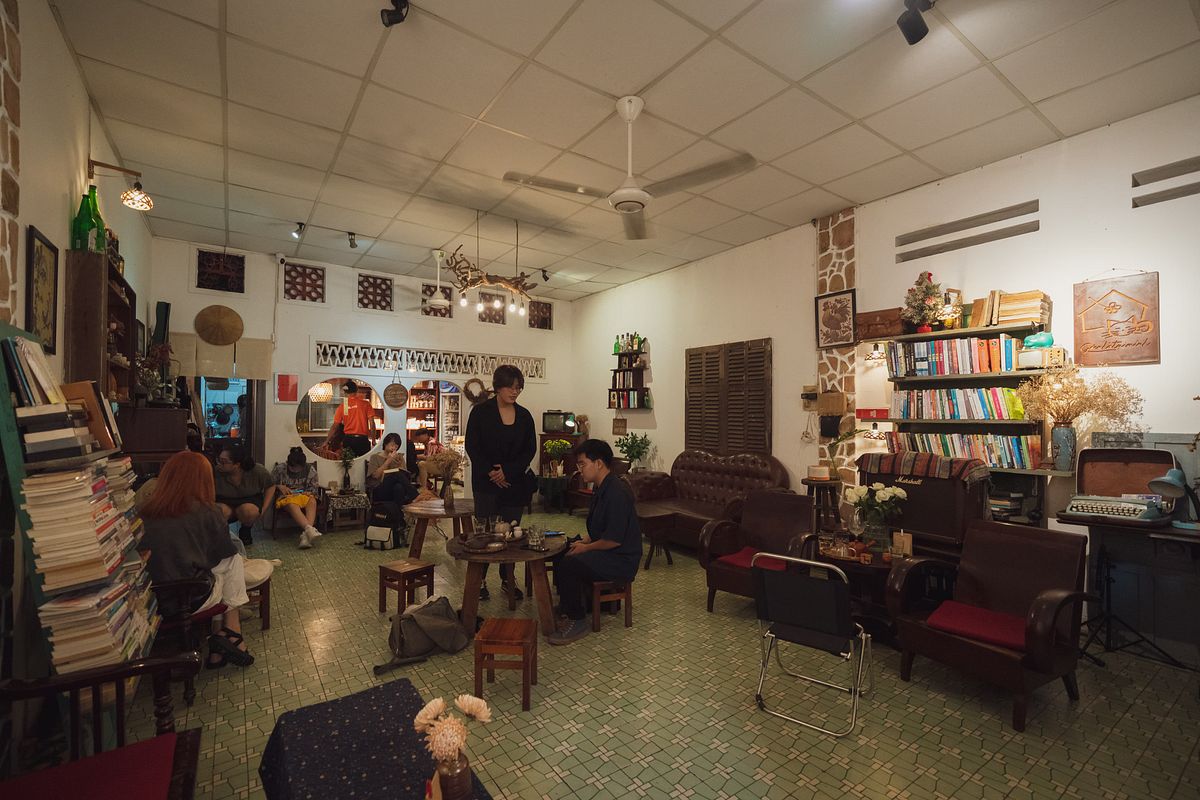 I used to believe that tea is just a bitter liquid that only old people drink, and that tea leaves everywhere come from the same Thái Nguyên tea packets one can buy at supermarkets. But thanks to Góc Nhà's teachings, I realized that the universe of tea is much more diverse and multi-faceted. My favorite order is milk oolong, a surprisingly milky brew thanks to the teahouse's painstaking scenting techniques. There's no actual milk in the drink, but it has a richness that evokes dairy.
I think I'm not the only one in Vietnam who harbors such notions about our tea, like how it's an old people's beverage or how it's too fancy for our taste buds. Often when I broach the subject of going out for a tea together with my peers, they would immediately chime in with: "Yes, milk tea! Which location?" More often than not, we prefer the sweet and easy-to-drink tastes of milk teas and fruit teas over tea in its purest form, so when actual tea comes into the conversation, we become confused and hesitant.
Thankfully, today, tea culture has grown in popularity and is no longer unfamiliar to Vietnamese youths. To think that just a few years ago, I had overheard on a few different occasions newcomers expressing shock at the fact that a teahouse sells other tea drinks apart from milk teas.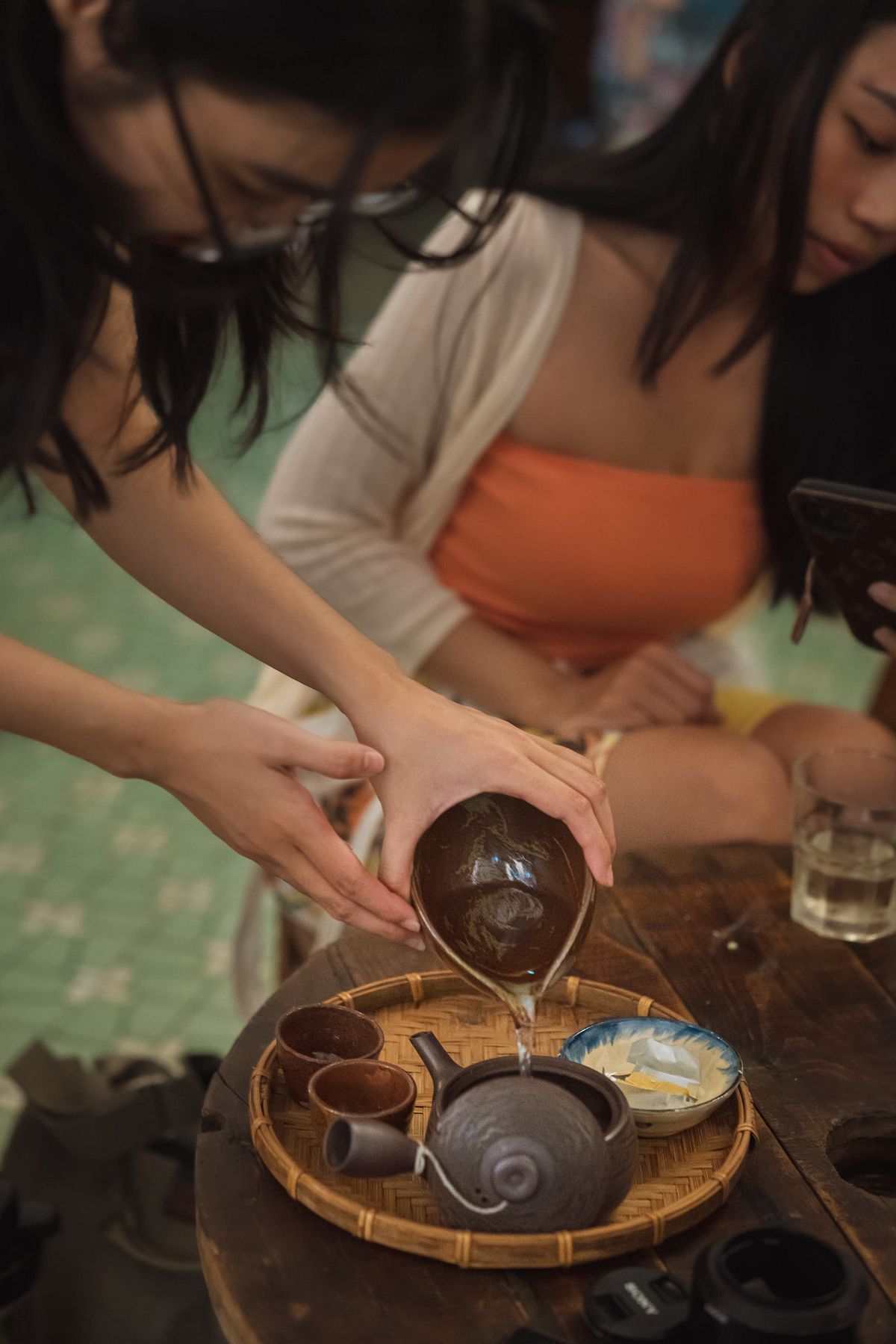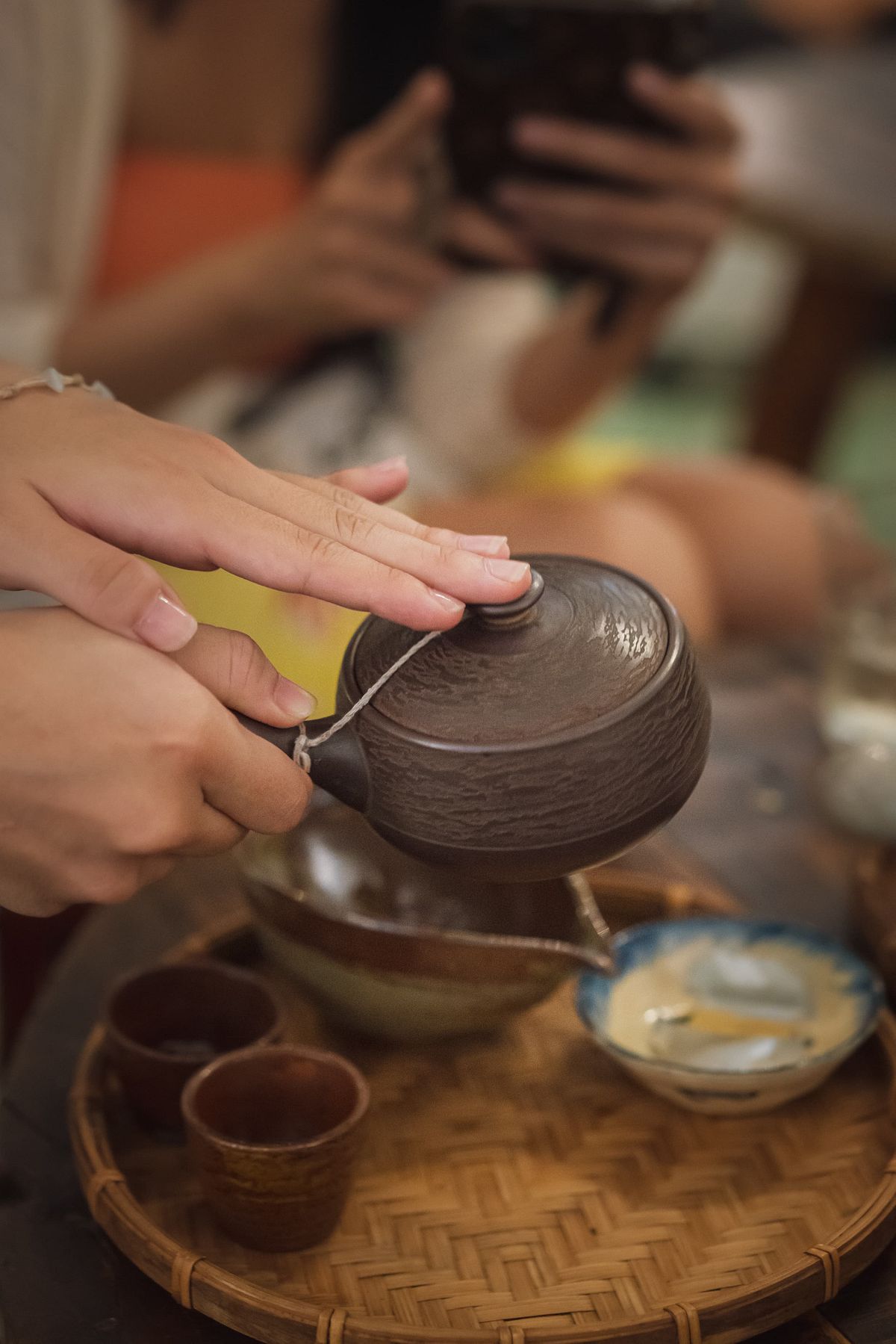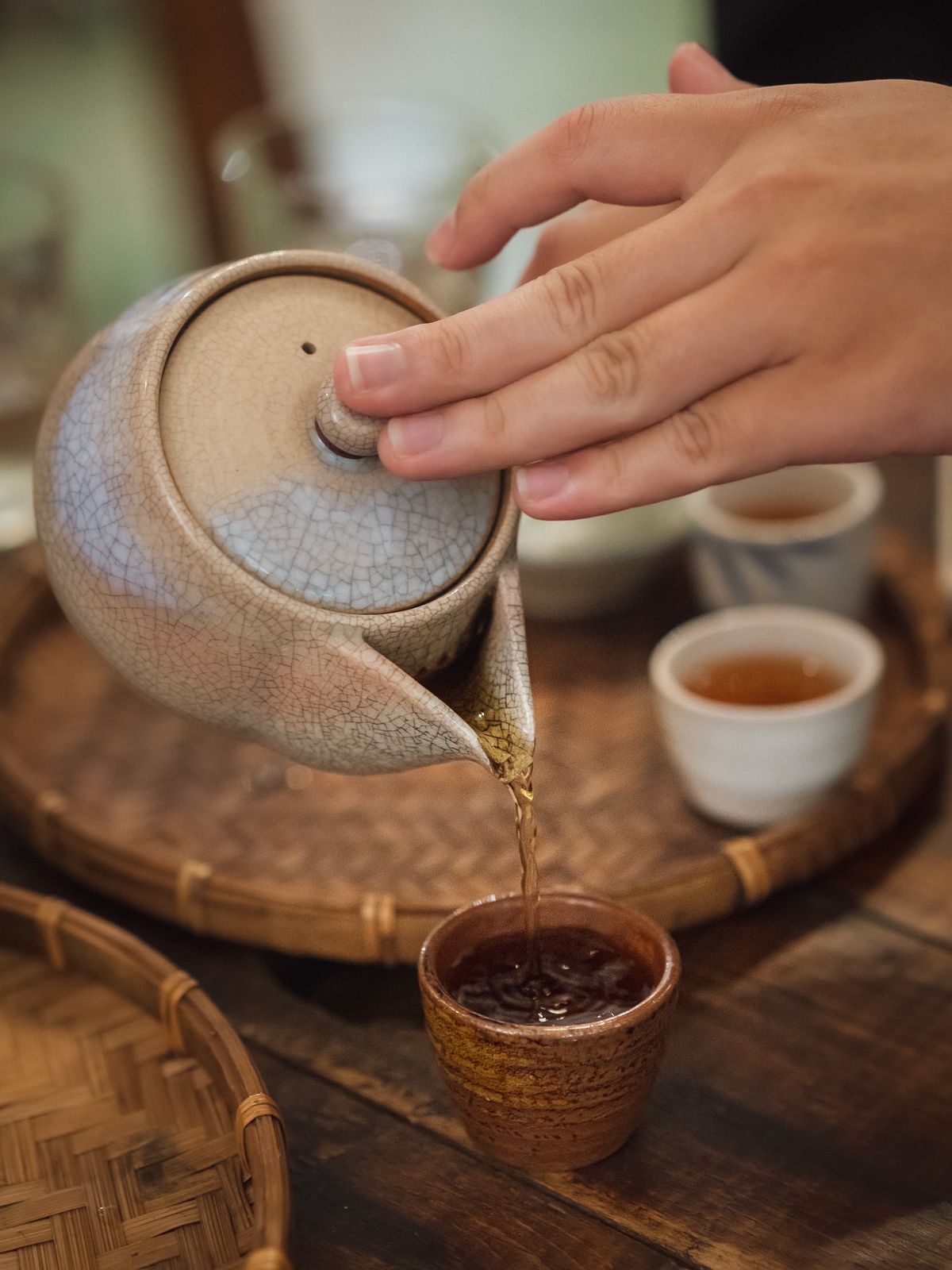 Knowing the context behind this welcoming development in the appreciation for Vietnamese tea, I gradually fell in love with the tea culture that Góc Nhà has always tried to cultivate with every cup. Huy Hùng and Ái Tầm, the founders behind Góc Nhà, once shared with me:
"When we first built this teahouse, everybody thought we were out of our minds," they reminisced. "We barely had any guests in the first six months, to the point that our friends felt bad for us and camped out at the shop when they had a chance, just to convince us not to close it. It was really a risky and crazy move, because loving tea is one thing, selling tea successfully is a whole other story. In the F&B field, everybody wants more patrons, so a good turnover rate is key. But with tea, we want to get customers to visit and sit down for as long as they can. How to be profitable like that?"
Tầm added: "Still, the more we travel, the more we discover that our local teas are so distinct and valuable. When you ask 10 people about tea, eight or nine responders are not aware of these values. So I really hope to spread our tea culture to young people. Any time I have a moment, I make a point to talk to our guests about tea, introduce its origin, and teach them how to best enjoy it — this is something foreign tourists appreciate, but in Vietnam, it's not there yet."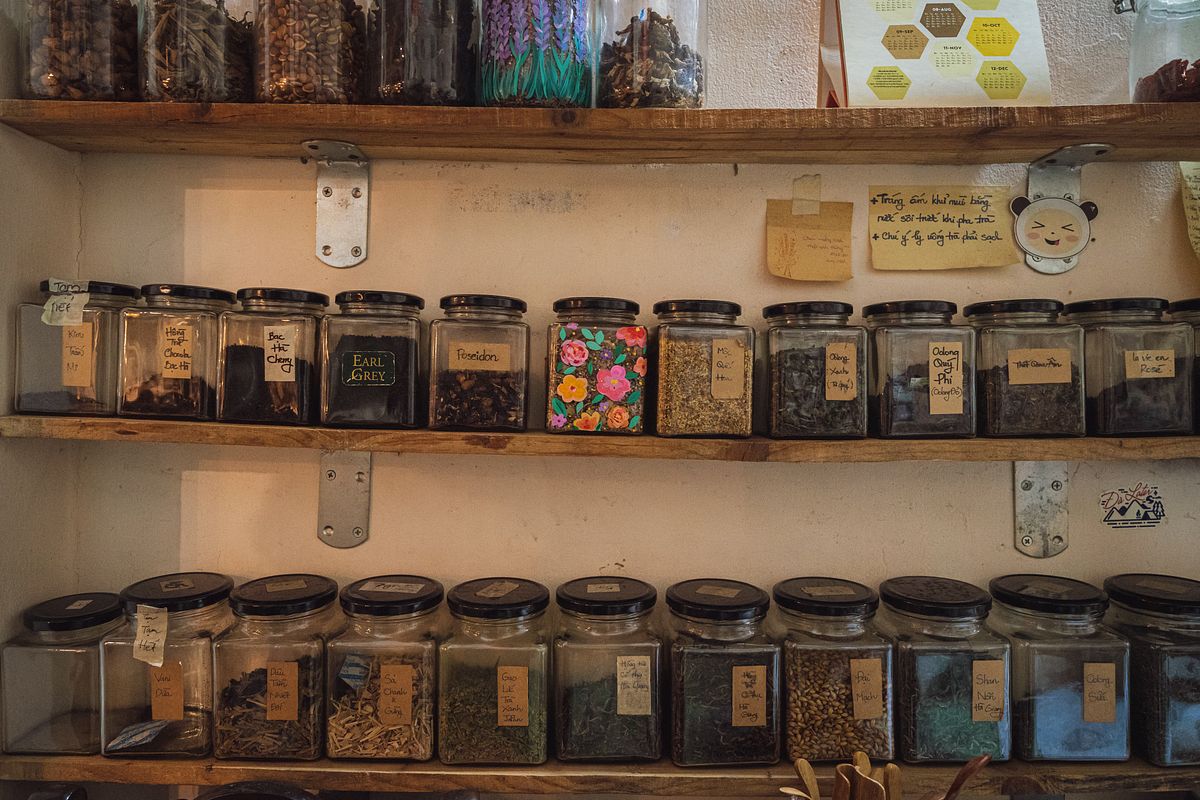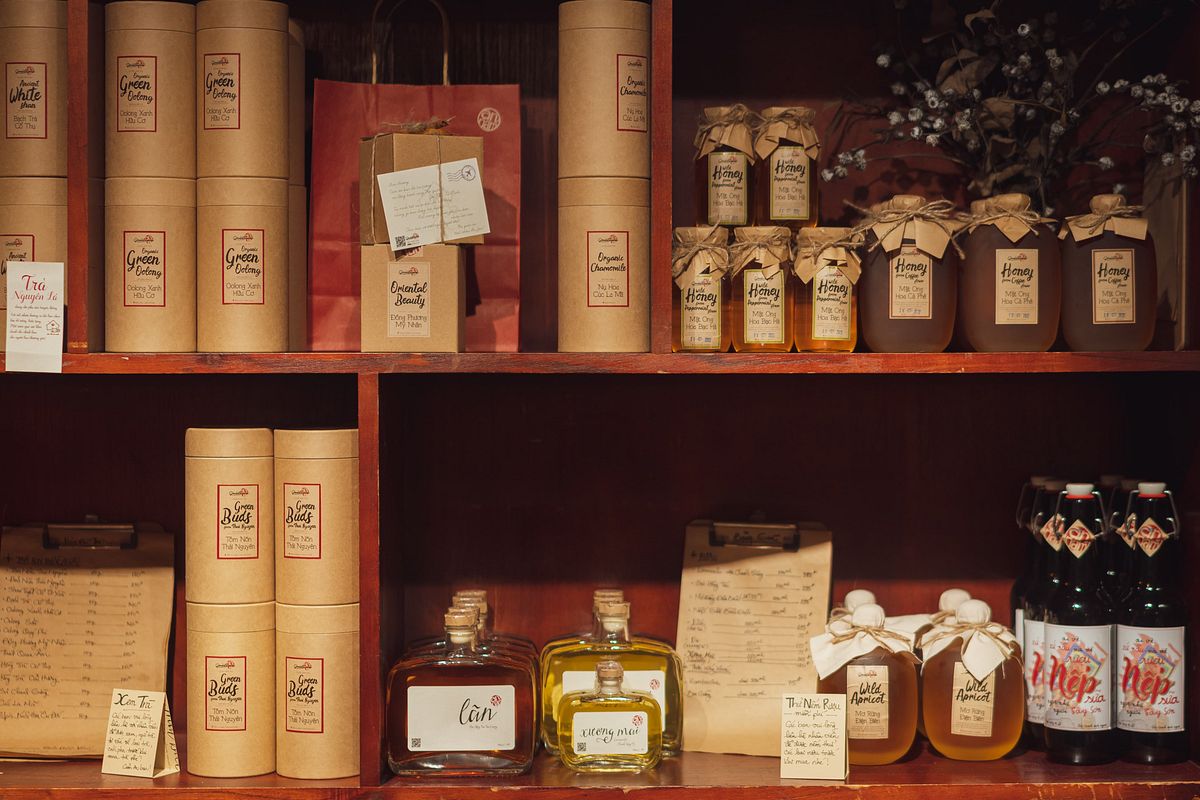 After six years of constantly seeing my face in their teahouse, Hùng and Tầm started to actively teach me so many cool things about tea, not that much different from how they train their own tea hostess. In the local tea hierarchy, each variety and its price are classified based on altitude, the higher the altitude of cultivation, the more valuable the leaves are — from lowest to highest in Thái Nguyên Province's local names: trà móc câu, trà nõn tôm, and trà đinh.
When we first built this teahouse, everybody thought we were out of our minds. We barely had any guests in the first six months, to the point that our friends felt bad for us and camped out at the shop when they had a chance, just to convince us not to close it.
At the moment, Góc Nhà mainly serves trà nõn tôm and trà đinh to promote the flavors of these signature Thái Nguyên varieties. Trà đinh means that only the terminal buds of tea bushes were collected while trà nõn tôm includes both the buds and one to two unfurled young leaves. Some types of tea require the caretaker to climb up a heritage tea tree before sunrise to pluck out buds, but it's so rare that even a large tree only yields up to 2 kilograms of harvest. Then, farmers bring the buds back home to dry and hand-roast to ensure the quality of the product.
"Once I got to see this level of effort, I stopped wasting tea, not even a strand," Tầm told me. Therefore, Góc Nhà always encourages customers to refill at least three times before finishing a pot to not waste precious tea.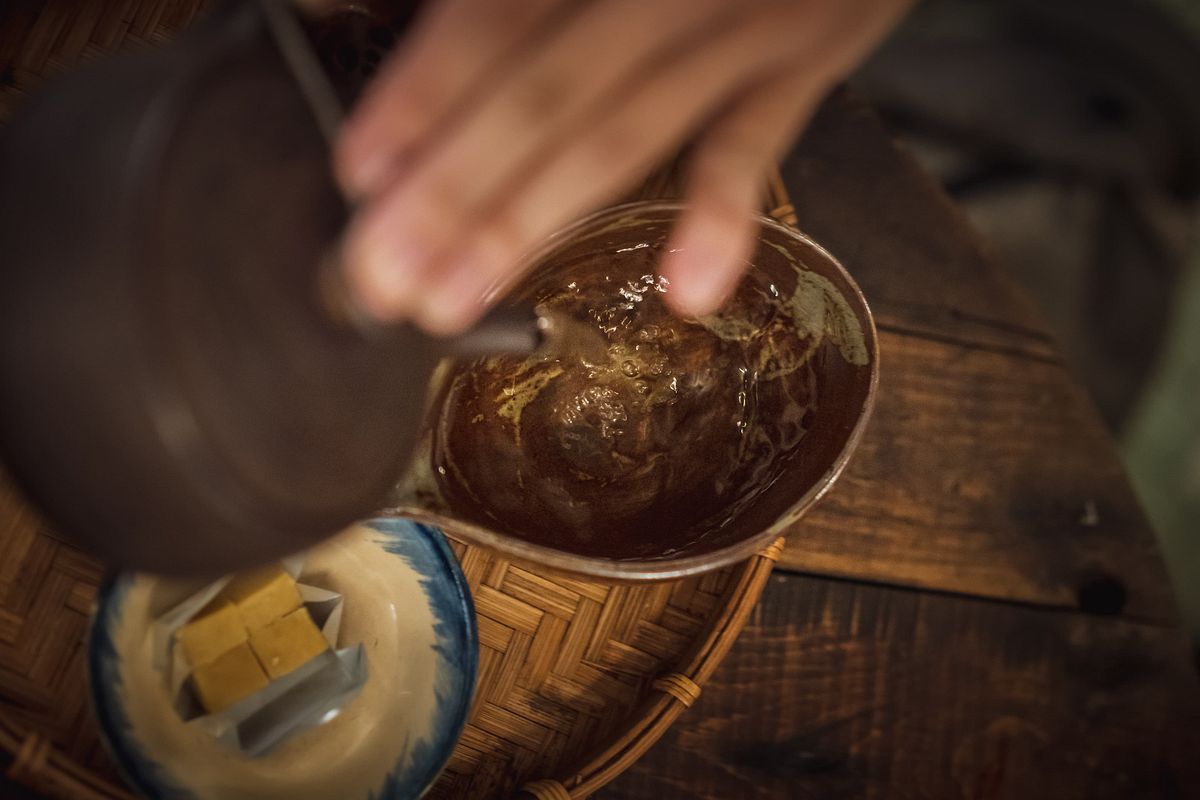 I feel that this is as good a time as any to admit that Góc Nhà is always the hangout of choice during days when money is tight for me and my friends. A two-person teapot costs VND60,000–70,000 with complimentary mung bean snacks. An additional person only incurs a surcharge of VND10,000. So, my three-person friend group can enjoy as much tea as our stomach can contain for just VND25,000. During my travels from north to south, I've never encountered a place with such a hospitable policy to get its guests to stay.
Most trà nương at Góc Nhà are college students, but the training process involves more tea knowledge than a typical milk tea or neighborhood cafe. Staff members must learn the names of every tea on offer, as well as how to brew and keep tea to produce the best quality. Hùng told me that it often takes newcomers from 1.5 to 2 months to get used to the position. Once they eventually depart the teahouse to follow other life endeavors, they also carry with them a deep appreciation for tea and Góc Nhà.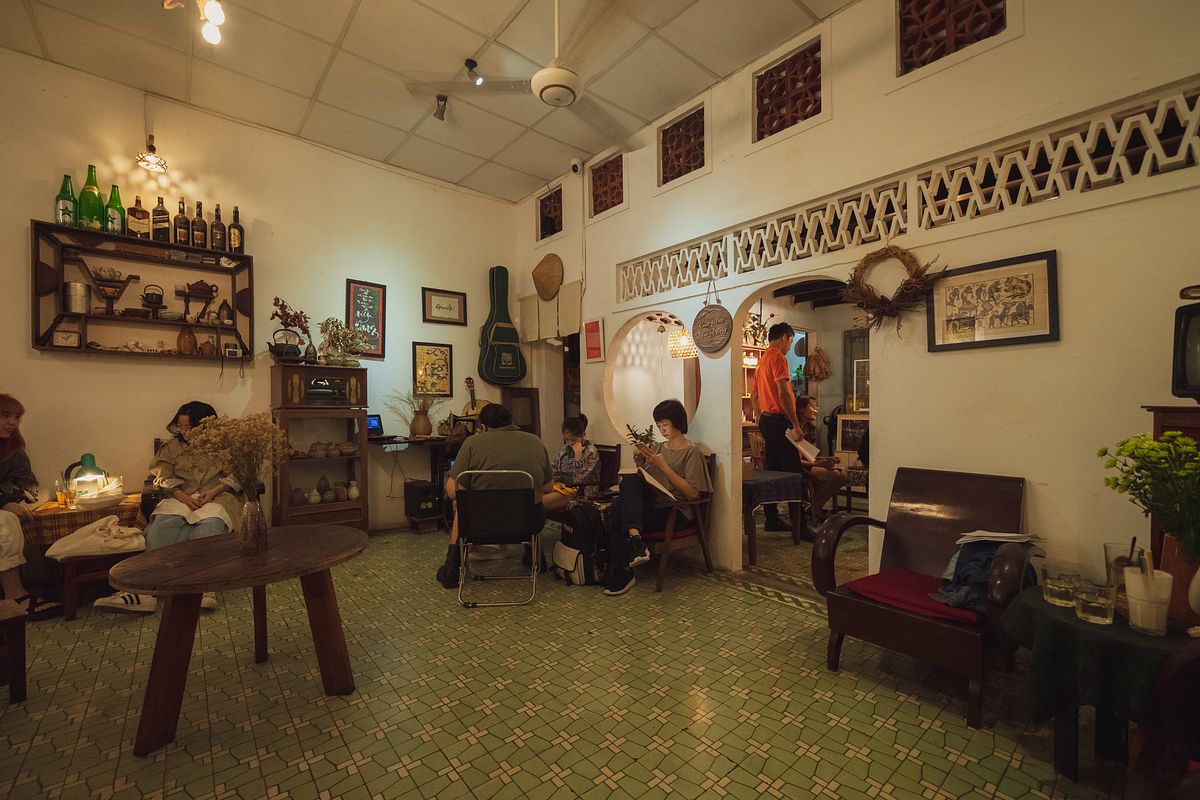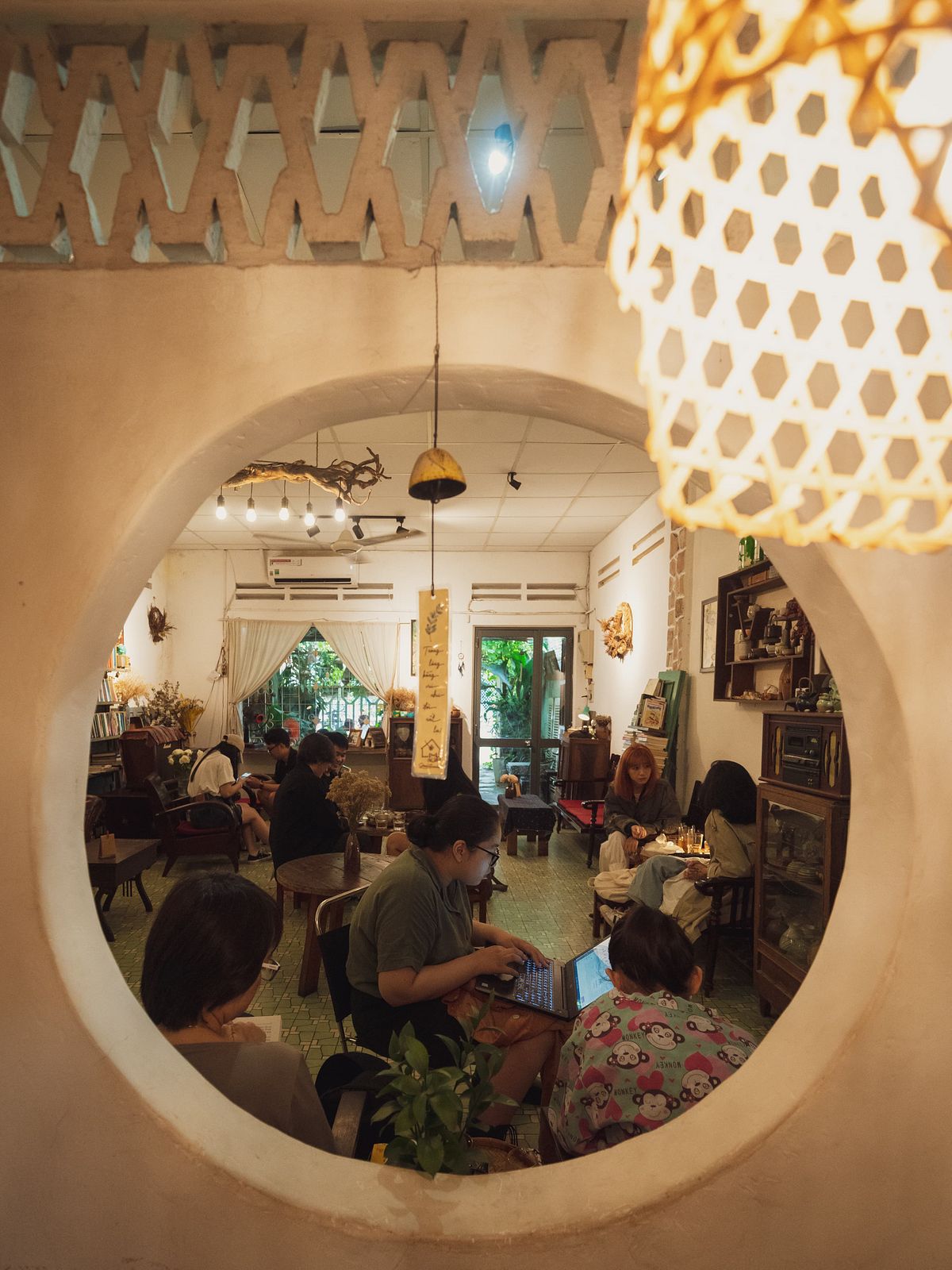 Tầm told me the stories of her past employees who went on to study abroad, but still brought along tea leaves to drink, to the amazement of foreign friends. Some incorporate tea time as a daily routine and thus bringing Vietnamese tea culture to every nation they set foot in. Gradually, the common notion that tea is just confined to the free beverage on offer at food stalls has become less common, replaced by the confident and impassioned orders of young Vietnamese who are well-versed in their own tea heritage. Perhaps, this is the sanguine change that Hùng and Tầm have been chasing since their humble beginning.
During the first few visits here, I honestly didn't pay too much attention to what I was drinking, because I was occupied by my own problems. I made an attempt later to approach tea drinking as an exercise in honing patience and leaving behind daily struggles, because "tea can be both fast and slow," as Hùng shared with me. To get the most out of tea leaves, one needs to learn the virtue of temperance. If one tries to rush the process, the tea won't have time to cool off, and the drinker ends up with burns and breakages. If left out too long, the tea gets stale and no longer tastes the best. One day, maybe I'll learn to apply temperance to my own life too, the way I've always done with tea.
Góc Nhà Tụi Mình is open from 7am to 10pm every day.
To sum up:
Taste: 5/5
Price: 5/5
Atmosphere: 5/5
Friendliness: 5/5
Location: 5/5
Góc Nhà Tụi Mình
36 Lê Duẩn, Hải Châu 1, Hải Châu, Đà Nẵng