Popular Japanese minimalist homeware brand Muji opened its first hotel on January 18th in Shenzhen, China.
Fans of "anti-gorgeous, anti-cheap" styles can now sleep where they shop. The hotel's 79 guestrooms feature neutral textiles, pale wood furniture, plants, simple gadgets and a calming aesthetic identical to that of a Muji retail store, according to Japan Times. The hotel aims to "provide a space supporting both body and mind while away from home, and connect travelers to local people and places," according to an official press announcement.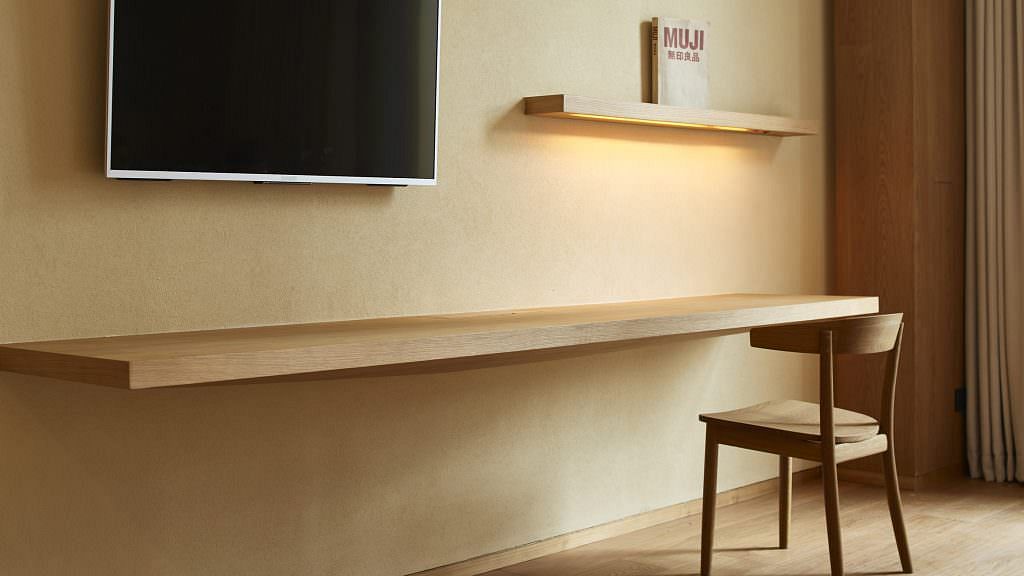 Muji in-house operator Ryohin Keikaku Co. built the rooms using materials recycled from the pillars and walls of traditional Chinese houses and outfitted them with off-cut furniture from Chinese factories and earthen plaster headboards made with rice straw and charcoal, as reported by Asahi. The bedding, toiletries, bathroom amenities, and appliances are the same as those available at Muji stores.
No opportunity to brand the property has been overlooked. "Muji Hotel seeks to provide a physical experience of the Muji philosophy through the texture of the towels, the placement of the outlets and light switches," states the press announcement. Even the hotel's cleaners and receptionists are clad in Muji garb.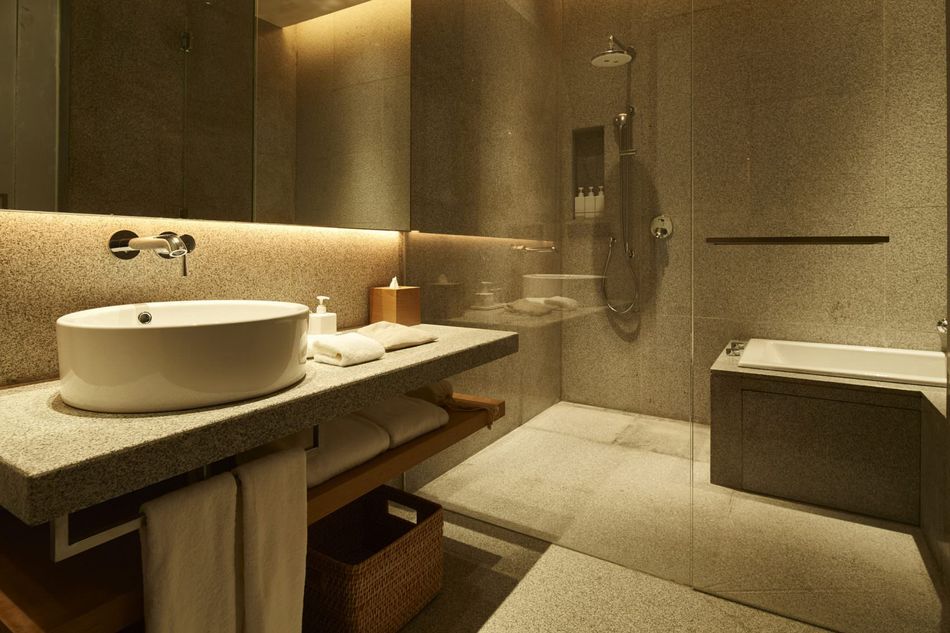 The hotel is located in Shenzhen's central Upper Hills neighborhood, and occupies the fourth to sixth floors of a ten-story shopping complex, as previously featured by Saigoneer. The building contains a Muji Diner restaurant, a library with around 650 books, a gym, and several meeting rooms. It also houses a two-floor, 1,726-square-meter Muji store – the third largest in the country – where shoppers can pick up their favorite clothing, kitchen devices, and decorations.
Shenzhen, a futuristic metropolis of 11.9 million people that was a humble fishing village just three decades ago, was an easy choice for Muji's first hotel. With 200 stores, China has emerged as their largest overseas market. Ryohin Keikaku's president, Satoru Matsuzaki, explains that the brand is popular in China because "there is a mentality that is rooted in the philosophy of Laozi and Zhuangzi that values simplicity." Furthermore, "the younger generations in China have started to appreciate simplicity precisely because they grew up in affluence."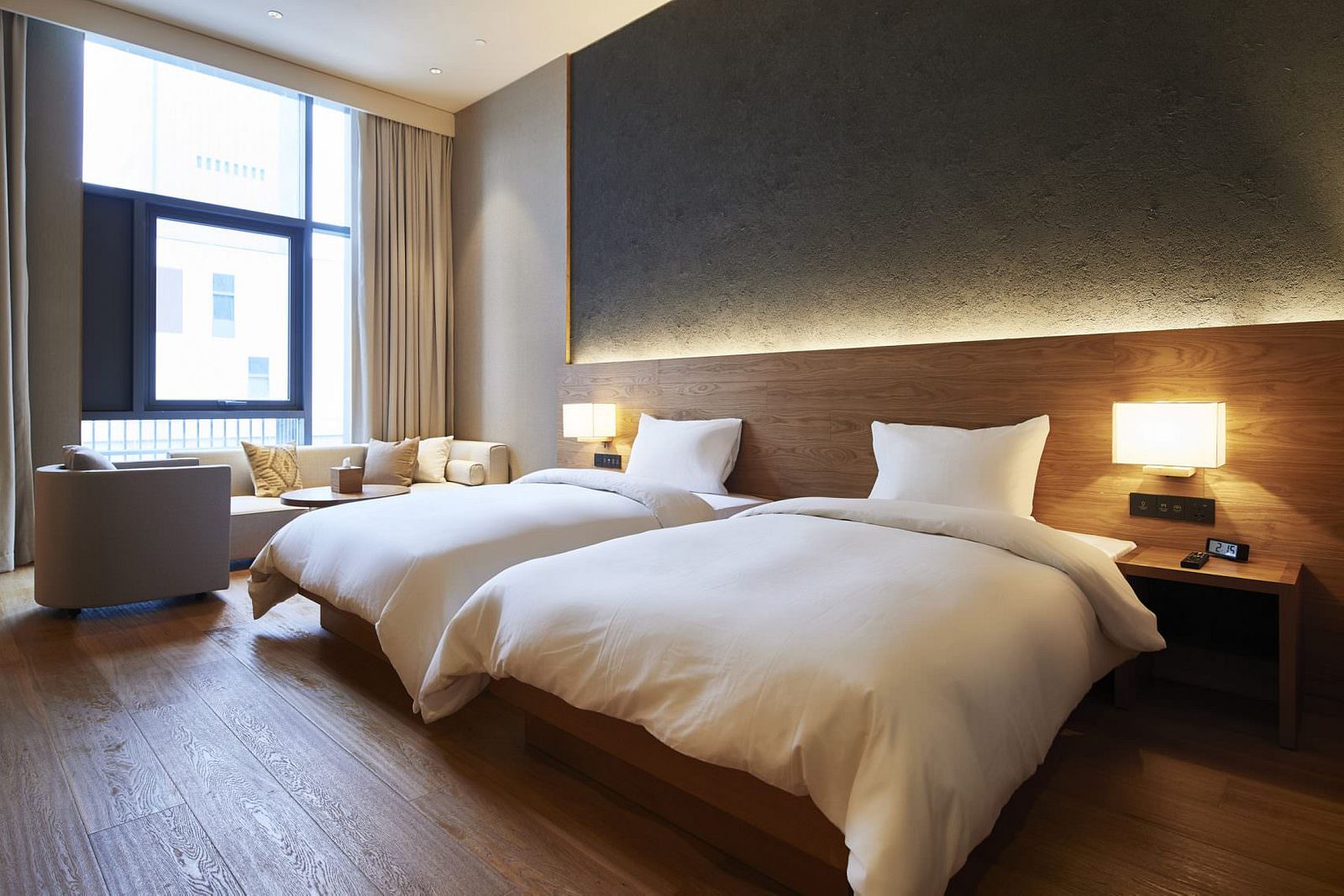 The hotel's design pays subtle homage to the city. An old wooden fishing boat acquired from a nearby village has been placed in the courtyard. It's a reflection of the hotel's aim to be a "comfortable base to inspire curiosity" about Shenzhen, as professed on their website.
Rooms range from US$150 to US$350 a night and include breakfast. Before the hotel even opened, more than 500 rooms had already been booked.
On March 20th, Muji will open a 42-room hotel complete with bookshop, cafe, and store in Beijing's old city, followed by a location in Tokyo's Ginza district in spring 2019. The brand also has plans for more locations throughout Asia.
[Photos via Dezeen]
---

Related Articles:
---