2017 is turning out to be a great year for fast fashion fans in Vietnam: rumor has it that Japanese casual clothing chain Uniqlo is preparing to debut a flagship outlet in Saigon this autumn.
According to Zing, the local rumor mill started grinding after an unidentified source involved in the retailer's local job recruitment process shared that Ho Chi Minh City will welcome Vietnam's first-ever Uniqlo store some time during the third quarter of 2017.
Insider Retail cited an online job advertisement in English seeking a "production manager candidate" to further confirm the validity of the rumor. The news source added further that candidates for the position will be responsible for product-related operations such as "production management, R&D, merchandising, etc," suggesting an in-store role.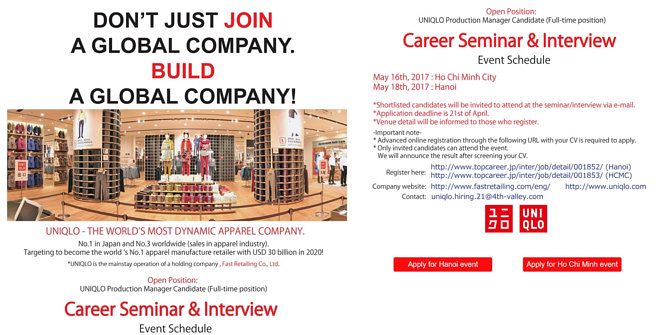 In September last year, Uniqlo opened its largest outlet in Southeast Asia in Singapore as part of the brand's grand scheme to shift its focus internationally given Japan's sluggish economy.
"Southeast Asia expansion will help [Uniqlo Chairman Tadashi Yanai] achieve his 5 trillion-yen sales target," Dairo Murata, an analyst at JPMorgan Securities Japan Co., shared with The Straits Times. "But to achieve that goal in three years will be difficult."
[Photo via Kenh14]
Related Articles: