As part of the fourth annual &PROUD LGBT Film Festival, the country's first ever Drag Queen Olympics took place at Thakin Mya Park in downtown Yangon on January 28.
Everyone of all genders and sexual orientations were welcomed to join. The organizers emphasized that drag experience is not required - one does not need to be a drag queen or king to participate. The event consisted of three competitions including hula hooping, a stiletto run, and a handbag throwing contest, reports Frontier Myanmar.
Speaking to The Myanmar Times, first-time Drag Olympic contestant Ko Wai Yan shared how the inclusive event makes him more confident about his sexuality: "Before this event, I accepted myself as gay but I was afraid to be myself because people would judge me. Now, I think I have enough courage to tell them about my sexuality if someone asks me."
This is also the first time the festival was allowed to take place in a public space as opposed to the discreet garden of the French Institute where it was previously held. It attracted 6,000 people, twice the turnout of last year.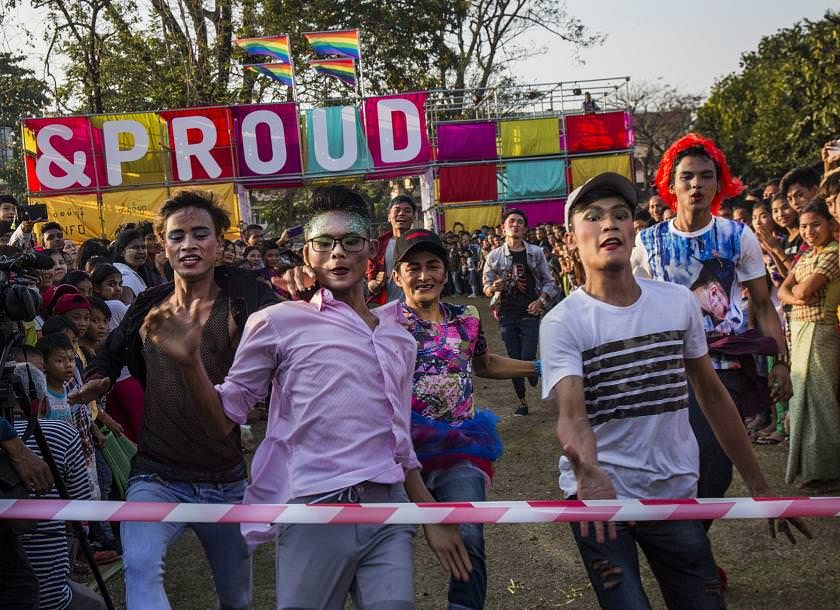 The event, which took place over the course of two weekends included film screenings, DJ performances and a "human library" of volunteers offering their personal experiences. The whimsical drag competition aims to provide a safe space for queer Burmese to have fun, but the festival also hopes to open up discussions on LGBT issues. Homosexuality is still illegal in Myanmar while transgender rights are pretty much non-existent.
According to Section 377 of the Penal Code, courtesy of Britain's previous colonial rule of Myanmar, people who engage in same-sex activity will be fined and charged with ten years in prison. However, the law is no longer enforced due to many political and administrative reforms in the country following the controversial general elections in 2010.
The government giving the green light to the public festival is a positive sign for other social causes in the country as well. Festival co-director Hla Myat Tun noted: "I would say this is not just for the LGBT community. This is for the whole country, acknowledging equality and basic human rights."
[Photos via The Myanmar Times]
---

Related Articles
---