Hong Chau, a Vietnamese-American actress, recently made the leap from relative obscurity to being a Golden Globe nominee.
The Times-Picayune, the largest newspaper in New Orleans, Louisiana, shared Chau's impressive story in a recent profile. The actress was born in a refugee camp in Thailand after her parents fled Vietnam following the end of the American War in 1975.
A New Orleans family volunteered to sponsor Chau and her parents so that they could relocate to the United States. They picked up and moved to a completely unknown country, settling in a neighborhood in eastern New Orleans called Versailles.
That area would go on to become a vibrant Vietnamese-American community, and today it is home to generations of Vietnamese families, in addition to some of the city's best Vietnamese restaurants.
Fast-forward to December 2017, when Chau has been nominated for a Golden Globe for Best Supporting Actress for her role in Downsizing, a new Alexander Payne film also starring Matt Damon and Kristen Wiig. Payne has directed award-winning movies such as Sideways, The Descendants and Nebraska.
Chau shared with the Times-Picayune that she only got into acting after playing parts in student movies while she was studying film at Boston University. Up until she landed a part in Downsizing, she had mostly been featured in minor roles on TV shows such as CSI, How I Met Your Mother and NCIS. Her most noteworthy previous appearance was on the HBO series Treme, set in New Orleans in which she played a local of Vietnamese descent.
Her big break came, she told the newspaper, after hearing about an international casting call for Downsizing. The dramatic comedy depicts a world in which scientists have developed a technology which shrinks people down to five inches in height (12.7 centimeters) in order to relieve stress on the environment.
One of the roles being cast was a one-legged Vietnamese activist named Ngoc Lan, who was shrunk against her will and ends up helping Matt Damon's character later in the film.
Chau shared: "I have directors on my secret little dream list that I would love to work with, and Alexander Payne was at the top of that list. It is a dream to get to work with him, with such rich material. And then to have the amazing cast we do. Getting to work with Matt Damon and Christoph Waltz - I would not have dared to say out loud I would one day be in a movie with Matt Damon."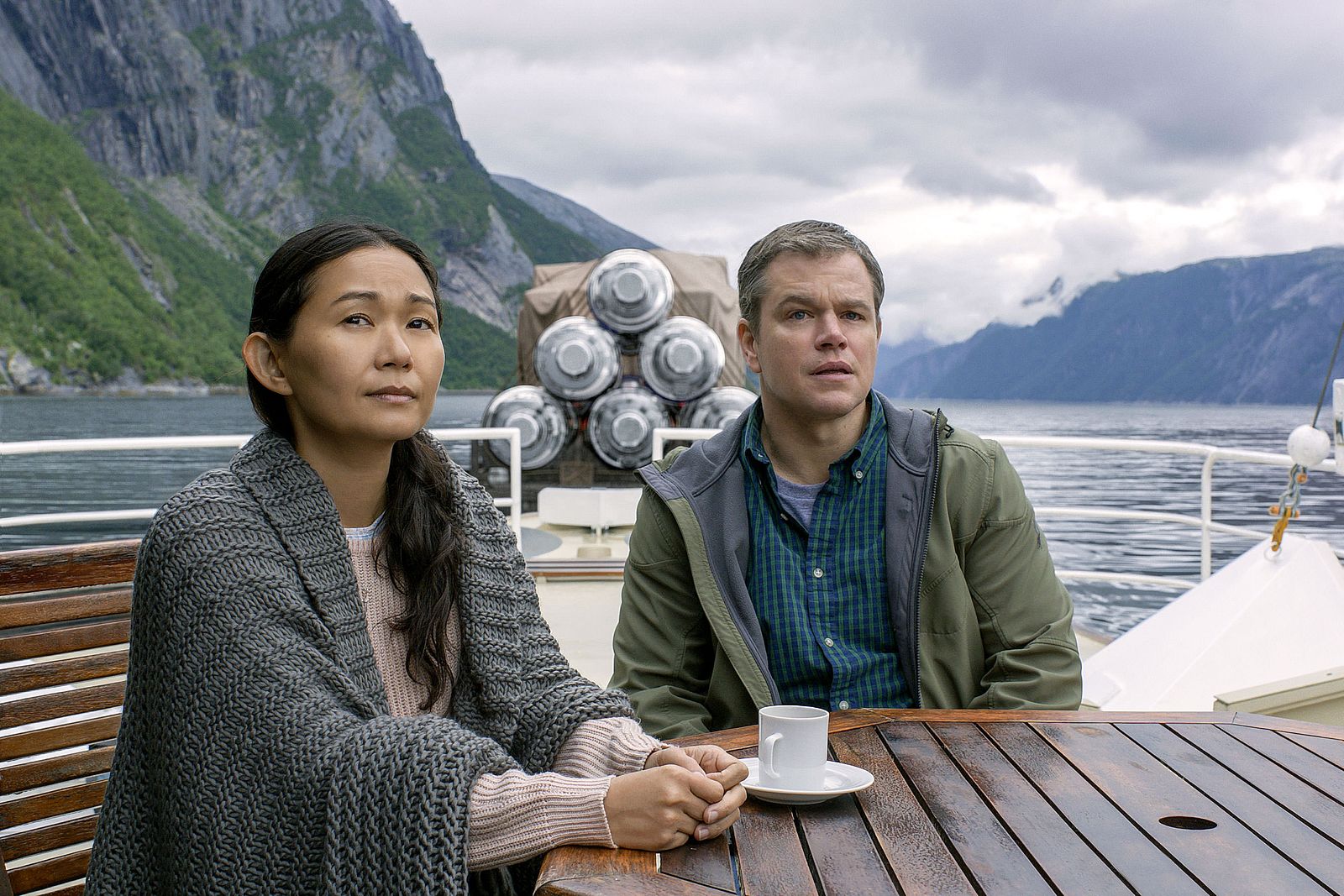 She auditioned for the role in November 2015, but wasn't confident she would get it.
"Alexander Payne really likes to cast authentic people and he always prefers what he calls 'the real McCoy'," she tells the news source. "If he had found a Vietnamese woman with one leg who could have maybe done the role justice, he would have hired that person. So that was a little bit of a heart-racing waiting period for me...I didn't think that I had a slam-dunk."
The casting director told Chau she likely wouldn't hear anything for two months. Instead, two days later she heard that Payne had seen her audition tape and wanted to meet her in Toronto. She got the role, and drew on her life experience to play the tour de force that is her character.
"I feel like my whole life has been preparing for this role. My parents are Vietnamese refugees. I was born in a refugee camp. We ended up in New Orleans...I got to tell that same story, but in a different setting with this very funny premise where this Norwegian scientist develops a technology to shrink people down to five inches tall. So I'm doing that same journey my parents did, but I'm five inches tall," Chau explained.
Chau, who speaks with a clean American accent, also adopted a strong Vietnamese accent for the role, which led some critics to wonder whether she was just a caricature. However, she dismisses such concerns.
"They should go to New Orleans East!" she said of these questions. "When I look at my parents, I don't see a caricature. I don't see a stereotype. I see a human being - complicated, flawed, funny and touching and every color of the rainbow. And hopefully, if I'm doing my job right, people will see her not just as an accent or a disability. Hopefully they're seeing her entire humanity. And if people laugh, hopefully they're laughing out of deep affection and nothing else."
In addition to increasing Chau's personal profile, her Golden Globe nomination is huge for minority actors and actresses as a whole. She told Entertainment Weekly after the nominees were announced: "This is the type of character who's always in the background. I hope filmmakers will go back and take a look at people whom they thought they couldn't mine drama or entertainment from. There are a lot of characters that have been underdeveloped because people aren't interested or are afraid of attempting to tell their stories. Take another look at them: that's what I hope for."
This year, the future appears bright for Vietnamese-Americans on the big screen. In addition to Chau's star-making turn in Downsizing, California native Kelly Marie Tran has a prominent role in the new blockbuster Star Wars: The Last Jedi.
Luckily, Saigoneers will be able to see Chau's performance in cinemas, as CGV lists Downsizing as "Coming Soon", though an exact release date hasn't been set yet. The movie comes out in the US on December 22.
[Photo via Coveteur]
Related Articles: