More romantic than the season's first snow dusting a trampled field of post-harvest corn husks; more inspiring than stars strewn across a cloudless night sky; more alluring than fragrant pollen drifting off a wind-tickled sunflower: the cheesy, spicy, deliriously delicious coating of Flamin' Hot Cheetos is a transcendent substance.
Incredibly, the immensely popular American snack was invented by a janitor. Mexican immigrant Richard Montanez dropped out of high school because he couldn't understand English well enough to keep up and found himself mopping floors at a California Fritos Lays factory. His biggest ambition in life at the time was to drive a trash truck.
One day, a broken Cheetos machine left the corn puffs uncoated and Montanez sneaked some home to experiment with by adding the spicy flavors from his native cuisine that were absent in the American chip industry. After an incredibly naive call directly to the CEO to pitch his idea, a trip to the library to read up on business presentations, and his first ever necktie purchased for US$3, he eventually saw his snack become one of the best-selling in the country while he rose to Vice President of Multicultural sales for PepsiCo America (the holding company of Frito-Lay).
Tam Le tells this remarkable narrative when introducing her Vietlote — juicy grilled corn smothered in a creamy garlic sauce with cilantro and Flamin' Cheeto crumbs that she serves at Saigonita — a closed-door multi-course Vietnamese-Mexican fusion dinner she holds at her apartment once or twice a month. From how the Red Dao tribe prepares their traditional rice wine to the way Lebanese immigrants helped make al pastor tacos a Mexican staple, the meals are filled with stories. Tam's own tale of how she came to open the attention-grabbing event is one of the most interesting.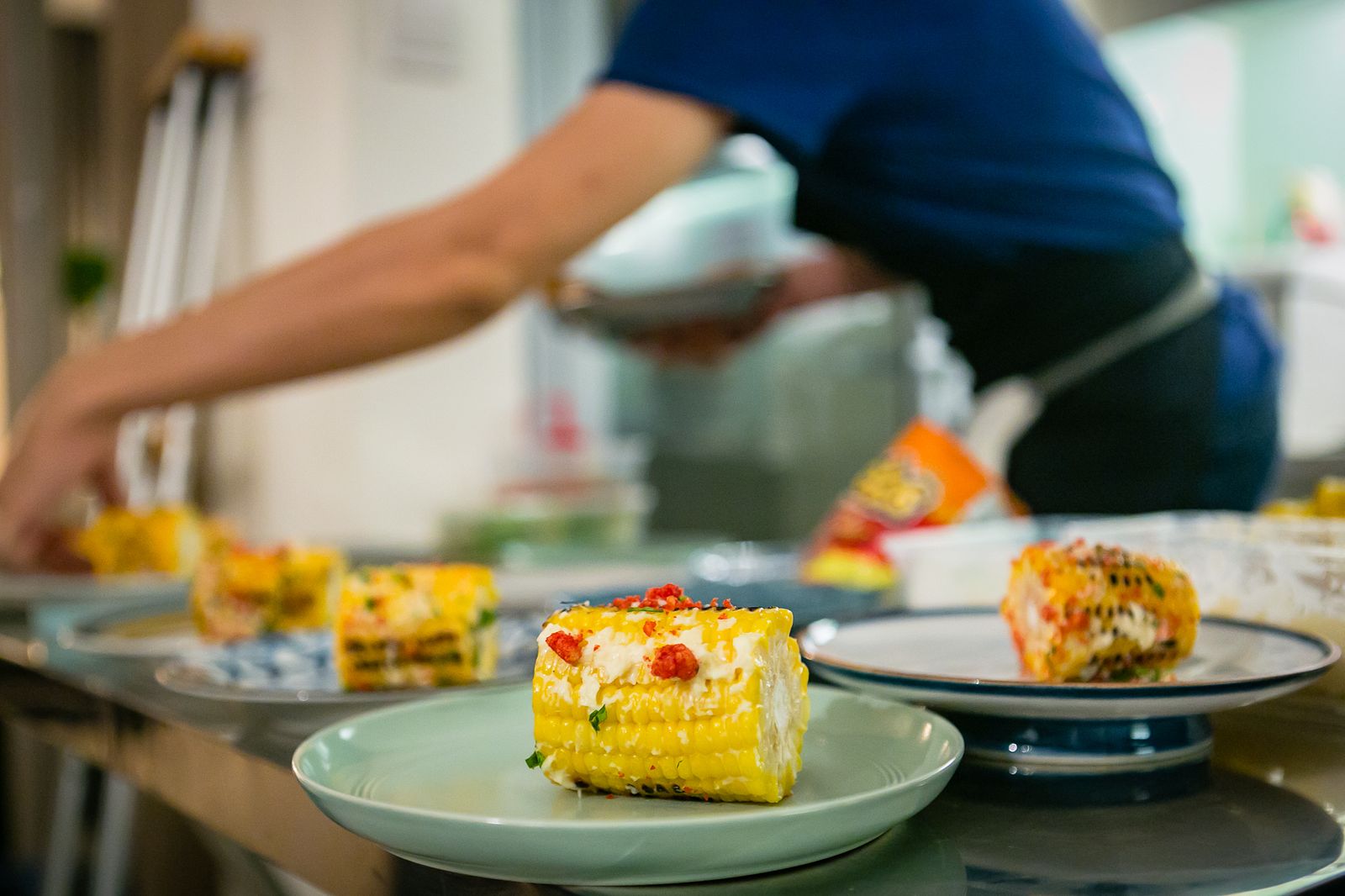 After enjoying one of her meals, Saigoneer met with Tam over coffee to hear more about the experiences that led her to serve guacamole, bánh đa (rice crackers) and Vietnamese-Cajun shrimp tacos in her apartment.
Saigonita's Origin Story
Both sides of Tam's family come from Hue and her parents grew up in Da Lat within an enclave of migrants from the central city, which explains why despite being born in Houston, Texas, she speaks Vietnamese with a Hue twang. Her life in America near the Mexican border, exploring global cuisines while working in New York City, and traveling in South and Central America before moving to Vietnam via Singapore a year ago is enough insight to understand how Saigonita's meals are her "autobiography" as she describes them.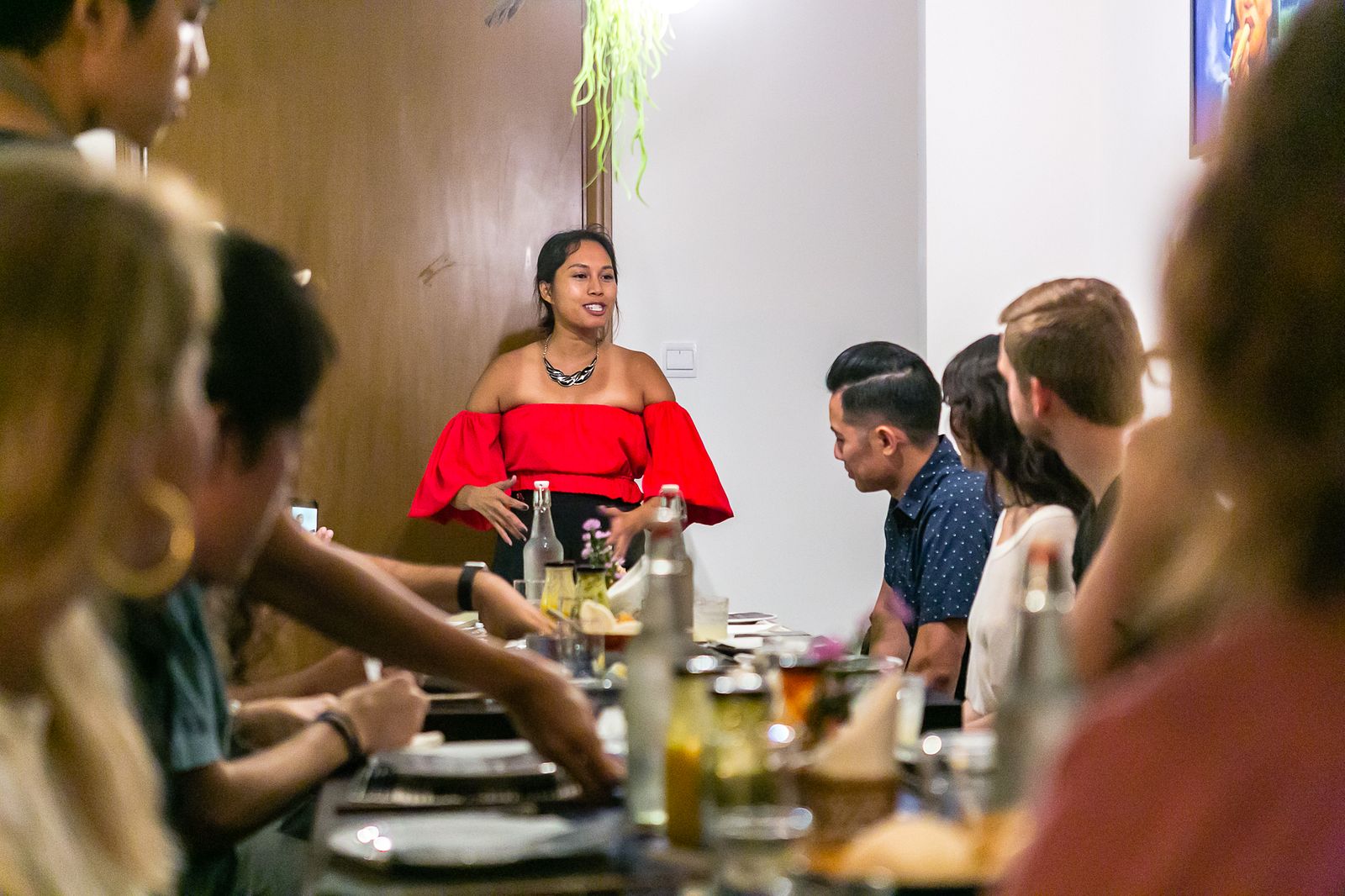 When he moved to America, Tam's father saw the success other Vietnamese immigrants were having as shrimpers and decided to give it a go with a university friend. But unlike the people who had grown up crustacean trawling, Tam's father was an engineer by training. She laughs when noting he foolishly assumed the skill was somehow in his blood. When he failed as a shrimper, he had to "fall back" on his engineering degree which allowed his family to live in a middle-class section of Houston. Every weekend the family would travel to Bellaire, the Vietnamese part of town, and do errands, stocking up on groceries and of course enjoying traditional Vietnamese meals prepared by other recent immigrants. And while her parents did not enjoy Mexican food, once she was old enough, she frequently explored it with friends outside of the house.
As she got older, Tam would frequently ruminate on ways to combine the different cuisines she grew up with. It wasn't until she graduated college and moved to New York City, however, that she saw tangible examples of how it might be done. She became friends with Keizo Shimamoto, a second-generation Japanese-American, who, in addition to his authentic ramen, garnered praise for his ramen burgers at Ramen Shack. He placed beef patties, pork shoulder and mushrooms beneath ramen "buns," which united his ancestor's cuisine with modern American food.
While in New York, Tam was also honing her own cooking skills. She grew interested in the healthiness and quality of the food she was eating and therefore began making all her lunches from scratch. A co-worker at the marketing firm where she worked took notice and asked if she could make double batches, selling one to him each day. This experience convinced Tam that her cooking was good enough to not only share but sell.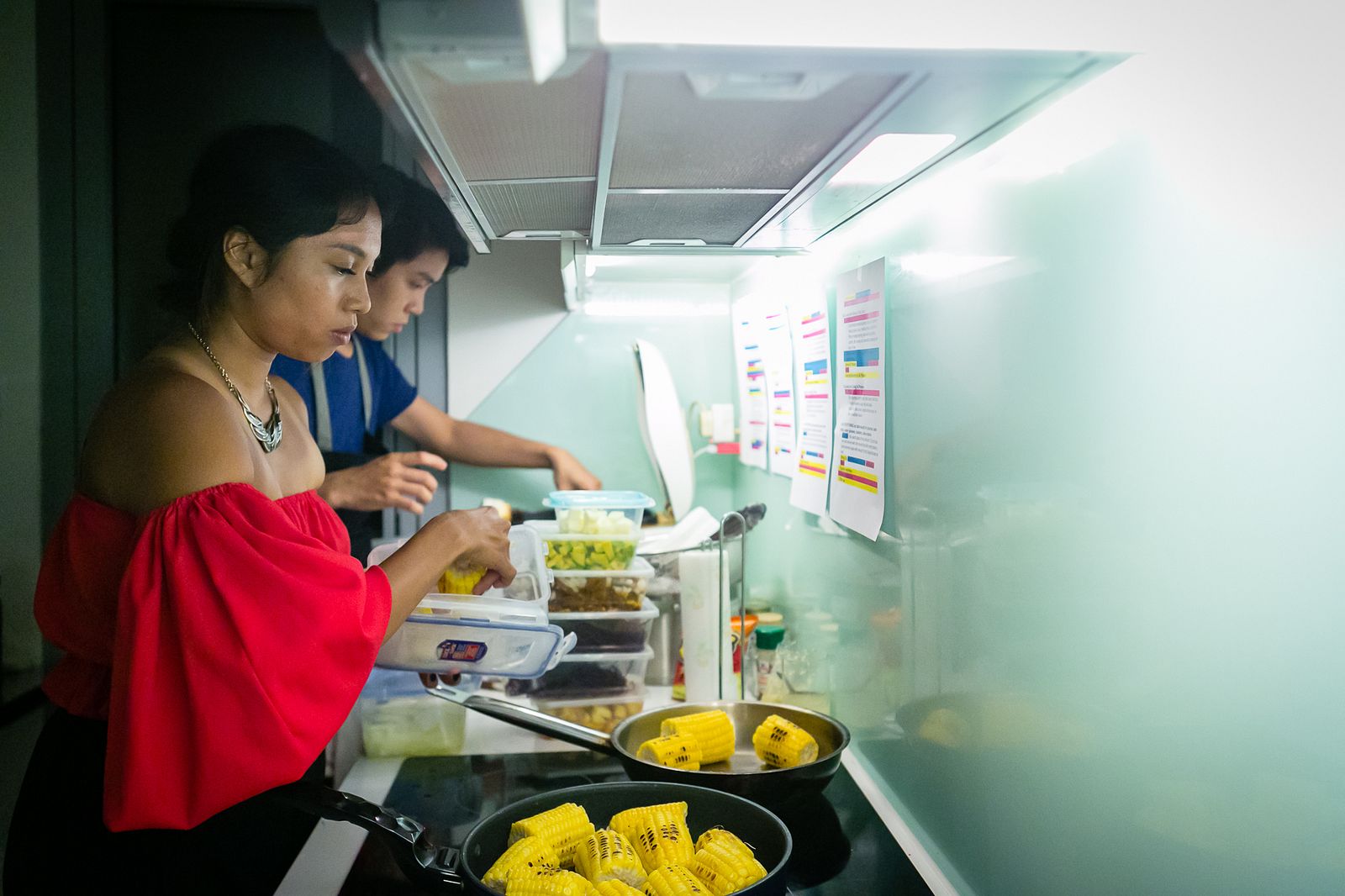 After leaving her job in New York, Tam traveled around Central and South America. While she loved the Argentinian barbecues her friends ended each day with, she found herself tiring of the endless parades of meat, craving fish and vegetables. The only place she was able to find them was at closed-door restaurants, which are called puertas cerradas in Spanish. Held in private homes, these reservation-only meals not only allowed chefs unparalleled flexibility and ability to use the day's freshest market ingredients, but they also fostered communal dinner party atmospheres where diners shared stories and became friends with the strangers seated at the same table.
Tam had only visited Vietnam once as a child. It wasn't a great experience. Thanks in part to a having been bitten by a monkey and badly burning her leg on a motorbike, she didn't foresee spending much time here again. After moving to Singapore, however, eager for a career in global marketing, work with clients frequently sent her to Saigon. When those business trips started to dwindle, she found herself missing the country and traveling there in her free time.
Her kindled connection with Vietnam motivated her to move to Saigon a year ago. While working for another marketing firm, she explored the local food scene, constantly adding recipes and ingredients to the "brain drop" she keeps of ideas. Learning about events such as Saigon Outcast's Taco Fest and the advice of her friends compelled her to try hosting public meals reliant on her years of imaging fusion dishes.
The Experiments Hit the Table
Saigonita debuted in June for a small group of friends. She started it with a "let's see what happens" attitude. Reflecting on the first iteration, she cringes at some of the mistakes made including uneven wait times between courses and simply placing pitchers of mixers next to bottles of alcohol and saying, "make it yourself." The night was a big enough hit, however, so as to warrant another, and then another and another. People started paying attention to her Instagram feed and she soon found herself investing in new plates, a tortilla press, a set of custom benches made by a local Vietnamese designer and Hmong batik to accommodate the guests that had heard about it through word of mouth and social media.
With each meal, Tam tries a few new dishes. On the night I attended we started with rounds of Tongue Untwisters, which adds Vietnamese pomelo to Mexico's famous tequila and grapefruit soda Paloma cocktail. We progressed to Chaquitos which married fried spring rolls with Mexican taquitos by rolling cumin-seasoned ground beef and Laughing Cow cheese in rice paper. As delicious as the first courses were, the real stars of the dinner were the three tacos. The delectably smoky duck was complemented by herbs she acquired while on a trip to Sapa earlier in the week while the 713 — named for Houston's area code — reinvented a Vietnamese-Cajun boil through its inclusion of sautéed corn and shoestring potatoes inside a tortilla. The dishes each achieved their core purpose of being fresh, balanced and absolutely delicious and gained some extra points for their novelty, accompanied with stories and the way they blended two disparate cuisines.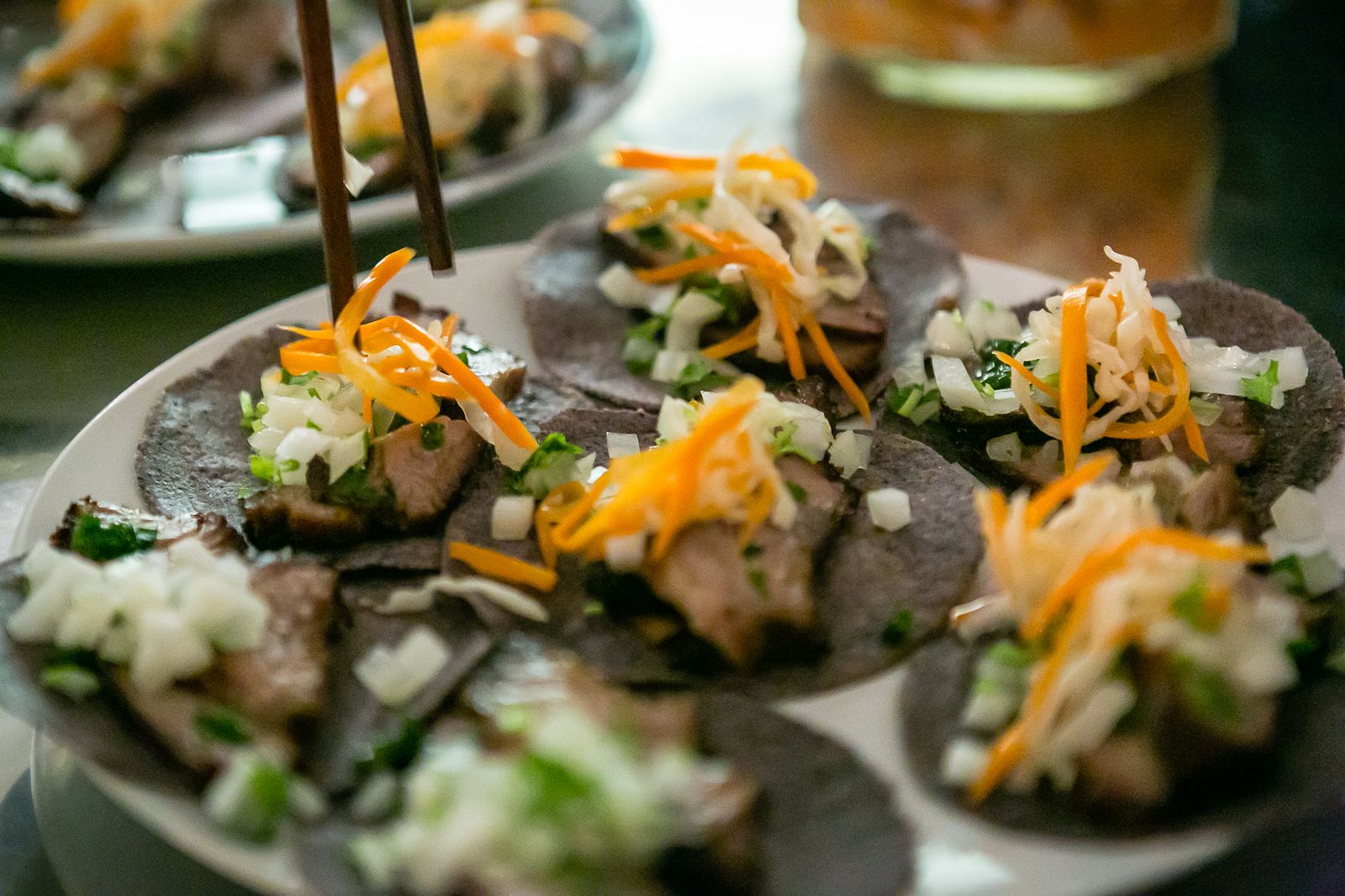 While fellow Houston-native Melinda Ip often helps as sous chef, the night I was there she was joined by Phan Quoc Tri, the runner-up of the first season of Vietnam MasterChef at the incredible age of 18. Having local guest chefs is important to Tam. Not only do they add variety and important local involvement, but involving them exposes everyone involved to new cooking methods, flavors and fusions. Tri, for example, had never made authentic Mexican churros before but with the help of Tam and YouTube, he made the lightest, most delicate and tasty one I've ever had. The scoop of his homemade pandan ice cream was the perfect compliment.
Many of the stories that Saigonita tells reveal Tam's marketing world. The logo she designed for the restaurant, for example, is an amalgamation of Mexico's mystic eagle which prophesied the site of the city by its grabbing of a snake, with the dragon, Lạc Long Quân, from Vietnam's folk origin story. Similarly, the types of puns and tongue-in-cheek names she used to sneak into client presentations litter the menu, including my favorite Rượu Awakening. She revealed on the Saigoneer Podcast that sometimes she thinks of a pun so good she scrambles to imagine the dish to match it.
Saigonita's Place in the City's Evolving Food Scene
Viet Kieu are having an increasing influence in numerous sectors of Saigon, but perhaps nowhere more so than dining. Their prominence invites a variety of opinions: some people are thankful for the injection of new backgrounds and creativity while others bemoan the attention and resources they attract at the expense of locals. It's a fraught situation and one Tam was happy to discuss when I brought it up.
She introduced a concept I hadn't previously considered: Tam considers herself an immigrant to Vietnam, which puts her in line with a rich global tradition. Whether it's the Lebanese cattle herders who transformed Mexico's traditional tacos with their shawarma-like steak or the Vietnamese immigrants in New Orleans who ushered in Viet-Cajun crawfish boils, she notes that people who move to new countries are often first accepted through the new foods they introduce.
Tam also discussed the idea of authenticity, concluding that as long as one is authentic to his or her own background and experiences, they should feel empowered to create freely. She notes that even Vietnamese cuisine is fluid and constantly evolving, citing Da Lat's bánh tráng nướng (rice paper "pizza"), which was only invented in the last 20 years and is thus foreign to her parents despite them being native Vietnamese.
I pressed Tam on another aspect of Viet Kieu's profile in Vietnam that can garner scorn or scoffing. I admitted to her that I have a self-deprecating contest with my sister that requires us to admit to one-another our most hipster act of the week and that by enjoying of her Horchèta — cinnamon and star anise spiced coconut-rice milk filled with gummy bears soaked in rum — that I was certain to "win" that week's contest. I suggested Saigonita could be construed as the ultimate Williamsburg experience plopped in Saigon. Tam paused a moment before saying, "I do a lot of hipster shit, and that's fine, it's who I am."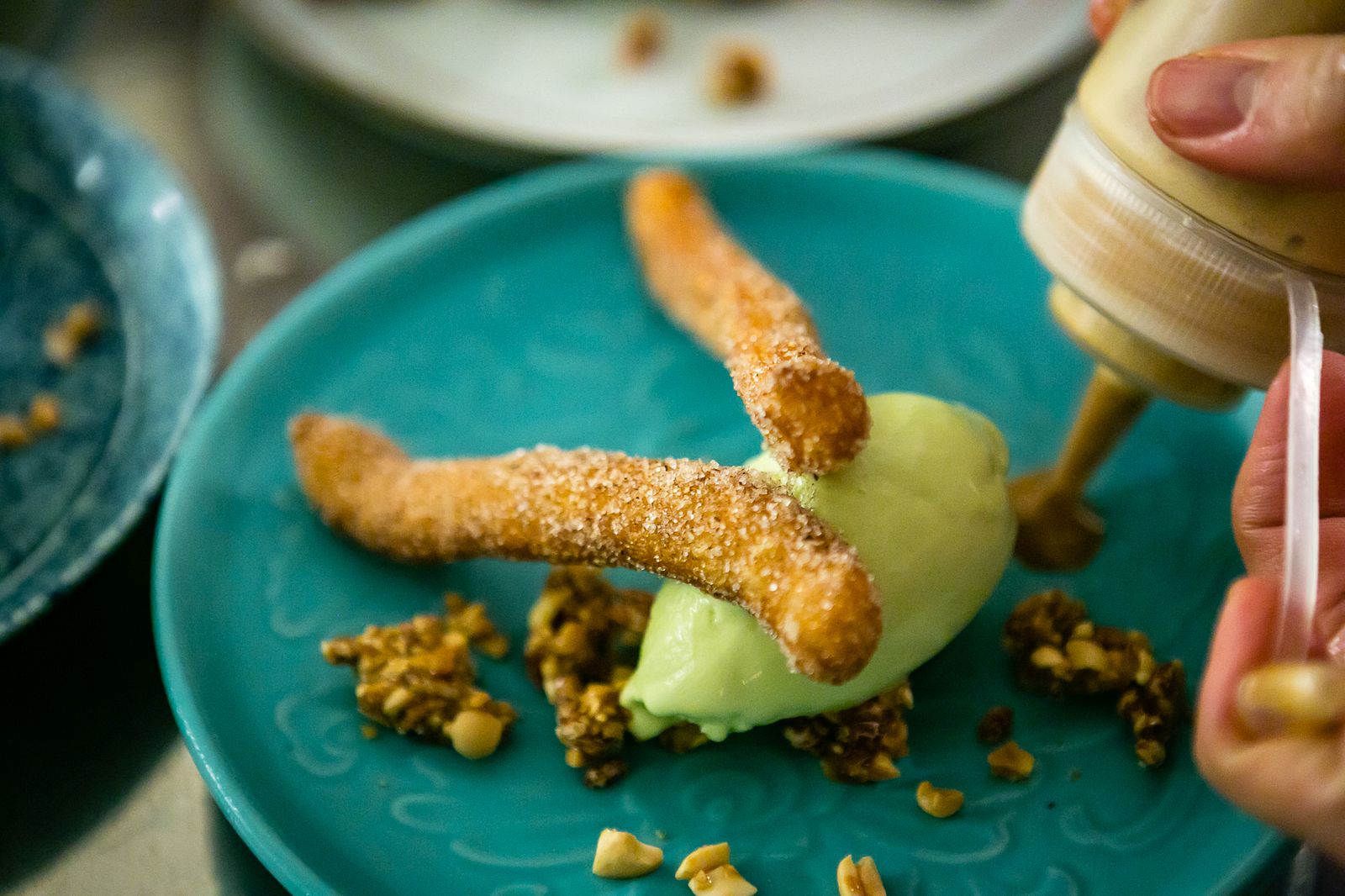 Though less than six months old, Saigonita has proven exceedingly popular, going so far as to earn Tam coverage from Vice Munchies. The success has been so overwhelming that Tam recently transitioned from full-time to part-time work at her job. Similar to the carefree approach she took to opening the restaurant, she isn't quite sure how she will utilize the extra time. She might hold the dinner more times a month, look to collaborate on pop-ups with local restaurants and/or spend more time traveling to research ingredients and cooking methods as she did last month during her jaunt to Sapa. Perhaps a restaurant space dedicated to Saigonita is even in the future. Regardless of how the concept evolves, it's thankfully safe to say that Tam's skill, creativity, work ethic, charm, unique heritage and immigrant experience will continue to add novel and delicious food to Saigon for a long time to come.
Reservations for Saigonita can be made here, and more details can be found on its Facebook page.
---

Related Articles:
---