So this is why scientists have been too busy to cure cancer, send a human to Mars or successfully bring Tasmanian tigers back from extinction?
Following the audaciously mediocre clear milk tea they released last year, Japanese beverage makers are up to it again, this time releasing a clear coffee drink. Earlier this month, Asahi's cafe latte-flavored water hit shelves across Japan. The drink, officially titled "Clear Latte from Delicious Water," is made with espresso extract, milk ingredient components and whey mineral concentrate.
The drink contains no caffeine or fat and only 10 calories per 100 milliliters (60 calories per bottle). In addition to its obvious appeal for people who are watching their weight or looking to avoid caffeine, the drink is also marketed as helping consumers be "more professional" in their workplaces. Other than helping slippery-fingered salarymen avoid embarrassing splotches and stains on their white shirts, that last bit doesn't make a whole lot of sense to seemingly anyone.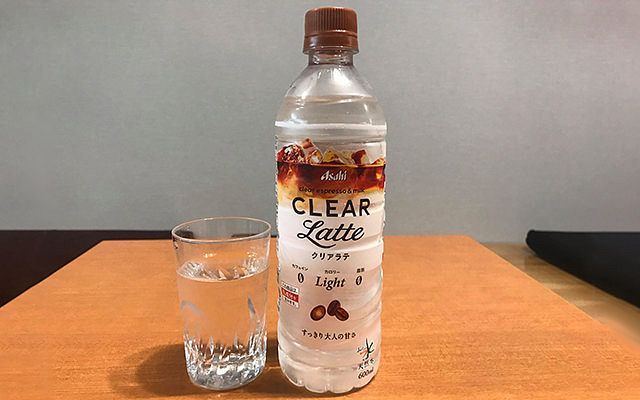 So how does it taste? In general, the reviews are generally positive. Japanese media source Sora24 News claims it "tastes sweet, rich and just a little sharp. In other words, it's extremely close to what you might expect from a bottled latte … [but] even when the coffee flavor is at its strongest, the water lends a mildness to the drink so that it won't overwhelm you. Unlike slurping down a Starbucks coffee, the taste is subtler, with an understated, semi-sweet bitterness for the aftertaste."
The staff at Grape also gave it a try and came to a consensus that it was "almost as if one is drinking a cup of diluted coffee," though that could be refreshing.
Asahi apparently isn't relying on word-of-mouth alone to create demand for their crystalline coffee. They have launched an ad campaign that features the type of bizarre commercials we've all come to expect from a nation where sushi ads feature stripping strangers, cheese and spice superheroes assault a soup slurping woman in a snow-filled forest and Nicholas Cage shills for Pachinko machines.
No word on if this drink will ever make its way to Saigon, but you can drop twenty bucks for a 12 pack (pre-shipping) here. Have a look at Asahi's TVC for Clear Latter below:
---

Related Articles:
---