If you've ventured to the land of ramen, it's likely you have a Japan hangover. Vege-ro's authentic, rich meals could, for a while at least, help you recover.

Ramen is a firm favorite among those who've traveled to Japan, or even anyone who's spent any reasonable amount of time in Japanese restaurants. Usually, ramen is comprised of wheat-based noodles, soy sauce or miso, and meat- or fish-based broth alongside meat and nori (edible seaweed). Thanks to Yosuke, owner and chef at Vege-ro, Hanoi-based vegetarians, vegans or gluten-intolerant ramen lovers finally have somewhere to satisfy their appetite.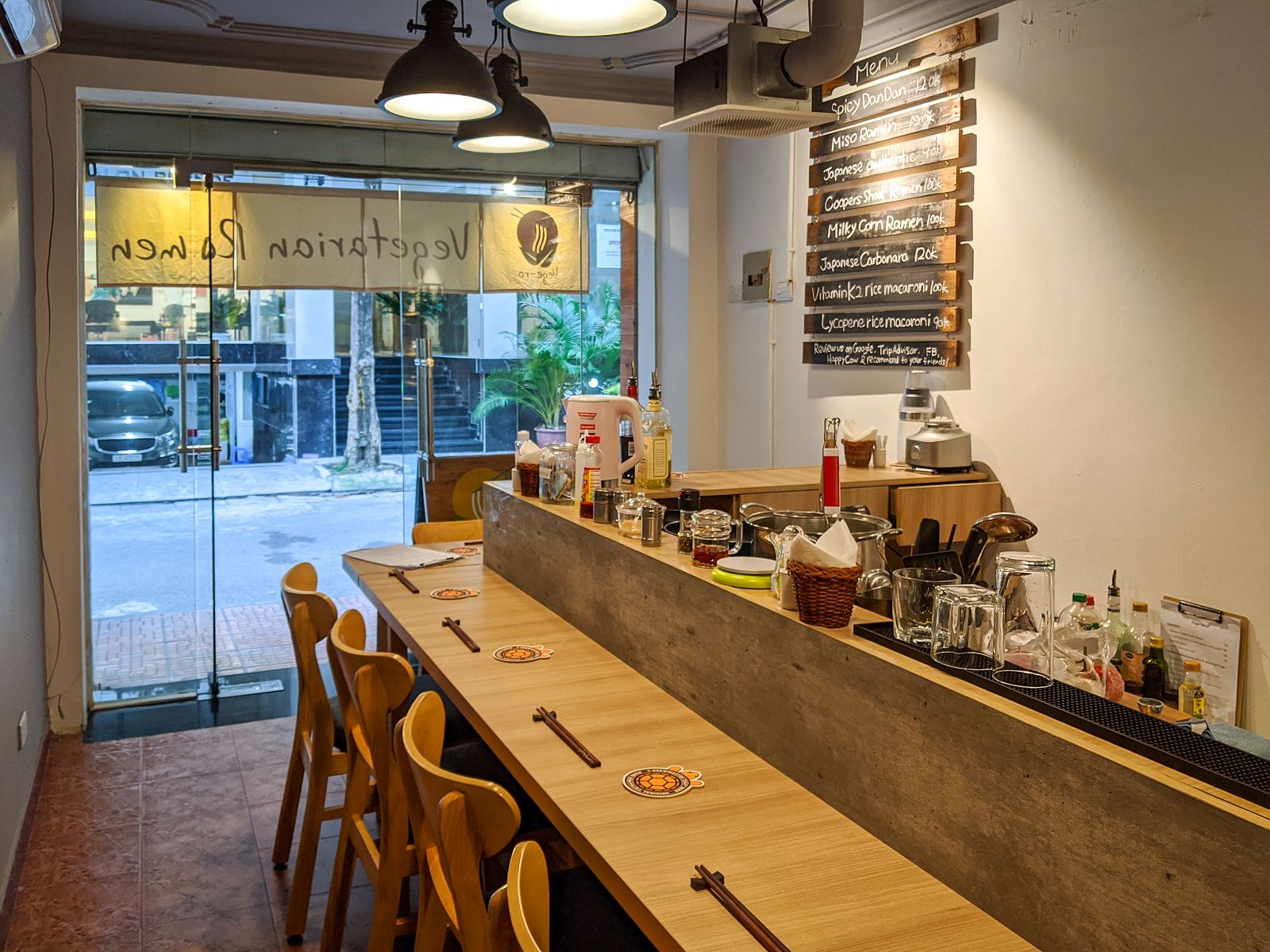 Vege-ro is a new eatery located in Truc Bach. In typical Japanese style, it's small, minimalist and pleasingly authentic. While it might not look like the most exciting place to eat, the flavors on offer are certainly worth it. It's a good job there are only seven seats, because the kitchen is so small there's barely room for one chef, let alone any more. It's best to arrive early to get a spot. If the restaurant is full, it isn't the best option if you're in a rush. Yet if you have time to wait, pull up a chair — the seats surround Yosuke's kitchen and offer a perfect view of a master at work.
Sit back, relax, and soak up the scent of sizzling garlic and ginger while gentle, ambient tunes play in the background. There's nothing more mouthwatering and tantalizing while you await your meal. Observe Yosuke as he chooses from dozens of condiments, all poured into various bottles that line his worktop, before splashing them into his wok. Yosuke puts real passion and pride into his work.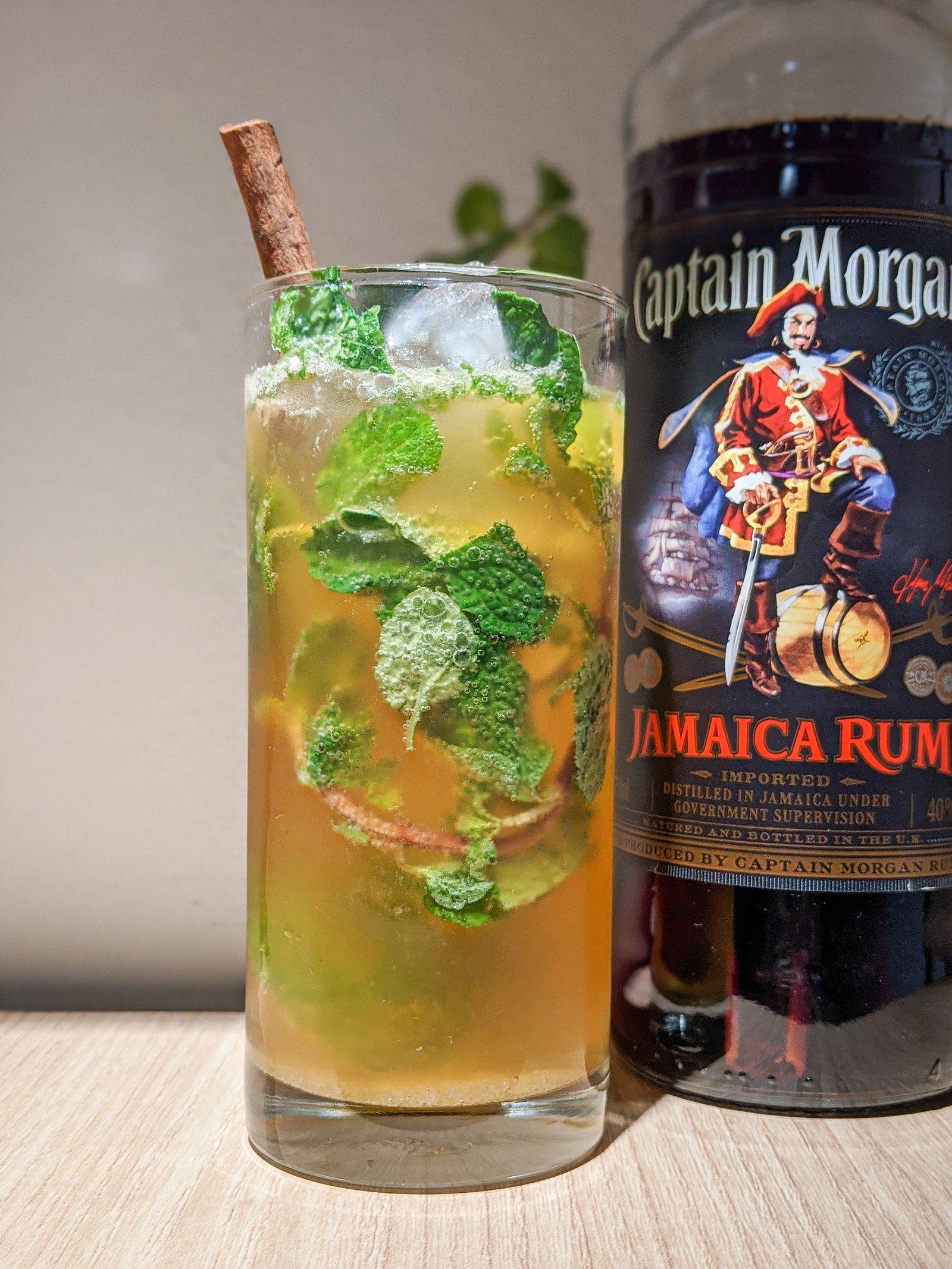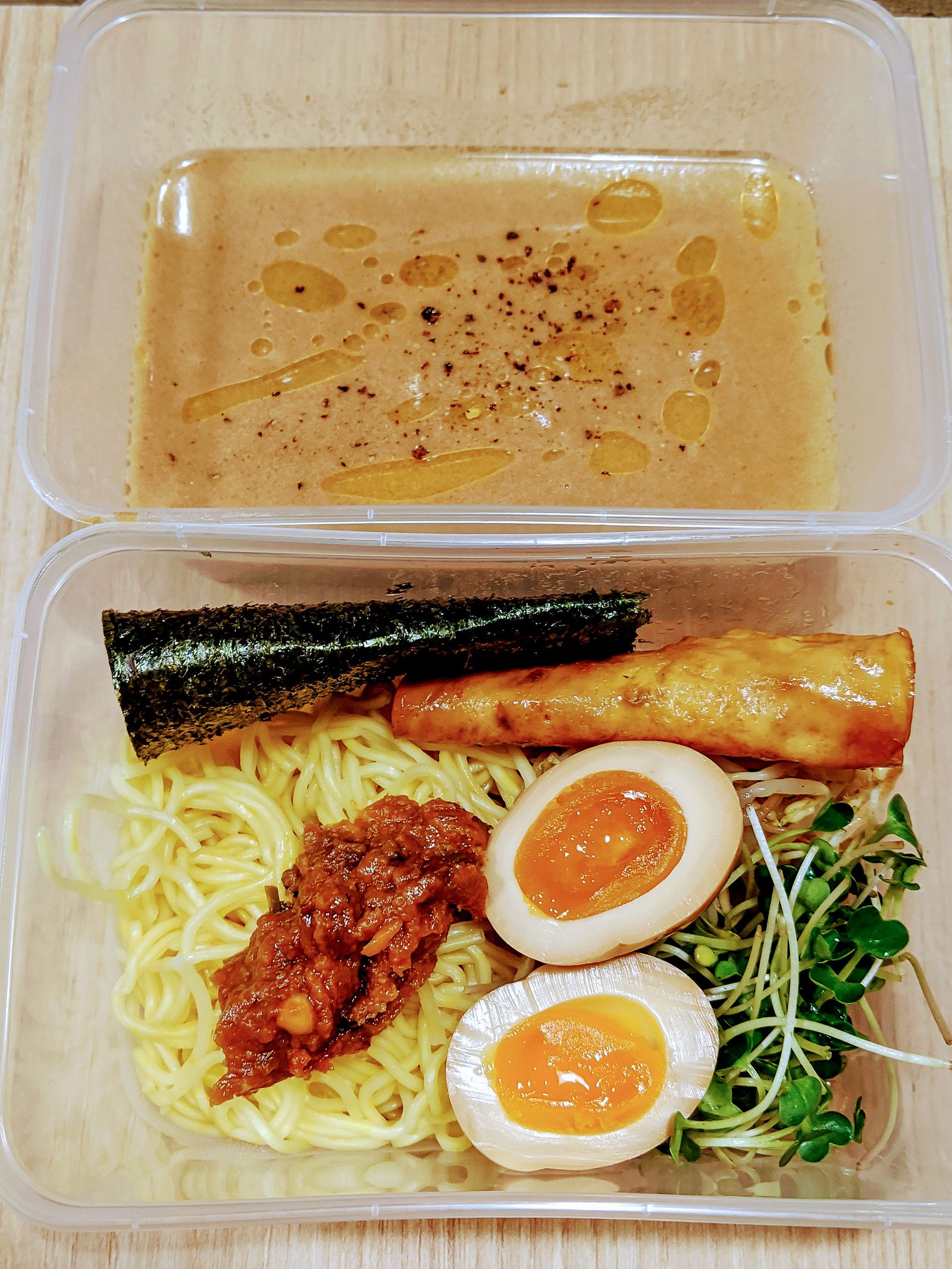 For a place so compact, you might also expect a limited range of meals. Yet the menu spreads over a number of pages and lists all of the ingredients, so you know exactly what to expect. Choose from classic appetizers like salted edamame beans or various ramen mains, including miso ramen and "spicy dan dan noodles." All of the dishes are vegetarian and you can request vegan or gluten-free options. Yosuke serves a small selection of beverages too, including soft drinks and, if you're after something a bit stronger, there are 'unhealthy drinks' such as beer, sake and cocktails listed too.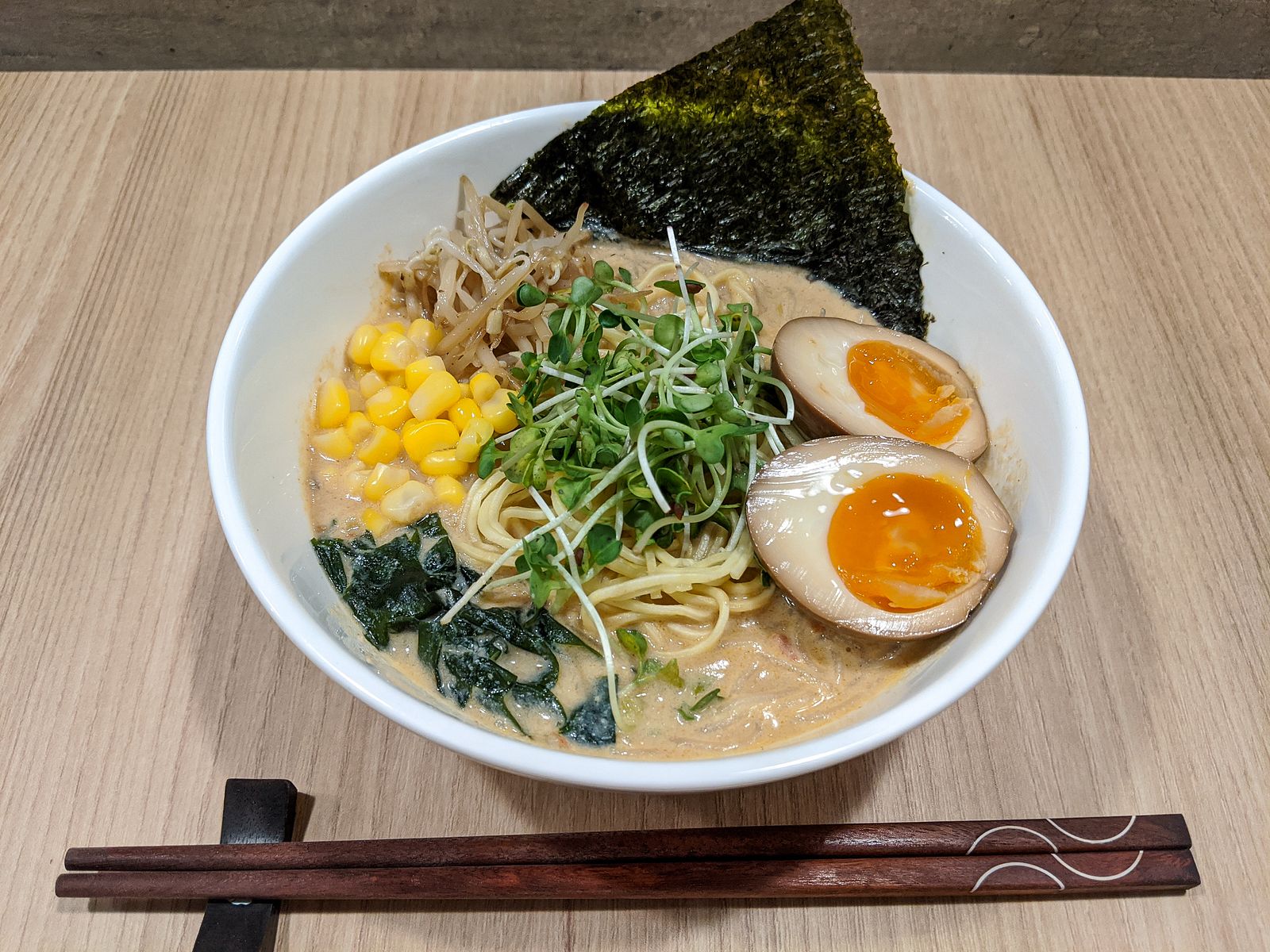 Yosuke has actually lived in Hanoi for five years, yet it was only in December 2019 that he finally opened his own business. Prior to this, he worked at a larger Japanese restaurant in the city. Although not vegetarian or vegan himself, he spotted this niche in the market and chose to fill it. Ramen, he says, is his favorite Japanese dish, and with a quickly growing number of vegetarian and vegan restaurants in the city, opening Vege-ro made sense.
Hanoi certainly isn't lacking when it comes to noodles dishes, as you can find them on almost every street. However, vegetarians and vegans are more limited in regards to the street food they can enjoy. While Vege-ro is a little more expensive (VND90,000-120,000 for a main) than many street-side pho joints, Yosuke's sumptuous creations, and the guarantee of no meat or fish, make for a delicious change.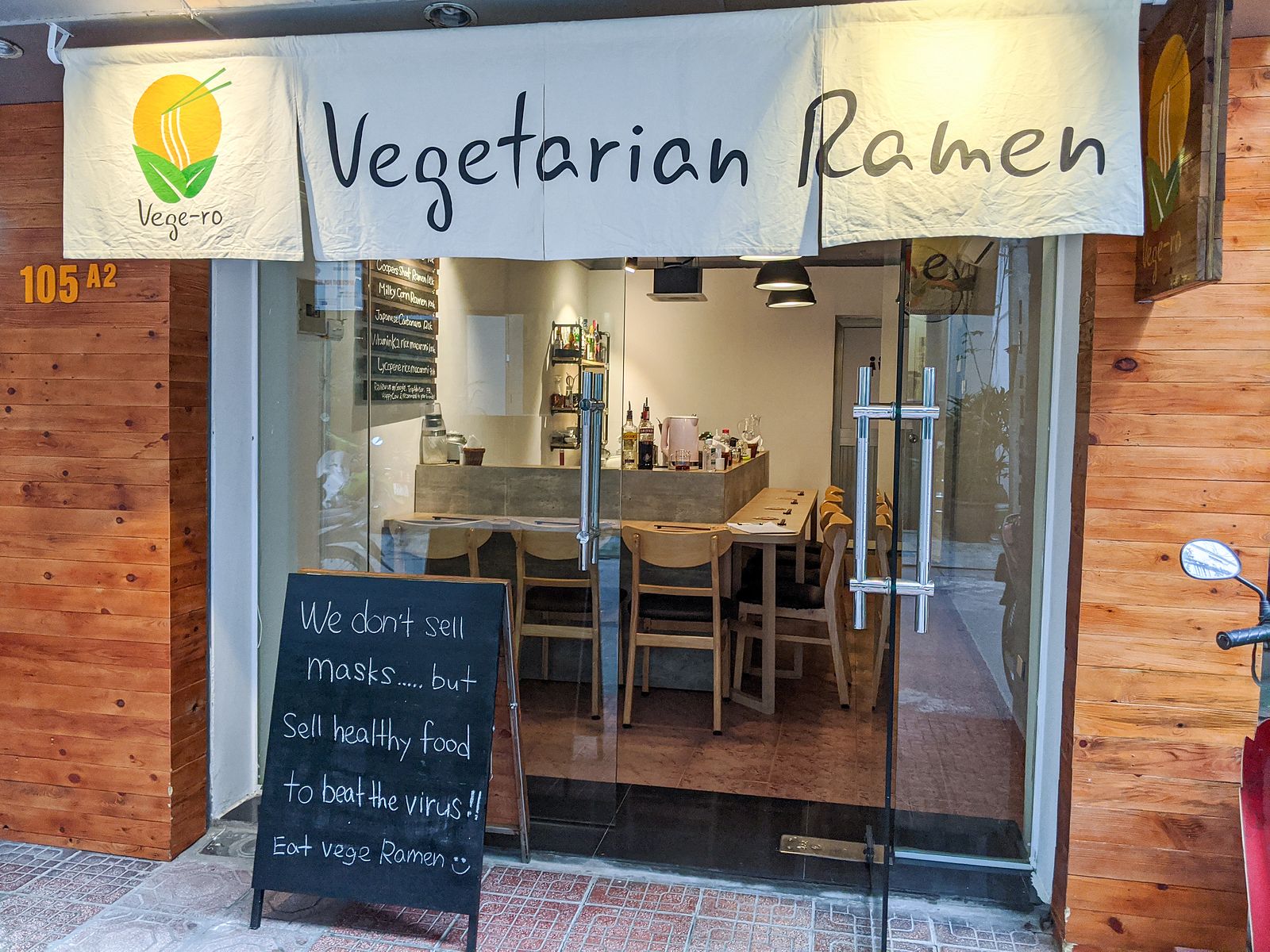 Vege-ro normally opens every day except Monday, from 5pm-10pm. In the time of coronavirus, it's best to contact the owner via their Facebook page to find out up-to-date information about when they can open.
To sum up:
Taste: 5/5
Price: 4/5
Atmosphere: 4/5
Friendliness: 5/5
Location: 4/5
Vege-ro
105A2 Lạc Chính, Trúc Bạch, Ba Đình, Hà Nội