Though more and more green buildings have been sprouting up across Vietnam over the last few years, the practice is far established. Subsidized electricity, price gouging and low awareness are major obstacles that must be overcome before green building can be standardized in the country, according to a new piece in Ecology.
A recent white paper, Is There a Future for Green Buildings in Vietnam?, by Solidiance, a B2B consulting firm, concluded that while the government and special interests groups are pushing for sustainable development practices, it's up to the private sector to enact fundamental change. So far, this hasn't happened – Vietnam has only 40 buildings that have achieved green certification. For comparison, Singapore sports over 1,000 such buildings.
Vietnam only began green building certification in 2010 when the Vietnam Green Building Council unveiled LOTUS standards. These are based on the international LEED standards but take into account local conditions.
According to Ecology, greater awareness is vital to popularizing green building, but misconceptions about the practice are hampering its adoption:
"Awareness of and an interest in green building concepts is rising among young Vietnamese students and professionals who are increasingly seeking out further training on the subject…However, while awareness among the wider building community is growing, misperceptions about implementation costs remain, which is exacerbating existing cost sensitivities. Therefore, it's not only awareness that is at stake in driving the industry's development but an accurate understanding of the implications of what it entails to build green is also required."
Melissa Merryweather, a green building consultant stationed in Vietnam, said in a recent interview that many local architects and engineers are charging a "ridiculous" 25% premium for green buildings. In other areas of SE Asia, "building to green certification standards can run anywhere from 1-10%."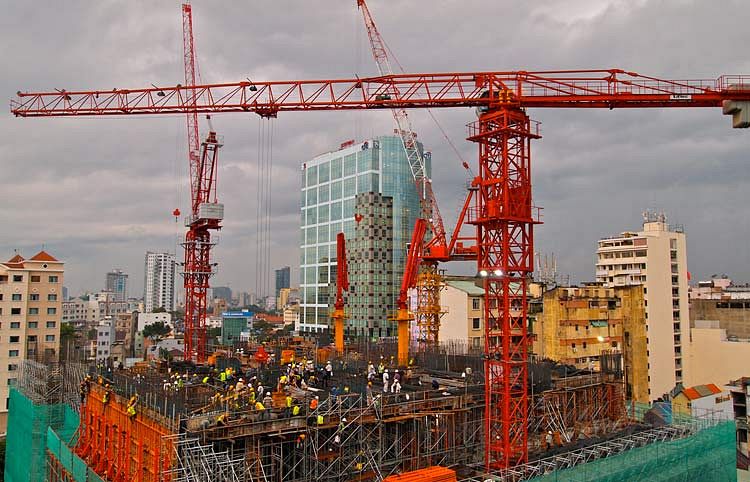 In many countries, green building is taking off as research has shown that the practice greatly reduces electricity costs. But in Vietnam, where electricity is heavily subsidized by the government, power saving has not been enough to incentivize contractors and developers to go green. Though Vietnam is transitioning to market-based electricity pricing, it will be a while before developers begin to feel the costs and look for ways to increase efficiency. For now, it's the power-hungry industrial sector that's leading the way in green certification practices:
"Driven by a desire to lower operating costs, as well adhering to global corporate guidelines, the industrial sector accounts for more than 40% of certified green buildings in Vietnam. Hospitality and commercial office buildings have seen the next highest rates of adoption with the former seeking out lower operating costs and an eco-friendly image, while new office building are going green in an attempt to attract premium rental fees as well as differentiate themselves in a market that currently has excess supply of office space in the country's urban centers of Ho Chi Minh City and Hanoi."
Ecology concludes that while waiting for higher energy prices to kick in, the government should offer more incentives and guidelines for green building.
This is the first time we've ever wished for a bigger electricity bill...
Related Articles:
- Environmentalism and Sustainability Gaining Steam in Vietnam
- Why Sustainable Development is Vital For Vietnam's Future
- Vietnam's Youth Environmental Movement Takes Off
[Ecology // Photos via Thomas Wanhoff and Remko Tanis]