When news broke in August that Saigon's historic Tax Center was to be demolished, many experts and locals took to public forums to call for the preservation of certain elements of the building.
To address the issue of preservation, the HCMC People's Committee has announced that it was considering proposals to save important features, in particular the Tax Center's lobby mosaic and grand staircase which date back to 1924, according to Thanh Nien.
"The People's Committee has taken on board the suggestions regarding the historic shopping center and would forward them to the city Party unit, deputy chairman Hua Ngoc Thuan told a meeting Tuesday."
Over the past months, 2 petitions have circulated, one led by Phung Anh Tuan, the honorary Finnish consul general in HCMC which received signatures from more than 300 architects, researchers, and students. The other, an online petition, collected over 3,500 signatures.
Satra, the building's owner has previously said that it plans to incorporate elements of the Tax Center into the new building though it "cannot determine which elements will be preserved, as the project is still in the design phase."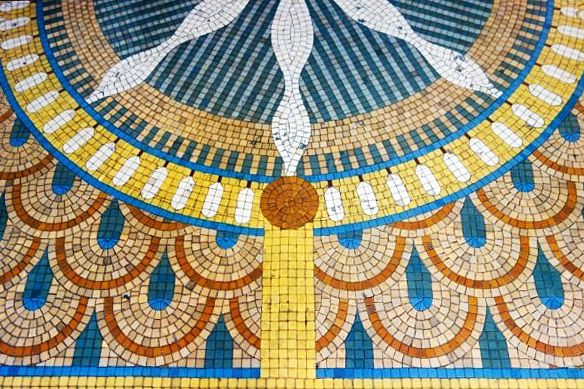 A detailed view of the Tax Center's lobby mosaic.
The current building, originally named the Grands Magasins Charner, opened in 1924 and quickly became "the place to shop in Saigon," according to Saigon historian Tim Doling who provides an excellent historical account of the building's history on his blog, Historic Vietnam.
According to Doling's piece, "The 1937 Guide touristique général de l'Indochine described the Grands Magasins as 'the best stocked store in Indochina, with the widest choice, incomparable price and all of the facilities one would find in a Paris department store.' "
While there's no telling what will be preserved or how, at least the conversation has been started.