Da Lat, once a sleepy French vacation town, full of ornate villas and majestic pine forests, is in danger of losing what charm still remains. Earlier this year, it was revealed that the city's pine trees are disappearing at an alarming rate and now, according to Thanh Nien, its colonial villas are facing a similar fate.
At the turn of the 20th century, French colonialists including the noted bacteriologist Alexandre Yersin, protégé of the renowned French chemist Louis Pasteur, petitioned the French governor-general, Paul Doumer, to create a resort center in the highlands. By 1907, Da Lat had been selected as the location for such a town and so started urban planning under the leadership of Ernest Hébrard.
The French planner endowed the city with villas and boulevards, seeking to recreate a town similar to those in the Alps. Wealthy French from all over Indochina flocked to the Da Lat, building elaborate villas.
Fast-forward 100 years and these once glorious villas (admittedly build on the backs of Vietnamese exploitation) are in danger of being lost.
After the end of the American War in 1975, owners of the villas fled and the buildings were put under the administration of the Da Lat Houses Management Center. Some villas were turned into offices while others were assigned to State officials, and the rest left empty.
Currently, of the more than 200 villas under management of the Da Lat People's Committee, 83 have been rented out by the Da Lat House Management Office while 64 are used as offices for various local agencies and organizations.
In the best case scenerio, villas used as offices have been expanded and many of their grassy outdoor areas have been paved over with cement. Moreover, according to Thanh Nien, the villas used as accommodations for public employees, workers and vendors have been modified with new restrooms, bathrooms, kitchens and garages.
"It's such a pity that we [local authorities] have not managed to protect the villas for so long and we've left them to deteriorate today," said Tran Van Viet, deputy chairman of the Da Lat People's Committee.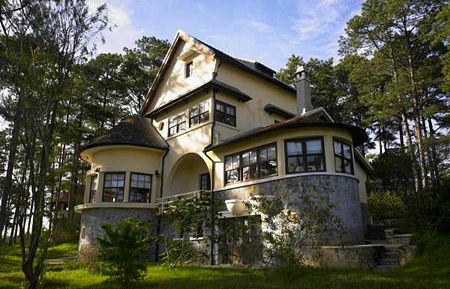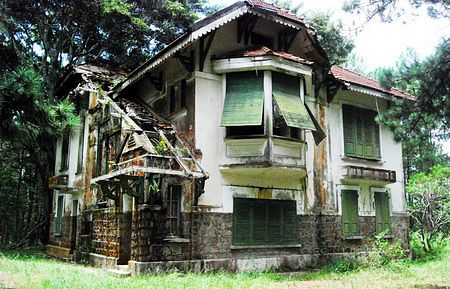 Back in 2003, The Da Lat House Management Office initiated a plan in to refurbish 83 villas to be used as housing but only 12 have been recovered and leased to investors.
Nguyen Huu Tam, director of the Lam Dong Construction Department, said the villas will be preserved based on their architectural values and profitability.
He said five of the villas will be restored to their original state while 77 will have their interior renovated and their exteriors restored. Another 96 will be completely renovated or dismantled to make space for new construction.
Many experts are protesting the plan saying Da Lat should keep rather than sell, rent or demolish the villas to preserve their unique architectural identity, some of which are 120 years old.
Local residents say that villas on Nguyen Du, Pho Duc Chinh and Tuong Pho streets have been vandalized, and have become hotbeds for drug addicts, "Syringes can be seen lying in the yard or in the grass at many villas."
Tuoi Tre recently took an in depth look at the current state of the villas finding that on average, one villa acts as a residence for 15 people spanning generations. A 457 square-meter villa located at 13 Tran Hung Dao Street was found housing 72 people from 19 households.
Like Pham Van Thieu, many sqatters are poor vendors or laborers who have taken refuge in the dilapidated villas:
"Thieu who has lived in the No.13 villa for 25 years, said the public villas have been left unoccupied for years and are dilapidated. They are commonly called 'haunted' by locals.
Thieu arrived at the house in 1988 and occupied a 16 square meter room. After getting married and having two children, he turned his room on the first floor of the villa into a two storey 'slum' where the upper floor is only 80cm high and is for sitting and lying down."
Mr. Dang Nguyen Van Tich, director of the Da Lat Houses Management Center, told Tuoi Tre, "The city now needs from 500 to 1,000 apartments to relocate the residents in the villas. But due to the lack of investment capital, the city's authorities have to prioritize other projects."
It's probably unfair to blame local authorities for the sad state of Da Lat's villas as the costs of restoration for so many buildings are likely astronomical. That being said, Vietnam's colonial-era buildings are irreplaceable and should be treated as such. The question becomes, how can this be done in a country still working to provide the most basic services to its people?