Sustainable teabags made from bodhi tree (Ficus religiosa) leaves earned Ngô Trần Thảo My and Nguyễn Thiên Ngân silver medals at an international event that fosters global awareness of environmental issues amongst secondary students.
My and Ngân, both Grade 11 students at Saigon's Gia Định High School, learned from international news sources about the destructive effect of microplastics that are found in a multitude of products including teabag filters. This awareness along with the knowledge that traditional teabags take a long time to decompose naturally inspired them to embark on the project "Studies on creating the tea filter bag from leaf veins of Ficus religiosa."
The pair selected bodhi trees, known as bồ đề in Vietnamese, to experiment with because it grows widely in Vietnam and already has various local ceremonial and decorative uses. After analyzing the leaves' chemical composition with the assistance of several testing centers to ensure they are safe for humans, they proceeded to develop a five-step process to turn them into teabags. After soaking, washing, cleaning and drying them, only the veins of the leaves remain which are then woven into teabags. They perfected the routine so that they can now create 50 teabags in two days.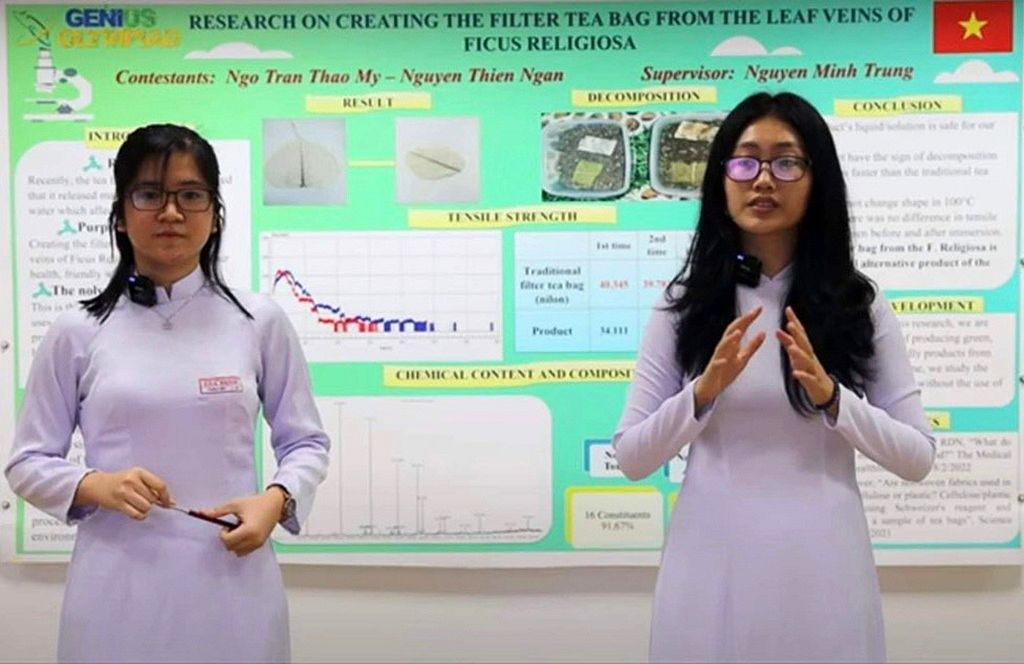 The pair spent over six months on the project while managing their regular highschool work and exam preparations. "Doing research helps us develop skills in teamwork, experimentation, presentation, rebuttal, in additional honing scienfitic thinking. This is truly a memorable milestone in our time as students," Thảo My explained in Vietnamese.
The annual GENIUS Olympiad event is held at the Rochester Institute of Technology in New York and "provides challenges and opportunities for secondary school students, to instill in them the skills and knowledge needed to be the citizens, leaders, scientists, artists, writers, engineers, and policy makers of the future," according to the organization. The virtual 2022 event featured 821 projects and 960 students from 60 countries with 599 of them receiving awards which include renewable scholarships.
In addition to Thảo My and Thiên Ngân, Vietnam received 28 total honors across creative writing, science, business and short film disciplines. Fifteen of those winners were from Gia Định High School.
[Photos via Thanh Niên]