Despite being well-received in Vietnam's metropolises, coffee chains still encounter business problems due to high rent costs and a crowded market.
According to Nhip Cau Dau Tu, coffee chains are the country's fastest-growing business model with an annual revenue growth of 32%. This impressive income is largely due to the expansion of local chains such as Trung Nguyen and Phuc Long as well as the entrance of foreign coffee houses such as Starbucks, McCafe and The Coffee Bean & Tea Leaf.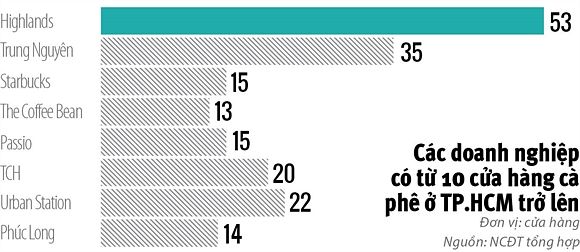 These cafes capitalize on coffee-loving crowds in big cities, and as more people arrive in the southern hub, coffee chains stand to profit from the caffeine habits of a growing number of Saigoneers. A report by the World Bank predicts that Saigon's population will leap from 8 million in 2014 to 10 million by 2020, the news outlet reports. This can only mean good things for Saigon's cafes, which are eager to bring in new patrons now that the market is so competitive.
However, operating a coffee chain is no picnic. Just ask Hanoi-based The KAfe: last year, the cafe's parent company made headlines for managing to secure a US$5.5 million deal with Hong Kong's Cassia Investments to aid the chain's expansion nationwide. Recently, however, The KAfe was embroiled in controversy when a partner accused the chain of failing to settle a large amount of debt, reports Vietnam Finance. The Hanoian coffee shop also faced problems in its restructuring process as it transitioned from a small business to a chain business model.
Still, Saigon's hospitable business environment means there is more room for new players to enter the market. District 1 is currently the most cutthroat battleground for coffee chains, with eight of the biggest domestic and international chains setting up shop here. Highlands and Trung Nguyen lead the race with 17 and 16 outlets, respectively. This high concentration of stores in the city's central area has also pushed rent in the central business district sky-high, achieving a 4% increase per year; cafe space in downtown Saigon currently stands at a whopping VND2.5 million per square meter per month.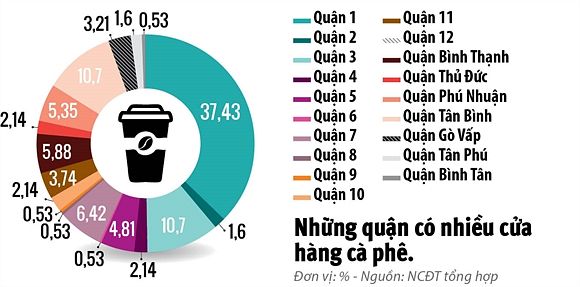 Nguyen Hai Ninh, founder and CEO of The Coffee House, admitted that running a coffee chain is not easy. "The coffee chain business model is one that earns nickels and dimes, but it's very competitive funding-wise, and most importantly, business administration ability," he told Nhip Cau Dau Tu.
According to Ninh, a coffee chain has to constantly modify its menu to adapt to new trends and customers' ever-changing tastes. Furthermore, the wide range of choices offered by many coffee chains means that customers can afford to be picky.
[Photo via Phan Mem Tinh Tien]
---

Related Articles: