Hey folks! Saigoneer is resurrecting its short-lived series on the street signs of Saigon with a weekly column called Street Cred. Saigon is filled with history and we see signs of it everywhere. Street Cred is the rear-view mirror by which we'll explore the meaning behind the signs. Look for it every Friday. Enjoy!
Ask anyone in Saigon about the Backpacker Area and they'll tell you that it's a place teeming with cheap beers, cheap travel offices and tourists who are passing through on the cheap. Most likely, they'll tell you that it's in Pham Ngu Lao, the name of the main street that has become synonymous with the entire Backpacker Area. How this relatively small, 5-block section of District 1 became a Khao San Road-esque hub for travelers is for another article, but surely, it's ironic that Pham Ngu Lao should be the figurehead of a place filled with so many foreigners.
Born in 1255 in Hung Yen province about an hour outside of Hanoi, Pham Ngu Lao was a revered army general during the Dai Viet Era of Vietnam. He's most famous for fending off those pesky Mongols and their quest for world domination not once, but twice in 1284 and 1288, respectively. Needless to say, putting up a fight against Kublai Khan & Co was no easy feat (just ask China and Persia) and Pham Ngu Lao reaped rewards fitting of his accomplishments. He would go on to become Supreme Commander of the Dai Viet army, get hitched to the King's sister, and upon his death in 1320, Pham Ngu Lao had a cult of followers who worshipped him as a deity.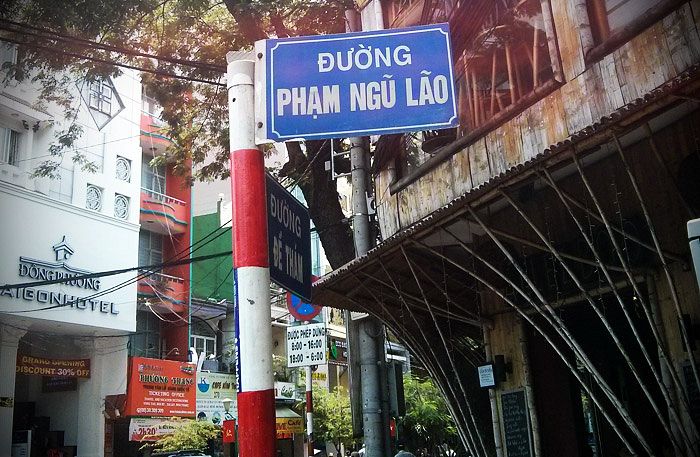 Pham Ngu Lao, the famous general who twice-stopped the Mongol invasion of Vietnam, is now helpless in stemming back the tide of foreigners onto the street that bears his name. Now that's definitely more ironic than a fly in your chardonnay.

About the writer:
California is where he's from, Saigon is where he's at and this column is where he could be found. If you're looking for a freelance writer specializing in Vietnam, please contact Vinh at vinh@berkeley.edu.
[Photo via tuhai]