We're now over half way through 2015, and what better time to update that depressing list of Saigon built heritage in imminent danger of destruction.
10) The shophouses around Bến Thành Market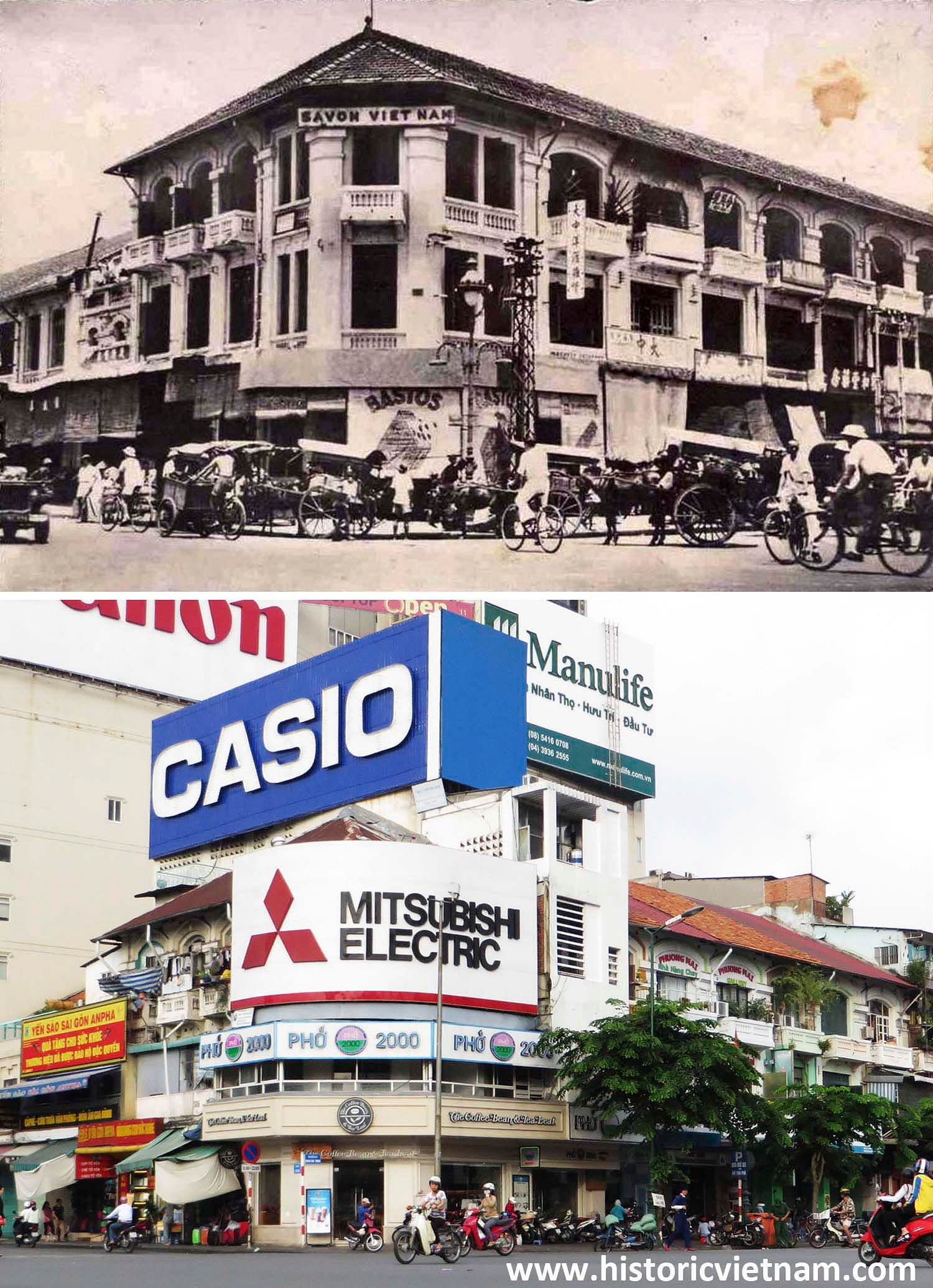 The shophouse is a hybrid style of traditional architecture which derives from traditional Asian house architecture, yet displays strong European colonial influences. Saigon was once rich in this style of architecture, but in recent years, many have been demolished, and most of those now remaining in District 1 and District 5 are severely degraded. Partially hidden beneath huge advertising hoardings, the three-storey shophouse terraces on the west side of the Bến Thành Market are among the only surviving examples of their kind in District 1. However, they are already in a poor state of repair and the word on the street is that they will be redeveloped over the next few years as part of a wider revamp of the area surrounding the new Bến Thành Market metro station.
9) The few surviving shophouses on Nguyễn Huệ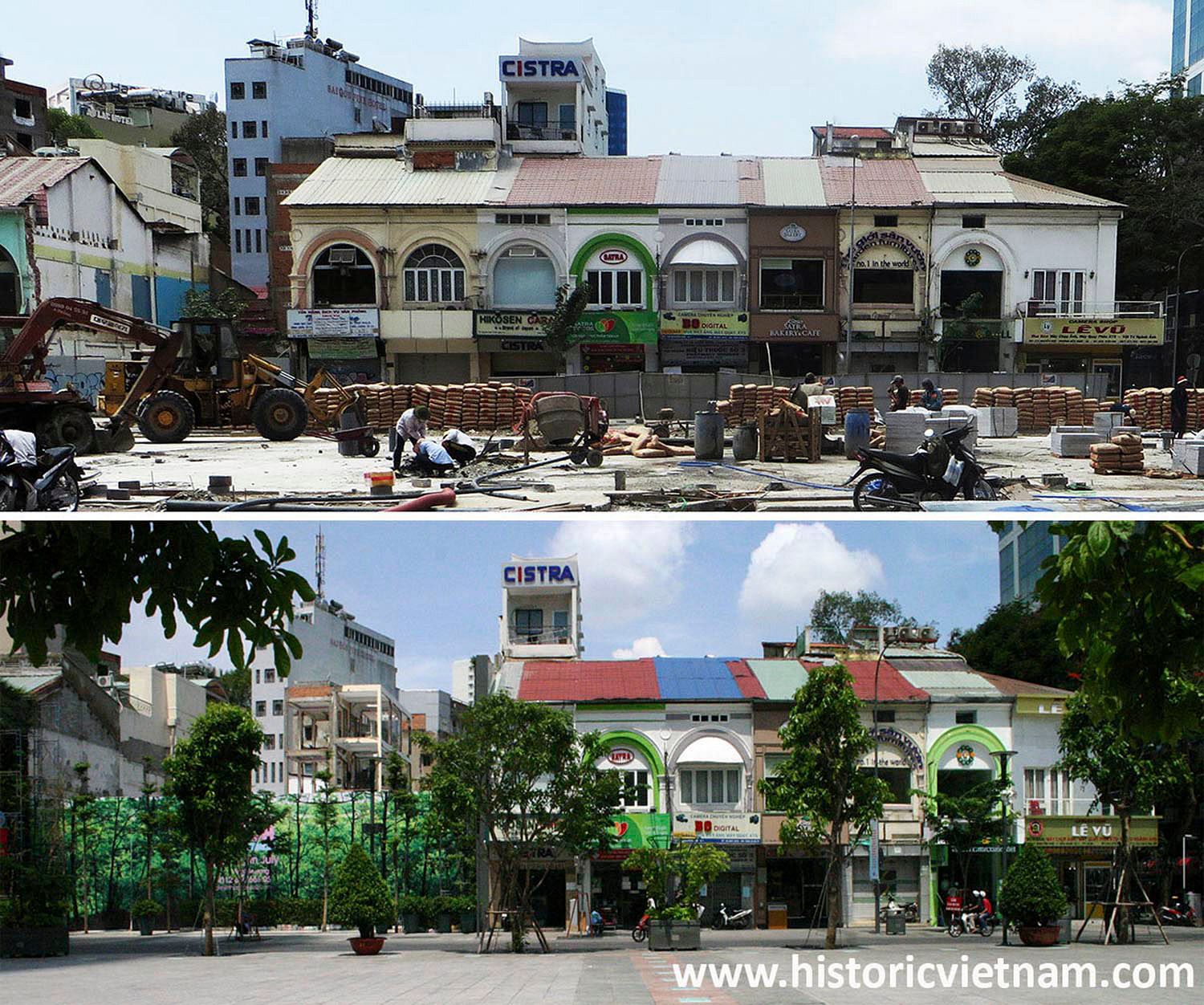 Until recently, one of the best surviving examples of two-storey shophouse terraces in District 1 was 85-113 Nguyễn Huệ, which conservationists had hoped might be refurbished as part of the project to pedestrianise that street. However, within the last two months, shophouses 89-99 have been demolished to make way for a new shopping centre and others are now expected to follow. See Shophouse architecture.
8) The Tax Trade Centre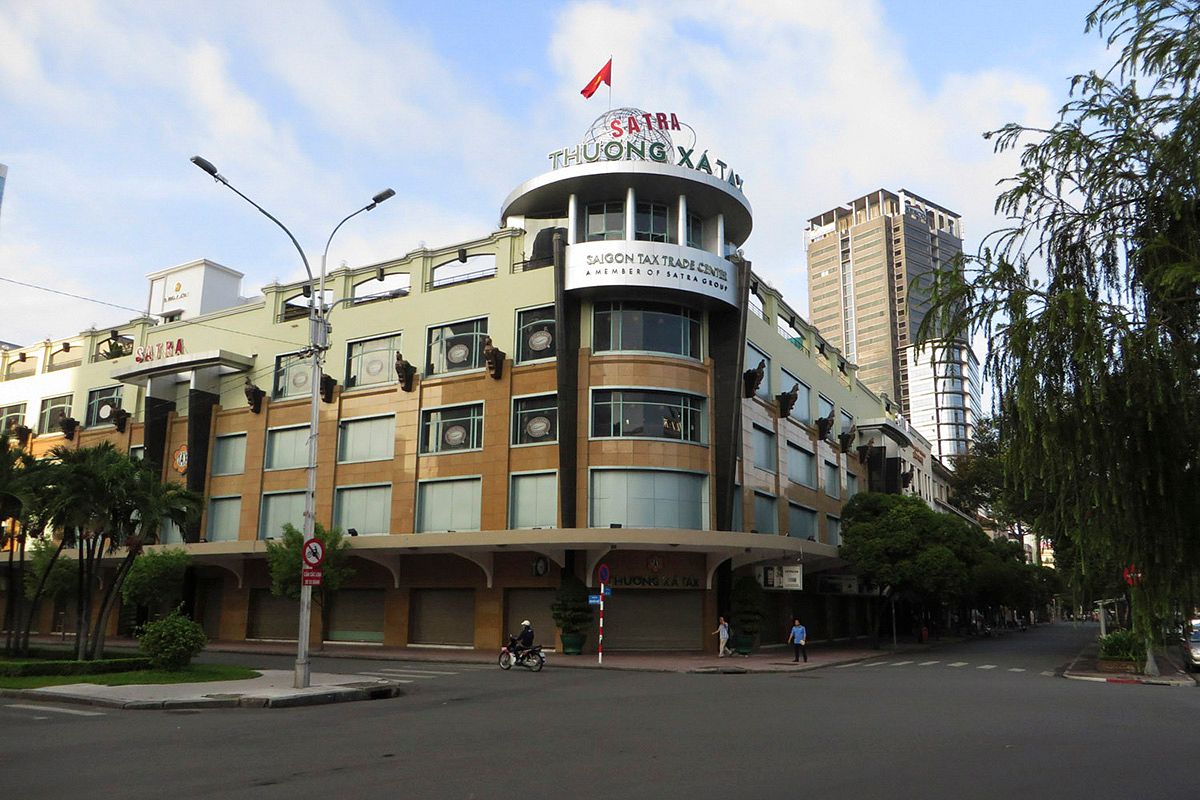 Yes it's that building again, the Saigon icon which we all thought had been partially saved. Back in January 2015, it was announced that the People's Committee had agreed to preserve the main external features of the original 1924 Grand Magasins Charner building in the facade of the new 43-storey tower block, and most importantly, to make a feature of its priceless mosaic staircase in the lobby of the new building. However, it now appears that this huge staircase must first be dismantled, removed and then reinstalled, a job which can only be carried out by conservation experts. To date, it is reported that the building's owner SATRA has made little progress identifying experts to carry out this complex and difficult work. See Saigon Tax Trade Centre.
7) 136 Hàm Nghi
Although the 100-year-old Saigon railway headquarters building at 136 Hàm Nghi has recently been refurbished and repainted, the site is still earmarked for redevelopment as offices and serviced apartments. This plan forms part of a co-operation agreement with Kinh Đô Land, as reported in the article "Thành lập Trung tâm ứng phó sự cố, thiên tai và cứu nạn Đường sắt," published in Báo GTVT on 20 July 2012. See also Vietnam Railways Building.
6) 606 Trần Hưng Đạo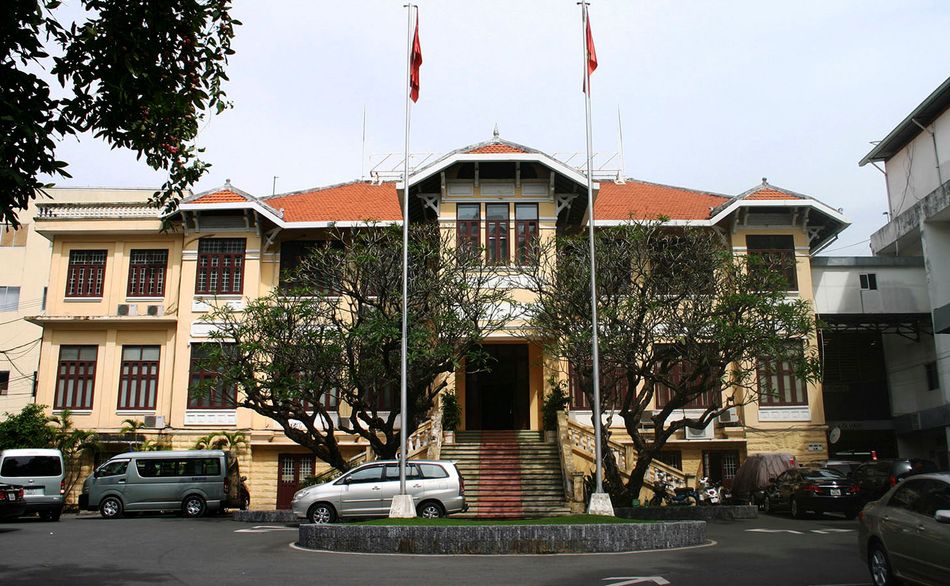 Originally built in 1932 for a state-franchised charity lottery company known as the Société pour l'amélioration morale, intellectuelle et physique des indigènes de Cochinchine (SAMIPIC), this grand villa was later used as a headquarters by the American (MAAG, MACV) and Korean armed forces. According to reliable sources, there are plans to demolish it and replace it with a new office block. See 606 Trần Hưng Đạo.
5) 164 Đồng Khởi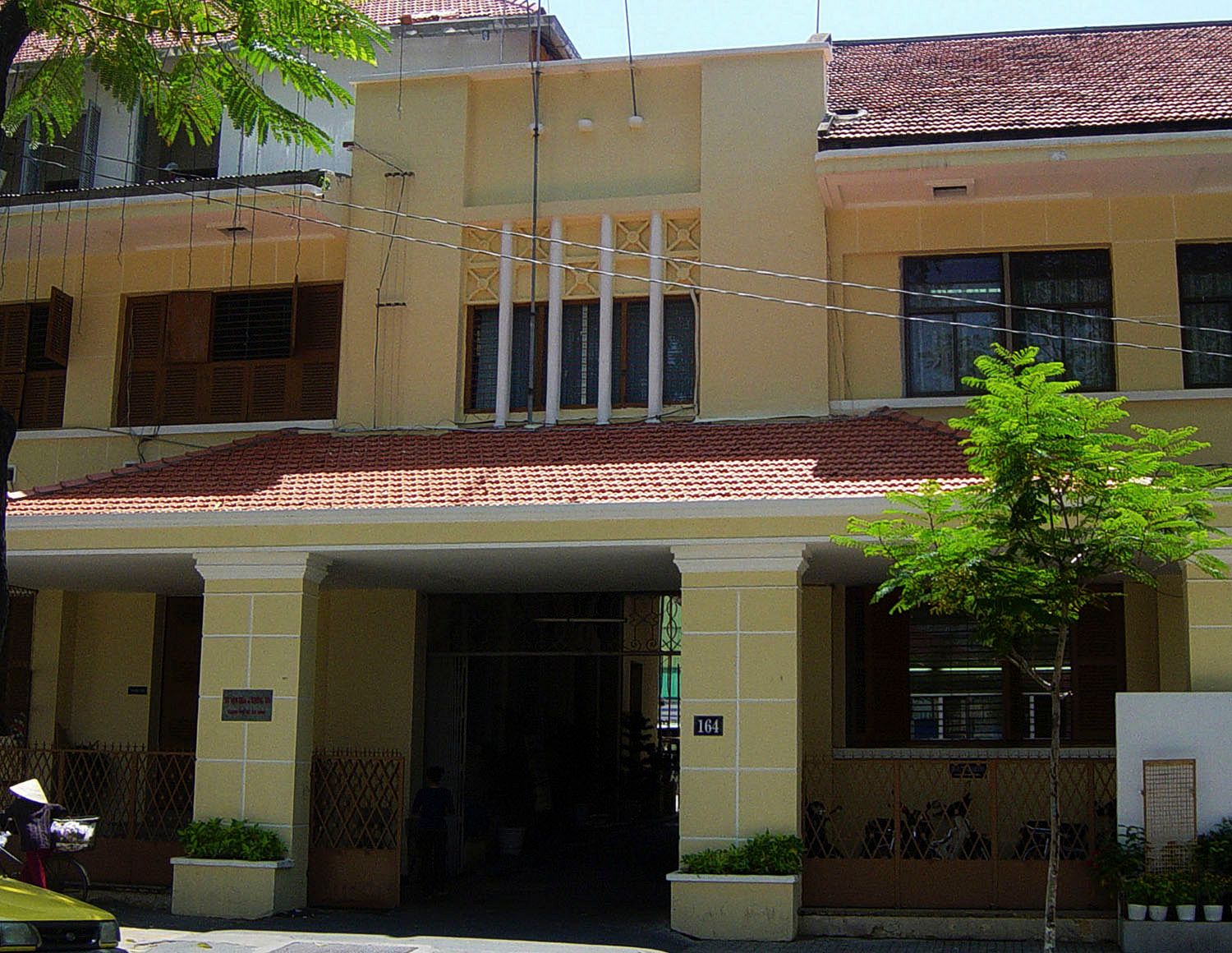 This art deco building stands on a piece of what is known as "gold land" (đất vàng) and has long been earmarked for demolition and redevelopment. Currently the headquarters of the Department of Culture, Sports and Tourism, 164 Đồng Khởi became the Direction de la Police et de la Sûreté as early as 1917, although the current building dates from a reconstruction of 1933. Many leading revolutionary figures were incarcerated and tortured in this building, which is known locally as the "Bót Catinat." It was also immortalised in Graham Greene's novel The Quiet American as the workplace of Inspector Vigot, the French detective responsible for investigating the death of American CIA agent Alden Pyle. See Bót Catinat.
4) 26 Lý Tự Trọng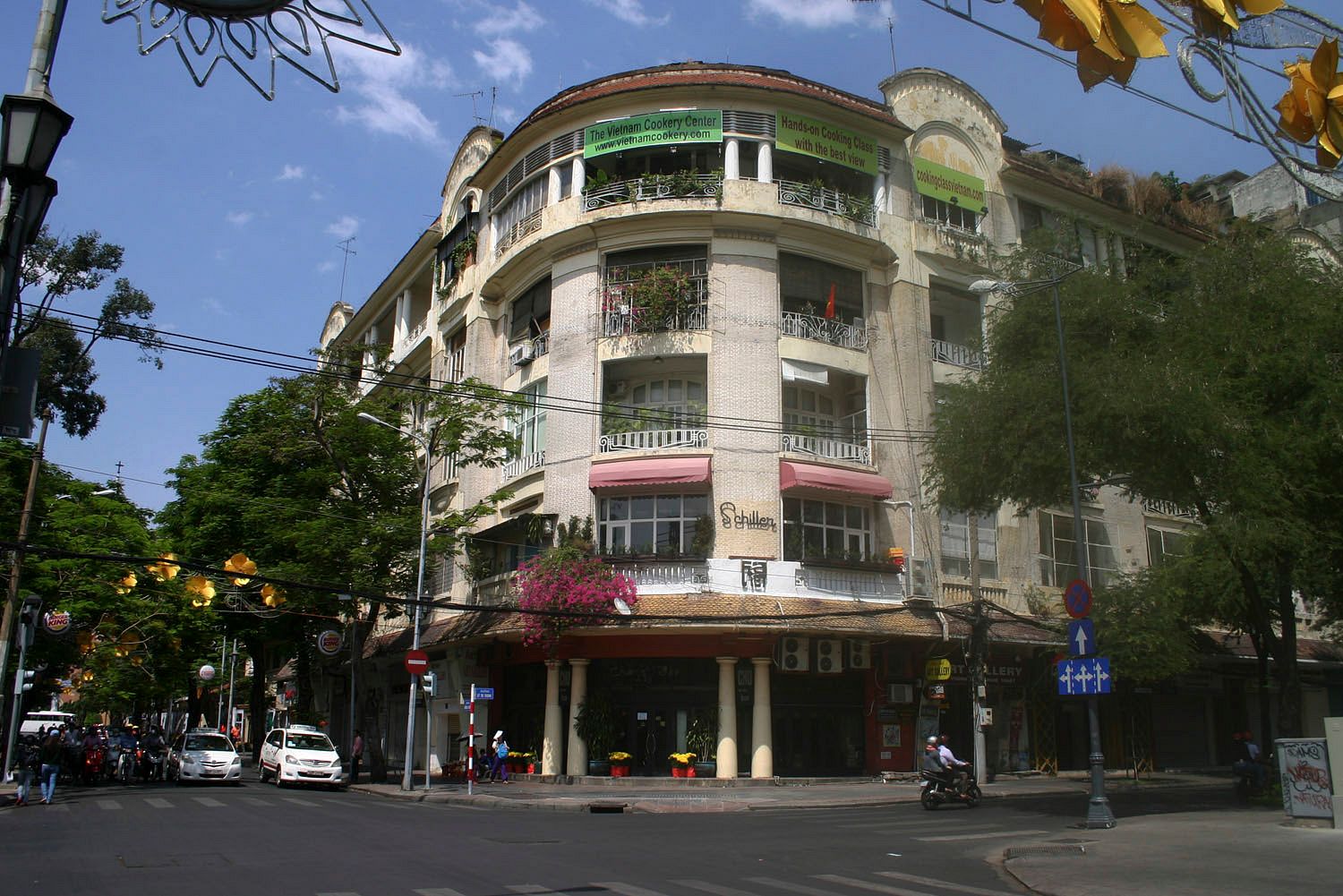 Like the "Bót Catinat," this much-loved art deco apartment block on the Đồng Khởi-Lý Tự Trông junction, known popularly as the "Catinat Building," stands on a "gold land" site and is thus awaiting demolition, although so far none of the current tenants have been given any information about when this will happen. It was built in 1926-1927 for the Société urbaine foncière Indochinoise (SUFIC), and over the last nine decades it has been known mainly for its up-market apartments. However, it has also housed numerous companies and foreign missions, including, during the 1930s and early 1940s, the United States Consulate. It was here on 23 November 1941 that the first recorded attack on American citizens in Việt Nam took place – a car bombing perpetrated by "Japanese gendarmerie" – which caused extensive damage to the Catinat Building. Just two weeks later, Japan attacked Pearl Harbor and all US diplomats were expelled from Indochina. See 26 Lý Tự Trọng.
3) 151 Đồng Khởi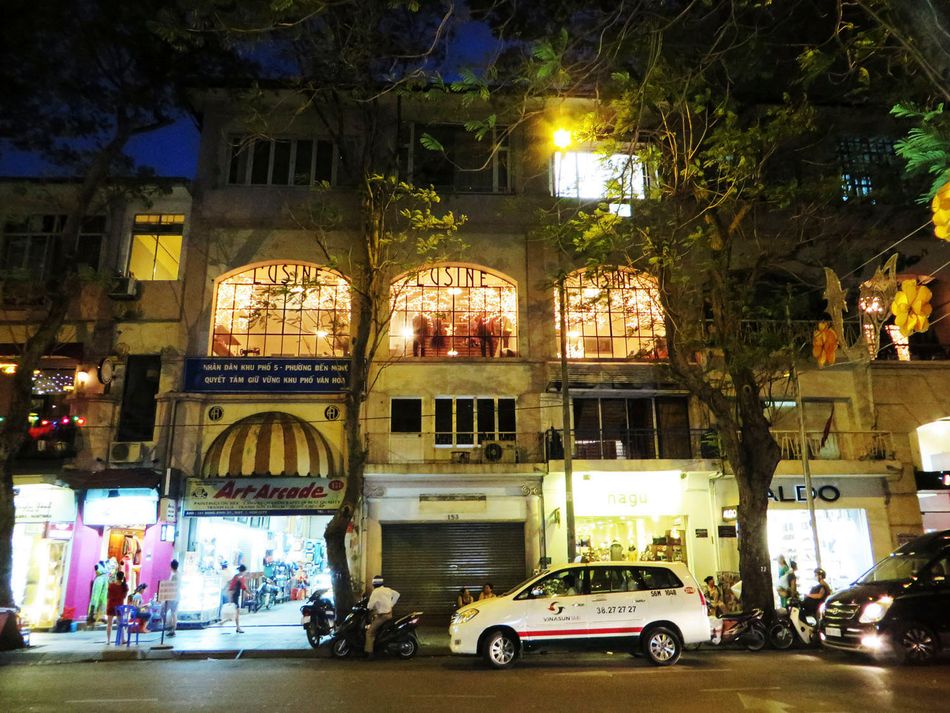 Earlier this year, it was announced that 151 Đồng Khởi, another old building on lower Đồng Khởi street, was also earmarked for demolition. While comparatively little is known about its history, this building would appear to be an early 20th century reconstruction of the former Grand Hôtel de France (1870s). By the end of the colonial period, its upper floors were rented apartments, while its ground floor was occupied by shops. A unique feature of the building is its arcade, in which a small film theatre known as the Catinat-Cine was installed in the 1930s. The old cinema building with its unusual mosaic wall decorations has survived to this day and may still be seen by customers as they make their way up to the building's principal tenant, l'Usine.
2) 59-61 Lý Tự Trọng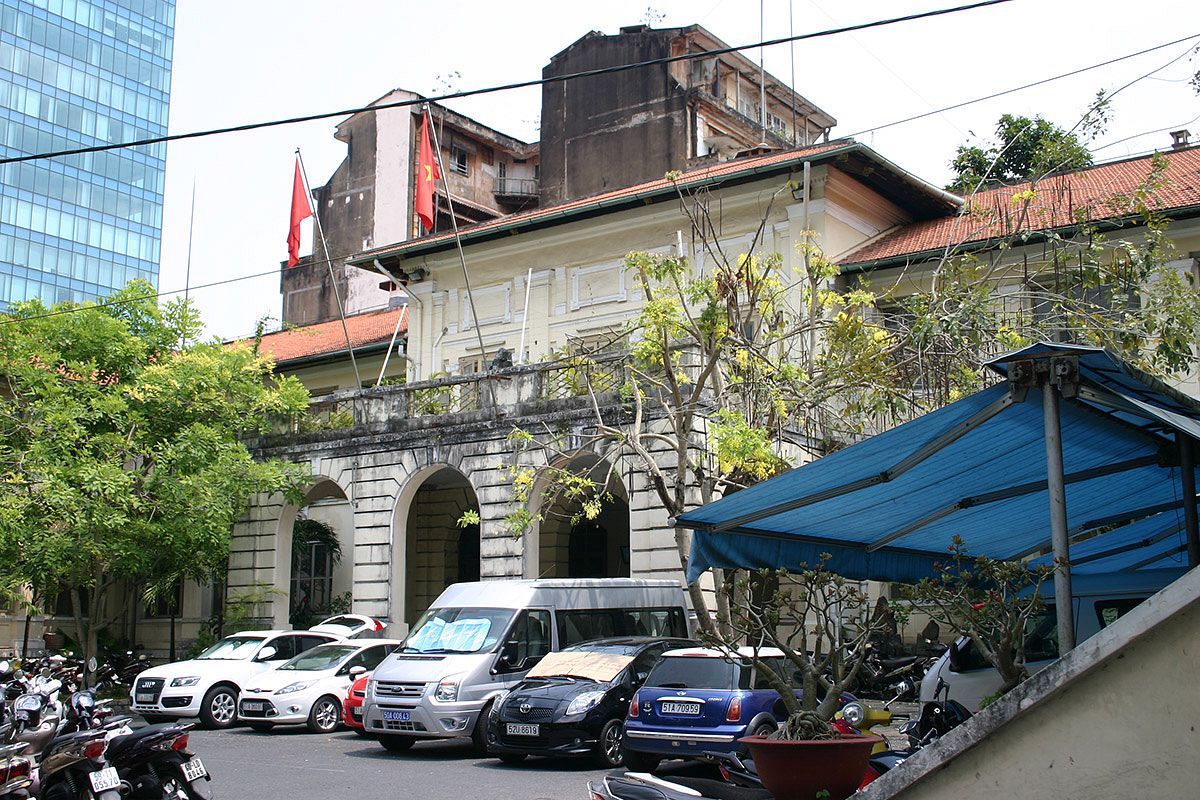 Here's another one which we hoped had been saved but are now not so sure about. Last year, perhaps responding to criticism of the destruction of the art deco apartment block 213 Đồng Khởi, the Hồ Chí Minh City People's Committee staged a design competition for their new administration building behind the Town Hall, encouraging submissions which incorporated the façade of the old French government building at 59-61 Lý Tự Trọng in the design of the new complex. Six months after 11 shortlisted designs were placed on display for the public to vote on, the winner still hasn't been announced. However, in an interview of 2 February 2015 with Saigon Online, Mr Nguyễn Thanh Toàn, Deputy Director of Planning and Architecture, unexpectedly disclosed that his department would give no first prize because "most of the submissions were of nearly equal quality," and then jumped the gun by intimating that his department's preference was for submission number 107. That submission envisages the preservation of 59-61 Lý Tự Trọng, but involves physically moving it around 500 metres, so that it is in line with the central axis of the People's Committee building! See 59-61 Lý Tự Trọng.
1) Ba Son Shipyard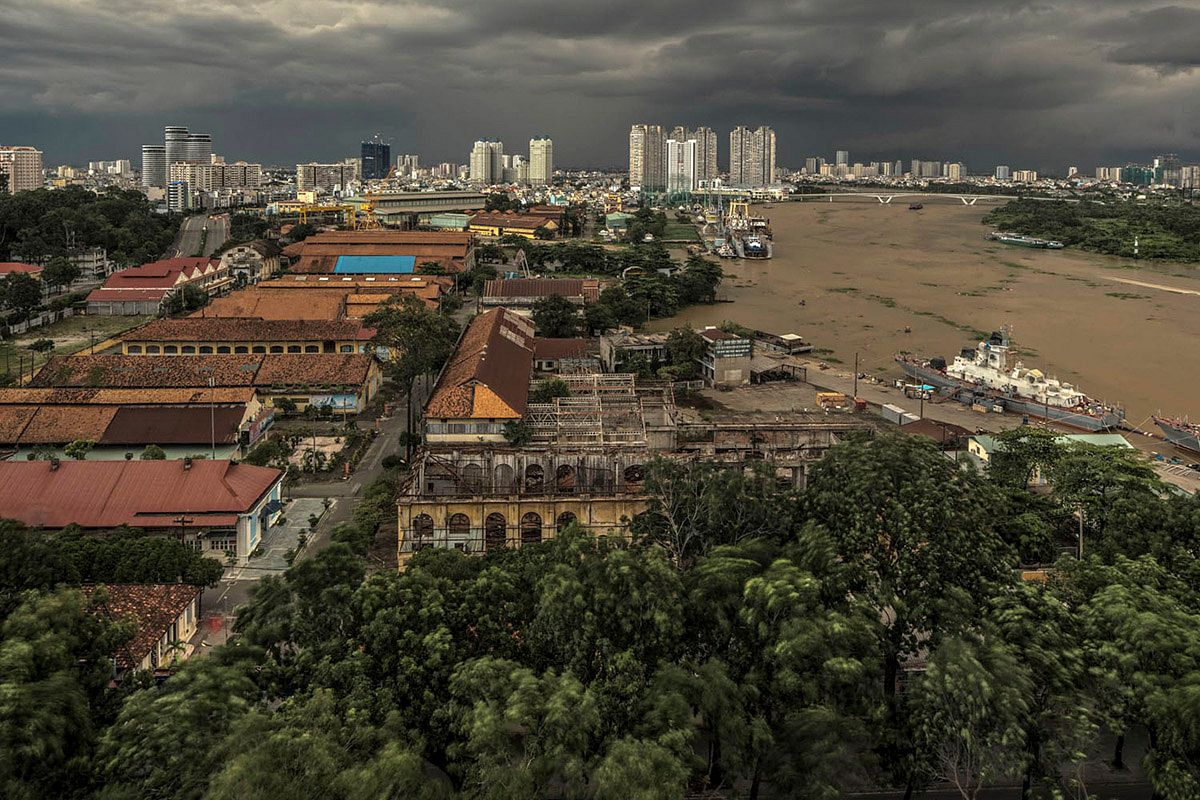 It's surely no surprise that this has gone straight to Number One – Ba Son Shipyard is Saigon's oldest and most important maritime heritage site, recognised by the Ministry of Culture and Information in 1993 as a National Historic Monument (Decision 1034-QĐ/BT). Over the years, several tourism experts have suggested that it could profitably be transformed into a important leisure and heritage complex along the lines of New York's South Street Seaport, but now it seems that it will be sold off to a South Korean investor for redevelopment into yet more office towers, apartments and shopping malls. See Ba Son Shipyard.
Tim Doling is the author of the walking tour book Exploring Hồ Chí Minh City (Nhà Xuất Bản Thế Giới, Hà Nội, 2014) and also conducts Heritage Tours of Saigon and Chợ Lớn - see www.historicvietnam.com.