If there's one thing you need to know about Vietnamese women in history, it's that they were badasses. From waging wars to avenge their husbands to throwing a grenade at enemy lines, countless Vietnamese women have proven themselves to be dauntless, sterling warriors on par with their male counterparts. This week's famous figure, Co Giang, is no exception.
Born Nguyen Thi Giang in 1906 to a family of seven in Bac Giang province, Giang is better known among her contemporaries by the affectionate nickname Co Giang (Miss Giang).
After completing her last year of high school, Co Giang and her younger sister Co Bac decided to join Viet Nam Dan Quoc, an organization for people who sought independence from French colonial rule.
In 1927, a Hanoi-based group of intellectuals established Viet Nam Quoc Dan Dang (VNQDD), a nationalist political party, and suggested that the two organizations merged due to their common goals and interests.
Through this merge, Co Giang met her fiancé, Nguyen Thai Hoc, who was the party's first leader. According to Nguyen Thai Hoc Foundation, in 1929, Co Giang's main duty in the party was making transportation arrangements, thus fostering frequent interaction with Hoc.
They quickly became an item after a visit to the Hung Kings Temple, where they confessed their love for each other. On that fateful night, Giang begged Hoc to give her a pistol and said: "If by any chance [you] die for our country, [I] will take this weapon and follow you."
At the beginning of 1930, French troops managed to capture many of VNQDD's party members and uncovered most of the organization's armories. Nguyen Thai Hoc summoned an emergency party meeting and decided to expedite the revolution at many locations in February 1930.
Co Giang and her sister were put in charge of transporting the party's weaponry from Phu Tho to Yen Bai by train. They disguised as street merchants selling fruits and rice, hiding grenades, blades and a plethora of guns in their bulky cargo.
Unfortunately for Hoc and Giang, the revolution failed, with Hoc and many of the party's executives captured, including Co Bac. Distraught but emboldened by the arrest of her fiancé and sister, Co Giang orchestrated a daring plan to break into Hanoi's Hoa Lo prison to free Hoc and her friends.
However, Giang didn't have a chance to execute the jailbreak because by June 1930, Nguyen Thai Hoc and the other captives had already been transported to Yen Bai for execution.
She caught the first train to Yen Bai that day, bringing along the pistol and a grenade, with the intention to foil the execution plan. Alas, the guards didn't let her in.
On the execution day, Co Giang stood among the curious crowd of passersby, witnessing her fiancé and friends killed by the very enemy they were supposed to have conquered.
The next day, Giang went back to Tho Tang village in Vinh Phuc, Hoc's hometown, to bid adieu to her in-laws. She gave her favorite watch, embossed with a small letter "G", to Nguyen Van Lam, Hoc's younger brother.
After leaving the village, where she once lived with Hoc and his family, Co Giang stopped for a bowl of green tea at a small tea house. Under the canopy of a huge banyan tree on the side of that street, she took out the pistol Nguyen Thai Hoc gave her that day at the temple and shot herself in the head.
Today, in Saigon, Co Giang and Co Bac are two parallel streets in District 1's Co Giang Ward. Both these short, quaint streets cut Nguyen Thai Hoc Street, as if mirroring their namesakes' fateful encounter in 1927.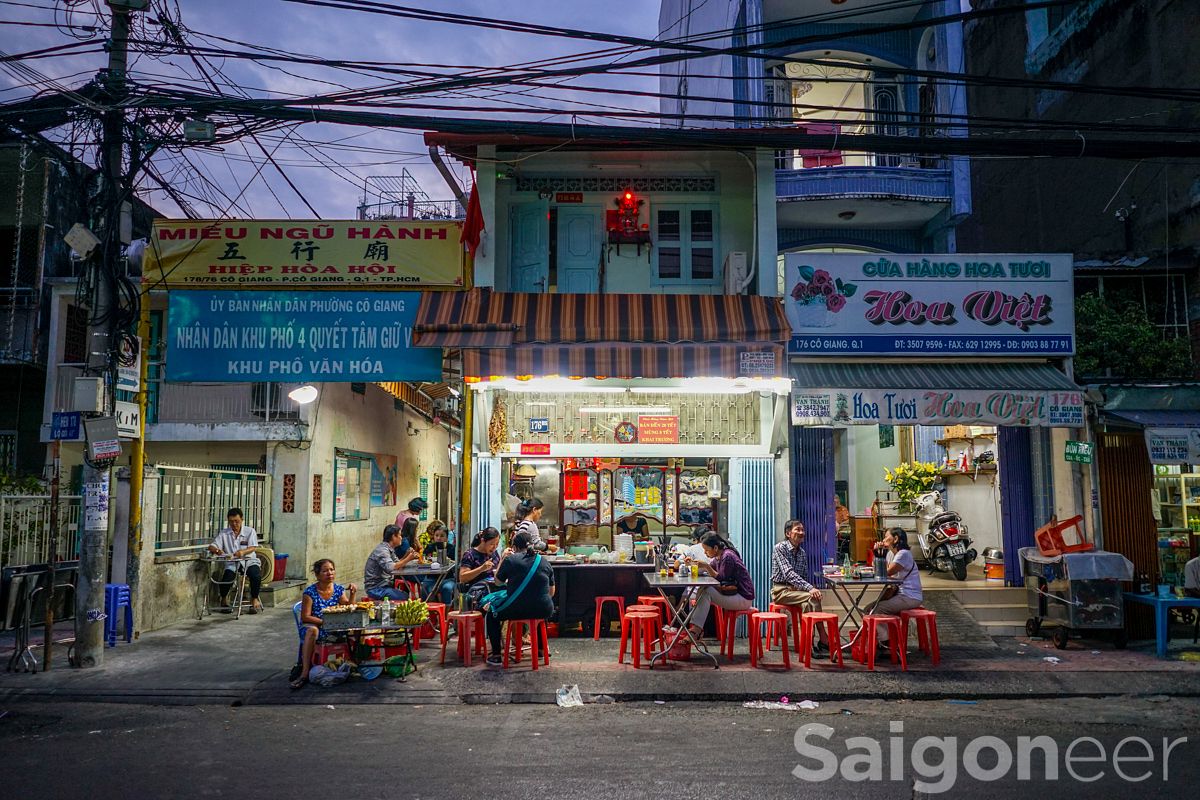 ---

Related Articles:
---