A painting by renowned Vietnamese artist Nguyen Nam Son recently fetched 440,000 euros at an auction in Paris.
As Tuoi Tre reports, Nguyen Nam Son's 'Thieu Nu Cam Quat' (Tonkin Girl With a Fan) painting was put up for sale by French auction house Aguttes on Monday, October 22. Prior to the event, the silk painting was estimated to be worth 50,000-80,000 euros (VND1.3-2.1 billion) in value. Therefore, the final price of 440,000 euros (VND11.7 billion), Son's personal best, shocked everyone.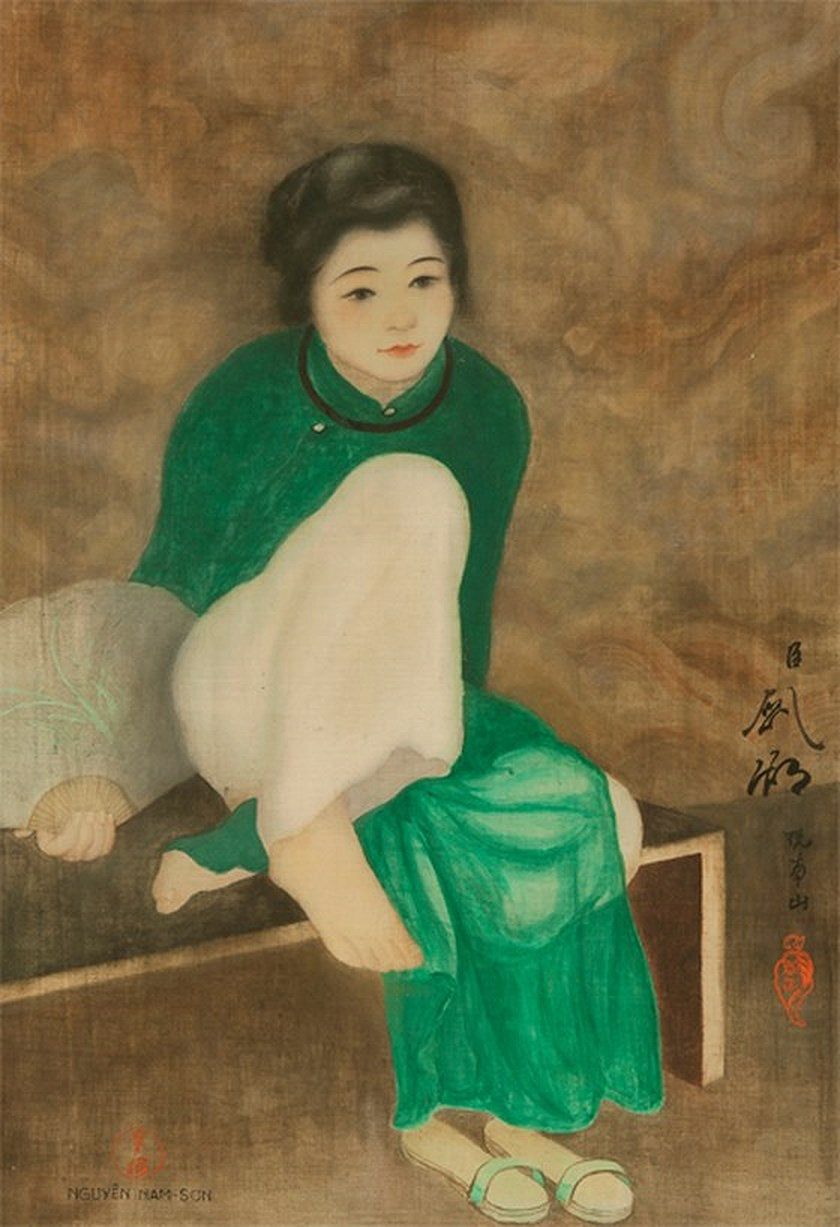 Art researcher Ngo Kim Khoi, who is also Son's grandson, shared with the news source that the record-breaking price is a good sign that the international art industry is paying more attention to Vietnamese and Southeast Asian art. "This is a pride for the artist and his family in particular, and for Vietnamese art in general," he told Tuoi Tre.
Nguyen Nam Son, whose real name is Nguyen Van Tho, was born in 1890 and co-founded the Hanoi School of Fine Arts in 1924. Son is considered the father of silk painting in Vietnam, despite only acquiring the skill in 1928 in China.
'Thieu Nu Cam Quat' depicts an aristocratic woman sitting on a settee while holding a paper fan. Unlike similar paintings from the same period, which usually portray characters from lower classes of farmers and peasants, the female subject in 'Tonkin Girl' wears an intricate green áo dài with an elegant hairdo, suggesting that she might hail from a wealthy family.
Before the auction, the 61.5cm x 43cm silk artwork belonged to French military official Fernand Maller, who was stationed in Hanoi between January 1936 and April 1938. It's estimated that Son painted 'Tonkin Girl' in 1935-1936. After Maller came back to France, it stayed in his family.
Back in March, another work by Nguyen Nam Son, titled 'Thon Nu Bac ky' (Peasants of Tonkin) also sold for 205,000 euros (VND5.7 billion) at a Paris auction.
[Photo via SGGP]
---

Related Articles:
---