Nguyen Nam Son's silk painting 'Thon Nu Bac Ky' (Peasants of Tonkin) sold for 205,000 euros (more than VND 5.7 billion VND) which far exceeded its expected price of 35,000-50,000 euros.
The auction, which was held by the Aguttes auction house, took place yesterday afternoon, featuring 73 paintings, 19 of which were from Vietnamese painters including Le Pho, Mai Trung Thu, and Vu Cao Dam. A majority of the paintings sold for more than their estimated values, including one by Le Pho that reached €300,000.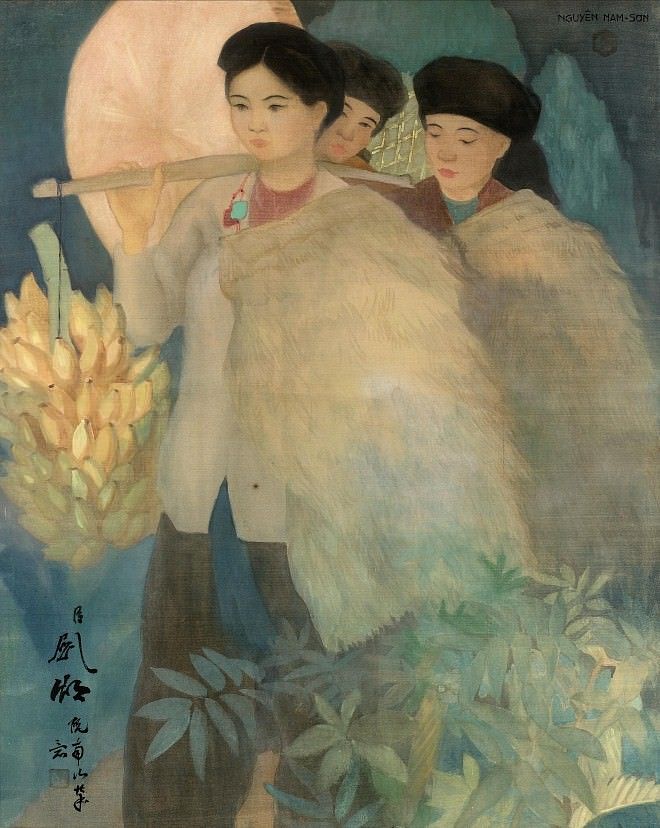 Nguyen Nam Son (1870 - 1937), whose real name is Nguyen Van Tho, is one of the most renowned and influential Vietnamese painters of the 21st century. During his nearly six-decade-long career, he painted more than 400 pieces and was a co-initiator of the Indochine Fine Arts College in Hanoi which trained some of the country's most important artists including the other painters featured in this auction.
'Thon Nu Bac Ky' depicts three women working during banana harvest. Clad in traditional clothing, the women are surrounded by the lush, green and turquoise scenery typical of Northern forests. Their expressions exude both delicacy and determination. The 65cm x 52.5cm ink on silk painting combines common "Asian heritage" with "Western teachings," according to the auction's official guide.
This work, completed at the end of the painter's life in 1935, is important in part because of its medium. Nguyen is considered the forefather of silk painting in Vietnam, even though he did not learn the technique until 1928 while studying in China. Researcher Ngo Kim Khoi notes "though he did not specialise in silk painting, the audience can see delicate lines on the painting. The colours seem to go through the texture of the silk background."
The painting had been held in a private Hanoi collection for the past 50 years. The identity of its new owner has not been revealed, but it is unlikely it was sold to a Vietnamese museum or will be available for public viewing by Vietnamese audiences anytime soon.
[Top photo via The Thao Van Hoa]
---

Related Articles:
---