Nestled above inpages in Thao Dien, a new print studio is offering artists and other creatives a new way to express their ideas and visions.
Kho Muc is the brainchild of a team including Long Dang and Simon Phan, who have been responsible for other creative endeavors such as Saigon Artbook. The name of the studio is a play on Vietnamese words, as it means both 'dry ink' and a squid snack served with sidewalk beers.
"The website also ends in .me, which means to dip with tamarind sauce," Phan tells Saigoneer. "That conversation was hilarious to us, and we went with it." The studio's logo, meanwhile, is a playfully depicted squid. The Vietnamese word for "full stop" is chấm, which is a homonym for "dipping"; me means tamarind, the main ingredient for the squid snack's sweet and tangy sauce.
Kho Muc stands out from standard print shops thanks to its use of riso, a type of ink derived from soybeans. According to Phan, this type of ink was being used by a printing service in Hanoi, but only for commercial purposes, such as wedding products or school exams. He and Dang wanted to see what it could do for art.
"Riso is much cheaper than digital prints and offset prints," Dang explains in an email. Kho Muc offers minimum print runs of just 10 copies, while offset prints at other shops have to be over 500 copies.
"And every time you print, the color will be different because their ink supply is not stable thanks to cheap ink, and every shop will result in different colors too," he adds. "Also, they usually only have two types of paper you can choose from; therefore the result is not beautiful."
Riso, which prints different colors through layered printing, is more consistent. According to Dang, "If you remember the setting and file, the result will be very much the same every time you print, and the result is very different from digital prints, with colors that digital doesn't have like silver, gold or fluorescent pink."
The versatility of riso was on display one morning when Saigoneer visited the studio. Pens, leaves and rulers are not items normally associated with printing, but these objects, along with others, were used to create a print layered with blue and pink ink.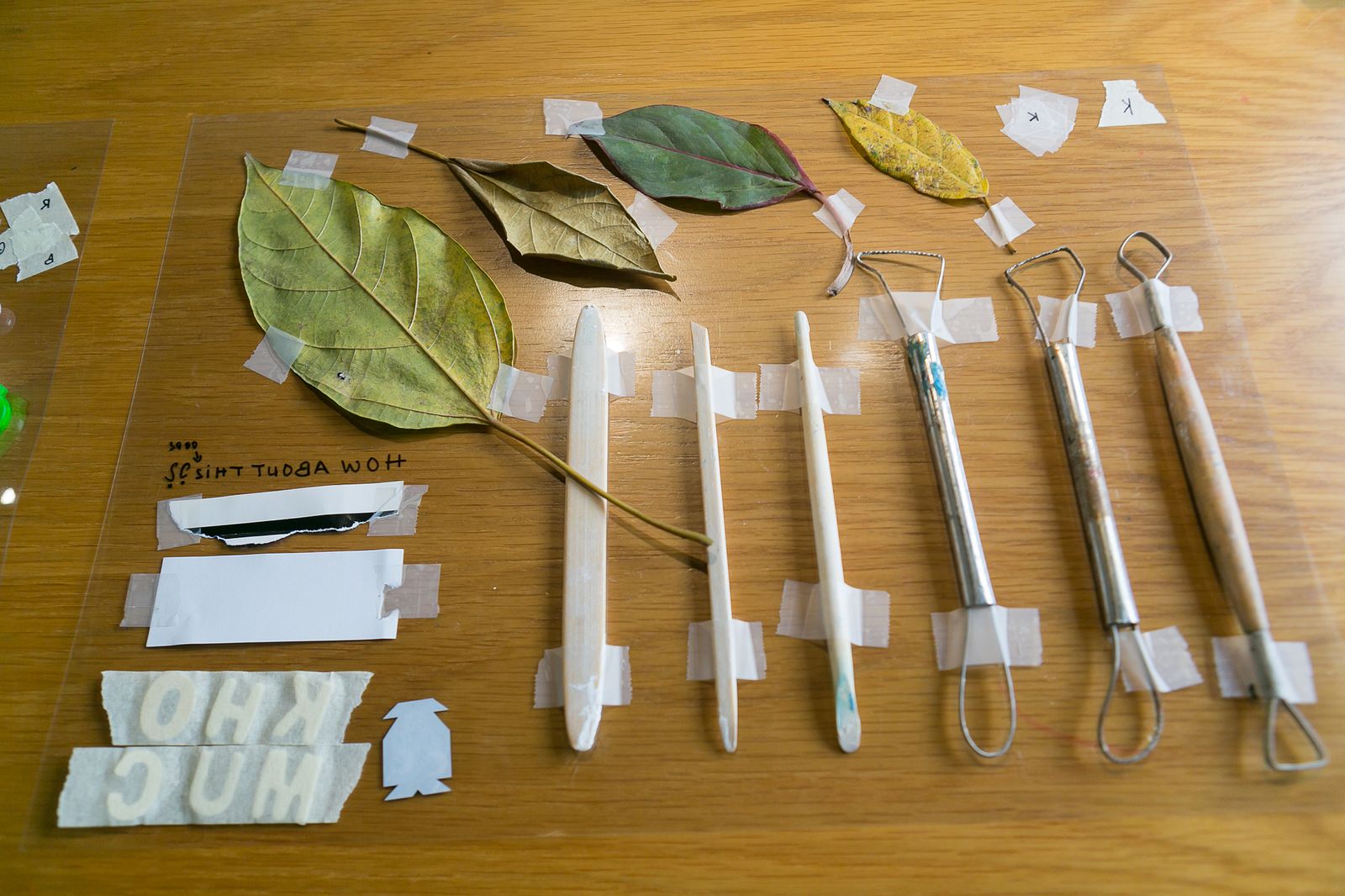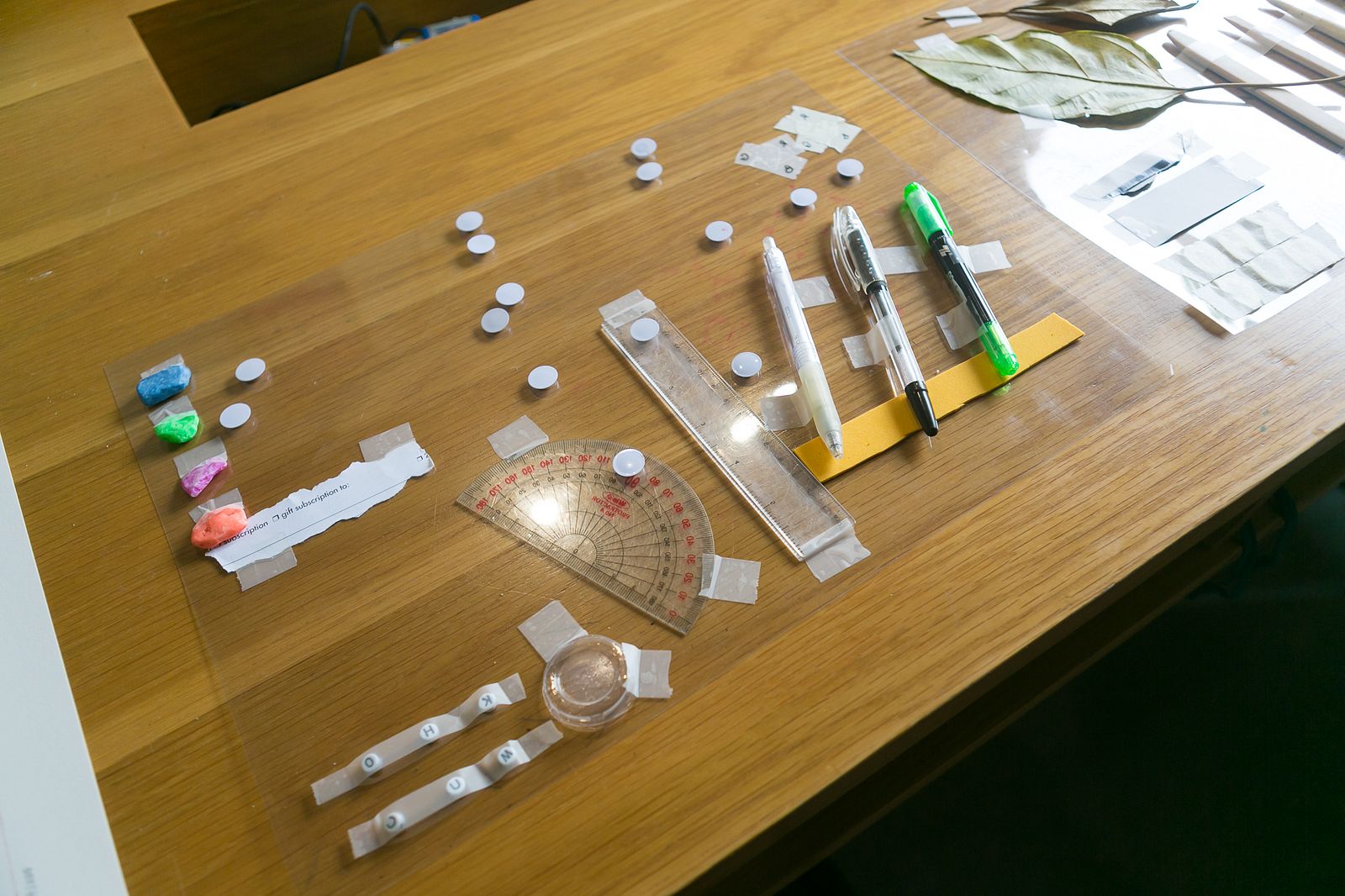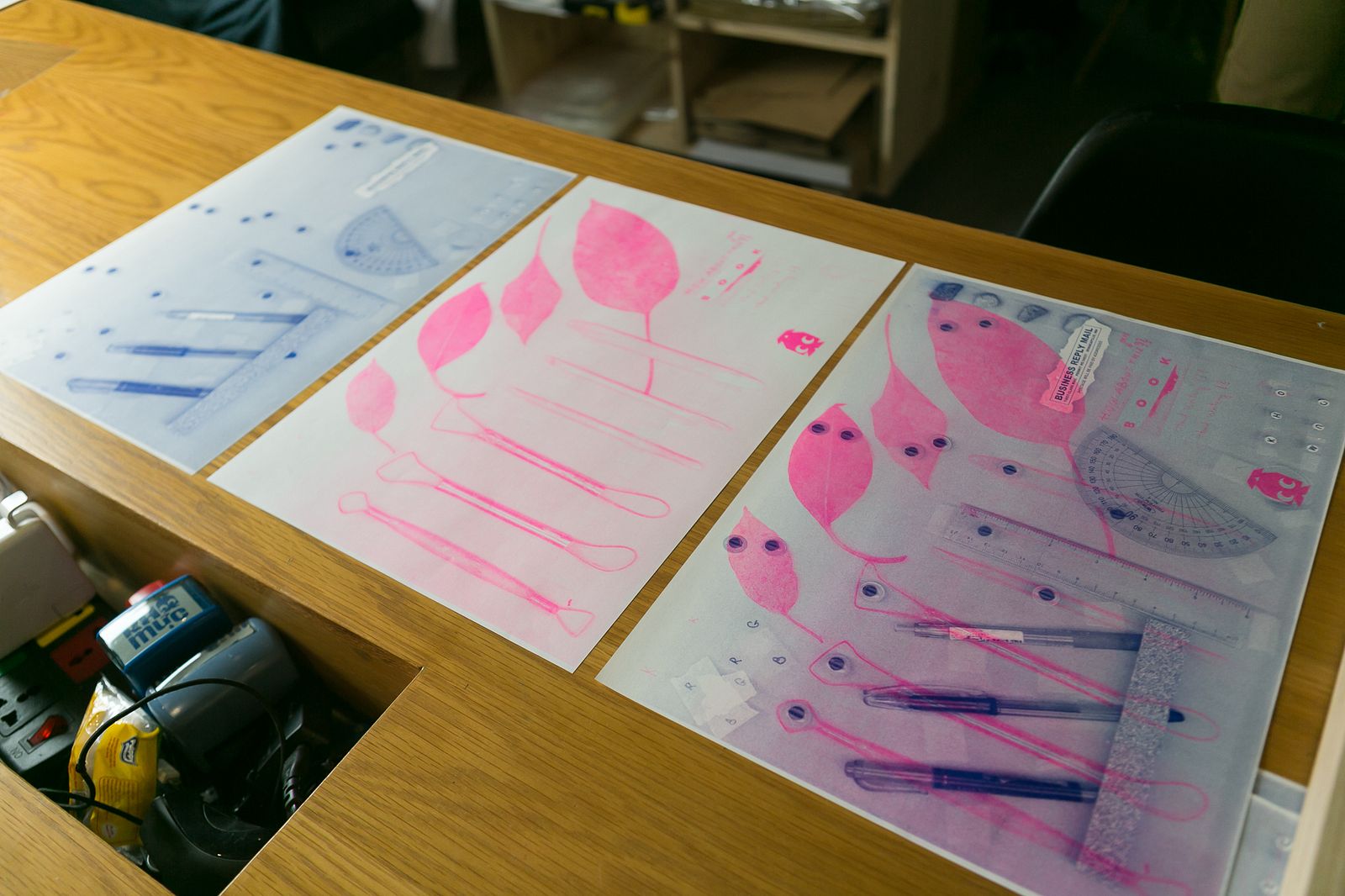 These colors require the changing of ink rolls in the printer, a process similar to loading an artillery shell into a cannon.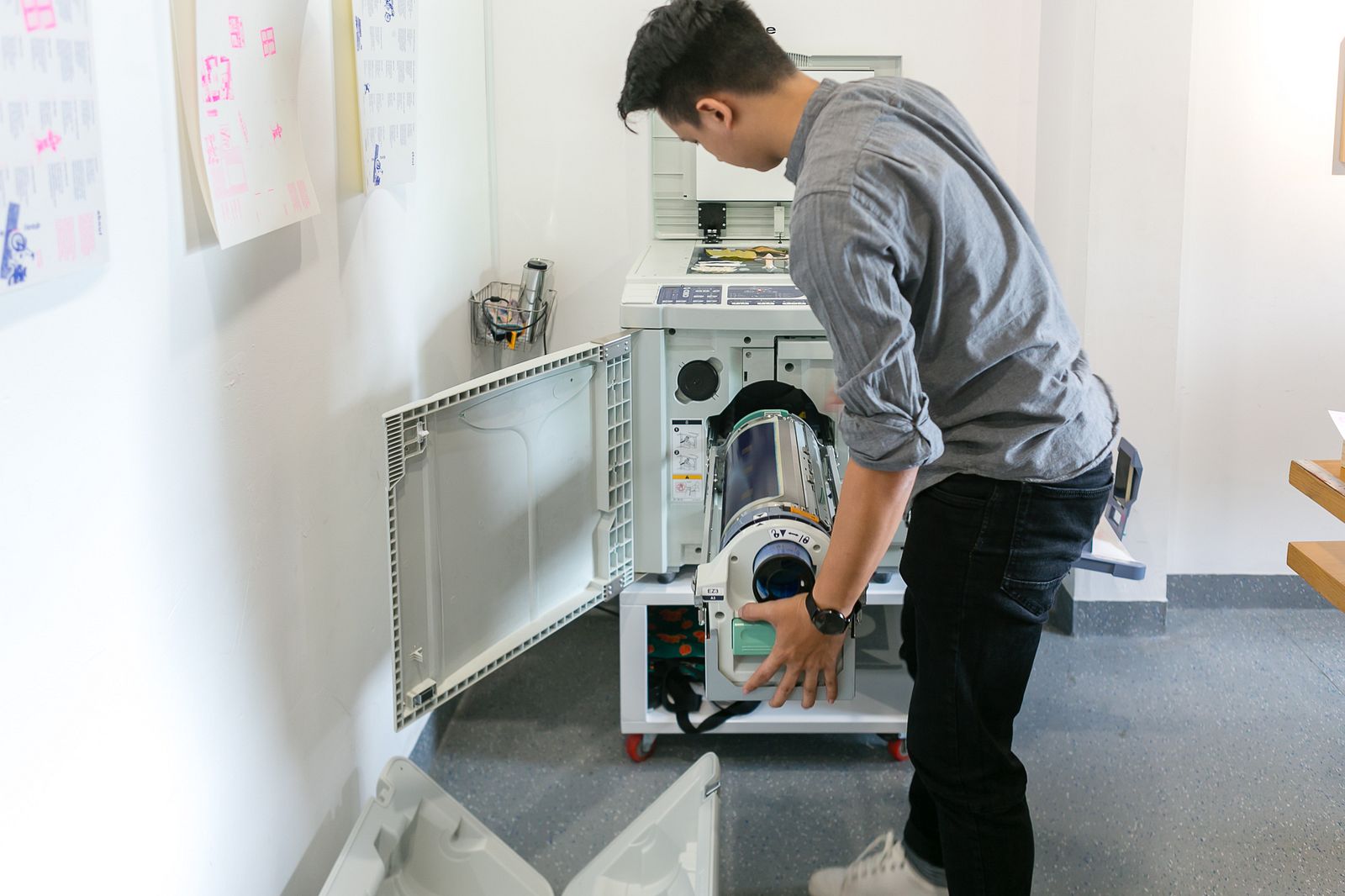 Phan explains that they wanted to make a splash in the art world with Kho Muc, so they asked local and foreign artists based in Saigon to contribute designs based on the squid theme for the first set of prints. Twenty-two artists took part.
"The benefit we want to give them by doing something creative for us is that their artwork will be the first in Vietnam to try riso, and they got to keep 10 out of 100 limited prints," he says. "We also introduced a print swap culture for local artists, so say you have a print and you want to swap with other artists, you can do that."
Lys Bui is one of the artists who participated in this first run. "I hadn't had a chance to experiment with riso print before," she says in an email. "I only practiced silk-screening for my works and illustration, and I was excited to try out this new printing technique."
The colors created by riso are what stood out for her, thanks to their vibrant, raw nature.
For Dang, colors are the most important aspect of riso printing. "This process forces the artist to create work based on the riso colors that we have and be creative in how each layer of color overlays to create new colors and effects. This is more interesting than the traditional ways of four-color printing, which I call 'lazy printing'."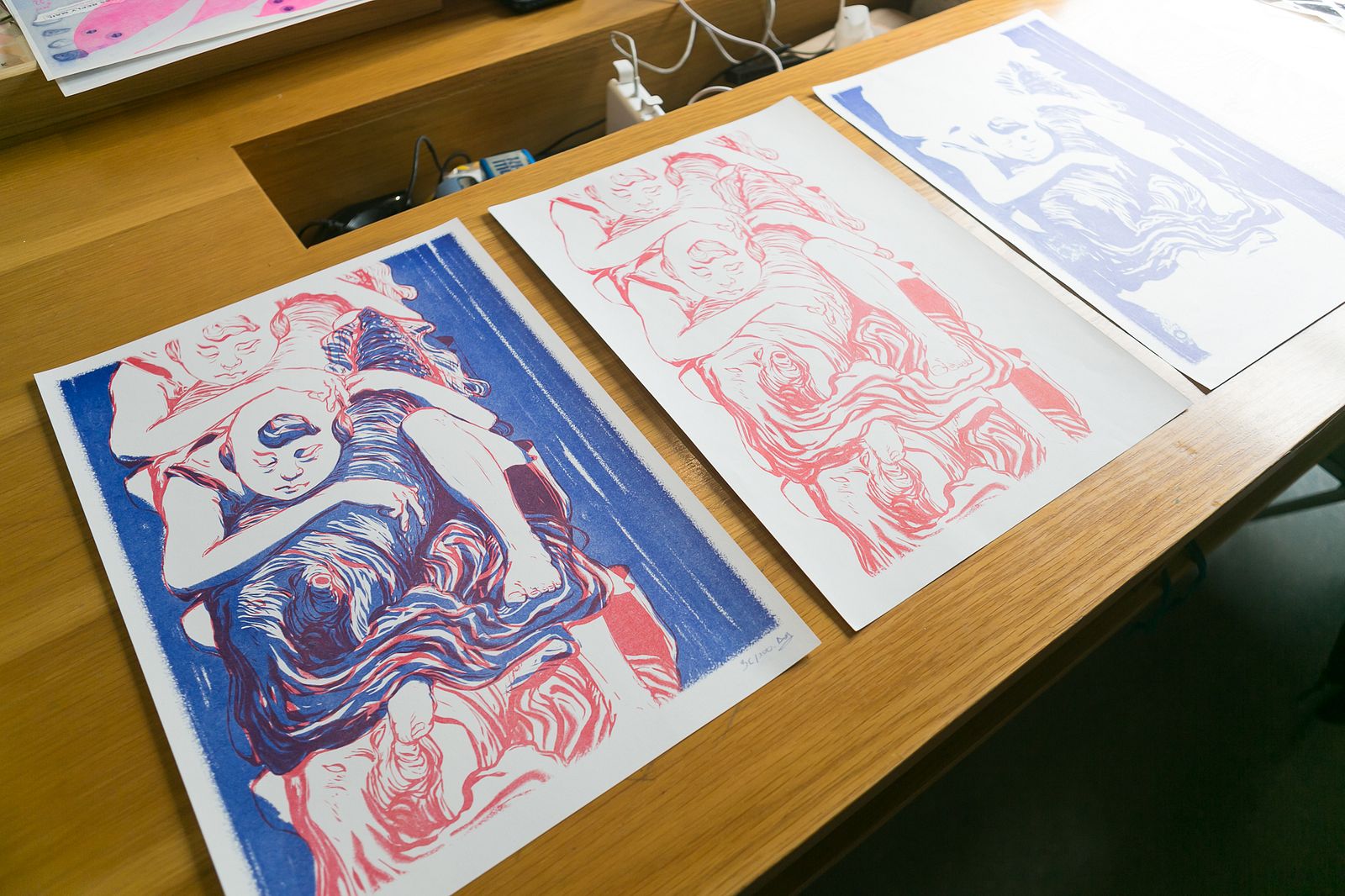 Phan elaborates on this creative process: "It helps designers to understand more of their design process as well, so instead of doing whatever they want to create their final artwork, now they have a system. So let's say after they have the final outcome, they have to clean up their file, so I think that shapes the design principles as well. It helps designers to design better."
Moving forward, the team behind Kho Muc has plenty of ideas on how to further utilize riso. "We want to do a lot of talks, shows and workshops to educate creatives in Saigon about the technique first, since it is still quite new to most people," Dang says.
They will also print projects in partnership with inpages, for example a poetry zine intended to raise awareness of mental health in Vietnam, as well as an art map of Saigon. Dang also hopes to connect with riso studios around the world in an effort to create further collaborations.
Phan, meanwhile, explains that they will also explore commercial opportunities, especially with environmentally conscious businesses since riso ink is much more sustainable given its soybean base.
"We're looking into creating name cards, or maybe restaurant menus or placemats," he says.
Suffice to say, we can expect to see plenty of creations flowing out of Kho Muc's studio in the future. As Dang says, "There are so many things we want to do!"
Kho Muc Studio is located at 4 Le Van Mien, Thao Dien Ward, D2.
---

Related Articles:
---