Should art be luxurious or cool? Should it be for the masses or limited only to the educated elite? Should it be displayed only by established galleries or be exhibited in various venues around the city?
The group of people accessing art in Saigon is quite limited. I often go to art events, galleries, artists' talks and it seems that it's always the same group of people who go to these events. I know beforehand whom I am going to see if I attend an artist's talk or who I will meet if it is a gallery opening. It's still uncommon for the general public to just pop into an art space, whatever that is, to check out what is going on. There are many reasons for it, but I belive that the lack of public art and street art doesn't help to break the 'barrier'.
Since there is still a long way to go before public art and street art will surface here, making art circulate and 'live' in different environments is vital for involving the society, inspiring new artists and reaffirming the value of being an artist.
The "Saigon Artbook" project was born from a desire to widen access to art. The organisers want to celebrate art in its purest form and reverse the tide of over-intellectualism (often, rightly or wrongly, perceived about art), away from academic environments and marketable approaches.
The project consists in releasing a free art book which will be published on a quarterly basis and will contain many never before displayed works by three artists based in Saigon and its surrounding areas.
The artwork in the book is completely untouched; it's not disturbed by captions or page numbers. Art books in Saigon are scarce and this is a brilliant way to publish works that would not otherwise be available in print.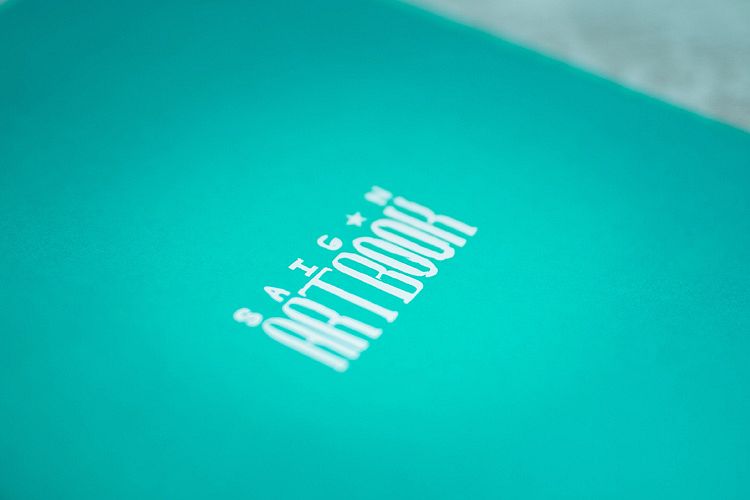 Each book launch is accompanied by a party that takes place in a casual and sociable environment, where the artwork is available to the public who can also meet the artists.
The first party will be on Thursday, 17th of October at La Brasserie de Saigon. The first artists to join the project include the very talented Truc-Anh, Sandrine LLouquet and Ayano Otani.
I had the chance to interview Ayano Otani to find out how the collaboration with the Artbook started and what her thoughts about art and exhibitions in Saigon are.
She seems to have a very free-spirited approach about her role as an artist, telling me that the only thing she wants is, 'to communicate with people and see their reactions when they see my work. I don't care about selling them [the drawings] or making money. I would like to make people excited when they see art. Sharing these feelings creates a kind of connection between people'.
She was asked almost a year ago if she was interested in taking part in the project which she agreed to immediately, 'shortly after that I had my first exhibition in Saigon at decibel Lounge where all my drawings were sold out. That meant that I had to make 14 new pieces for the Artbook. It was a long job because I can only draw when I feel something strongly. I cannot draw a table or things in general. I usually draw my friends or people who provoke some emotion. Then I mix my imagination and perception for the subjects with real life.'
Ayano has also recently completed a graphic project for the club Lush.
Truc-Anh is a French artist living in Saigon. He has done solo and group exhibitions in various cities in Europe and last year he had his first solo exhibition in Vietnam at Gallery Quynh (Saigon).
He has worked with a variety of media, such as drawings, photography, installations, videos and sculptures.
Vietnamese-French artist Sandrine Llouquet has been based in Saigon for eight years. Her first exhibition in town was in 2005 at Gallery Quynh, where later she would go on to do three more solo exhibitions.
Her work includes drawings, watercolors, neon-installations, flash animations, among others.
One essential element in any type of art form is its presence in time and space as well as its unique existence at the place where it occurs. The Saigon Artbook initiative promotes this element by allowing the public to view and experience art in Saigon that is happening now.
The 'Saigon Artbook' is a non-profit project that was made possible from the enthusiastic support of:
La Brasserie de Saigon, Café' RuNam, Lam Boutique, La Creperie, Pacorini Vietnam, Peroni – Italy, Saigoneer, AsiaLIFE, Oi Magazine, Barcode and Pose.