A child's imagination is pure, unpretentious, unique and unconcerned with other people's judgements or views. As we get older most of us tend to loose these qualities, often because there is an untold agreement that makes us associate growing-up with being serious and disciplined, all at the expense of playfulness, dreams and fantasy.
Some of us spend our lives in a constant search for happiness, for pure beauty and joy, trying to unlock the mysteries behind them; often this search is outwards, rarely inwards. Somewhere along the line we have forgotten to attain pleasures from the magical worlds and fantasies inside of us that made us happy during our childhood.
In the current exhibition 'Monsters, Creatures and Things', illustrator and graffiti artist Kristopher Kotcher's artistry resides exactly in this – freely exploring his imagination from which magical worlds and characters come to life, "as we get older the less we use our imagination. Since I was a child it has always been my escape from reality for me, so now I would like it [my work] to be an escape back to childhood for the viewers."
In the show we can see old and new neon paintings, digital and water colour paintings, in which his 'classic' characters develop and change personalities through various fantasy realms sprung from both his personal background and his favourite books, "when I was a child I started to copy characters from my favourite cartoons, such as Dr. Seuss, then I developed my own and I began to create various worlds for them to inhabit. I always liked the bad guys from those books because I found that their appearances, the way they were drawn were more interesting, but even my 'monsters' are really good monsters. This is because I want to make my work accessible to everyone adults and children. I do not want it to be too dark or political, for instance".
---
Related Articles:
Artist Spotlight: Yanneth Albornoz
Artist Spotlight: Landon Nguyen
---
In other pieces a touch of today's life can be seen, for example in "Selfie" - the habit of constantly photographing ourselves and sharing the results on social media - an in others again the artist's vision of his own home which is represented by a house with legs, eyes and mouth and his favourite character going around carrying a hobo sack.
Kotcher was raised in Austin (Texas) where he spent twelve years working on graffiti letters and collaborating with other artists. This is where his artist name 'Frenemy' comes from, "some people either love or hate street art, so 'Frenemy' seemed perfect. That experience gave me the opportunity to reach a broader audience which then lead me to make posters for music bands. I believe that was the moment in which I realised for the first time that I could make a living out of this."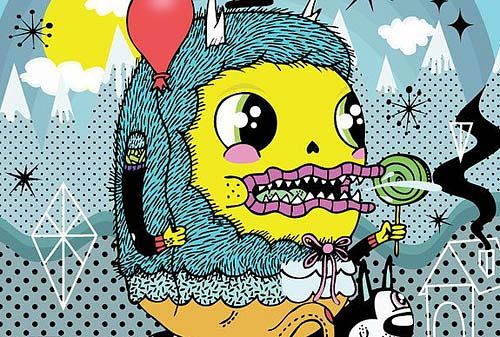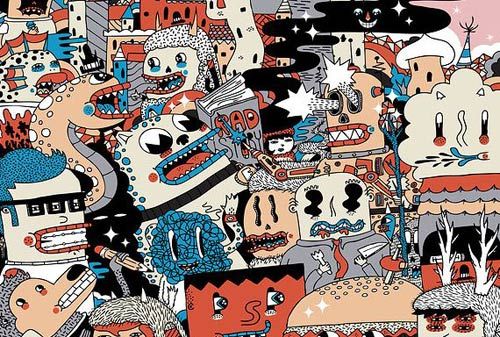 And so he did. He has been actively pursuing his dream ever since: making art that honestly reflects his own creativity as well as supporting himself through his work for clients such as Converse.
"When other artists ask me how is it possible that I can promote my work so well and reach broader audiences, I simply explain to them that I regularly use social media, I have blog on tumblr (4000 followers), I use Instagram (6000 followers) and then Facebook and my website http://www.frenemylife.com/. Social media's platforms are powerful tools to share your work with people."
He might have unlocked the secret balance that many artists find hard to reach since, while talking to him, I couldn't find a trace of animosity towards the dynamic of the art world or other artists' different points of view.
Since he arrived in Saigon from Korea however, he had to face some challenges regarding the art scene in town, where 'official' galleries tend to share a very limited aesthetic of art, often inclined towards luxurious art. Any gallery-goer will confirm that very few spots support graffiti and illustration artists as opposed to the States and Korea where he had many solo and group exhibitions.
'Monsters, Creatures and Things' is in fact his first show in Saigon but things appear to be changing since he will be one of the artists taking part in the 4th edition of the Saigon Artbook, he has participated in some graffiti murals, he continues running his 'Doodle club' and he will take part in Melting Pot 4 – Art Festival (for which he also designed the logo) at Saigon Outcast on the 23rd and 24th of February.
Along upcoming exhibitions in the States, he has been working on a children's book 'Fuddy Duddy's Big Adventure' for which he has not only done the illustrations but also has written the story, "the title comes from an old American saying - don't be someone who complains all the time. I am sending it to a publisher in the USA, after that I would really love to focus more on children's books."
While we wait for his upcoming projects to come to life, his solo exhibition will run until the 6th of March at deciBel Lounge.