Across Asia, urban landscapes are booming. The space they claim spreads further than ever, avidly consuming new land to cope with the influx of inhabitants and enterprises they must house.
As the proverbial breadwinner of Vietnam, Saigon is no exception. Its population increases each year, framed by the frenzied construction of both private and public space. The growth brings with it numerous economic benefits, empowering a generation for whom work opportunities are abundant.
However, such rapid metamorphosis carries with it responsibility and raises questions on how this change impacts quality of life. How can we incorporate creative approaches to urban planning when the economy dictates that utility take center stage? In addition, how can we protect and learn from the alternative local environments that already exist here in order to ensure a more sustainable urban future?
A brief drive through Binh Thanh District and across Cau Kinh brings you to the Thanh Da-Binh Quoi Peninsula; over 1,200 acres (486 hectares) of verdant, natural land and private smallholdings. Though a vast sprawl in the metropolis, the moat-like river and single-bridge entry point have kept it in relative isolation over the years, making its character distinct to the world in flux at its periphery.
In this way it is easy to view Binh Quoi through a rural lens, but given its proximity to the center of Saigon, it is technically as 'urban' as any other district. Circumnavigating the area therefore provides ample opportunities for leisure, as well as for contemplation on the very nature of 'urban' space and the potential it can carry.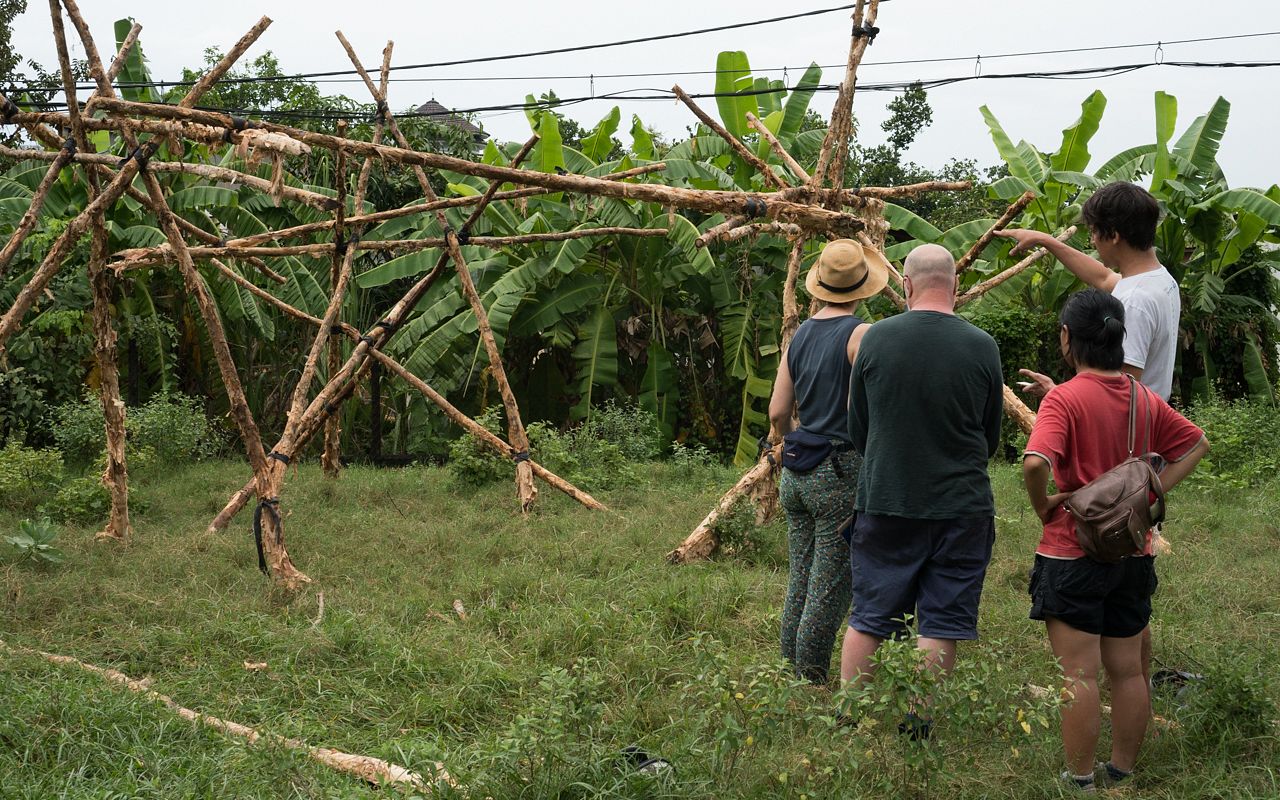 It is this context that has inspired an immersive new structural art project, created jointly by architecture and landscape studio Ateliers Mở Đất (based in Saigon) and architecture and urbanism studio Aupa-Urba (based in Paris) via Villa Saigon's 2019 artists residency program. The project will see a number of temporary structures take form in the heart of Binh Quoi, providing the setting for this year's :Playtime Festival (July 26–August 4), which invites citizens to rediscover the area through workshops, exhibitions, nature and photography walks and more.
"There will be two main galleries, face to face, surrounding a large central space where plenty of activities will happen," Anne Jaureguiberry, an architect at Aupa-Urba, says. "In those spaces you will find exhibitions and places to eat, learn and relax. There will also be an outdoor cinema for film screenings."
The constructed space will host :Playtime over two weekends, then will subsequently be dismantled and the materials repurposed so the land can return to its former state. "The materials and framing of the galleries is simple," Jaureguiberry adds, "but show that it is not always necessary to have a strong footprint on the area. For example, we chose vernacular materials like Cajeput and tarp, which are used commonly in construction here, and we will cut it specifically so that it can be used again."
Traversing Binh Quoi, it is evident that the prevailing lesson the area offers is one of coexistence with nature. "The wilderness here is a vulnerable organic sprawl, under the pressure of human habitat" notes Hoanh Le Manh Thang, head architect and founder of Ateliers Mở Đất. "You have the impression that it belongs to the past, but that it can also figure out a need for your future."
Having seen Saigon undergo great change in recent years, Thang is most concerned by our tendency to eliminate nature when planning urban space: "I left the city in 2002 and eight years later when I returned, the change was dramatic. It had omitted a richness, reduced any natural presence and lost a sense of silence."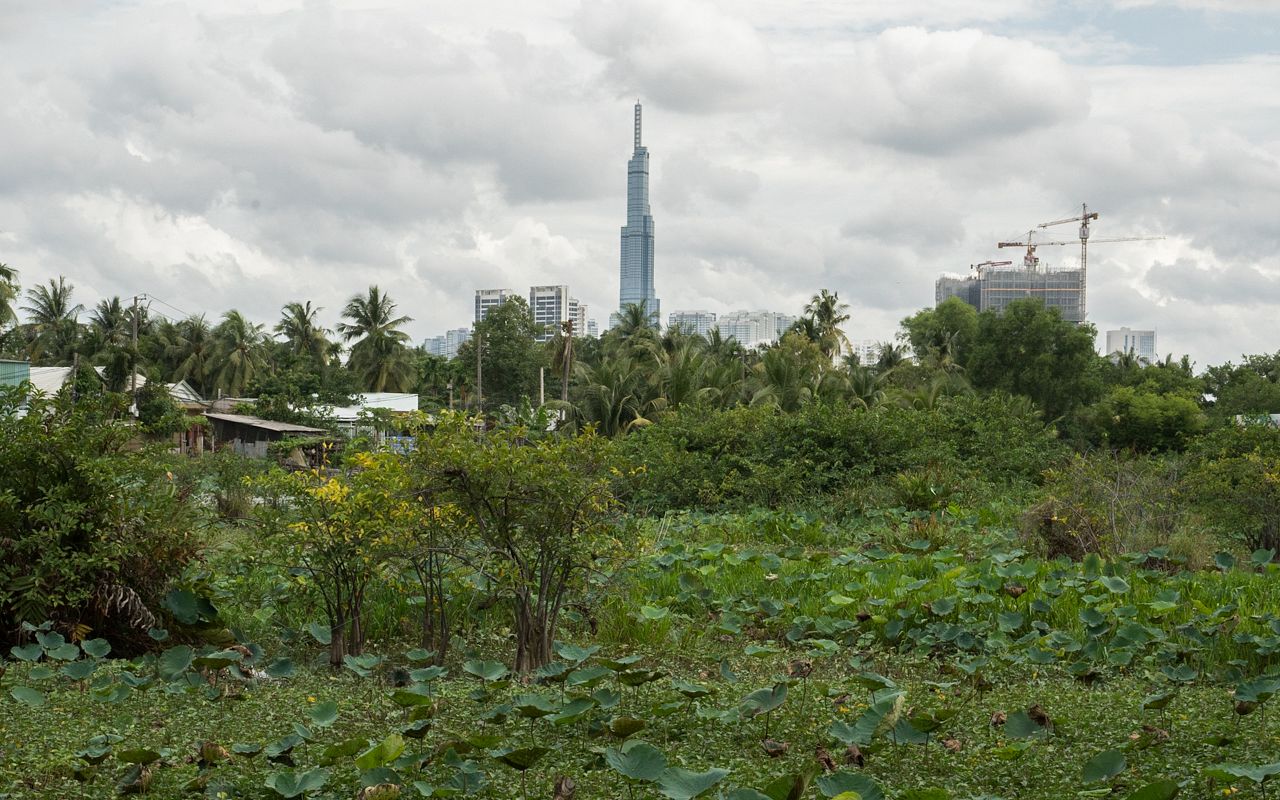 Though Thang is aware that change looms, he would love to see more people share in the area's magic, so he tries to stay focused on its present reality. In particular, he honors the culture and endurance of local residents, explaining: "We are interested not just in Binh Quoi's picturesque and generous land, vegetable gardens and lotus ponds, but also in the way residents deal with the difficulties of vulnerability, suspense and uncertainty, in order to live as harmoniously as possible."
Jaureguiberry hopes the project will catalyze a greater appreciation of the unique qualities the area offers, while also encouraging residents to foster a deeper understanding of the need for natural landscapes in all urban environments. "I think our cities are too big, and we should rethink deeply the way we imagine them, with more local interest and participatory involvement." She stresses the need for "deeply integrating nature," pointing to parks and gardens as examples of this, but also highlighting the importance of having working, active, "productive nature" set within the city's framework.
Her sentiments are echoed by :Playtime organizer Myriem Alnet, who hopes the architectural project, as well as the numerous events that form the festival, will provide "a kind of adult playground, with activities that help people reflect on their sense of place." Beyond moralizing development, she is focused on the need for varied, dynamic and stimulating space which improves quality of life by being environmentally sustainable, but also creatively and emotionally sustainable.
"Cities need a diversity of space and atmosphere, with neighborhoods that have their own character," she explains. "Modernity is fine, but others want a closer link with nature. A great city is one that caters for all these different needs, and I see that potential here."
---

Related Articles:
---