Last week, Art Basel Hong Kong proved itself worthy of its older siblings (Art Basel – Miami and Art Basel – Switzerland) and probably even bested them by becoming the meeting and merging point between the East and the West, both concerning artistic aesthetics and the art market.
With over 200 galleries from around the world (50% Asian and 50% Western), the works on display were as diverse and exciting as one can imagine; from traditional oil and water colour paintings, to burn wood pieces, reassembled-broken Chinese ceramics, video installations, flipbook films, digital paintings from Japan and even human-hair flags.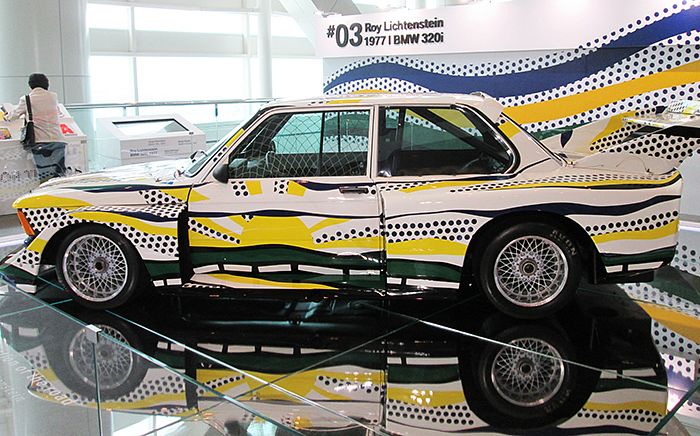 It was truly a treat for sore eyes and an inspiring opportunity to see, in a microcosm, what the art scene from around the globe has produced in recent times. The most sought after international artists' works were present, such as Damien Hirst (a scalpel blades painting representing Beijing from the sky), Antony Gormley, Gilbert & George, Zang Xiaogang (paintings from the Bloodline series), Roy Lichtenstein (BMW Art car), Tracey Emin, Takashi Murakami, Zhan Wang (with the majestic installation 45 Degree Artificial Rock) and many more. I was particularly happy to see my favourite London gallery, White Cube, participating for the first time.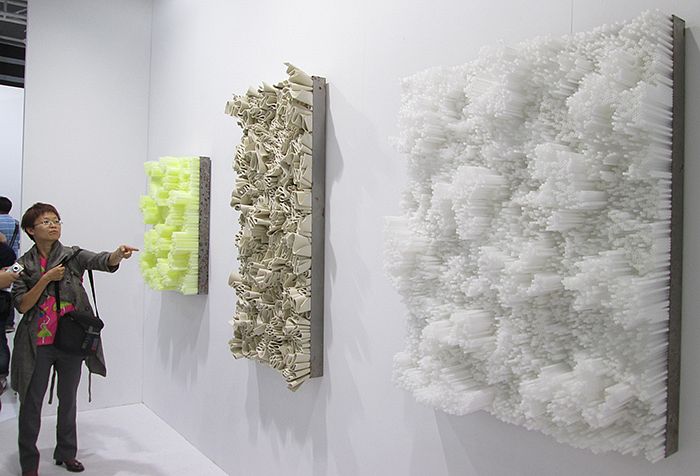 The Insights sector of the fair, which was dedicated to 47 galleries with spaces in Asia, included Cuc Gallery from Hanoi, which showcased abstract, white monochrome paintings and two installations by one of the most influential and internationally renown Vietnamese painters, Nguyen Trung. Cuc gallery is the first Vietnamese gallery to participate at the fair.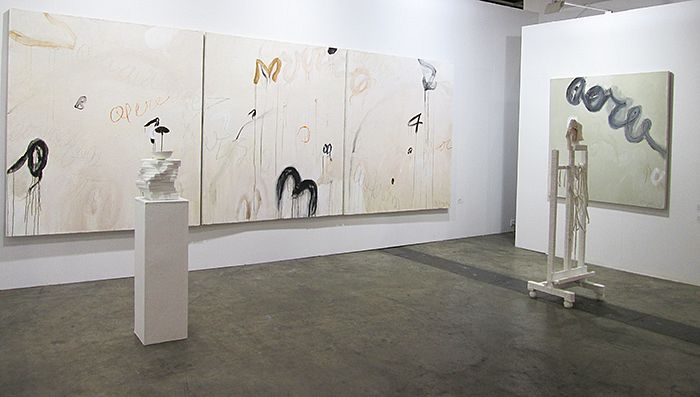 The Discoveries section, occupied by 27 galleries, acted as a platform for emerging artists, to encourage and discover future talents. Each gallery presented the work by one or two artists and the $25,000 Discoveries award this year was given to Tunis-born artist Nadia Kaabi-Link.
Finally, the Encounters portion was dedicated to presenting large scale installations by leading artists from around the world, I particularly liked, the not-to-hard-to-notice installation 'United Nations: Man & Space' by Gu Wenda who used real human hair collected from all over the globe to make national flags.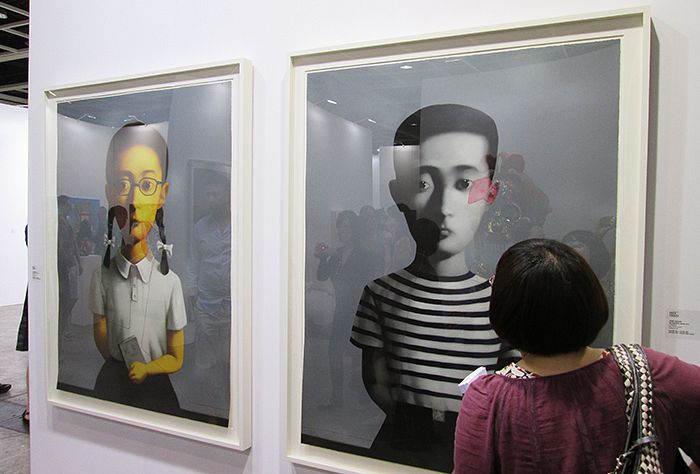 It hurts a bit to say this, but a thought that popped into my head over the two days I was there was that I did not know how long I would have to wait until I had the chance to see such thought provoking and experimental works again.
Although the art scene has been changing in recent years in Vietnam, it is undeniable that Vietnamese contemporary artworks tend to focus on traditional mediums such as oil or ink paintings and sculptures, rarely venturing towards other mediums and materials. This, accompanied by strong restrictions put upon themes and topics dealt with in the arts, make us wonder when and if Vietnamese artists will manage to keep up with the growing appreciation and success of their fellow Asian artists from China, Japan and Korea.
The sales figures from the fair, the number of collectors attending and an evident shift in the selection of artworks by the exhibitors, which reflected and focused more on the taste of an Asian market and not of a Western one, are signs that Asian artists are establishing themselves in the international art platform.
Art Basel also included a series of talks, film screenings, workshops, private exhibitions, bookstores and art magazines booths; turning Hong Kong in a magnet which attracted over 65,000 art lovers, collectors, curators and tourists