While progress on Saigon's first metro line is somewhat nearing the finish line, the city's second line is undergoing site clearance.
According to a recent progress report sent to the National Assembly, as of October 2019, about 18% of families whose properties will be affected by the Saigon Metro Line 2 have received compensation. About 9% of households have turned over their land to metro construction, reports Tuoi Tre.
The report estimates that site clearance and compensation for the line will finish in June 2020. In the meantime, the project has also completed some preliminary tasks, such as selecting consultants for construction operations and creating applications to invite contractors.
As of now, Metro Line 2's main office and other supporting structures at the Tham Luong Depot are mostly finished, while the paperwork is underway for other items, such as designing and producing subway cabins and designing and constructing underground stations, above-ground stations, railway tracks, and other electrical systems.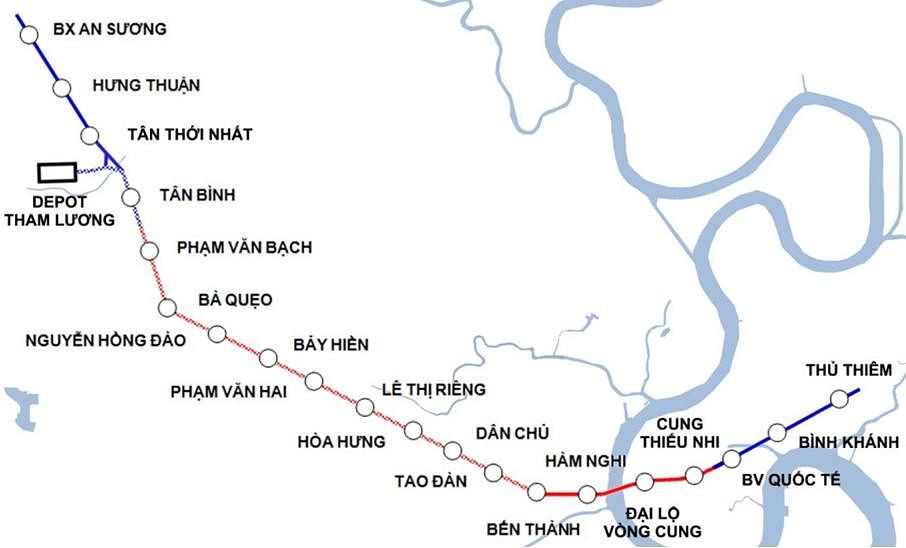 Saigon's second line will span 12 kilometers, going through six districts: District 1, 2, 3, 10, 12, Tan Binh and Tan Phu. Trains will travel underground for about 9.2 kilometers. When finished, the route will connect the new urban area in Thu Thiem with downtown Saigon and then neighborhoods in the city's northwest.
Construction will be done in three main phases. The first phase aims to finish the stretch between Ben Thanh and Tham Luong Depot. The second will work on two extensions: from Ben Thanh to Thu Thiem and from Tham Luong to Tay Ninh Bus Station. Lastly, the third phase links Tay Ninh Bus Station with northwest Cu Chi.
While the prospect of having a fully-functioning metro network is exciting, Saigoneers might have to wait almost a decade for the first two lines to open, judging by the recently announced delays.
Back in September, municipal authorities moved the launch date of Metro Line 1 from late 2020 to the fourth quarter of 2021 at the earliest. Metro Line 2 has suffered the same fate, with its opening date pushed back from 2024 to 2026.
In October, Saigon officials also approved plans to revise the cost to construct the metro lines. For the Ben Thanh–Tham Luong Line, the cost has mushroomed from VND26 trillion (US$1.12 billion) to VND48 trillion (US$2.07 billion).