In the thick of rainy season, afternoon snack spots are hard to come by. Street vendors make do with cement-weighted umbrellas and heavily used tarpaulin, carving out (relatively) dry patches on the sidewalk from which to operate, occasionally disrupted by a tide of rainwater rising to overtake their carts. For the most part, however, outdoor dining is not at its best in the monsoon months.
This, however, was of little consequence at Kim Thao's earlier this week, when we escaped a downpour shortly after it began, taking shelter under the District 2 joint's wide front awning. Plastic tables were jammed together inside the open-air spot, patrons seated elbow-to-elbow under the dim light of an afternoon interrupted by rain. A pair of teenage girls ushered us toward one of the few remaining tables and, as we gingerly stepped between feet and discarded eggshells, brought over a plate of the main attraction: hột vịt lộn.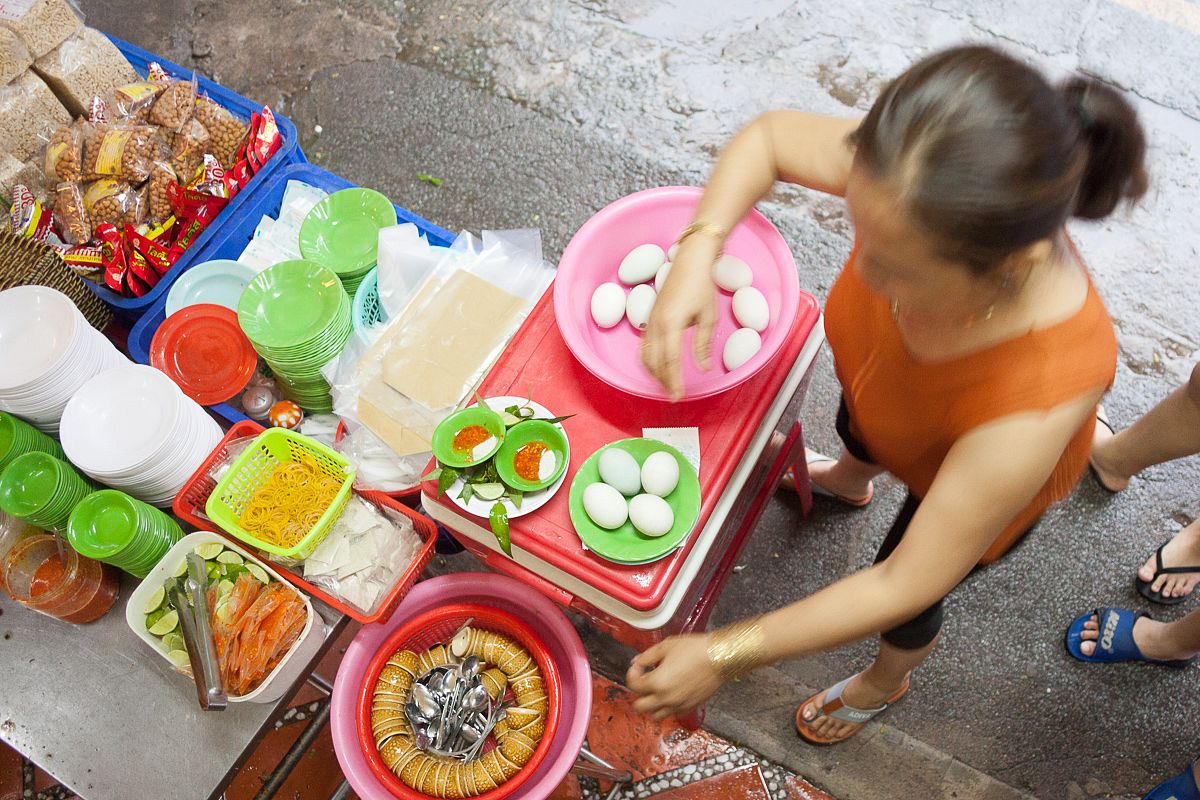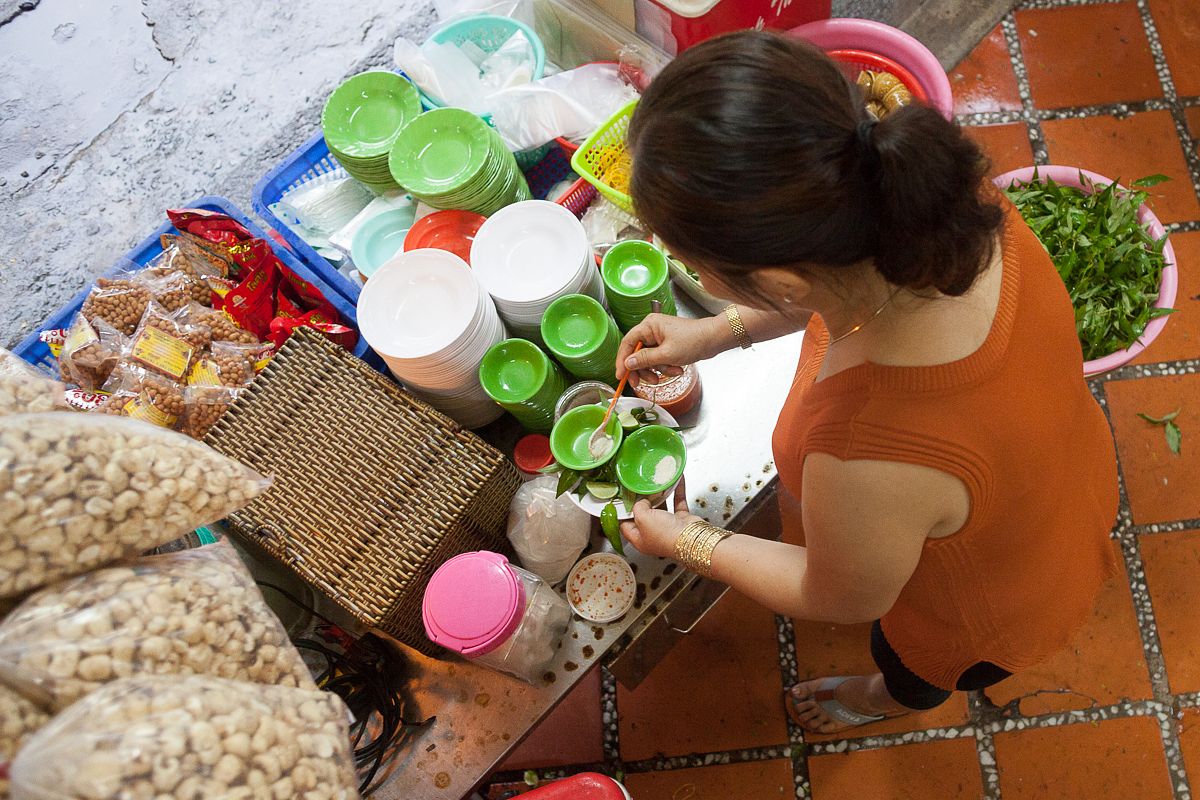 As far as dishes go, boiled duck fetus eggs aren't exactly a showcase of one's culinary talent. While it matters if you cook an egg wrong, the mark of a well-done hột vịt lộn is that there's no noticeable difference at all. Sauce, however, matters. Sauce always matters.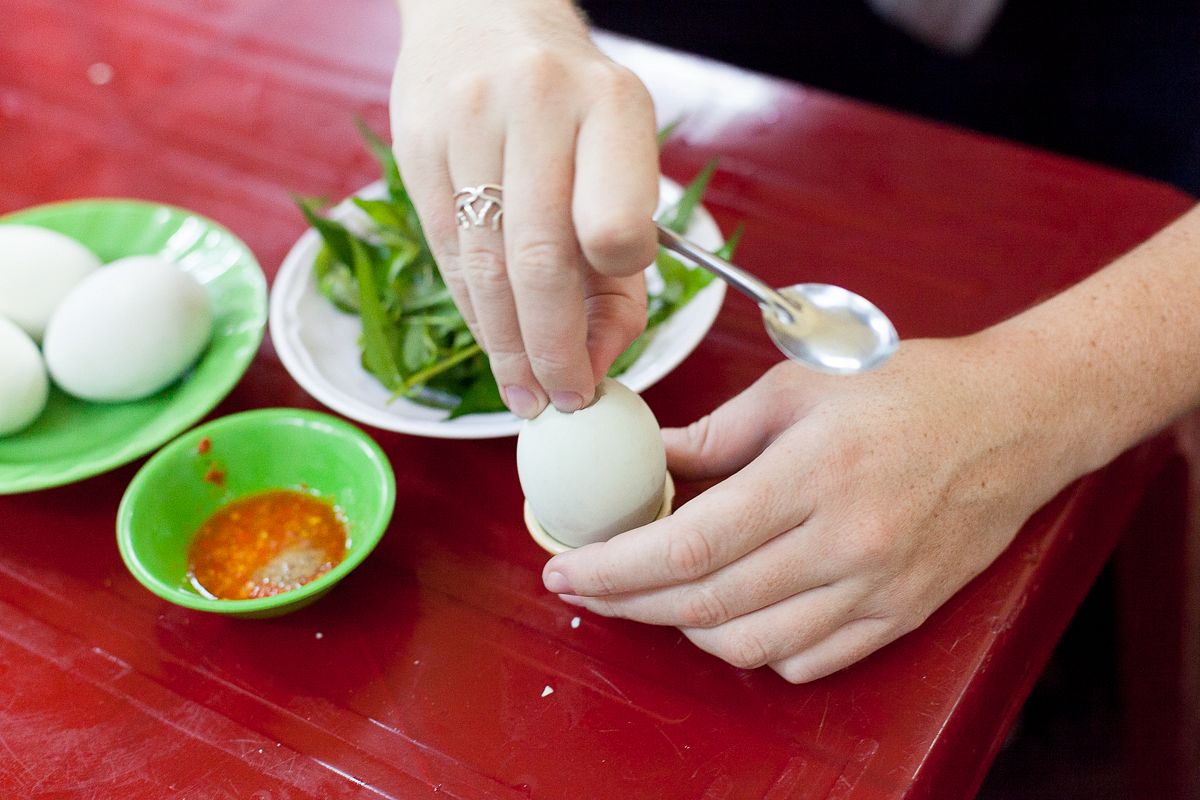 Kim Thao's rendition of hột vịt lộn comes with a combination of the salt-and-pepper-with-lime mixture that's often reserved for chicken dishes, as well as a helping of chili. Mixed together, the condiment's not-so-subtle heat adds a nice touch to the egg's hearty texture. Add in a few leaves of rau răm, or Vietnamese coriander, for something fresh and you've got a complex snack to get you through the afternoon.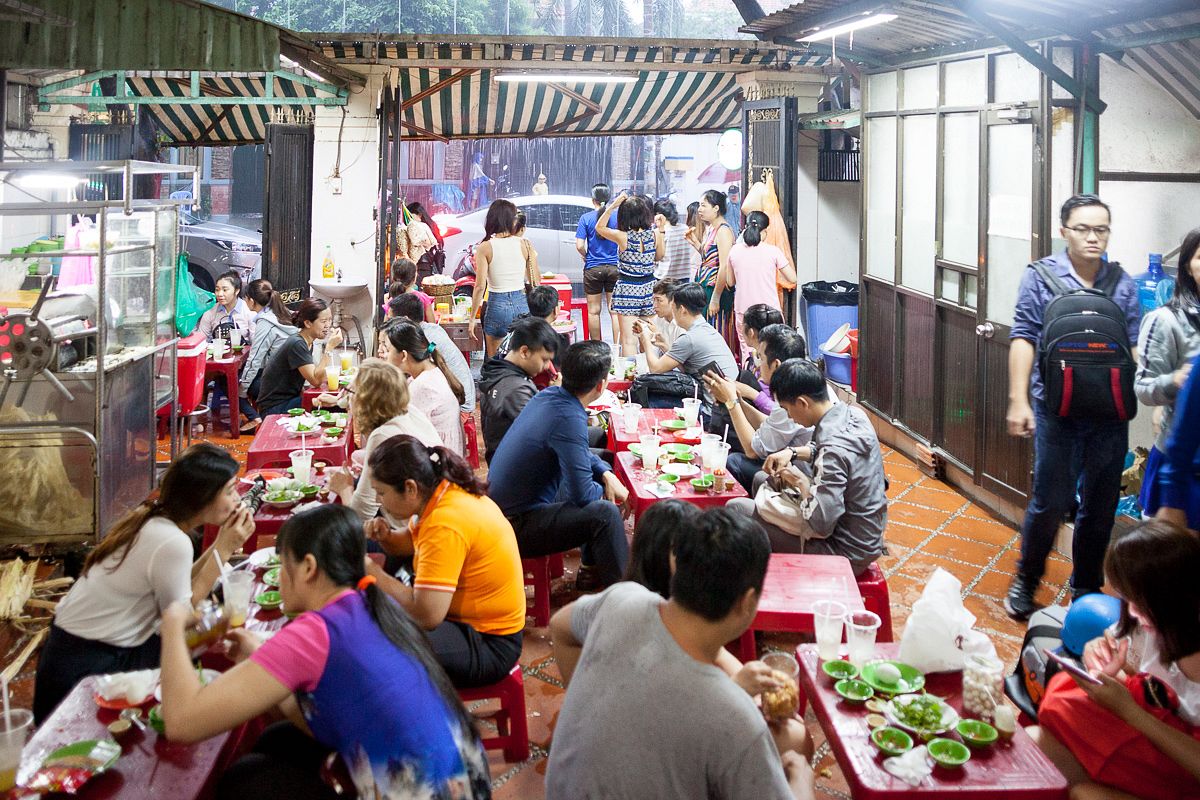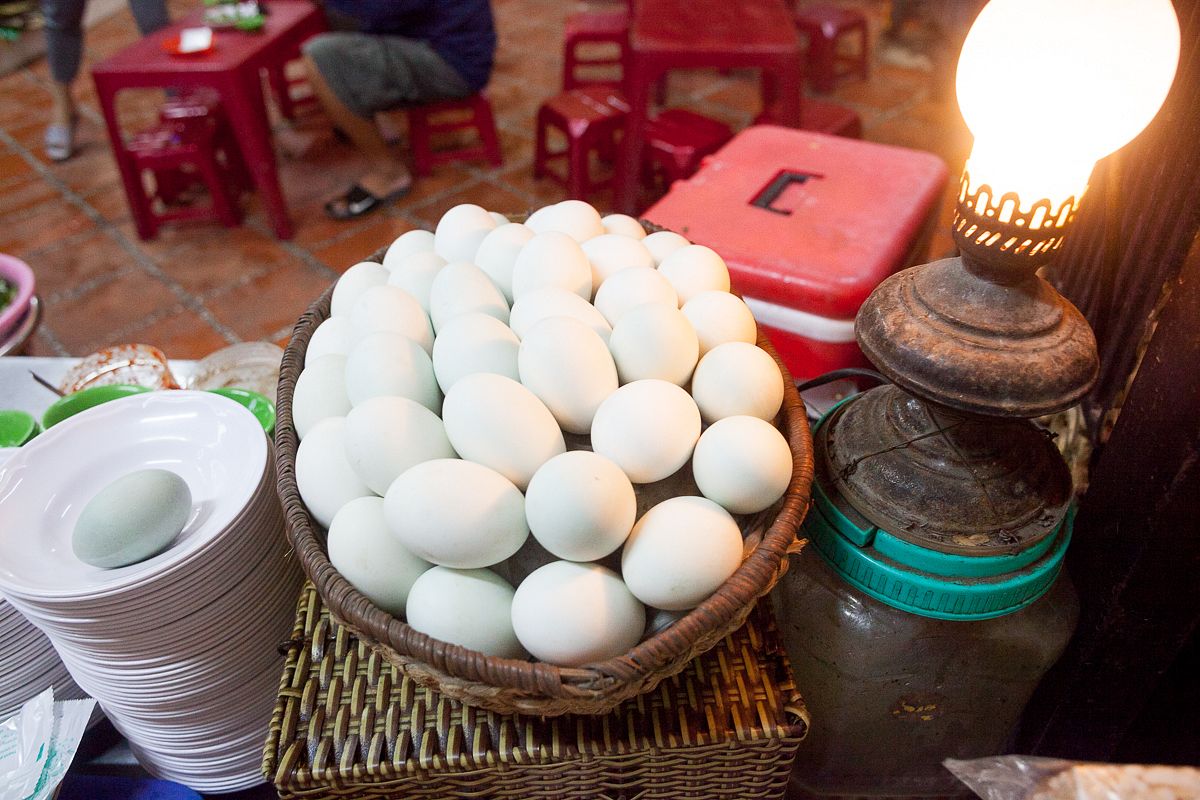 As we sat, hitting spoons against our eggs, Kim Thao's millennial-aged waitstaff appeared the perfect representation of street food vendors in modern Vietnam, decked out in updated PJ sets that would not be out of place in a hipster fashion ad. One waitress was temporarily on nước mía duty, feeding stalks through the metallic juice press and ferrying the results to nearby tables. Though I had always been taught beer was the appropriate counterpart to hột vịt lộn, sugarcane juice made for a close second.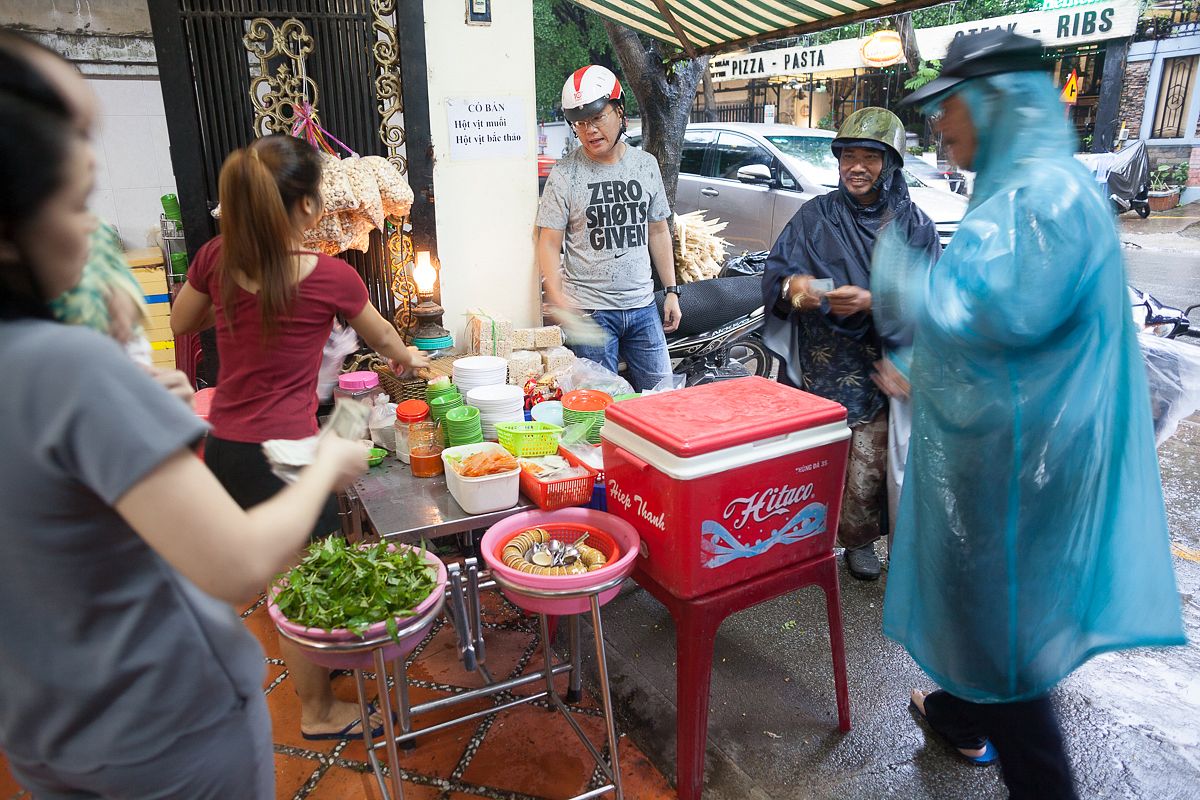 According to the trendiest of Kim Thao's servers, the spot has been serving afternoon snacks to the people of District 2 for five years now. The place doesn't open until 3pm, but once business begins it's wall-to-wall traffic into the early evening. With a steady rain outside (and, occasionally, inside), we would have stayed longer if it weren't for the unending crush of patrons who kept turning up. In the end, a particularly enthusiastic security guard saw us off, delighted by our attendance at a spot that remains very local despite its location in Saigon's expat enclave, and we sloshed off into the night, wading through high tide on Xuan Thuy.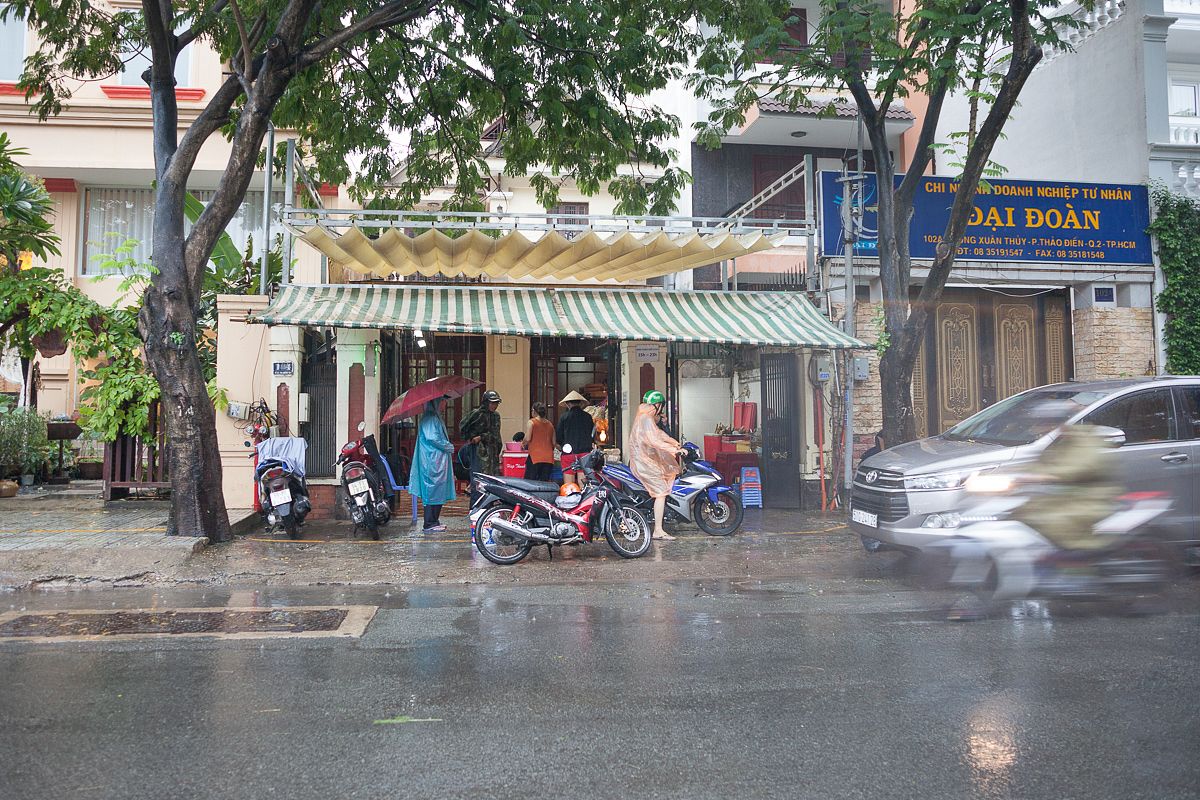 Kim Thao is open from 3pm to 11pm daily.
To sum up:
Taste: 4/5
Price: 5/5 - VND9,000/egg
Atmosphere: 4/5
Friendliness: 5/5
Location: 3/5
Dana is 70% caffeine, 50% fish sauce and hasn't taken a math class since 2004.
Hột Vịt Lộn
104 Xuan Thuy, Thao Dien Ward, D2

---

Related Articles:
---