There are few problems and little mediocrity that can't be improved with an unctuous ladle of coconut milk.
Imagine a Vietnam without coconut milk: thick, lightly charred knuckles of grilled banana fritters that are just dry and clingy; watery curry intensified by an unrelenting assault of spices with no relief; and last but most devastatingly, a world sans bánh bèo miền Tây and bánh tằm bì — I shudder at the thought. If Hanoian cuisine is ever elevated with the addition of that special tangy chili sauce, southern dishes are allowed to be the best version of themselves with coconut milk.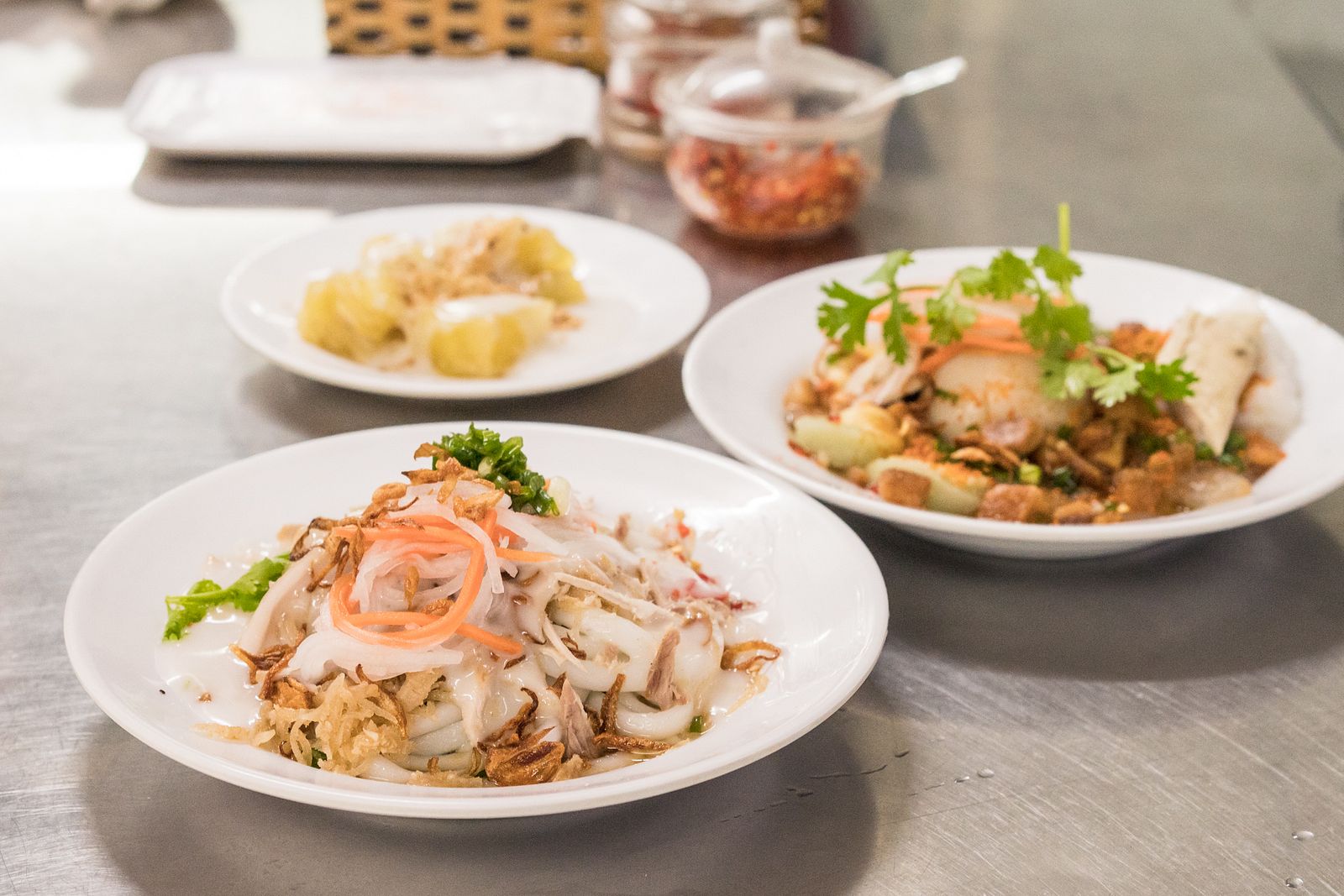 Touted as "the rice bowl of Vietnam," the Mekong Delta's abundance of rice paddies and varieties has given rise to a complex repertoire of rice-based bánh that are too good to miss: bánh bèo, bánh ít trần, bánh đúc and bánh tằm bì. The latter, bánh tằm bì, is at the precarious junction between sweet and savory, and an epitome of southern cuisine that lionizes rice noodles and coconut milk.
While bánh tằm is big in the Mekong Delta, where most provinces have their own rendition, you'd be hard-pressed to find a restaurant selling the noodles in Saigon. Luckily, the few options that we have are all solid choices, including Banh Tam Bi To Chau in District 1. Make your way down Nguyen Trai Street from the Phu Dong Roundabout and the eatery is tucked away in a corner, towered over by the flashy façade of Quoc Thanh Cineplex.
The dining area, a level lower than the street surface, is your average Vietnamese family restaurant setting. A few metallic table sets are arranged along the walls, which are outfitted with half-length mirror and other knick-knacks. A doorway that's small enough for just a peek into the family's living quarter. A TV in a corner plays a nondescript news program.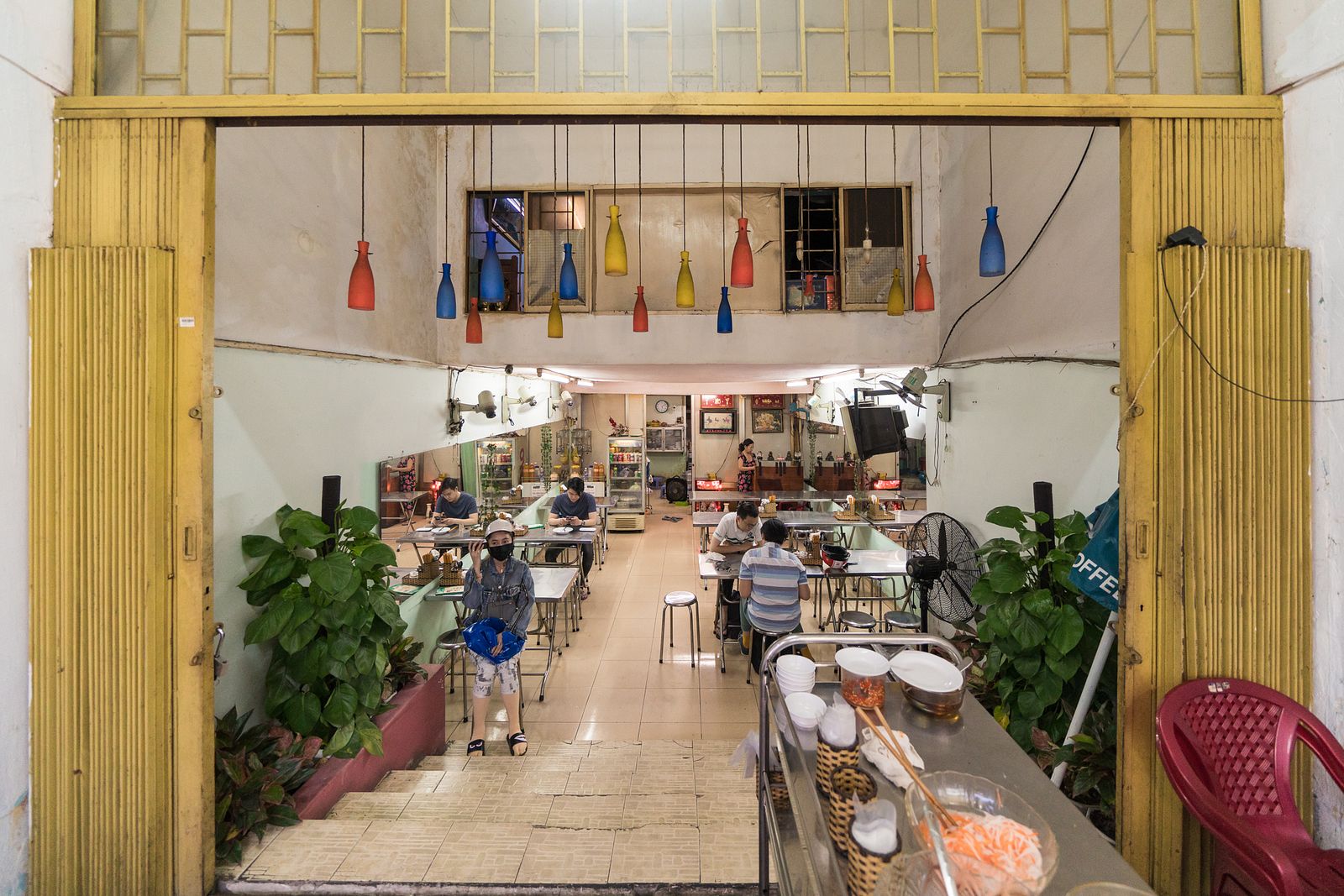 Despite the name, Banh Tam Bi To Chau has no connection with Suzhou City in China's Jiangsu Province (To Chau means Suzhou in Vietnamese). According to the owner, To Chau refers to a ward in Ha Tien, Kien Giang Province, where the family hails from. Bánh tằm bì originates from Bac Lieu, a coastal province in the delta, and is prized for its use of handmade rice noodles.
While the noodles in bún riêu, bún bò Huế or bánh canh can be made with machines, bánh tằm is best when the strands are handmade and irregularly shaped. Some attribute these stubby noodles to being the inspiration for its name: tằm means silkworm, whose infant stage much resembles bánh tằm. To make the noodles, rice is soaked in water overnight, ground into a fine paste, molded by hand into strands and finally steamed to perfection.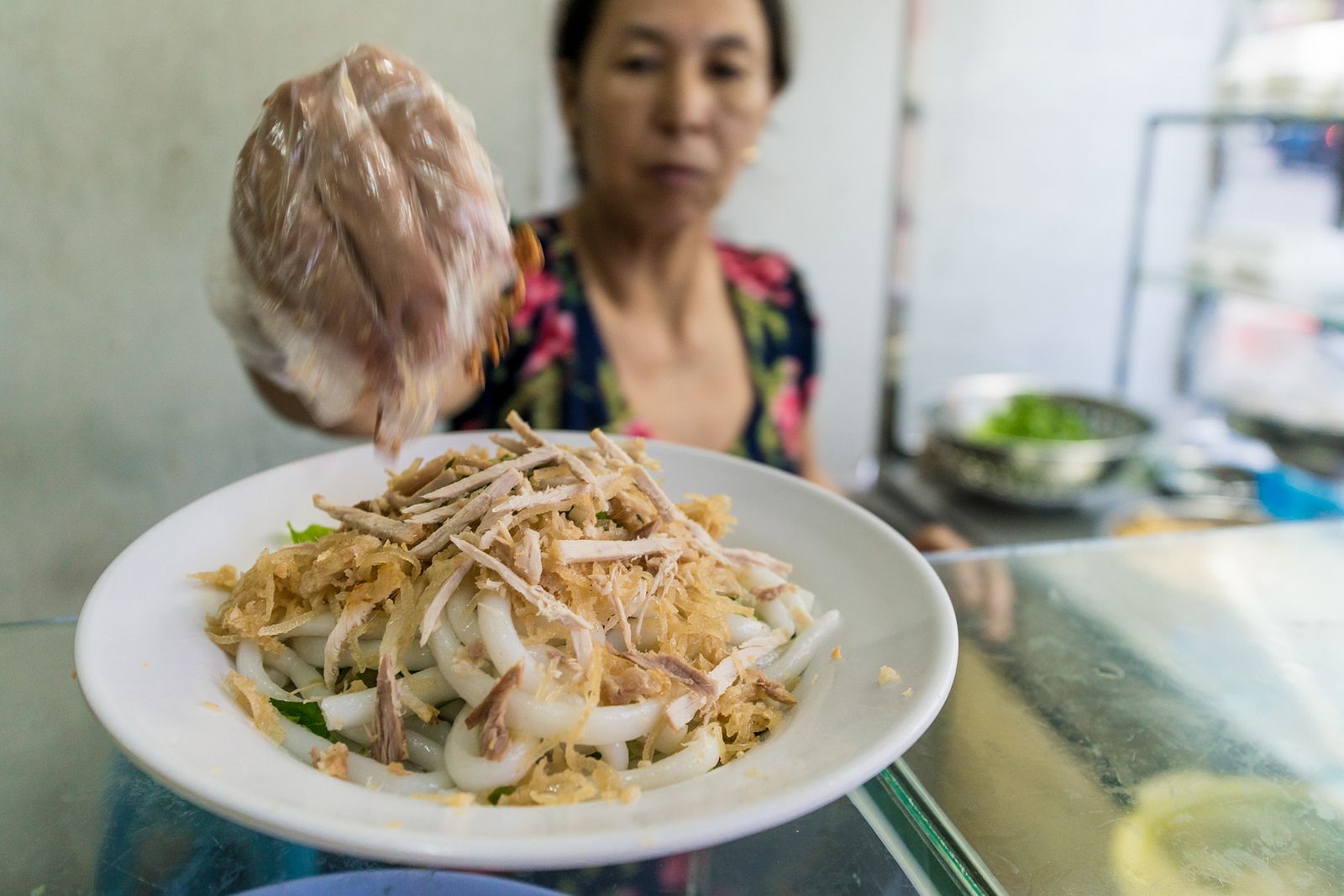 The protein component of the dish is a mix of lean pork, julienned pig skin (bì) and thính, a fragrant powder made of toasted golden rice. Frequent eaters of cơm tấm might recognize these bundles of chewy bì from their morning chow.
An order of bánh tằm bì (VND40,000) at To Chau begins with a bed of lush steamed bánh tằm, a generous helping of bì and pork, and a heap of beansprouts, chopped herbs, pickled daikon and carrot, and sliced cucumber. Then the cook will pour a ladle of coconut milk on top, coating everything with a decadent blanket of warm, creamy, subtly fragrant sauce. Toppings also include fried shallots and scallion oil.
The real kicker is the sweet and sour fish sauce that goes with the noodles. With just the right amount of added mashed chili, every bite is a weird and wonderful combination of noodles, creaminess, spiciness and saltiness. To Chau is careful with seasoning their coconut milk: the sauce is brackish and rich, but not sweet, which doesn't throw you off. Others tend to go overboard with added sugar, creating an eerie fishy and salty chè.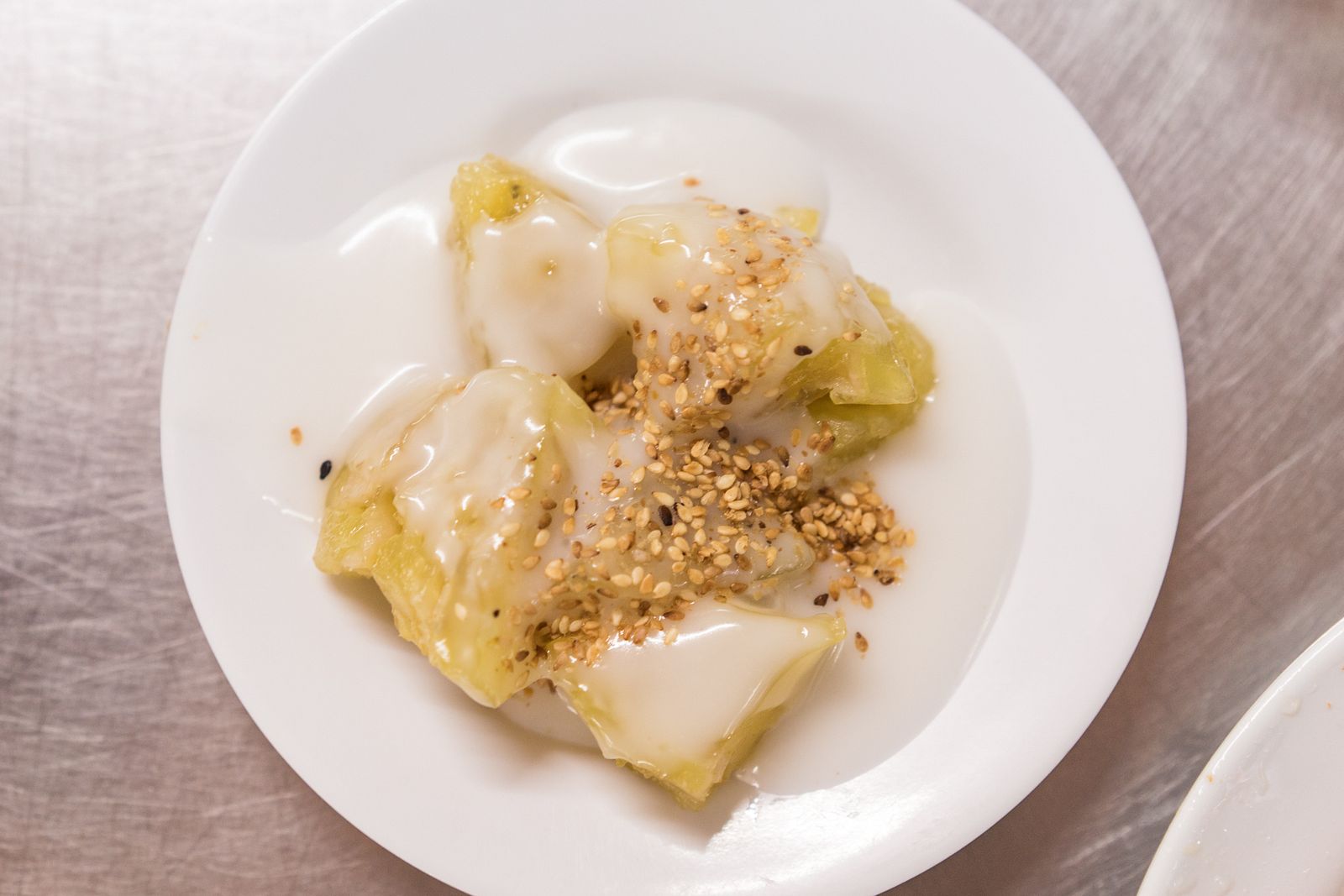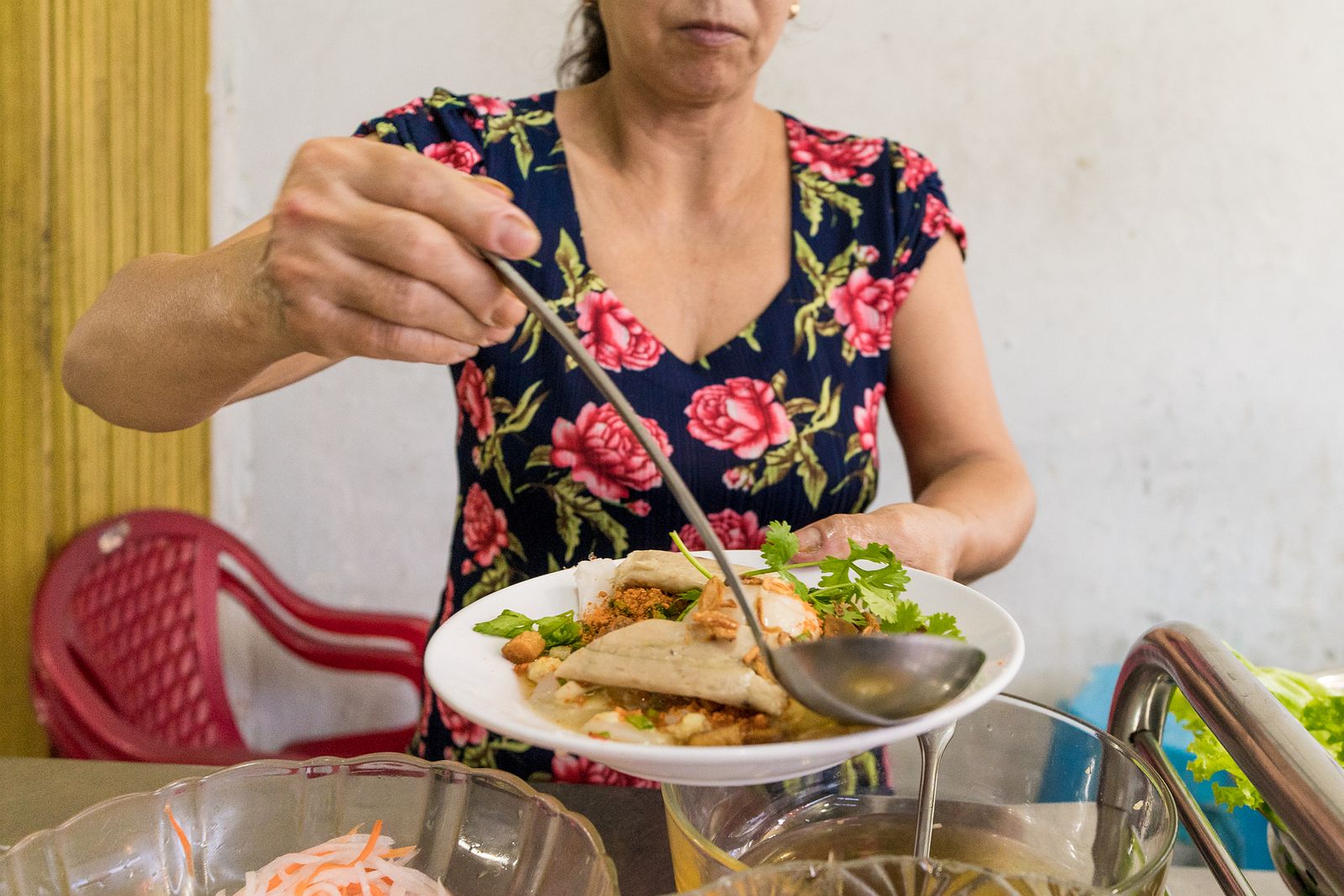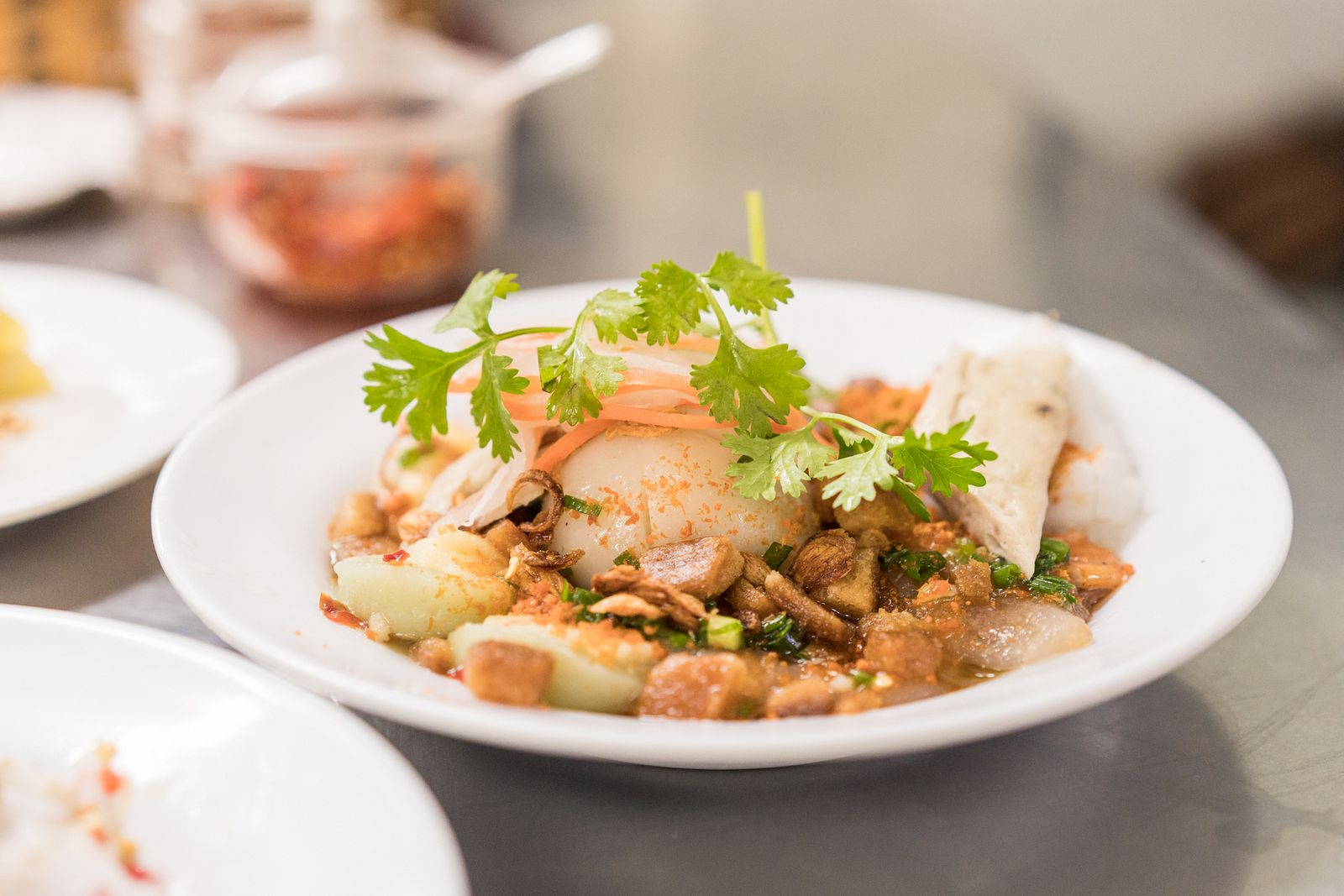 Apart from bánh tằm bì, the eatery also serves other bánh like bánh ít trần, bánh đúc and bánh bèo. You can sample all of these in an assortment plate (thập cẩm) for VND40,000. Those unfamiliar with Mekong cuisine will find the bánh bèo here strange: they're diminutive and concave, while conventional bánh bèo — modeled after central Vietnam's version — is flat and medium-sized. Lastly, cleanse your palate with bánh chuối nước dừa (VND15,000), yet another coconut dessert with banana as the star ingredient.
In a nutshell, Banh Tam Bi To Chau is a casual, no-frill, no-nonsense hangout that I've grown to appreciate, thanks to our shared love for coconut milk. It's not a national condiment like fish sauce or mắm tôm, and I doubt that it ever will reach that level of notoriety, but I'm pretty sure coconut milk can cure depression. Don't quote me on this.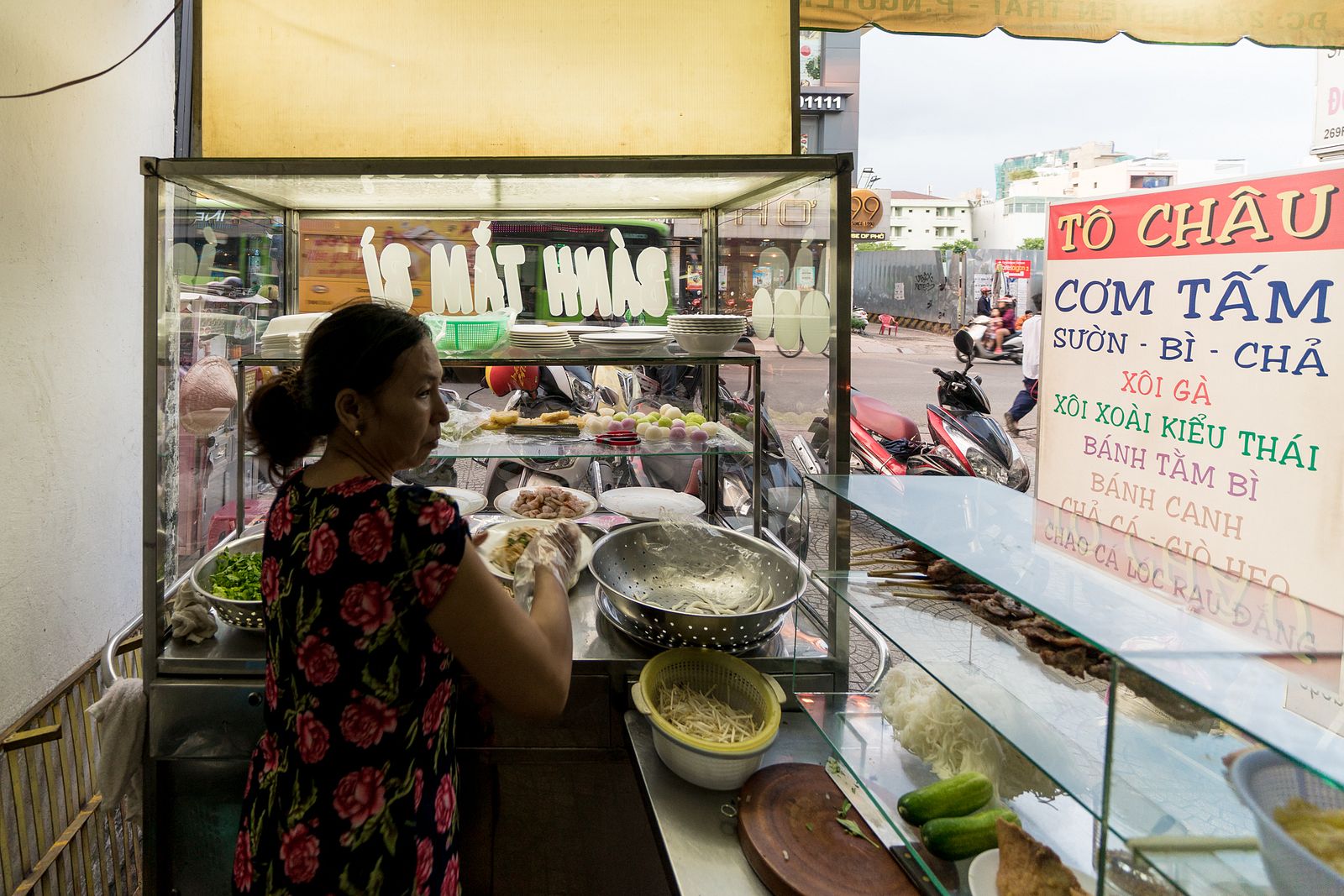 Banh Tam Bi To Chau is open from 7am to 8pm.
To sum up:
Taste: 4/5
Price: 4/5
Atmosphere: 4/5 — cozy and homey.
Friendliness: 5/5
Location: 4/5 — great people-watching spot.
Khoi loves tamarind, is a raging millennial and will write for food.
Bánh tằm bì
611/62B Điện Biên Phủ, Phường 1, Quận 3

---

Related Articles:
---