You know those vendors who are so good at what they do that no matter how rotten they may be to their customers, people still turn up in droves? Fickle as the world of street food may be, at the end of the day it's a full tummy that counts. So, without further ado, I introduce to you the steaming hot goodness of what I like to call Arrogant Hủ Tiếu, buried 200 meters down the alley at 172 Ly Chinh Thang Street.
---
Related Articles:
- Hẻm Gems: An Ode To Chef Nguyen's Legendary Chicken Rice
- Hẻm Gems: Bánh Bao Chiên @ Lý Chính Thắng Street Cart
- [Photos] What Citizens Of The World Eat In A Day
---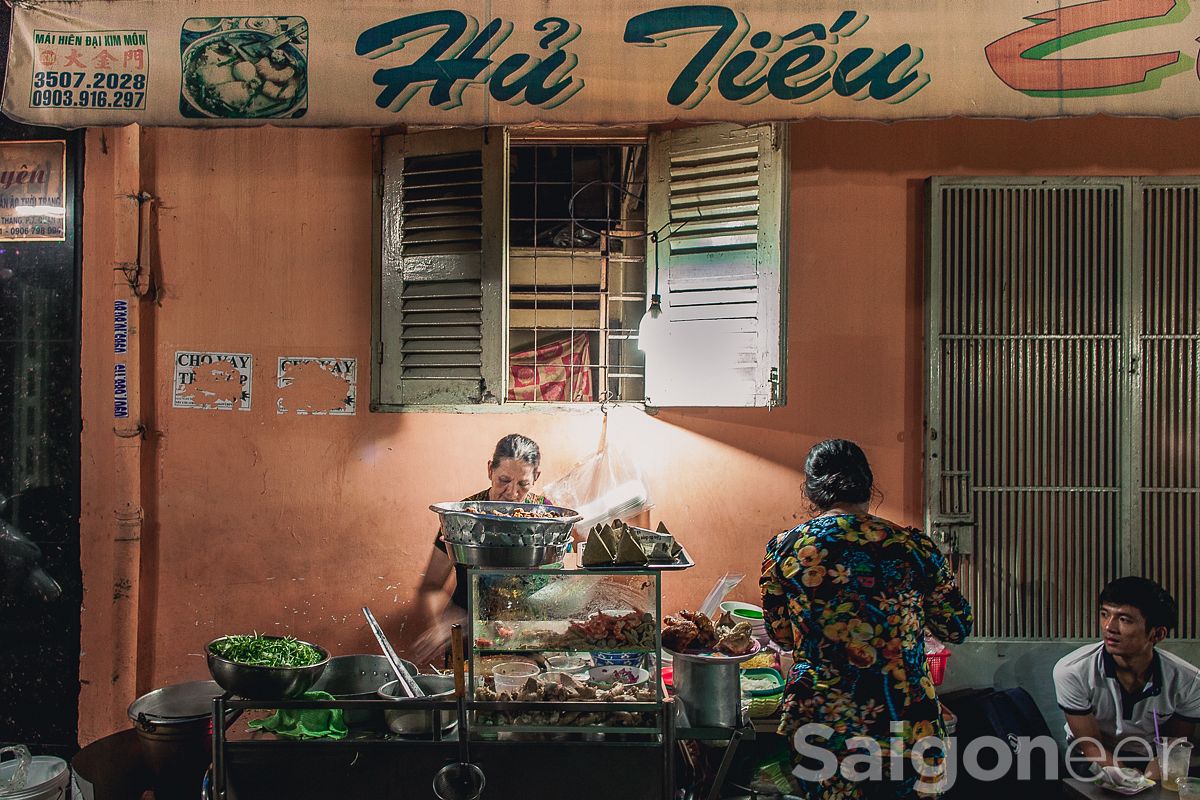 I guess the ladies are not arrogant so much as desensitized to the hordes of gluttonous visitors impatiently yelling for food. If I put myself in their place, perhaps I would stay cheerful for the first day or two but if I had to put up with that over four years? Probably not.
The place is open from 4:30pm to 8pm, but for the good stuff you want to turn up before 6pm, as it's always crowded and demand is often greater than supply. The stall is run by a group of ladies whom I believe are relatives and specializes in hủ tiếu and mì gà but also serves fried wontons, fried chicken and bánh quai vạt, a fried meat pie with a crispy exterior.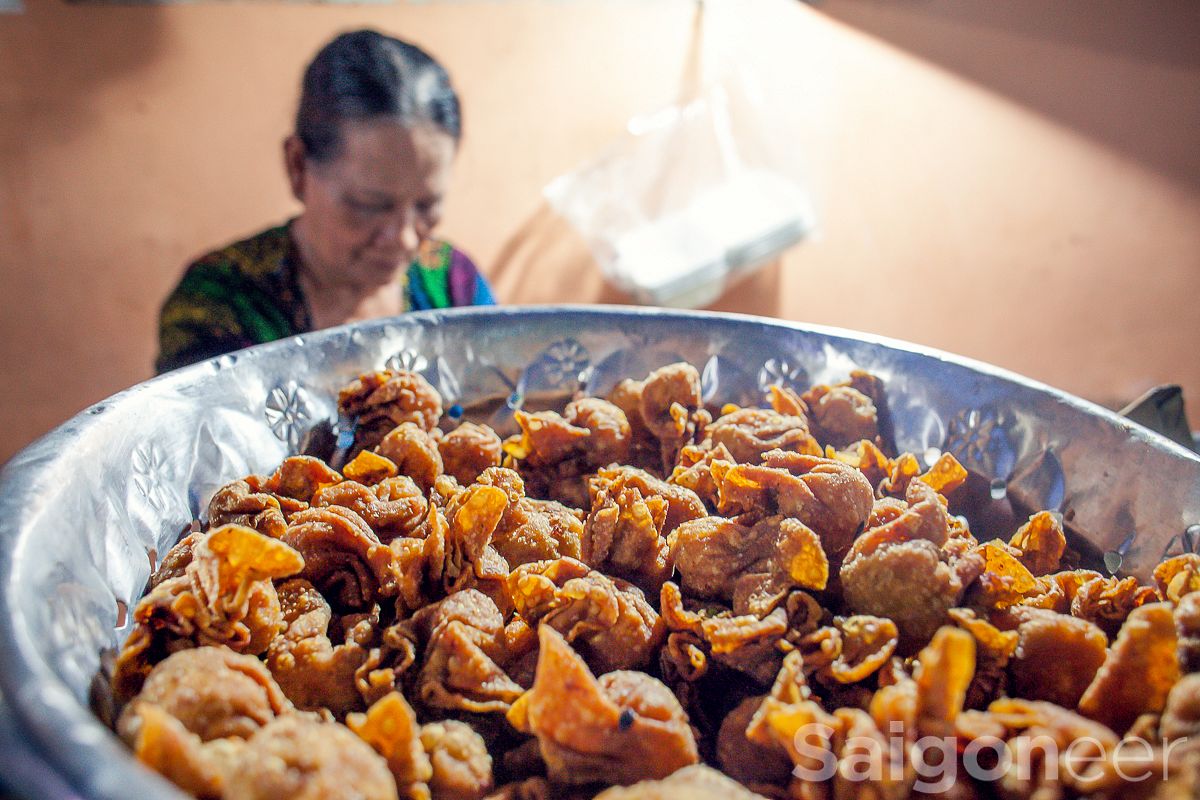 For both the hủ tiếu and mì thập cẩm, ingredients include chicken, beef meatballs, one giant shrimp, two fried wontons, fried garlic and a quail egg, with bean sprouts and lettuce on the side. All that savory goodness and the bill still only comes to VND45,000. In addition to bowls of piping hot soup, hủ tiếu and mì dishes also come in a dry version, which is well worth a try.
Whatever you order, the table will be stocked with soy sauce and dark vinegar, fish sauce, pickled garlic, lime and chilli slices. But the most important condiment is not on the table; it only comes by request. You may have to ask for the mysterious, dark-colored sauce but it is an absolute must; this is what makes up for all the sass coming from this street stall.
For the noodle soup, this sauce is best for dipping your wonton, chicken or meat. The flavor explosion is real, every bite a step down the demonic path of guilty pleasure. You can season your broth with this sauce, too, but it's not recommend, as the soup is well-seasoned already and one squeeze of lime is plenty.
For the dry version, don't hesitate to mix your sauce with the noodles. Stir it well; the messier the better, really. Ask for extra sauce for dipping, if you'd like. I personally prefer the dry one: it's not too hot and the noodles are chewier.
Either way, make sure you grab an order of fried wontons at the end, as these are exceptionally tasty as well and set you back just VND10,000 for three pieces.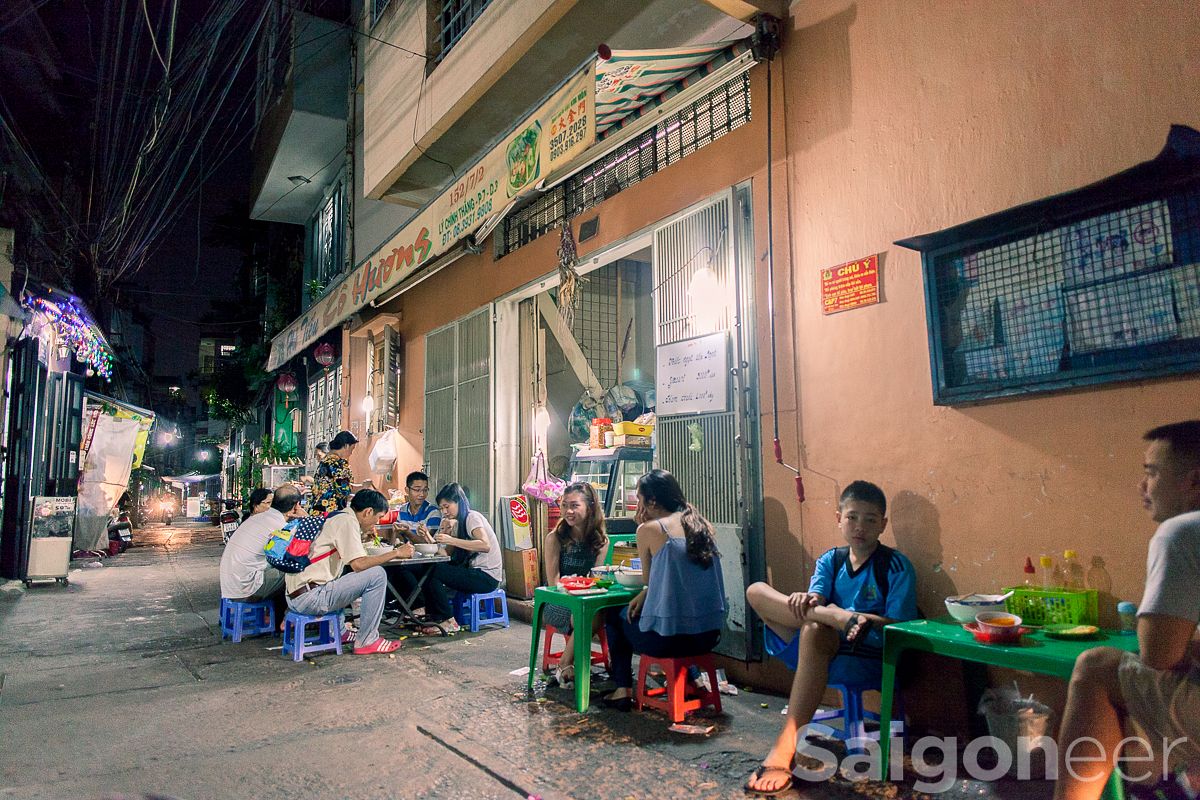 Words of advice:
Keep in mind the ladies are busy, so try not to bug them too much, otherwise you will feel their wrath. It's not always pleasant, but when it comes to good food sometimes you have to make sacrifices.


After parking don't wait for them to show you which table, find a spot and sit down (sometimes you'll have to fight for a space during peak hours). If the table is dirty, politely ask them to clean it.


Don't yell or approach them for your order; instead, wait for them to come to you. This sometimes takes 10 minutes but hey, there are other customers there before you. Keep in mind the ladies are trying their best to please everyone.


House sauce, chopsticks, spoons and towels should come right away so don't hesitate to ask for those. If you need any of the standard condiments, borrow from the nearby tables.


When paying, ask once and wait.
To sum up:
Taste : 5/5
Location : 3/5
One-way streets are tricky but make sure you turn at the intersection of Ly Chinh Thang and Tran Quoc Thao or you'll pass this hẻm by.
Friendliness : 3/5
Price : 3/5
Atmosphere : 3/5
Plastic stools and low tables: a nightmare for tall people.
Núm is a street food addict who has been eating his way through Saigon for 25 years.
Hủ tiếu, mì
Alley 172 Lý Chính Thắng, Q.3