I am a lifetime supporter of the sandwich.
Club, grilled cheese, submarine, ice cream: you name it, I've ordered it. Once upon a time, in my wilder, younger days, I made a pilgrimage to Vinh Long province and back in the name of a particularly lauded bánh mì xíu mại. The result was an action-packed, 12-hour adventure during which time I engaged in a high-speed chase with a coach bus, binge-ate several sandwiches on a street corner and rounded off the evening hitchhiking beside a pair of heavily tattooed men. It was certainly not my finest hour but it was well worth the effort. Sandwiches are one of the greatest innovations humankind has bestowed upon us.
It follows, then, that a breakfast at Banh Mi Hoa Ma would be considered the height of local sandwich achievement. In the grand history of Vietnamese bread, this streetside establishment is credited with creating the glorious handheld delight that now appears on street carts throughout Saigon and around the world.
As early as 6am, rock up to the one-story, one-room corner shop on District 3's Cao Thang and you'll find the owners prepping for their five-hour service. The shop is closed by 11am, but those few hours are all they need to earn a living. Like any respectable roadside business, Banh Mi Hoa Ma serves one thing and one thing only. Thanks to its singular focus, the shop has been perfecting its bánh mì recipe for nearly 60 years, and today, everything from the food to the quintessentially Saigon atmosphere to the service is spot-on.
The moment we arrive, a young man ushers us to a pair of high metal stools lining hẻm 51 and slaps a laminated menu on the table. There is one meal two ways: folks in a hurry can opt for the modern-day bánh mì, a ready-made sandwich of cold cuts and pate, veggies and a few other accoutrements, while diners with a bit more time can sit down to the original rendition of Vietnam's world-famous sandwich. For in the beginning bánh mì was not a grab-and-go item; rather, in line with the French culinary traditions from whence it came, Saigon's first bánh mì were a deconstructed sandwich with light, airy bread on the side and a scalding hot skillet of meat and eggs as the main event.
We decide to put both sandwiches to the test and order one of each. Our young server grabs the menu and scurries over to an older man who stands at the top of the alley, surveying Hoa Ma's dozen or so tables from afar. He leans in as the young boy whispers our order to him and before the server has finished his sentence, he's shouting at the top of his lungs to a woman standing in the open kitchen about seven feet away.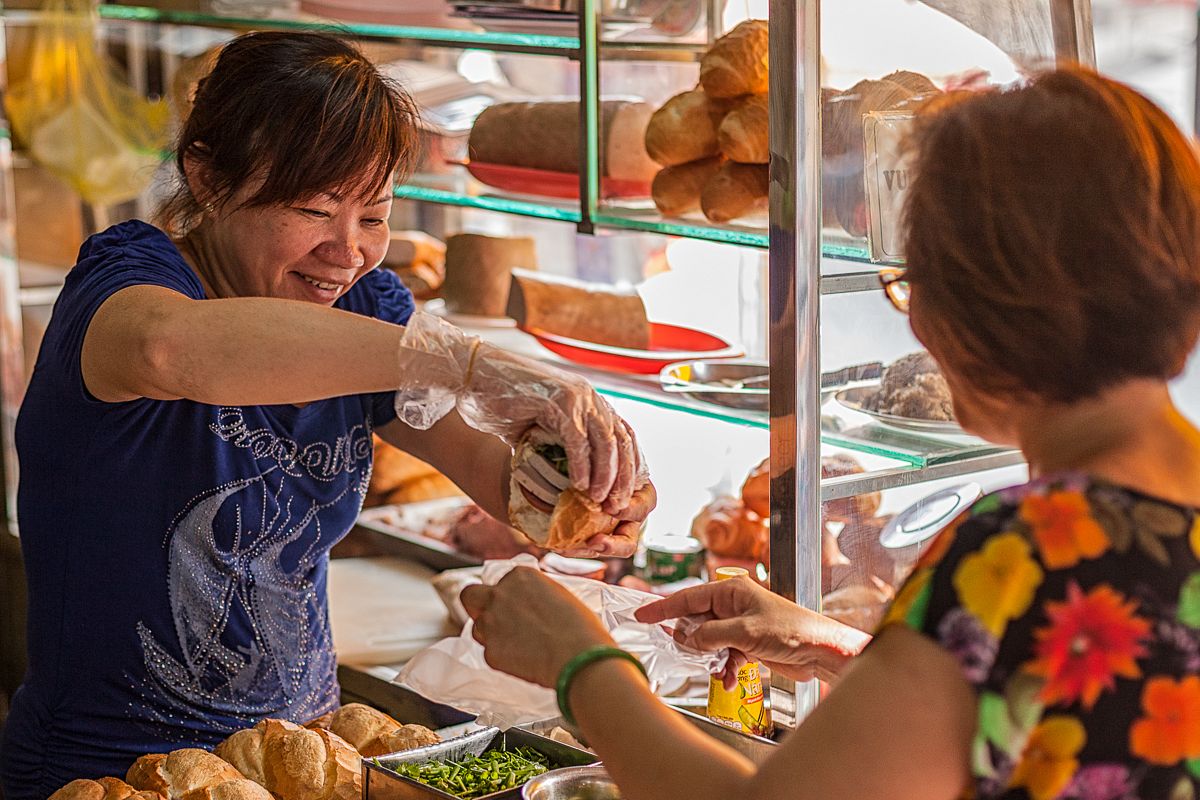 While the volume seemed a little excessive, you've got to hand it to Hoa Ma: before I could finish inspecting the condiments on display my breakfast was in front of me. A pile of fluffy chả, sausage, sliced ham and eggs sizzled on the plate as I tore open one side of my bread, preparing to fashion a sandwich with the ingredients provided. Cucumbers and a few other veggies helped to cut through the greasy goodness in the skillet as I packed everything into the airy baguette. On an average day in an average establishment, I do not care for chả or most other processed meats, but in the fried glory of Banh Mi Hoa Ma, they were a welcome dose of sodium and a savory complement to the restaurant's namesake.
There are gaps in my recollection of that sandwich, perhaps because I tend to lose all concept of space and time when I encounter a good meal. Somewhere between these lapses in memory – or food blackouts, whatever you want to call it – I took a moment to absorb my surroundings. Motorbikes raced down Cao Thang in the background, horns occasionally drowning out the yelling of Hoa Ma's floor supervisor. The main road may be chaotic but just a quick turn down the alley and the shop's seating area has a distinctly neighborhood vibe. The entire service staff appears to be made up of young men, who rush to and fro with drinks and food and menus in hand, while the clientele features a combination of office workers in a hurry and late-risers casually enjoying a good breakfast.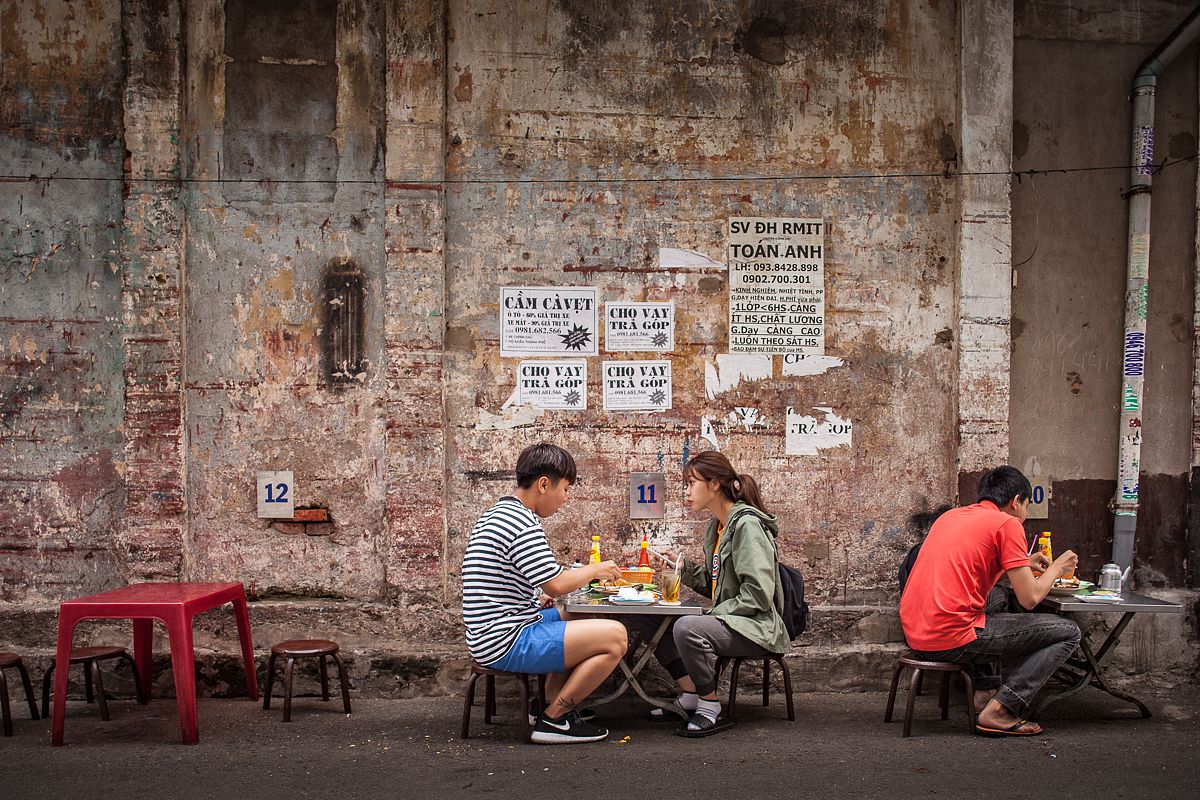 After powering through a hearty breakfast and a solid cà phê sữa đá, I was wide awake and ready to start the day. Even though its ingredients are pulled apart and spread across three different plates, Hoa Ma's bánh mì is worthy of a place on the hallowed list of great sandwiches.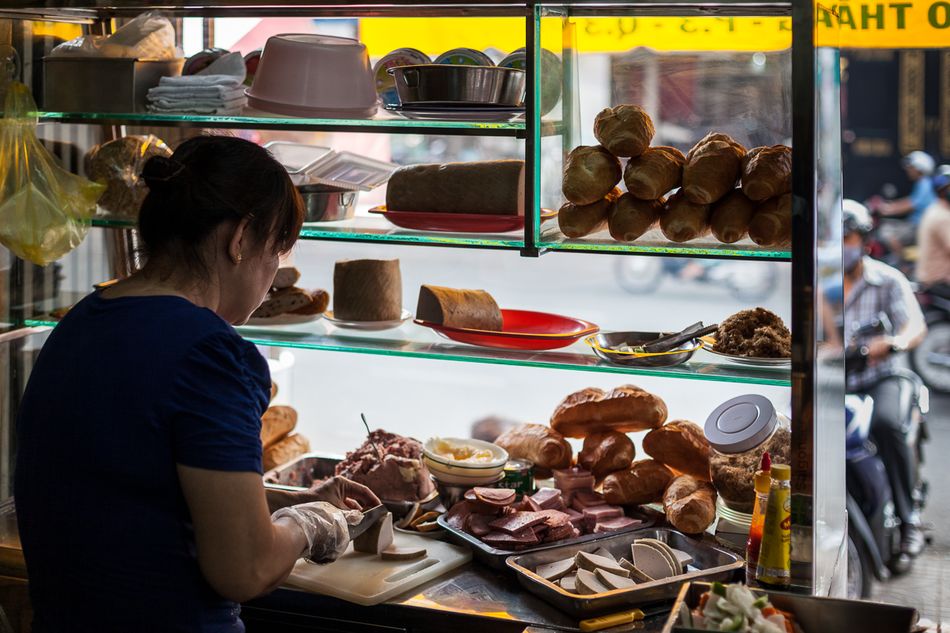 To sum up:
Taste: 5/5
Price: 4/5
Atmosphere: 5/5
Friendliness: 5/5
Location: 5/5
Dana is 70% caffeine, 50% fish sauce and hasn't taken a math class since 2004.
Banh Mi Hoa Ma
53 Cao Thang, Ward 3, D3

---

Related Articles:
---