There's not much you can say about phở that hasn't already been said. From its complicated origin to its deliciousness to its ubiquity on Saigon's streets, the subject has been covered ad nauseam. However, phở chua Lạng Sơn — mixed dry phở with sweet and sour sauce — is uncharted territory.
There's just something about Saigon's alleys that makes them the perfect site for both opening a food stall and relishing a good meal. Perhaps it could be the bustling traffic and throngs of passersby or the sense of community brought about by the closeness of Saigon's standard tube houses. This week's Hẻm Gem is tucked away in one such community, shielded by residential abodes and hidden under a bevy of stark, white neighborhood lamps.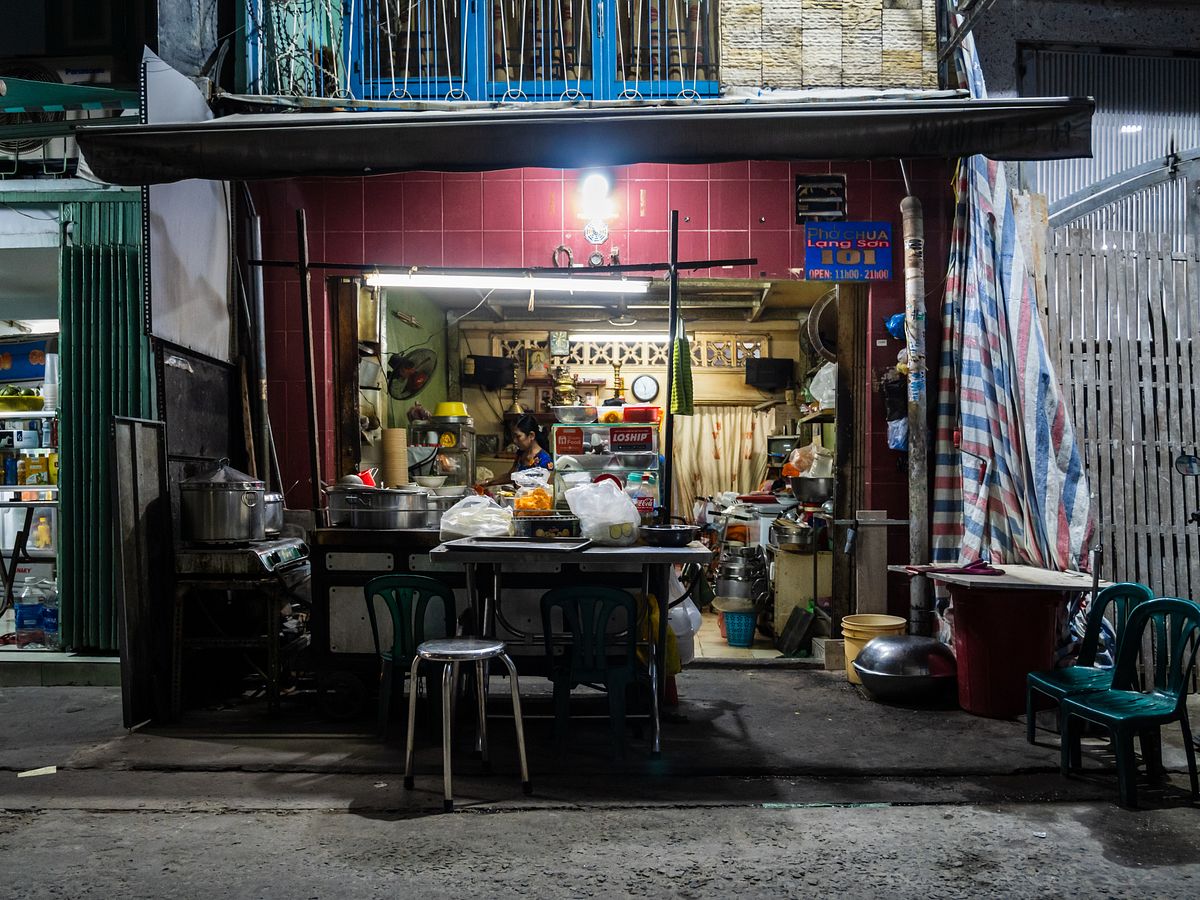 A few months ago, I was introduced to the magic of phở chua by a friend who happens to live in the area. District 3's Bàn Cờ neighborhood is a veritable maze. Made up of myriad quaint streets and hẻms in grid formation (bàn cờ means chessboard in Vietnamese), the area is notoriously easy to get lost in. Thankfully, I was with a local who was much more well-versed in navigating Bàn Cờ's bewildering web of streets.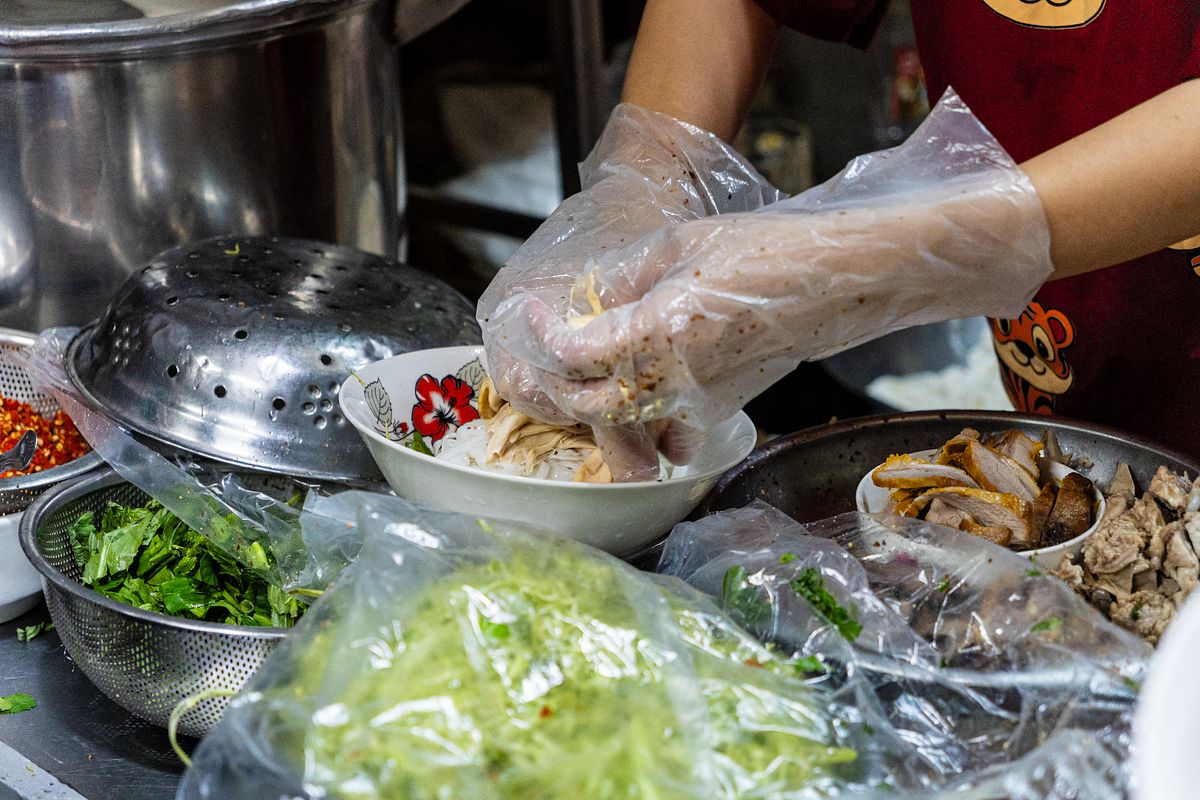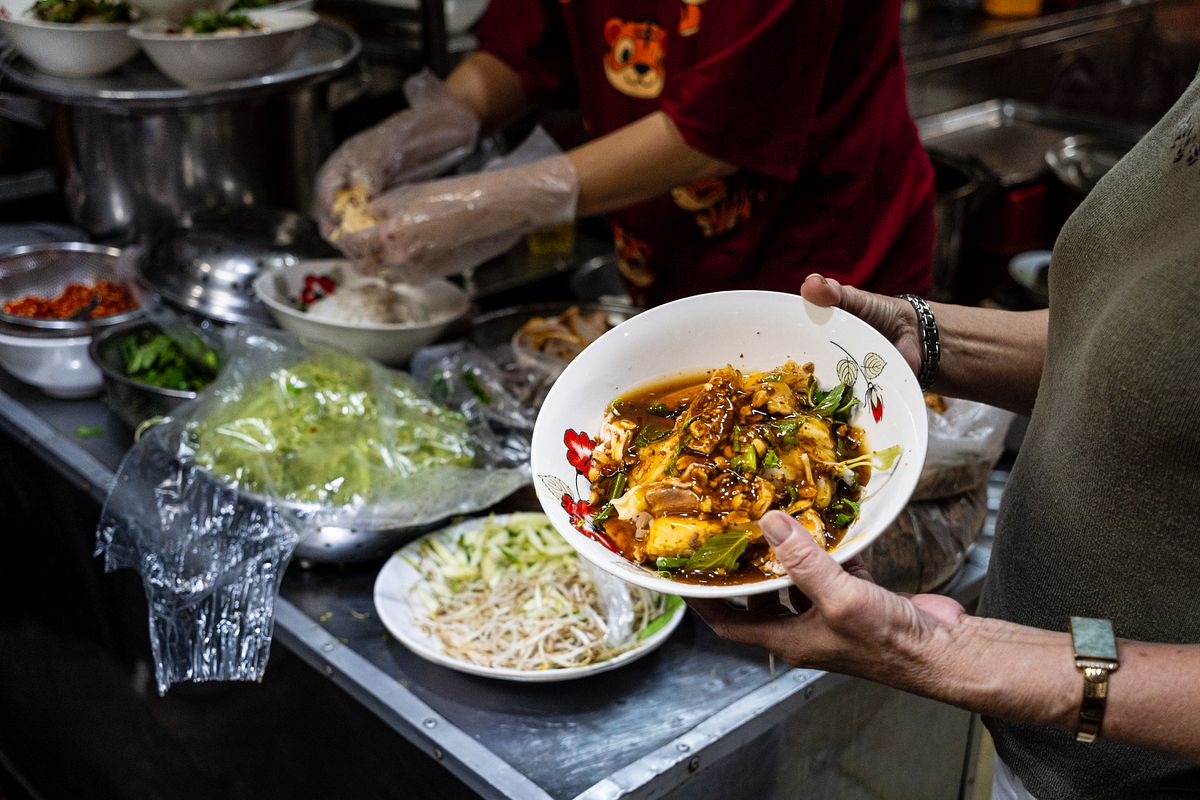 After thoroughly consulting Google Maps for the exact location of the phở stall, my colleague Brandon and I make a trek to the eatery at 4pm in a quest to avoid Saigon's sporadic rain. As a photographer, Brandon wishes to catch the best lighting in order to showcase the dish's true beauty, while I simply pray that I can enjoy my phở chua as it is — dry and sans rainwater.
Lady luck is apparently on our side because we manage to find the stall without any trouble despite District 3's labyrinth of hẻms. The stall is still as homey as I remember because it's literally in somebody's home. The front of the house opens into an especially spacious alley, a rare find in Saigon. The owner has set up a few metallic tables along with a simple glass display housing a range of prepared ingredients: shredded strands of rau muống (morning glory), huge slabs of boiled xá xíu (pork shoulder) and chicken innards.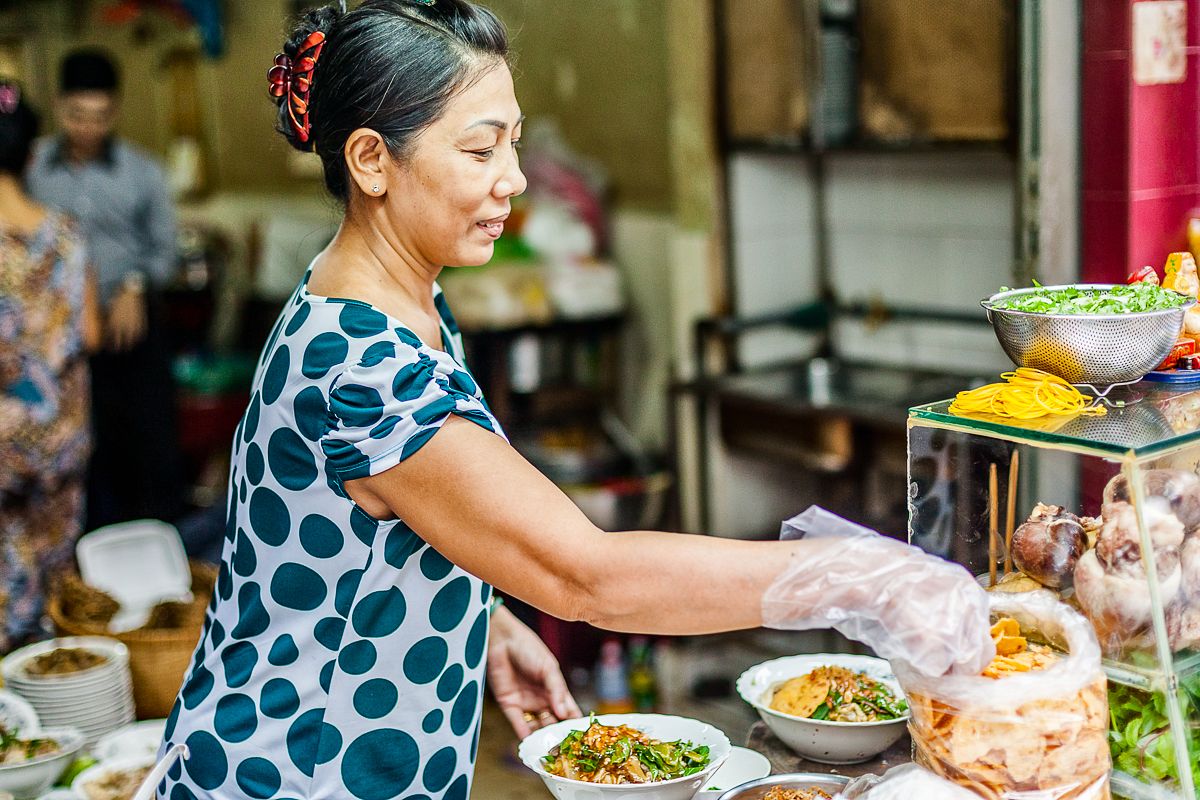 The team behind the stall consists of three ladies who work the cooking station as if they're preparing for someone's wedding lunch in the countryside: bantering away with the occasional teasing and hot gossip. According to the owner, a Lạng Son native who migrated to Saigon decades ago, the stall has been in business since the 1950s. Her parents both hail from the northern province but moved to Saigon in hopes of finding a better way to earn a living.
We sit down at a table located a stone's throw from the main cooking station and in front of somebody else's home. A few years ago, I would have been worried that somebody may come out and shoo us away, but after months of eating my way through Saigon's eclectic spectrum of eateries, things like this don't faze me anymore.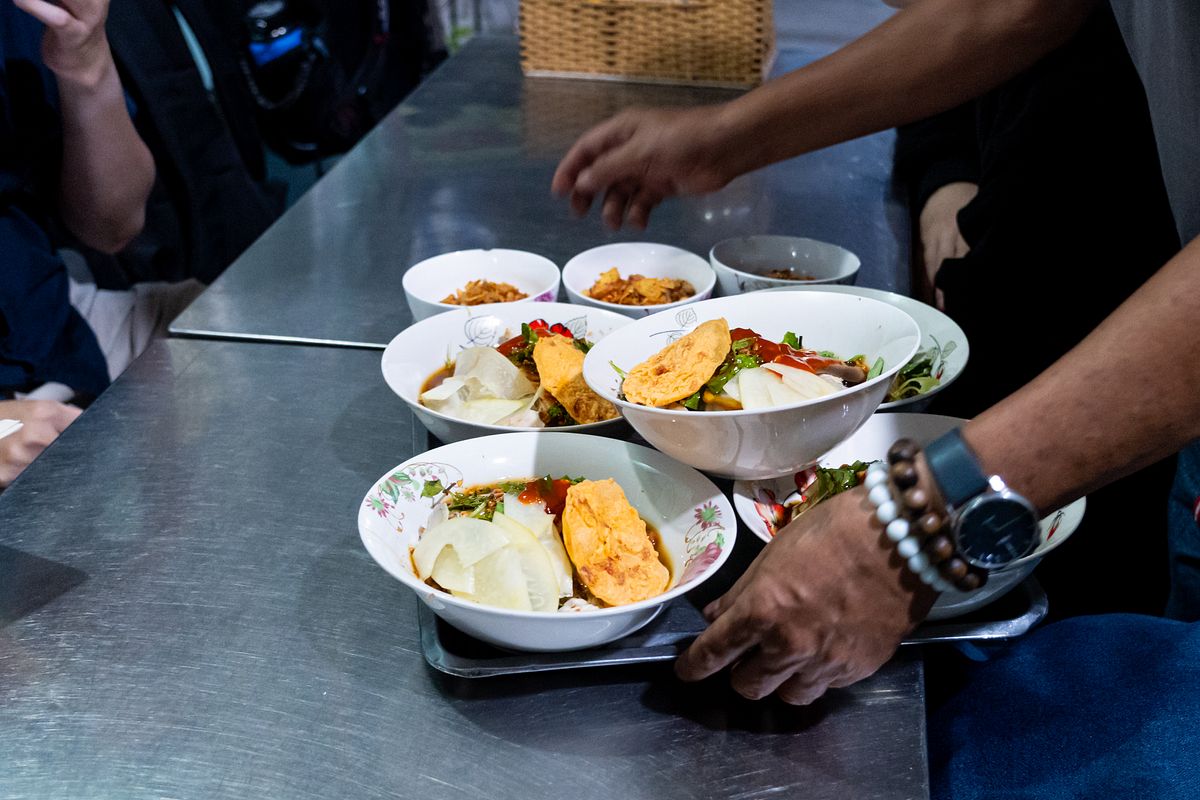 The rambunctious server — who also doubles as parking attendant and cashier — receives our order and comes back five minutes later with two glorious bowls of phở chua: a bed of dry phở noodles slathered with viscous brown sauce, topped with slices of xá xíu, shredded chicken meat, diced chicken innards, a crispy shrimp chip, and last but not least, a dash of chili sauce for that extra kick.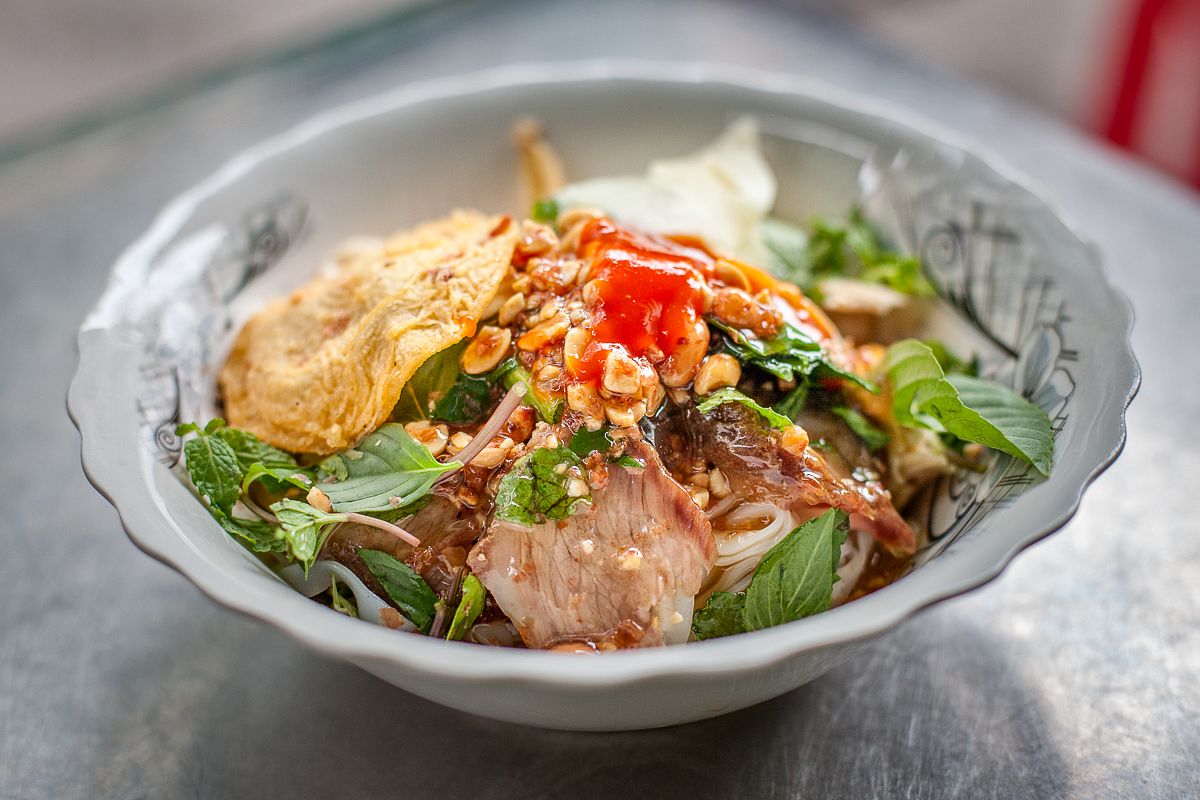 The accompanying vegetables include diced húng quế (Thai basil) and pickled young papaya. You could start mixing the ingredients in the bowl as it is and would still get a solid phở experience, but I recommend adding a generous helping of chili tóp mỡ (deep fried pork fat) to the serving. It is provided free of charge in a bowl on the table so theoretically you could chuck the whole thing in if you wished. Some might find this decadent topping greasy and hard to chew, but personally I think the whole experience would be incomplete without it.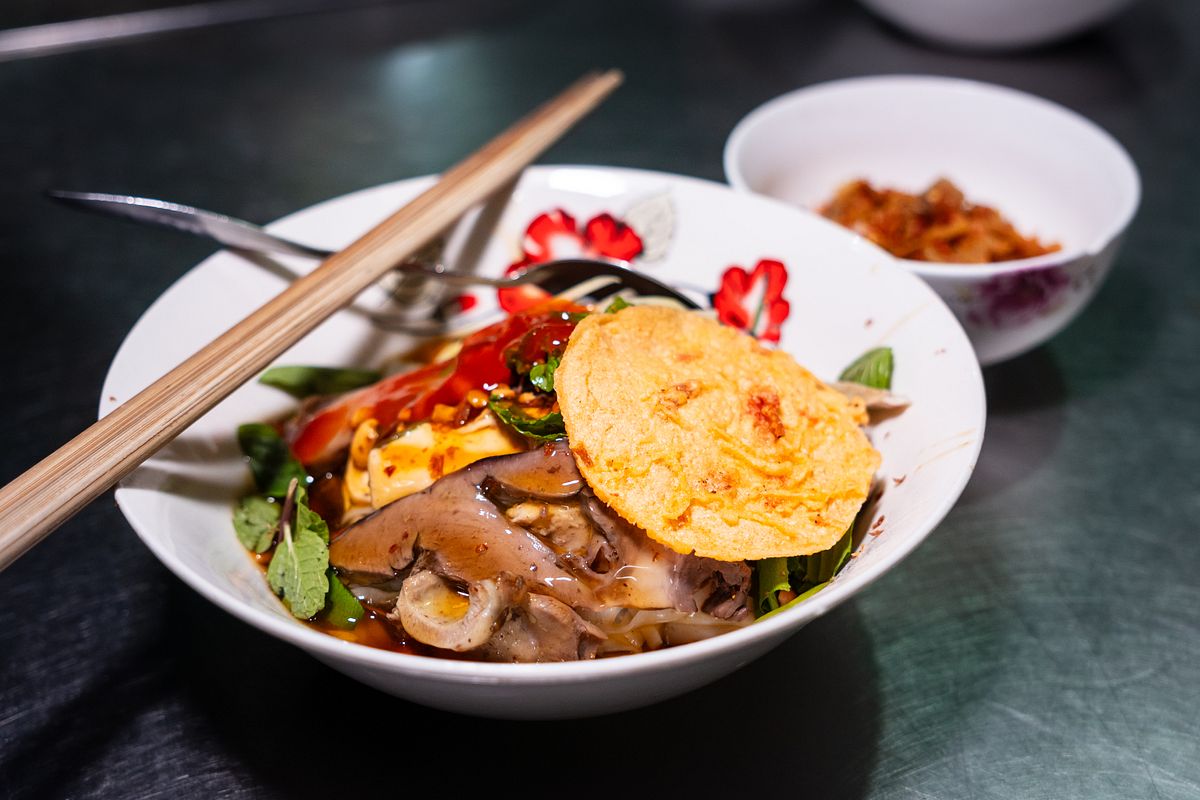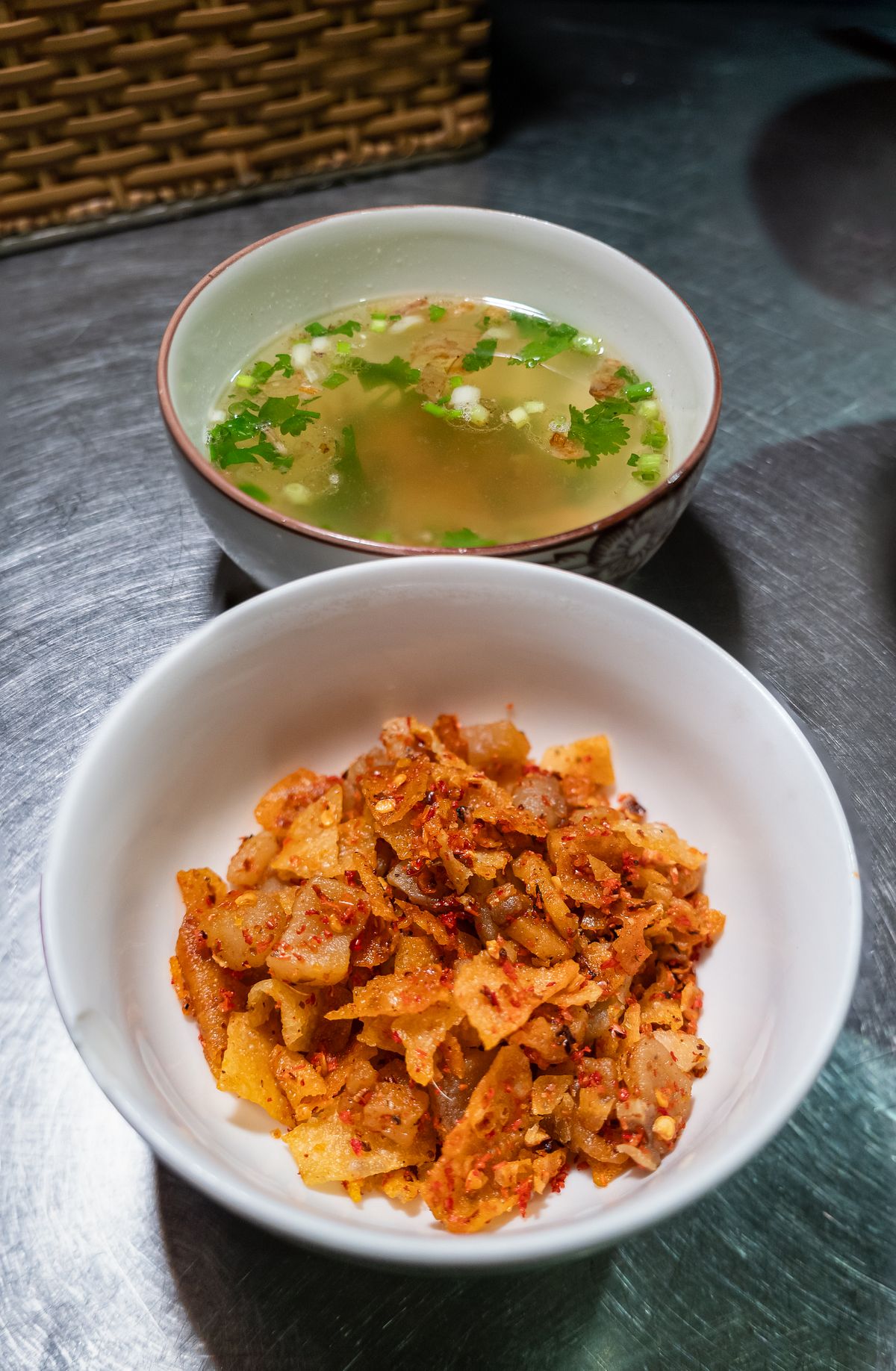 The brown sauce is the star of phở chua Lạng Sơn the same way the broth makes a traditional bowl of phở. Soothingly sweet with a subtle hint of sourness, the sauce ties everything together in a tamarind extravaganza that leaves you wanting more. After the delicious meal, I attempt to cozy up to the owner hoping that she will divulge the secret behind that vivifying sauce but she just blurts out "tamarind" and shrugs.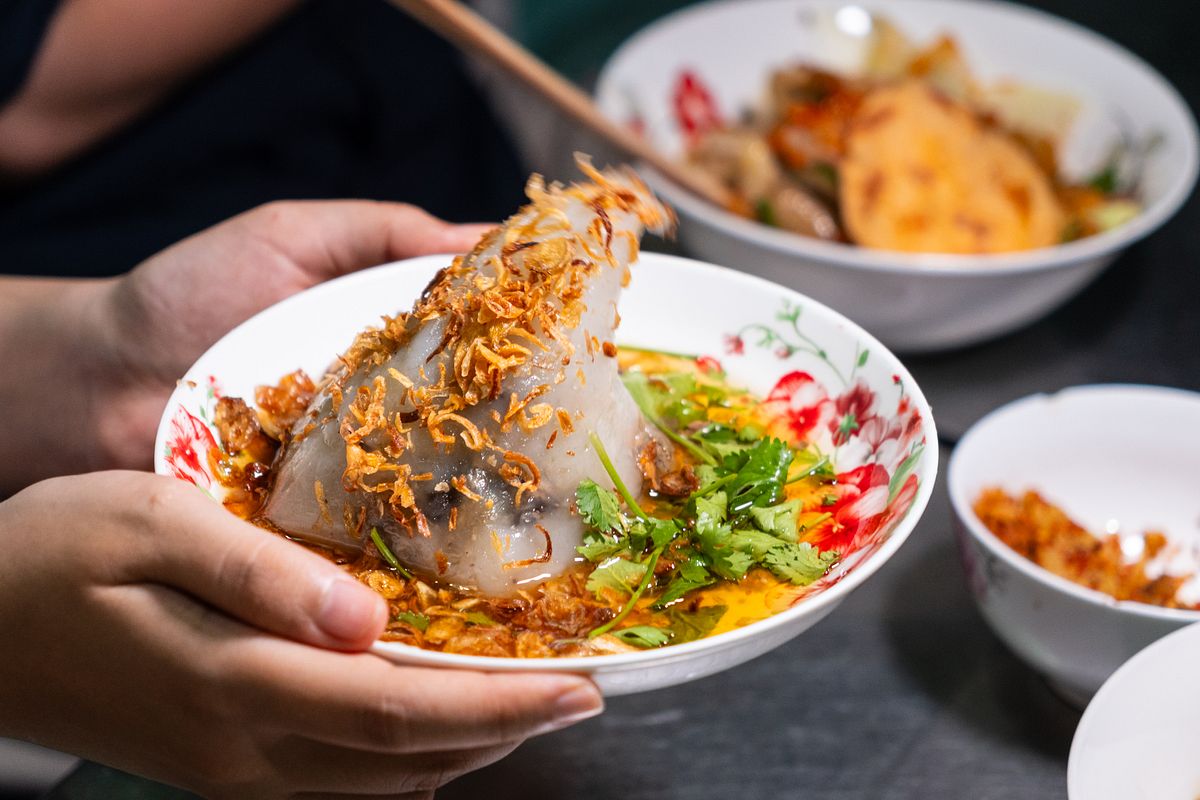 A bowl of phở chua will set you back VND60,000 while the stall also serves a mean cháo sườn (short ribs porridge) at VND30,000 a portion. At the end of the day, phở chua seems to share more similar traits with bún thịt nướng than traditional phở, apart from the use of phở noodles. The combination of fresh herbs, pickled papaya and light tamarind sauce evokes a summery vibe similar to that of bún thịt nướng, but incongruous with its original breeding ground of Lang Son province, where the temperature usually hovers around 20oC.
Phở Chua Thành is open from 10:30am to 9pm.
To sum up:
Taste: 5/5
Price: 4/5
Atmosphere: 4/5
Friendliness: 5/5
Location: 5/5
Khoi loves tamarind, is a raging millennial and will write for food.
Phở Chua Thành
242/101 Nguyen Thien Thuat, Ward 3, D3