Food Panda, one of the major players in Vietnam's online ordering space, has announced that it is shutting its doors this month due to a "financial situation" and "many difficulties."
TechInAsia, citing Genk, reports that eateries working with Food Panda received a "notice of termination" this week, stating that it was closing down and working to settle accounts.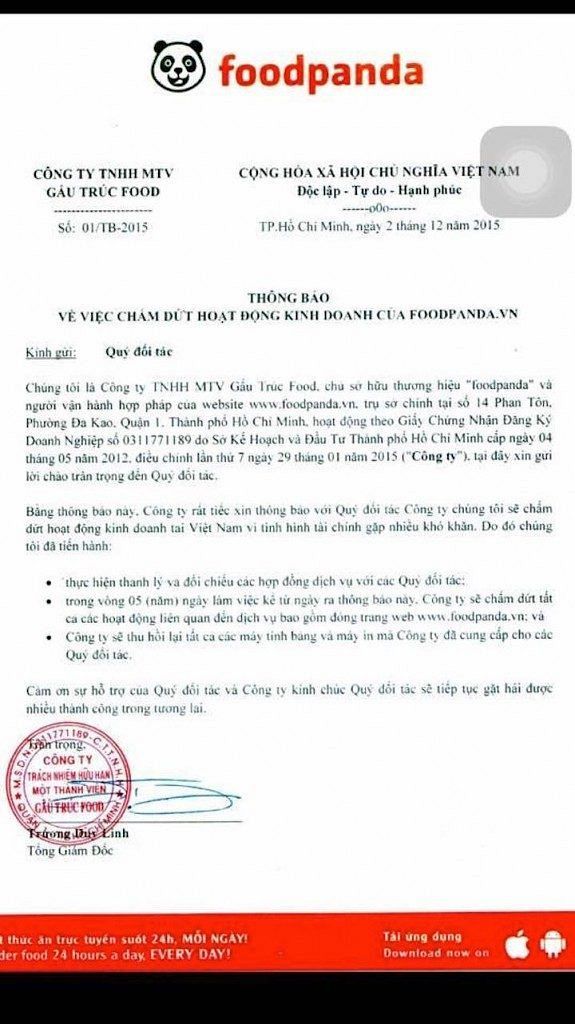 The notice was reportedly signed by Truong Duy Linh, Vietnam's general director, and said that operations would cease within five days.
Saigoneer reached out to a number of restaurants that use the service and each confirmed that they had received such a notice.
Tim Schefenacker, Food Panda's global head of communications, told the tech website: "Yes, I can confirm that we have decided to close down our business in Vietnam."
"We saw a smaller and rather long-term opportunity in Vietnam compared to our other markets and therefore want to focus stronger on [the latter], given Foodpanda's focus on profitability," he added.
Food Panda was never able to carve out enough market share to beat out homegrown Vietnammm and Eat.vn, which are backed by large and deep-pocketed parent companies.
Though the company may have failed in Vietnam, Food Panda is still showing strong growth globally, according to TechInAsia:
"In Asia and elsewhere around the globe, Foodpanda is competing head-on with India's Zomato in the online ordering space. Food Panda has gobbled up competitors in Mexico, Russia, Brazil, Eastern Europe, India, and Southeast Asia, bringing its restaurant partners to more than 38,000 in 500 cities worldwide as of current count. Zomato previously claimed to have tie-ups with over a million restaurants across 23 countries. Both companies have heavy financial backing: Food Panda has raised US$318 million in funding so far, versus Zomato's US$223.3 million."